Peru's protest 'deactivators' run toward tear gas to stop it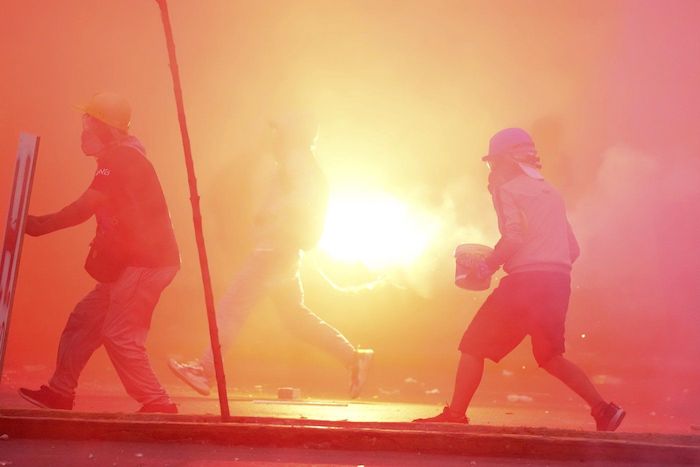 By Daniel Politi in Lima
LIMA, Peru (AP) — When police fire tear gas at protesters demanding the resignation of Peruvian President Dina Boluarte, most run away.
A few, though, run toward the gas canisters as quickly as possible — to neutralize them.
These are the "deactivators." Donning gas masks, safety goggles and thick gloves, these volunteers grab the hot canisters and toss them inside large plastic bottles filled with a mixture of water, baking soda and vinegar.
The deactivators made their debut in Peru street protests in 2020, inspired by protesters in Hong Kong who in 2019 unveiled new strategies to counteract the eye-stinging, breath-stealing effects of tear gas. With protesters in Lima facing a nearly daily fusillade of tear gas, more people have joined the ranks of deactivators trying to shield them and keep the demonstrations going.
Peruvians have been protesting since early December, when former President Pedro Castillo was impeached after a failed attempt to dissolve Congress. His vice president, Boluarte, immediately took over — and has faced strong opposition ever since.
Fifty-eight people have died in connection with the unrest, including one police officer. Forty-six of the deaths occurred during direct clashes between protesters and police.
The protests have exposed deep divisions in the country between the urban elites and the rural poor. Demonstrations were first largely concentrated in the south, a long-neglected region of Peru that felt a particular kinship to Castillo's humble background as a rural teacher from the Andean highlands. But earlier this month, thousands descended on Peru's capital, and police met them with tear gas. Lots and lots of tear gas.
On Thursday, as protesters gathered in downtown Lima, Alexander Gutiérrez Padilla, 45, was giving a brief course to anyone who would listen around Plaza San Martín about how to mix vinegar and baking soda into the water and how to grab the tear gas canisters most efficiently.
"If we don't deactivate, people disperse and the protest breaks," Gutiérrez said. "That's why we're pillars of this demonstration."
Next to him was Wilfredo Huertas Vidal, 25, who has taken it upon himself to collect donations to buy gloves and other protective equipment and hand them out to those who want to help.
"Who wants gloves? Who wants gloves?" he yelled as he stood next to several large bottles of water, gas masks and eye goggles.
When protesters descended on Lima earlier this month, old networks were reactivated. A tactic first seen in Peru in late 2020 during protests against then-President Manuel Merino resurfaced.
Vladimir Molina, 34, who participated in the 2020 protests, now runs what he calls a "brigade." It consists of around 60 people, including paramedics, deactivators and "front-line" activists who stand in the middle of protesters and police with shields, in an effort to block any pellets or tear gas police may fire into the crowd.
"Every day more and more people are joining," Molina said. Interest in his group is so great that he's made it a requirement for anyone who wants to join to have their own equipment.
By tossing the hot tear gas cartridges into the water solution, "what they do is extinguish the pyrotechnical charge so the tear gas cannot come out anymore," said Sven Eric Jordt, a professor of anesthesiology at Duke University.
Water alone should achieve what the protesters want, although the carbon dioxide created by mixing vinegar and baking soda could "form a foam bath that suffocates the charge" further, Jordt speculated.
It may be only a matter of time before authorities deploy methods to blunt the deactivators' effectiveness. Manufacturers are now developing tear gas with plastic cartridges that stick to the road so it "can't be lifted up anymore," Jordt said.
Fearful of being targeted by police and prosecutors, many of the deactivators prefer to remain anonymous, keeping their faces covered even when there's no tear gas around.
Boluarte has given strong backing to law enforcement, and the government recently announced a bonus for police officers. Boluarte has characterized the work of police controlling the Lima protests as "immaculate," despite their often indiscriminate firing of tear gas and pellets. In contrast, she says the demonstrations are violent and financed by drug-trafficking rings and illegal miners.
Andrea Fernández, 22, is new to deactivating tear gas.
"The truth is I love the adrenaline," Fernández said shortly after grabbing a pair of gloves from Huertas and listening to the instructions closely.
She said she hadn't been really interested in the country's political crisis at first. Then the deaths started piling up.
"There are a lot of farmers who've come from lots of parts of Peru and they come here to march, face-to-face, but don't have the necessary protection," Fernández said.
Felix Davillo, 37, also says the casualties pushed him to become a deactivator.
"I made this decision for all the death that is going on in Puno right now," Davillo said, referring to a region in Peru that has experienced some of the deadliest protests.
A general lack of protective equipment has also meant protesters have been injured by the widespread use of less lethal weapons.
From January 19 to 24, Doctors Without Borders treated 73 patients at the Lima protests suffering from exposure to tear gas, pellet wounds, contusions or psychological distress, the non-profit organization said.
The deactivators' increased chance of injury doesn't scare Julio Incarocas Beliz, who grabbed one of the big water bottles in the plaza for his first day trying to diffuse tear gas.
"I served in the military and I've never been afraid," Incarocas, 28, said. "I'm fighting for my homeland."
'Nothing to come back to,' says Ukrainian woman in Canada, her beloved home destroyed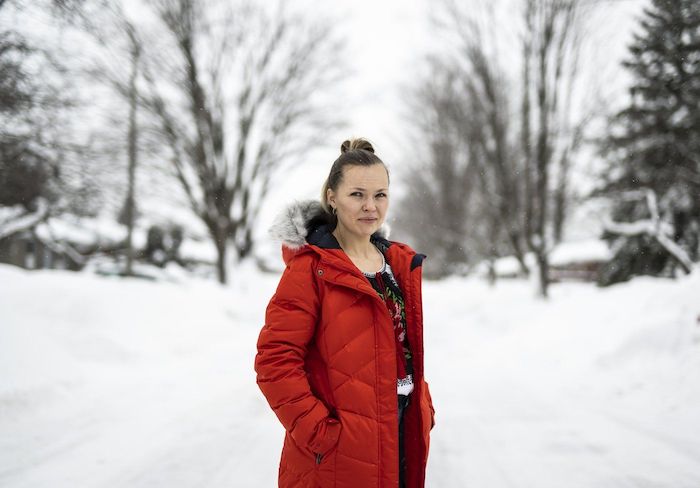 Oleksandra Verovkina is shown outside her home in Ottawa, on Monday, Jan. 30, 2023. THE CANADIAN PRESS/Justin Tang
By Laura Osman in Irpin
Oleksandra Verovkina and her son, Danylo, would stroll half a block through the back alley behind their apartment to a large forest. They would walk hand in hand beneath the tall trees, the air filled with the scent of pine resin, until the three-year old lost steam, and then return home.
The bright orange dining room in their fourth-storey apartment soaked up the sun streaming in from the skylight in the roof. Oleksandra would place a cup of hot chocolate on the child-sized table where Danylo worked away on his favourite puzzle, a map of the world.
When they did not feel up to a walk they would venture outside to the parking lot beside the white stucco building, where her son played on a bright yellow, metal play structure with a slide and swing. They were often joined by his best friend, who lived two floors below.
Oleksandra, 36, had dreamt of leaving Ukraine for Canada since 2014 when separatist forces first seized the Donbas region where she lived at the time. But she put that idea aside in 2020 when she and her husband bought the relatively newly built apartment in Irpin, a suburb of Kyiv. It was the first home they owned together.
"When we landed in Irpin I fell in love with the city. It's amazing," she said, wearing a traditional embroidered Ukrainian blouse called a Vyshyvanka, with her blond hair in a bun.
"You can feel this spirit of community."
The family does not live there anymore.
On the morning of Feb. 24, 2022, Oleksandra woke up to the sound of her buzzing phone. It wasn't until she shook off the sleep that she heard the explosions in the distance.
"When we woke up, we started hearing the bombs and military flights, helicopters," Oleksandra said.
Russian forces invaded from Belarus. Tanks rolled south toward the capital city of Kyiv. Airstrikes hit across the country in the early morning hours.
On the phone, her brother was asking her what they were planning to do. She did not have an answer.
Her husband, Oleksii, did. He had been paying attention to reports about enemy forces amassing on the border between Ukraine and Belarus to the north. Though most people in their lives did not believe news stories about an impending attack, Oleksii had started to get ready.
Together they packed a few essentials: toiletries, some clothing, and toys and books for their son. Oleksandra's favourite sweater was still in the laundry machine. She left it behind.
Given the massive amount of people trying to get out of the city, they knew they had a long journey ahead of them.
But when they heard bombs drop down on the nearby Hostomel Airport, they knew it was time to go.
"We got scared," she said. Oleksii urged them to leave at 7 p.m. They buckled Danylo in the back of the car to begin the 12-hour crawl through stop-and-go traffic to the home of her brother's girlfriend in Khmelnytskyi, in southwestern Ukraine.
Before they pulled out of the parking lot, Oleksandra ran back inside to take out the trash; she didn't want the house to smell by the time they returned.
She did not pause to take a last look at the home she loved.
Now, on a day just a year after the Russian invasion began, the scent of pine from the nearby forest mingles with that of burnt metal and dust.
The roof above Oleksandra's unit, where the skylight lit the dining room, is gone.
The sand in the playground where Oleksandra pushed Danylo on the swings is still scattered with broken glass. Coffee mugs and ceramic flowerpots on the burnt-out windowsills and balconies hint at how quickly neighbours picked up their lives and fled.
This time last year, the family spent a month together in a cramped, two-bedroom apartment with Oleksandra's brother, his girlfriend and his girlfriend's daughter. All six of them would eat around a small table, shoulder to shoulder. At night, when air-raid sirens went off, Oleksandra slept in the hallway with her son, away from the windows, in case a rocket landed nearby.
She felt lost and indecisive.
The suburb they left behind became a battleground. Russian soldiers occupied Irpin and nearby Bucha outside of Kyiv in an attempt to take the capital city. Returning home was not an option.
She still was not keen on leaving Ukraine, but now for a different reason. Men ages 18 to 60 were banned from leaving the country as part of the conditions imposed under martial law shortly after the invasion.
Leaving Ukraine meant leaving her husband, too.
"I was thinking that it's better to stay together, like family," she said.
But when Oleksii learned of a special three-year Canadian visa for Ukrainians fleeing the war, he dug out the application forms.
She hated the thought of splitting up her family to travel across the world, but the longer the conflict dragged on, the clearer it became that they would not be able to go home any time soon.
She applied on the first day the program opened and received a response right away. Within a week, she and Danylo were on their way to Romania to be fingerprinted and photographed as part of Canada's immigration process.
On March 26, 2022, days after making the wrenching decision to leave both her country and her husband, she found out the home she loved in Irpin was gone.
Oleksii had found a post on the social media app Telegram about a fire in their apartment building.
"The roof was on fire," she said, almost a year later. "It was very obvious."
Ukraine recaptured the suburb a few days later, but Oleksandra had already decided that her life in that country was over.
"We have nothing to come back to. We have nothing in Ukraine," she said, sitting in the sunny living room of the rental house in Ottawa.
She lives there now with her son, her parents and a friend, while Oleksii lives in Kyiv, where he plans to work until he can join his family in Canada.
The two talk on the phone twice a day.
Though Oleksandra says she has accepted what's happened to her home, her breath still catches in her throat when she sees it now.
"It looks horrible," she says softly as she scans photographs and videos taken by The Canadian Press during a recent visit to Irpin.
The white stucco siding is blackened and burned, the windows are blown out and twisted sheets of metal hang off the roof and balconies. The parking lot is full of debris, and small pieces of the building fall from the four-storey building with every strong breeze.
It is unclear what happened to it, because most neighbours were not in the suburb at the time. Those who have since returned to the area believe it was hit by a missile. Pockmarks in the side of the building suggest it was also hit by shrapnel from nearby explosions.
Damage to the building next door was mostly limited to blasted-out windows, which have since been repaired. Neighbours come and go, stepping over the sharp rubble scattered around Oleksandra's apartment building on their way in and out.
For those who have returned, the empty building is a reminder of what has been lost.
Oksana Kucheryna, an older woman who lives in a nearby building, walked by on her way to the shop on a day in late February, plastic bag in band. She says she often stops to take a long look at the crumbling building as she passes by. She wraps herself in her winter coat, kerchief tied neatly around her head, as she makes her way through the same alley Oleksandra and Danylo would take on their forest walks.
"Now we are used to looking at it, but at first, it was horrible to see it," she said, her eyes watering as she stared up at the charred building.
"I want to cry watching all this. People worked hard to buy these apartments. And at one point, all of it was gone."
Rebuilding efforts have been underway in Irpin since Ukraine retook the community last March, but the buildings that appear to be beyond repair, such as Oleksandra's, have been mostly left as they are: black and hollowed by the violence of the past year.
Craters in the pavement show where projectiles landed outside homes, shops and schools.
Outside the grocery store, a crowd of people — mainly seniors, teens and mothers with strollers — wait in line as volunteers hand out meals and small bags of food to take home for the week.
The toll of the war is on the faces of the people who have returned to the community, many of whom keep their eyes cast down to the sidewalk as they make their way past the wreckage.
In Ottawa, Oleksandra sometimes still feels a pull for the things and places she left behind. Often it's small things she yearns for, like the cosy, second-hand sweatshirt with the NASA logo, her favourite on cold days, that was in the laundry machine while she hastily packed her suitcase last year.
Not everything in Irpin is lost.
Near Oleksandra's former home, a mother and her son could be seen walking hand in hand through the towering trees.
Oleksandra cannot imagine returning now. She feels that even in the aftermath of the war, the community would be dangerous for her son.
Oleksandra is rebuilding, too, her life now in Ottawa.
"I feel like I'm Canadian," she says. Now that she is safe, she feels like she and Danylo can adjust to the new environment.
Volunteers have helped her furnish her new home. The table and chairs are almost the same as the ones she left in her bright orange dining room in Irpin.
A three-minute walk from her rental home in Ottawa, there is a forested lot full of maple trees where mother and son can go for a stroll.
This report by The Canadian Press was first published March 26, 2023.
Analysis: China's sway over Russia grows amid Ukraine fight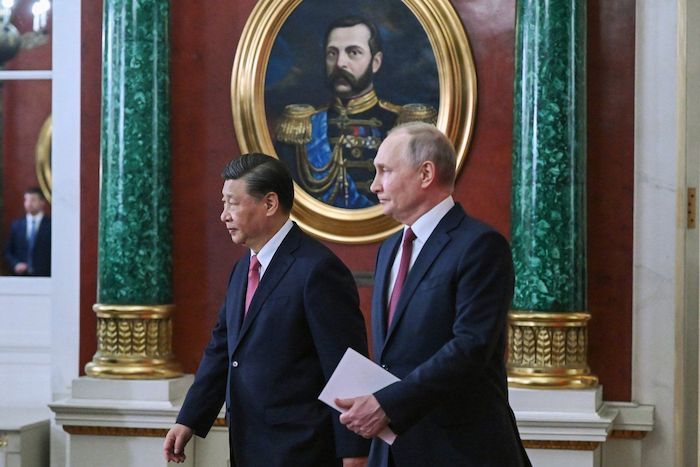 Russian President Vladimir Putin, right, and Chinese President Xi Jinping arrive to attend a signing ceremony following their talks at The Grand Kremlin Palace, in Moscow, Russia, Tuesday, March 21, 2023. (Grigory Sysoyev, Sputnik, Kremlin Pool Photo via AP)
By Vladimir Isachenkov in Moscow
MOSCOW (AP) — It was a revealing moment during Chinese leader Xi Jinping's tightly scripted visit to Moscow: Standing in the doorway of the Grand Kremlin Palace, he told Russian President Vladimir Putin that the two of them were "witnessing the changes that haven't been seen in more than a century, and we are pushing them together."
"I agree," Putin responded.
The remarks — caught on a Kremlin camera over a bodyguard's shoulder — offered a rare glimpse into Xi's ambitions and his relationship with Russia after more than a year of fighting in Ukraine.
While Moscow increasingly looks like a junior partner to Beijing, Xi is likely to offer a strong lifeline to Putin, his key partner in efforts to reshape the world to try to limit U.S. domination.
Xi's unusually blunt statement capped more than 10 hours of Kremlin talks, which ended with long declarations filled with florid rhetoric about expanding the "comprehensive partnership and strategic cooperation" between Russia and China, pledges to champion a multilateral approach to global affairs and criticism of Washington.
In his concluding statement, Putin hailed the Chinese proposal for a settlement in Ukraine, which the West had all but rejected as a non-starter. The Russian leader also rolled out a slew of initiatives that cemented his country's role as a key source of energy and other raw materials for China's giant economy. He proposed building new energy pipelines, invited the Chinese to fill the niche left after the exodus of Western businesses, and vowed to boost the export of agricultural products to China.
Xi remained tight-lipped, avoiding any firm commitments regarding specific projects and mostly sticking to general and vague rhetoric about expanding ties.
"A lot of things that Vladimir Putin would have liked to happen did not, in fact, happen," Rana Mitter, professor of Chinese history and politics at Oxford University, told The Associated Press. "There was no point at which Xi explicitly said that he accepted Russia's position on the Ukraine war over the position of Ukraine."
In fact, there was "a sense that China was reserving for itself the right to step away from a complete endorsement" of the Russian position, Mitter added.
Moscow and Beijing said they would increase contacts between their militaries and stage more joint sea and air patrols and drills, but there wasn't even the slightest hint from China that it could help Russia with weapons, as the U.S. and other Western allies feared.
Speaking Wednesday before a Senate committee, U.S. Secretary of State Antony Blinken said China so far has heeded strong U.S. warnings against providing lethal material support for Russia in Ukraine. "We have not seen them cross that — cross that line," he said.
U.S. National Security Council spokesperson John Kirby described the Putin-Xi relationship as "a marriage of convenience," in which they pool efforts to challenge U.S. leadership, and the Russians "certainly are the junior partner." He added at briefing earlier this week that Putin sees Xi as "a lifeline of sorts" amid the fighting in Ukraine.
Many commentators argued that the summit marked Putin's failure to win any specific aid from Beijing and cemented Russia's increasingly subordinate role in the alliance with China.
"China's domination of Russia is complete," tweeted Sam Greene, professor in Russian politics at King's College London. "While there were undoubtedly agreements we are not meant to know about, there is no indication here of a significant increase in military support for Russia — nor even of a willingness on Xi's part to ramp up diplomatic support. A swing and a miss for Putin."
After more than a year of fighting in Ukraine and bruising Western sanctions, Russia's dependence on China has increased significantly. Facing Western restrictions on its oil, gas and other exports, Russia has shifted its energy flows to China and sharply expanded other exports, resulting in a 30% hike in bilateral trade.
Western price caps on Russia's oil forced Moscow to offer it to China and other customers at a sharp discount, but despite those lower prices, the vast Chinese market ensured a stable flow of oil revenue to the Kremlin's war coffers.
As long as Russia can trade with China and other Asian states, it will face "no danger of running out of money or being forced to concede on the battlefield, said Chris Weafer, CEO of the consulting firm Macro-Advisory.
While profiting handsomely from Moscow's desperate situation, Beijing would be certain to ramp up its support if it sees Russia dangerously weakened.
"The nightmare scenario for China is that collapse of Russia militarily leads to collapse of the regime and installment of some pro-Western government," said Alexander Gabuev, a senior fellow at the Carnegie Endowment.
Gabuev argued that Beijing would be unlikely to provide any direct military assistance to Moscow anytime soon simply because it doesn't feel the pressing need to do so. "Russia is not doing great on the battlefield, but it's obviously not losing it, so need to support the Russian military efforts so far is questionable from both sides," he said.
More than ammunition, tanks and rockets, Russia badly needs China's help in skirting Western sanctions to maintain the flow of high-tech components for its weapons industries and other economic sectors. Sergei Markov, a pro-Kremlin political analyst, predicted that China could be expected to act more resolutely to help Russia get them.
"Russia doesn't need weapons from China," Markov wrote on his messaging app channel. "It needs microchips and components, and they will come."
Some observers say that while Beijing has been coy about supporting Moscow, it has vital interest in shoring up its ally to avoid being left alone in any potential confrontation with the United States.
Mikhail Korostikov, an expert on Russia-China ties, said in a commentary for the Carnegie Endowment that China has been closely watching Russia's experience in facing massive Western sanctions. "For Beijing, a close study and partial use of instruments and decisions used by Russia is a reasonable course in a situation when China's confrontation with the West looks inevitable," he said.
Korostikov noted that while Moscow's dependence on Beijing is growing, China's room for maneuvering is also shrinking.
"There is no alternative to Russia as a partner providing resources that China will critically need in case of an escalation in its confrontation with the West," he said. "It helps balance the situation and allows Moscow to hope that Beijing will not overuse its newly-acquired economic levers."
___
Isachenkov has covered Russia and other former Soviet nations for The Associated Press since 1992.
___
Associated Press writers Michael Weissenstein in New York, and Matthew Lee and Zeke Miller in Washington contributed.