Pentagon: Chinese spy balloon spotted over Western US
By Tara Copp And Lolita C. Baldor in Washington
WASHINGTON (AP) — The U.S. is tracking a suspected Chinese surveillance balloon that has been spotted over U.S. airspace for a couple days, but the Pentagon decided not to shoot it down over concerns of hurting people on the ground, officials said Thursday. The discovery of the balloon puts a further strain on U.S.-China relations at a time of heightened tensions.
A senior defense official told Pentagon reporters that the U.S. has "very high confidence" it is a Chinese high-altitude balloon and it was flying over sensitive sites to collect information. One of the places the balloon was spotted was Montana, which is home to one of the nation's three nuclear missile silo fields at Malmstrom Air Force Base. The official spoke on condition of anonymity to discuss sensitive information.
Brig. Gen. Patrick Ryder, Pentagon press secretary, provided a brief statement on the issue, saying the government continues to track the balloon. He said it is "currently traveling at an altitude well above commercial air traffic and does not present a military or physical threat to people on the ground."
He said similar balloon activity has been seen in the past several years. He added that the U.S. took steps to ensure it did not collect sensitive information.
A senior administration official, who was also not authorized to publicly discuss sensitive information, said President Joe Biden was briefed and asked the military to present options. Defense Secretary Lloyd Austin and Army Gen. Mark Milley, chairman of the Joint Chiefs of Staff, advised against taking "kinetic action" because of risks to the safety of people on the ground. Biden accepted that recommendation.
The defense official said the U.S. has "engaged" Chinese officials through multiple channels and communicated the seriousness of the matter.
The incident comes as Secretary of State Antony Blinken was supposed to make his first trip to Beijing, expected this weekend, to try to find some common ground. Although the trip has not been formally announced, both Beijing and Washington have been talking about his imminent arrival.
It was not immediately clear if the discovery of the balloon would impact Blinken's travel plans.
The senior defense official said the U.S. did get fighter jets, including F-22s, ready to shoot down the balloon if ordered to by the White House. The Pentagon ultimately recommended against it, noting that even as the balloon was over a sparsely populated area of Montana, its size would create a debris field large enough that it could have put people at risk.
It was not clear what the military was doing to prevent it from collecting sensitive information or what will happen with the balloon if it isn't shot down.
In a letter sent Thursday to Austin, Sen. Steve Daines, R-Mont., wrote: "The fact that this balloon was occupying Montana airspace creates significant concern that Malmstrom Air Force Base and the United States' intercontinental ballistic missile fields are the target of this intelligence gathering mission. … It is vital to establish the flight path of this balloon, any compromised U.S. national security assets, and all telecom or IT infrastructure on the ground within the U.S. that this spy balloon was utilizing."
The defense official said the spy balloon was trying to fly over the Montana missile fields, but the U.S. has assessed that it has "limited" value in terms of providing China intelligence it couldn't already collect by other means, such through spy satellites.
The official would not specify the size of the balloon, but said it was large enough that despite its high altitude, commercial pilots could see it. All air traffic was halted at Montana's Billings Logan International Airport from 1:30 p.m. to 3:30 p.m. Wednesday, as the military provided options to the White House.
A photograph of a large white balloon lingering over the area was captured by The Billings Gazette, but the Pentagon would not confirm if that was the surveillance balloon. The balloon could be seen drifting in and out of clouds and had what appeared to be a solar array hanging from the bottom, said Gazette photographer Larry Mayer.
The defense official said what concerned them about this launch was the altitude the balloon was flying at and the length of time it lingered over a location, without providing specifics.
Montana Gov. Greg Gianforte said he was briefed Wednesday about the situation after the Montana National Guard was notified of an ongoing military operation taking place in Montana airspace, according to a statement from the Republican governor and spokesperson Brooke Stroyke.
"From the spy balloon to the Chinese Communist Party spying on Americans through TikTok to CCP-linked companies buying American farmland, I'm deeply troubled by the constant stream of alarming developments for our national security," Gianforte said in a statement.
The administration official said congressional leaders' staffs were briefed on the matter Thursday afternoon. House Speaker Kevin McCarthy, R-Calif., tweeted, "China's brazen disregard for U.S. sovereignty is a destabilizing action that must be addressed."
Tensions with China are particularly high on numerous issues, ranging from Taiwan and the South China Sea to human rights in China's western Xinjiang region and the clampdown on democracy activists in Hong Kong. Not least on that list of irritants are China's tacit support for Russia's invasion of Ukraine, its refusal to rein in North Korea's expanding ballistic missile program and ongoing disputes over trade and technology.
On Tuesday, Taiwan scrambled fighter jets, put its navy on alert and activated missile systems in response to nearby operations by 34 Chinese military aircraft and nine warships that are part Beijing's strategy to unsettle and intimidate the self-governing island democracy.
Twenty of those aircraft crossed the central line in the Taiwan Strait that has long been an unofficial buffer zone between the two sides, which separated during a civil war in 1949.
Beijing has also increased preparations for a potential blockade or military action against Taiwan, which has stirred increasing concern among military leaders, diplomats and elected officials in the U.S., Taiwan's key ally.
The surveillance balloon was first reported by NBC News.
Some Montana residents reported seeing an unusual object in the sky around the time of the airport shutdown Wednesday, but it's not clear that what they were seeing was the balloon.
From an office window in Billings, Chase Doak said he saw a "big white circle in the sky" that he said was too small to be the moon.
He took some photos, then ran home to get a camera with a stronger lens and took more photos and video. He could see it for about 45 minutes and it appeared stationary, but Doak said the video suggested it was slowly moving.
"I thought maybe it was a legitimate UFO," he said. "So I wanted to make sure I documented it and took as many photos as I could."
__
Associated Press writers Matthew Lee, Aamer Madhani and Zeke Miller in Washington and Matthew Brown in Billings, Montana, contributed to this report.
Premier Smith urges PM Trudeau to talk Ethical Energy Security in meeting with US President Biden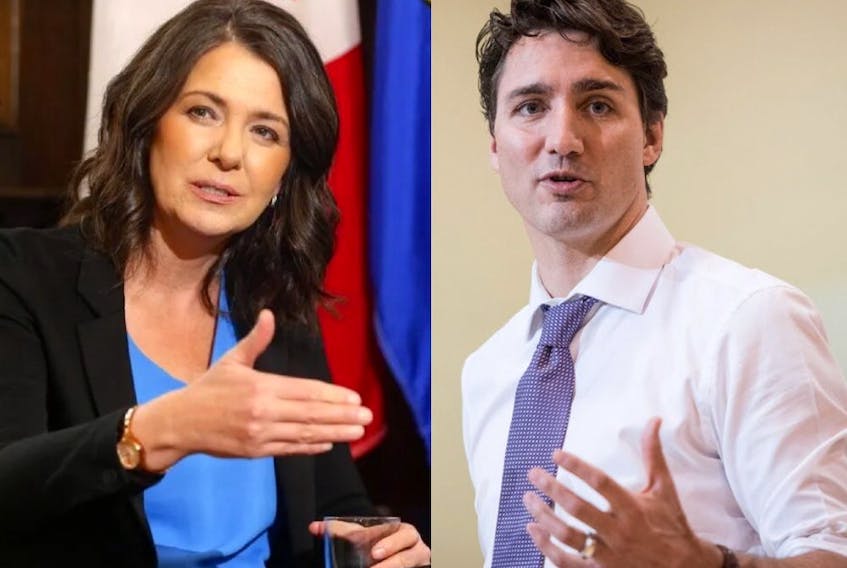 Dear Prime Minister Trudeau:
The arrival of President Joe Biden presents our nation with an opportunity of great significance. It is my request that the federal government uses its platform to focus on collaboration between the U.S. and Canada, highlighting the critical need for North American energy security.
We have a deep, long-standing relationship with the U.S. at both the federal and state levels, which is only growing in importance. In 2022, Alberta surpassed Ontario and Quebec as the largest provincial exporter of goods to the U.S. at $182.5 billion, with energy making up 85 per cent of exports to the United States. Alberta, by far, remains the single largest source of U.S. energy imports.
This economic reality, along with Russia's invasion of Ukraine, has highlighted that North American energy security must be a top priority for the Government of Canada. I urge you to raise the need for better collaboration between Canada and the U.S. to ensure the continued and enhanced supply of sustainable, affordable, and reliable energy to the U.S.
I recommend that the two governments work to fast-track energy projects in the name of economic security for our democratic partners, as committed to by Deputy Prime Minister Chrystia Freeland. A similar effort is needed in critical minerals as the world shifts to lower emitting sources of energy.
Alberta, through both government policy and industry action, is leading the way on reducing emissions and driving the transition to new sources of energy. New investments in the province are global flagships in clean energy and emissions reductions technology. For example, Pennsylvania's Air Products will create a world-scale net-zero hydrogen energy complex in Alberta, and Dow is advancing the world's first net-zero carbon emission integrated polyethylene complex at its existing site near Edmonton. It is also worth noting that Canada's oil sands operators have announced plans to spend $24 billion on emission-reduction projects by 2030 as part of their commitment to reach net zero by 2050. All of this amounts to a herculean effort undertaken by industry partners, and Alberta's government, to position ourselves as the foremost leader in emissions reduction and responsible energy production.
As you know, management of oil and gas methane emissions is one of this country's greatest climate success stories. Collaboration with the U.S. on methane emissions would both advance climate action, and address regulatory inconsistencies between the two countries. As of 2020, methane emissions from the upstream oil and gas sector in Western Canada have decreased by around 44 per cent from the 2014 baseline – ahead of our schedule of 45 percent by 2025. More evidence of Canada, and Alberta, leading the way.
Alberta is home to vast geological potential, an experienced, skilled, workforce, and has the necessary processing and transportation infrastructure in place to support a growing critical minerals sector. For example, technological advances to extract minerals from underground brine solutions are found throughout Alberta. These extraction technologies could result in a low emission, sustainable source of lithium to meet the demand of our emerging battery value-chain. We would encourage your government to work with the provinces, especially Alberta, on critical minerals and seize the opportunity to collaborate with the U.S. on enhancing North American supply chains.
As the owners and stewards of our world-class natural resources, any discussions involving energy security, natural resources, and trade must fully involve the provinces. I would be pleased to help assist you, and the federal government in advancing the work on North American energy security as well as developing the business cases to increase exports of clean Alberta energy, critical minerals and technologies to the U.S. As is only appropriate when discussing natural resources, and areas of exclusive provincial jurisdiction, I would also request that Premiers be invited to participate in a meeting with the President and his delegation.
I look forward to your response and welcome an opportunity to collaborate. We both agree that the world needs more Canada. It's imperative that in a time of such uncertainty, and unaffordability, that Alberta, and Canada profile ourselves as the preferred supplier of responsibly produced, ethical energy to the U.S., North America, and the world.
Pentagon: Budget readies US for possible China confrontation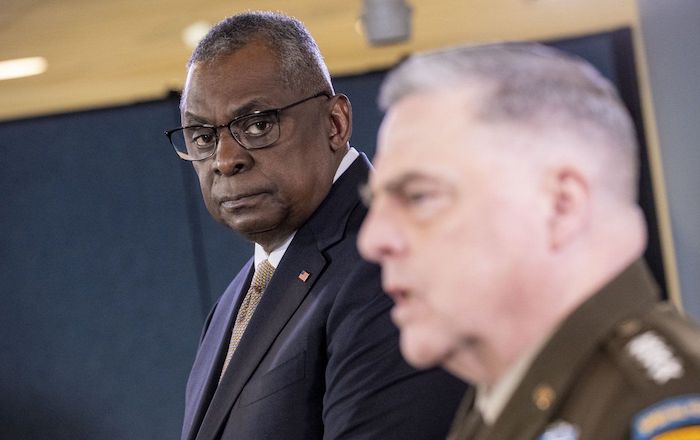 Chairman of the Joint Chiefs, Gen. Mark Milley, right, accompanied by Secretary of Defense Lloyd Austin, speaks during a briefing at the Pentagon in Washington, Wednesday, March 15, 2023. (AP Photo/Andrew Harnik)
By Lolita C. Baldor And Tara Copp in Washington
(AP) — The U.S. military must be ready for possible confrontation with China, the Pentagon's leaders said Thursday, pushing Congress to approve the Defense Department's proposed $842 billion budget that would modernize the force in Asia and around the world.
"This is a strategy-driven budget — and one driven by the seriousness of our strategic competition with the People's Republic of China," Defense Secretary Lloyd Austin said in testimony before the House Appropriations subcommittee on defense.
Pointing to increases in new technology, such as hypersonics, Austin said the budget proposes to spend more than $9 billion, a 40% increase over last year, to build up military capabilities in the Pacific and defend allies.
The testimony comes on the heels of Chinese leader Xi Jinping's visit to Moscow, amid concerns China will step up its support for Russian President Vladimir Putin's war on Ukraine and increasingly threaten the West.
China's actions, said Gen. Mark Milley, chairman of the Joint Chiefs of Staff, "are moving it down the path toward confrontation and potential conflict with its neighbors and possibly the United States." He said that deterring and preparing for war "is extraordinarily expensive, but it's not as expensive as fighting a war. And this budget prevents war and prepares us to fight it if necessary."
Milley, who will retire later this year, said the Defense Department must continue to modernize its forces to ensure they will be ready to fight if needed.
Two decades of war in Iraq and Afghanistan eroded the military's equipment and troop readiness, so the U.S. has been working to replace weapons systems and give troops time to reset. It's paid off, Milley told Congress.
"Our operational readiness rates are higher now than they have been in many, many years," Milley said. More than 60% of the active force is at the highest states of readiness right now and could deploy to combat in less than 30 days, while 10% could deploy within 96 hours, he said.