Pentagon: Budget readies US for possible China confrontation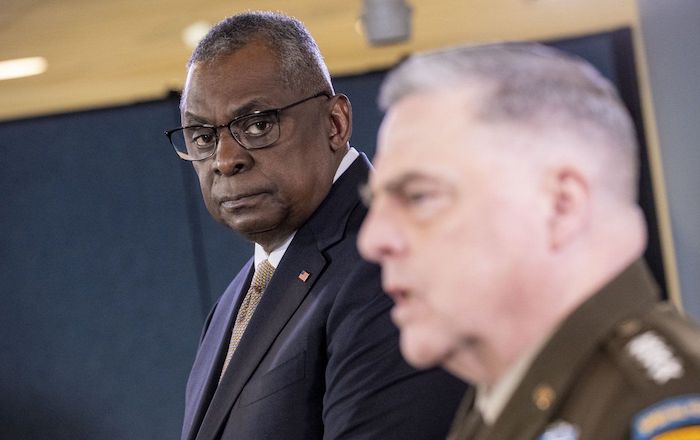 Chairman of the Joint Chiefs, Gen. Mark Milley, right, accompanied by Secretary of Defense Lloyd Austin, speaks during a briefing at the Pentagon in Washington, Wednesday, March 15, 2023. (AP Photo/Andrew Harnik)
By Lolita C. Baldor And Tara Copp in Washington
(AP) — The U.S. military must be ready for possible confrontation with China, the Pentagon's leaders said Thursday, pushing Congress to approve the Defense Department's proposed $842 billion budget that would modernize the force in Asia and around the world.
"This is a strategy-driven budget — and one driven by the seriousness of our strategic competition with the People's Republic of China," Defense Secretary Lloyd Austin said in testimony before the House Appropriations subcommittee on defense.
Pointing to increases in new technology, such as hypersonics, Austin said the budget proposes to spend more than $9 billion, a 40% increase over last year, to build up military capabilities in the Pacific and defend allies.
The testimony comes on the heels of Chinese leader Xi Jinping's visit to Moscow, amid concerns China will step up its support for Russian President Vladimir Putin's war on Ukraine and increasingly threaten the West.
China's actions, said Gen. Mark Milley, chairman of the Joint Chiefs of Staff, "are moving it down the path toward confrontation and potential conflict with its neighbors and possibly the United States." He said that deterring and preparing for war "is extraordinarily expensive, but it's not as expensive as fighting a war. And this budget prevents war and prepares us to fight it if necessary."
Milley, who will retire later this year, said the Defense Department must continue to modernize its forces to ensure they will be ready to fight if needed.
Two decades of war in Iraq and Afghanistan eroded the military's equipment and troop readiness, so the U.S. has been working to replace weapons systems and give troops time to reset. It's paid off, Milley told Congress.
"Our operational readiness rates are higher now than they have been in many, many years," Milley said. More than 60% of the active force is at the highest states of readiness right now and could deploy to combat in less than 30 days, while 10% could deploy within 96 hours, he said.
Blinken warns Ukraine cease-fire now would result in 'Potemkin peace,' legitimizing Russian invasion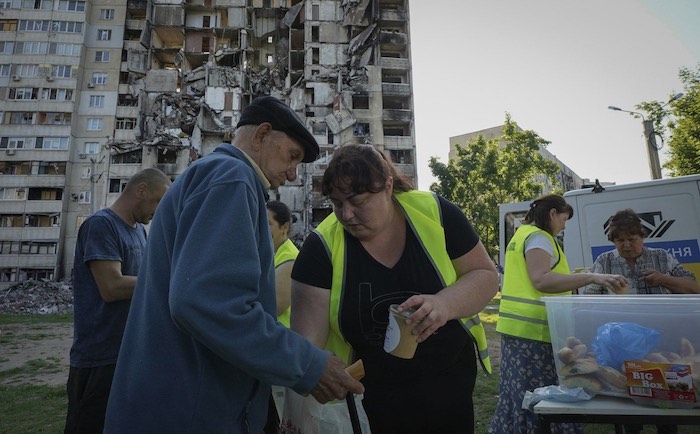 By Susie Blann And Matthew Lee in Kyiv
KYIV, Ukraine (AP) — U.S. Secretary of State Antony Blinken said Friday that the United States and its allies should not support a cease-fire or peace talks to end the war in Ukraine until Kyiv gains strength and can negotiate on its own terms.
As an anticipated Ukrainian counteroffensive appeared to be taking shape, Blinken said heeding calls from Russia and others, including China, for negotiations now would result in a false "Potemkin peace" that wouldn't secure Ukraine's sovereignty or enhance European security.
"We believe the prerequisite for meaningful diplomacy and real peace is a stronger Ukraine, capable of deterring and defending against any future aggression," Blinken said in a speech in Finland, which recently became NATO's newest member and shares a long border with Russia.
His use of the term "Potemkin" referred to the brightly painted village fronts that 18th century Russian government minister Grigory Potemkin reportedly used to have built to create an illusion of prosperity for Russia's empress.
Blinken repeated the U.S. view that "a cease-fire that simply freezes current lines in place" and allows Russian President Vladimir Putin "to consolidate control over the territory he has seized, and rest, rearm, and re-attack — that is not a just and lasting peace."
Allowing Moscow to keep the one-fifth of Ukrainian territory it's occupied would send the wrong message to Russia and to "other would-be aggressors around the world," according to Blinken, implying that a cease-fire shouldn't be arranged until either Ukraine pushes Russia back or Russia withdraws its troops.
Blinken's position is similar to that of Ukrainian officials, including his statement that Russia must pay for a share of Ukraine's reconstruction and be held accountable for the full-scale invasion of its neighbor in February 2022.
After months of battlefield stalemate across a 685-mile (1100-km) front line, Ukrainian officials have given confusing signals about whether a counteroffensive, relying heavily on recently deployed advanced Western weapons and training, is coming or already underway.
Some have suggested the campaign will not be a barrage of simultaneous attacks across the entire front but rather a series of more targeted, limited strikes, first to weaken Russia's supply lines and infrastructure, then expanded to broader targets with greater intensity.
Ukrainian President Volodymyr Zelenskyy weighed in again on Friday.
"This is not a movie," he told reporters in Kyiv. "It is hard to say how you'll see the counteroffensive. The main point here is for Russia to see it. And not just see but feel it. Especially, we speak about the troops that have occupied our territories. De-occupation of our territories – this is the result of our counteroffensive. When you see this, you'll understand that it has started."
Zelenskyy has said his goal is to drive Russian troops out of the four territories it partially occupies and illegally annexed last fall, as well as from the Crimean Peninsula the Kremlin illegally seized in 2014.
Putin has said two of his goals in invading Ukraine were to improve Russia's security and prevent Ukraine from joining NATO but the Kyiv government has applied to join the alliance, and Sweden is hoping to be accepted as a member in July. That would surround Russia with NATO countries in the Baltic Sea.
Blinken described the Russian invasion of Ukraine as a catastrophic strategic failure for Moscow that had strengthened NATO, the European Union and Ukraine. Russia has become more isolated, he said, shackled to China as a junior partner in a relationship that Beijing has increasingly come to resent, and no longer able to use energy as a political tool in countries it once counted as its own or satellites.
For its part, Russia wants any talks to address Ukraine's request to join NATO.
"Naturally, this (issue) will be one of the main irritants and potential problems for many, many years to come," Kremlin spokesman Dmitry Peskov said Friday.
Blinken said Washington was ready to support peace efforts by other countries, including those by China and Brazil but that any peace agreement must uphold the principles of sovereignty, territorial integrity and independence.
China, which says it is neutral and wants to serve as a mediator but has supported Moscow politically, on Friday urged countries to stop sending weapons to Ukraine. The United States is a leading Western ally and supplier of arms to Kyiv.
In Kyiv, in the sixth air attack in as many days, Ukrainian air defenses late Thursday and early Friday intercepted all 15 incoming cruise missiles and 21 attack drones, Ukraine's chief of staff, Valerii Zaluzhnyi, said.
The Ukrainian capital was simultaneously attacked from different directions by Iranian-made Shahed drones and cruise missiles from the Caspian Sea region, senior Kyiv official Serhii Popko wrote on Telegram.
A 68-year-old man and an 11-year-old child were wounded in the attack, in which falling debris damaged private houses, outbuildings and cars, according to Ukraine's Prosecutor General's Office.
Elsewhere, several explosions occurred Friday in the Azov Sea port of Berdyansk in the Russian-occupied part of Ukraine's southern Zaporizhzhia region, one of the four provinces Russia illegally annexed. Russian-appointed officials blamed Ukrainian rocket attacks and said nine people were wounded. Videos posted on social media appear to show smoke rising in the port area. Ukrainian officials acknowledged their forces were responsible and claimed Russian ships were evacuating the port.
The Moscow-appointed governor of Ukraine's occupied Donetsk province, Denis Pushilin, claimed Friday that Ukrainian strikes had killed three people and wounded four, including a 3-year-old-girl.
In other developments Friday, border regions of Russia again came under fire. One of the most frequently hit targets of cross-border shelling, Russia's Belgorod region, was bombarded by artillery shells and drone strikes in multiple villages, Gov. Vyacheslav Gladkov said. At least two women died in a car, multiple people were injured, and apartment buildings, cars, power transmission lines and farm equipment were damaged, he said on Telegram.
The Freedom of Russia Legion, one of the groups that has claimed responsibility for prior attacks on Belgorod, blamed the Russian military for the deaths. The group alleged the Russian army had mistakenly believed the car belonged to the paramilitary group. Thousands of people have been evacuated from the region, and many roads have been closed.
Air defense systems shot down several Ukrainian drones in Russia's southern Kursk region, Gov. Roman Starovoit reported. In Russia's Bryansk region, Gov. Alexander Bogomaz said Ukrainian forces shelled two villages, with no reported casualties.
Two drones also attacked energy facilities in Russia's western Smolensk region, which borders Belarus, officials said.
The U.K. Ministry of Defense said the incursions could be a Ukrainian strategy to disperse Russian forces before a counteroffensive.
"Russian commanders now face an acute dilemma of whether to (strengthen) defenses in Russia's border regions or reinforce their lines in occupied Ukraine," the ministry said.
___
Matthew Lee reported from Oslo, Norway. Karl Ritter contributed from Stockholm and Andrew Katell from New York.
Austin hopes F-16 fight jet training for Ukrainian pilots will begin in coming weeks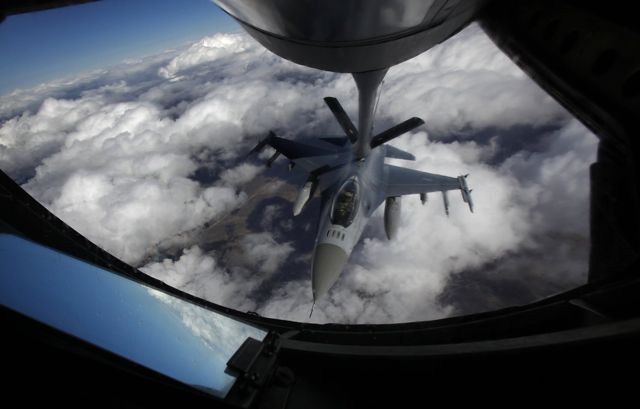 WASHINGTON (AP) — Defense Secretary Lloyd Austin said Thursday he hopes that training for Ukrainian pilots on American-made F-16 fighter jets will begin in the coming weeks, bolstering Ukraine in the long run but not necessarily as part of an anticipated spring counteroffensive against Russia.
Austin spoke as defense leaders from around the world assembled for a virtual meeting to discuss the ongoing military support for Ukraine. They were expected talk about which countries will provide F-16s, and how and where the pilot training will be done.
The officials will also get an update on the war effort from Ukrainian leaders, including preparation for that anticipated counteroffensive and how the allies, who have faced their own stockpile pressures, can continue to support Kyiv's fight against Russia.
"We're going to have to dig deeper, and we're going to have to continue to look for creative ways to boost our industrial capability," Austin said before the military leaders began their closed session. "The stakes are high. But the cause is just and our will is strong."
European countries have said they are talking about which countries may have some of the F-16s available. The United States had long balked at providing the advanced aircraft to Ukraine, and only last weekend did President Joe Biden agree to allow other nations to send their own U.S.-made jets to Kyiv.
"We hope this training will begin in the coming weeks," Austin said. "This will further strengthen and improve the capabilities of the Ukrainian Air Force in the long term. And it will complement our short-term and medium-term security agreements. This new joint effort sends a powerful message about our unity and our long-term commitment to Ukraine's self-defense."
The leaders will also likely discuss Ukraine's other continuing military needs, including air defense systems and munitions, artillery and other ammunition.
It was not immediately clear whether they will make any firm decisions on the F-16 issue, but initial steps have begun.
Josep Borrell, the European Union's foreign policy chief, said Tuesday that training for Ukrainian pilots had begun in Poland and some other countries, though Polish Defense Minister Mariusz Blaszczak said training was still in the planning phase. The Netherlands and Denmark, among others, are also making plans for training.
"We can continue and also finalize the plans that we're making with Denmark and other allies to start these these trainings. And of course, that is the first step that you have to take," Dutch Defense Minister Kajsa Ollongren said, adding that initial discussions about who may have F-16s available to send is underway.
Ukraine has long sought the sophisticated fighter to give it a combat edge as it battles Russia's invasion, now in its second year.
The Biden administration's decision was a sharp reversal after refusing to approve any transfer of the aircraft or conduct training for more than a year because of worries that doing so could escalate tensions with Russia. U.S. officials also had argued against the F-16 by saying that learning to fly and logistically support such an advanced aircraft would be difficult and take months.
Air Force Brig. Gen. Pat Ryder, the Pentagon press secretary, said this week that the U.S. decision on the F-16 was part of a broader long-term commitment to meet Ukraine's future military needs. He said the jets would not be relevant in any counteroffensive expected to begin shortly.