Parents more hesitant to vaccinate kids than themselves, researcher says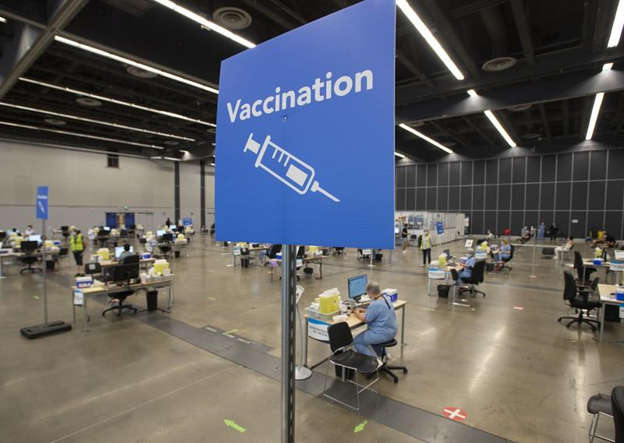 OTTAWA — Jennifer Hubert jumped at the opportunity to get her COVID-19 vaccine, but she's not looking forward to having to make the decision about whether to vaccinate her three-year-old son Jackson.
She recognizes the safety and effectiveness of vaccines, but said she also understands her son is at a much lower risk for serious illness than older adults.
"To me it's not a clear benefit," she said.
While many parents were overjoyed at the news that Health Canada is considering approval of the first COVID-19 vaccine for kids age five to 11 in Canada, parents like Hubert are feeling more trepidatious, and public health officials said they are going to have a much more nuanced conversation with parents about vaccination than they did with adults.
While 82 per cent of eligible Canadians aged 12 and up are already fully vaccinated, a recent survey by Angus Reid shows only 51 per cent of parents plan to immediately vaccinate their kids when a pediatric dose becomes available.
Of parents with children in the five to 11 year age range, 23 per cent said they would never give their kids a COVID-19 vaccine, 18 per cent said they would wait, and nine per cent said they weren't sure, according to the survey of 5,011 Canadians between Sept. 29 and Oct. 3, which cannot be assigned a margin of error because online surveys are not considered random samples.
"Most of the research that I've seen sort of indicates that parents are more hesitant to vaccinate their kids against COVID than themselves," said Kate Allen, a post-doctoral fellow at the Center for Vaccine Preventable Diseases of the University of Toronto.
There are several reasons parents might pause, she said.
It's true that children are at a much lower risk of serious outcomes associated with COVID-19, and there have been very rare incidents of mRNA vaccines like Pfizer or Moderna linked to cases of myocarditis, a swelling of the heart muscle.
As of Oct. 1, Health Canada has documented 859 cases associated with the vaccines, which mainly seem to affect people under 40 years old, and people who've developed the complication have typically been fine.
"I know it's rare, I know it's not deadly, but I also see the risk of severe symptoms from COVID as being rare and not deadly for Jackson," Hubert said when asked about weighing up the risks and benefits of the vaccine.
But public health experts stress that some children do suffer from rare but serious impacts from COVID-19, which can also cause myocarditis as well as the little-understood impacts of the condition known as long COVID.
They say parents should consider the less tangible benefits of vaccination as well.
"It's less of a conversation about a direct benefit to them, and more of a community benefit," Allen said.
The pandemic has taken a heavy toll on children, depriving them of school, time with their peers, extracurriculars — and their mental health has suffered as a result, said Dr. Vinita Dubey, associate medical officer of health with Toronto Public Health.
"Not one child has been spared from this pandemic. I mean every single child has had to bear a sacrifice because of the pandemic in one way or the other," Dubey said.
So far Pfizer-BioNtech is the only manufacturer to request approval for its pediatric COVID-19 vaccine and Health Canada is still reviewing the data.
The regulator has promised the review will be thorough, and the vaccine will only be approved for children if the benefits outweigh the potential risks.
Policy-makers know they're going to have to take parents' concerns seriously as well.
On a recent tour of the Childrens' Hospital of Eastern Ontario in Ottawa, Prime Minister Justin Trudeau spoke with Dr. Anne Pham-Huy, a pediatric infectious diseases physician.
"Vaccine confidence is going to be the most important part of it this time around," Pham-Huy said, to which Trudeau agreed.
Dubey has published research on improving parents' vaccine confidence when it comes to long-established inoculations like mumps and rubella.
While she offered several tips, they mainly come down to building trust. Her research focused on the role of family doctors, but she said during the pandemic anyone can be that trusted sounding board.
"It could be a faith leader, it could be an important family member or friend, someone who you trust, to help guide you to the right sources to make that decision," she said.
With that in mind, several students from across North America launched a peer-to-peer education program called Students for Herd Immunity to allow kids to have those conversations among themselves.
The public health experts agree, the debate around vaccines has become polarized and open conversations will be the key to addressing parents' concerns.
"I think one thing to say to parents is you don't have to make your decision right away," Dubey said. "I mean for those who are ready to make their decision, but it's fine but if you have questions, seek the answers."
Her only advice is to get those answers from a trusted source, and not social media.
This report by The Canadian Press was first published Oct. 24, 2021.
Laura Osman, The Canadian Press
Ottawa interim police chief Steve Bell didn't ask feds to invoke Emergencies Act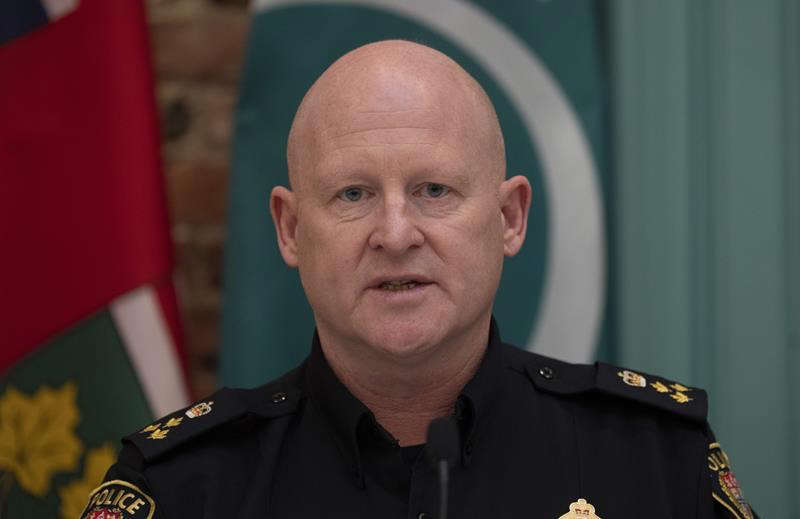 Ottawa's interim police chief says he did not ask the federal government to invoke the Emergencies Act during the "Freedom Convoy" in February.
The Liberals have said law enforcement asked for additional powers that could only be granted by declaring a national emergency.
Last week, however, Commissioner Brenda Lucki also said the RCMP did not ask the federal government to use the act.
Ottawa interim chief Steve Bell spoke to a parliamentary committee today, along with representatives from the Ontario Provincial Police, the RCMP and Gatineau police, about issues with jurisdiction in downtown Ottawa.
The committee on Procedure and House Affairs is examining whether the Parliamentary Protective Service should have jurisdiction over Wellington and Sparks streets, in addition to its current oversight of the parliamentary precinct.
Bell says there will need to be clarity on the boundaries of each organization's responsibility if any changes are made, and clarity about what happens when events such as protests cross over those boundaries.
This report by The Canadian Press was first published May 17, 2022.
The Canadian Press
Shanghai reaffirms 'zero-COVID'; WHO says not sustainable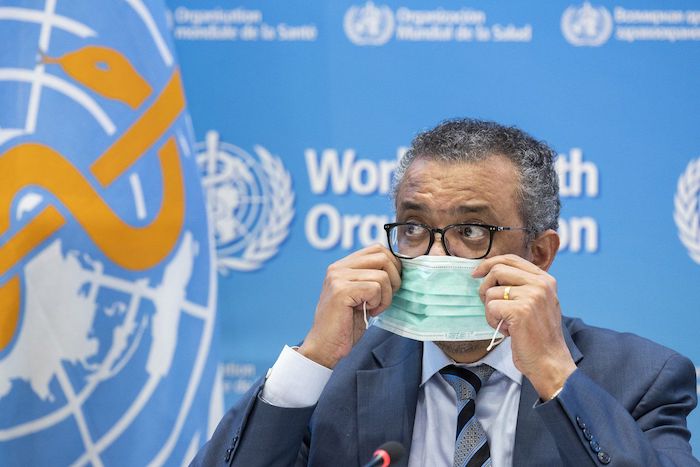 BEIJING (AP) — Shanghai reaffirmed China's strict "zero-COVID" approach to pandemic control Wednesday, a day after the head of the World Health Organization said that was not sustainable and urged China to change strategies.
While China's largest city has seen progress in controlling the COVID-19 outbreak, any relaxation in prevention and control measures could allow it to rebound, deputy director of Shanghai's Center for Disease Control Wu Huanyu told reporters.
"At the same time, now is also the most difficult and critical moment for our city to achieve zero-COVID," Wu said at a daily briefing.
"Should we relax our vigilance, the epidemic may rebound, so it is necessary to persistently implement the prevention and control work without relaxing," he said.
Wu gave no indication he was aware of the comments by WHO Director-General Tedros Adhanom Ghebreyesus, who said he had been holding discussions with Chinese experts on the need to transition to a new approach in light of new knowledge about the virus.
"When we talk about the 'zero-COVID,' we don't think that it's sustainable, considering the behavior of the virus now and what we anticipate in the future," Tedros said at a news briefing Tuesday.
"And especially when we have now a good knowledge, understanding of the virus and when we have good tools to use, transitioning to another strategy will be very important," he said.
Tedros was joined by Mike Ryan, the WHO's emergencies chief, who said all pandemic control actions should "show due respect to individual and human rights."
Countries need to "balance the control measures, the impact on society, the impact on the economy. That is not always an easy calibration to make," Ryan said.
China's ruling Communist Party has strictly controlled all discussion about its controversial approach, which aims to totally stamp out outbreaks, and said it would tolerate no criticism. The entirely state-controlled media did not report on the comments by Tedros and Ryan and references to them on the Chinese internet appeared to have been removed by censors.
The ruthless and often chaotic implementation of zero-COVID has stirred considerable resentment in Shanghai, where some residents have been under lockdown for more than a month. As of Wednesday, more than 2 million people in the city remained confined to their residential compounds, while restrictions had been slightly relaxed for most of the other 23 million.
However, the easing appears to now be on hold, even as the number of new cases falls in the city that is home to China's busiest port, main stock market and thousands of Chinese and foreign firms.
Teams in white protective suits have begun entering the homes of infected people to spray disinfectant, prompting worries about damage to property. Residents have in some cases been ordered to leave their keys with a community volunteer when they are taken to quarantine so disinfectant workers can get in, a new requirement that has no apparent legal basis.
People in some areas have been ordered to stay home again after having been let out for limited shopping in recent weeks. On Tuesday, service was suspended on the last two subway lines that were still operating.
Complaints have centered on shortages of food and other daily necessities and the forced removal of thousands of people to quarantine centers after having tested positive or having been in contact with an infected person, standard procedure in China's zero-COVID approach.
Along with the human cost, the adherence to "zero-COVID" as many other countries loosen restrictions and try to live with the virus is exacting a growing economic toll.
However, the party under leader Xi Jinping shows no sign of backing off amid efforts to ensure stability and shore up its authority ahead of a major party congress this fall.
Chinese experts such as Wu have been careful to toe the party line, saying the strategy has been effective in limiting the official death toll to slightly over 5,000 over the course of the entire pandemic, according to the government's National Health Commission, and that any let-up risks sparking a major new surge.
Ryan gave China's death toll as just over 15,000 and the Johns Hopkins University of Medicine Coronavirus Resource center offers a figure of 14,538.
The daily number of new cases in Shanghai reported on Wednesday had fallen to less than 1,500, down from a peak of 26,000 in mid-April. Seven more COVID-19-related deaths were reported, raising the toll from the outbreak to 560.
While China says more than 88% of its population is fully vaccinated, the rate is considerably lower among the vulnerable elderly. Questions have also been raised about the efficacy of Chinese-produced vaccines compared to those from Europe and the United States.
In the capital Beijing, residents have been ordered to undergo mass testing in a bid to prevent a major outbreak like that in Shanghai. The city, which reported 37 new cases on Wednesday, has locked down individual buildings and residential compounds, shut about 60 subway stations and banned dining at restaurants, allowing only takeout and delivery.