Parents more hesitant to vaccinate kids than themselves, researcher says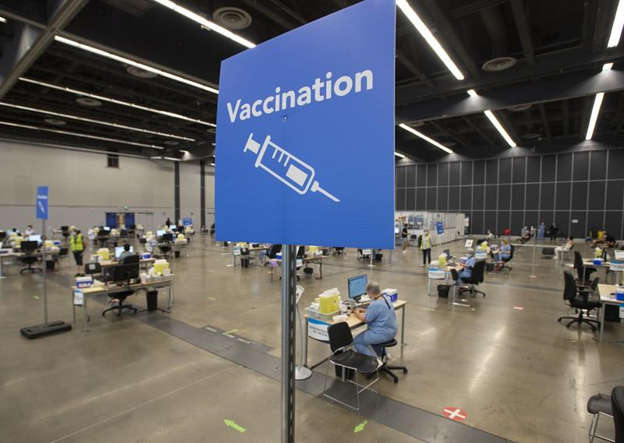 OTTAWA — Jennifer Hubert jumped at the opportunity to get her COVID-19 vaccine, but she's not looking forward to having to make the decision about whether to vaccinate her three-year-old son Jackson.
She recognizes the safety and effectiveness of vaccines, but said she also understands her son is at a much lower risk for serious illness than older adults.
"To me it's not a clear benefit," she said.
While many parents were overjoyed at the news that Health Canada is considering approval of the first COVID-19 vaccine for kids age five to 11 in Canada, parents like Hubert are feeling more trepidatious, and public health officials said they are going to have a much more nuanced conversation with parents about vaccination than they did with adults.
While 82 per cent of eligible Canadians aged 12 and up are already fully vaccinated, a recent survey by Angus Reid shows only 51 per cent of parents plan to immediately vaccinate their kids when a pediatric dose becomes available.
Of parents with children in the five to 11 year age range, 23 per cent said they would never give their kids a COVID-19 vaccine, 18 per cent said they would wait, and nine per cent said they weren't sure, according to the survey of 5,011 Canadians between Sept. 29 and Oct. 3, which cannot be assigned a margin of error because online surveys are not considered random samples.
"Most of the research that I've seen sort of indicates that parents are more hesitant to vaccinate their kids against COVID than themselves," said Kate Allen, a post-doctoral fellow at the Center for Vaccine Preventable Diseases of the University of Toronto.
There are several reasons parents might pause, she said.
It's true that children are at a much lower risk of serious outcomes associated with COVID-19, and there have been very rare incidents of mRNA vaccines like Pfizer or Moderna linked to cases of myocarditis, a swelling of the heart muscle.
As of Oct. 1, Health Canada has documented 859 cases associated with the vaccines, which mainly seem to affect people under 40 years old, and people who've developed the complication have typically been fine.
"I know it's rare, I know it's not deadly, but I also see the risk of severe symptoms from COVID as being rare and not deadly for Jackson," Hubert said when asked about weighing up the risks and benefits of the vaccine.
But public health experts stress that some children do suffer from rare but serious impacts from COVID-19, which can also cause myocarditis as well as the little-understood impacts of the condition known as long COVID.
They say parents should consider the less tangible benefits of vaccination as well.
"It's less of a conversation about a direct benefit to them, and more of a community benefit," Allen said.
The pandemic has taken a heavy toll on children, depriving them of school, time with their peers, extracurriculars — and their mental health has suffered as a result, said Dr. Vinita Dubey, associate medical officer of health with Toronto Public Health.
"Not one child has been spared from this pandemic. I mean every single child has had to bear a sacrifice because of the pandemic in one way or the other," Dubey said.
So far Pfizer-BioNtech is the only manufacturer to request approval for its pediatric COVID-19 vaccine and Health Canada is still reviewing the data.
The regulator has promised the review will be thorough, and the vaccine will only be approved for children if the benefits outweigh the potential risks.
Policy-makers know they're going to have to take parents' concerns seriously as well.
On a recent tour of the Childrens' Hospital of Eastern Ontario in Ottawa, Prime Minister Justin Trudeau spoke with Dr. Anne Pham-Huy, a pediatric infectious diseases physician.
"Vaccine confidence is going to be the most important part of it this time around," Pham-Huy said, to which Trudeau agreed.
Dubey has published research on improving parents' vaccine confidence when it comes to long-established inoculations like mumps and rubella.
While she offered several tips, they mainly come down to building trust. Her research focused on the role of family doctors, but she said during the pandemic anyone can be that trusted sounding board.
"It could be a faith leader, it could be an important family member or friend, someone who you trust, to help guide you to the right sources to make that decision," she said.
With that in mind, several students from across North America launched a peer-to-peer education program called Students for Herd Immunity to allow kids to have those conversations among themselves.
The public health experts agree, the debate around vaccines has become polarized and open conversations will be the key to addressing parents' concerns.
"I think one thing to say to parents is you don't have to make your decision right away," Dubey said. "I mean for those who are ready to make their decision, but it's fine but if you have questions, seek the answers."
Her only advice is to get those answers from a trusted source, and not social media.
This report by The Canadian Press was first published Oct. 24, 2021.
Laura Osman, The Canadian Press
Red Deer South Conservative MLA is a one man opposition party within government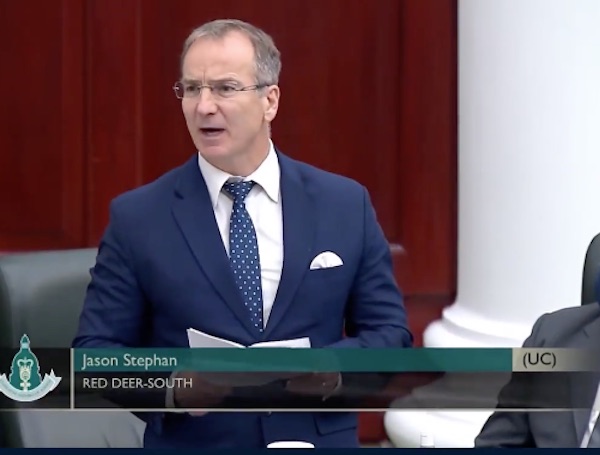 Jason Stephan may be treading on thin ice with his government as the backbench MLA stood in the Legislature this week t0 challenge his own government.. again. Backbench government MLA's tend to disappear for long periods of time waiting for a shot to get into cabinet and make decisions that affect the province. These MLA's spend time on committees trying to influence the cabinet decision makers and ultimately the Premier. Stephan is having none of that. The Red Deer South MLA has repeatedly taken his own government to task when he doesn't agree with the actions they're taking.
The latest example took place in the Legislature Thursday when Jason Stephan rose to challenge Health Minister Jason Copping on Section 1 of the Charter which says "limits to fundamental freedoms must be justified." In this extraordinary exchange Health Minister Jason Copping repeated government talking points while Stephan demanded answers on whether the province has subjected any of the public health restrictions to due diligence to ensure they meet requirements set out in the Charter of Rights.
In this amazing exchange between members of the same government, MLA Stephan challenged Minister Copping on due diligence, restrictions against children, and restrictions against people who test negative or have protective antibodies due to the fact they've already survived covid.
Province wants everyone in Alberta to get a third shot
Expanding COVID-19 booster to all Albertans 18-plus
Expanded availability of third doses of COVID-19 vaccine will help Albertans increase their protection against COVID-19.
Starting Dec. 2, all Albertans aged 60 and older can book appointments for a booster dose of mRNA vaccine six months after receiving their second dose. First appointments will be available beginning Dec. 6.
All other Albertans aged 18-plus will be notified when the next age group is able to book appointments. Additional age groups will be announced as quickly as possible.
"I am pleased that we can offer booster doses to more Albertans. Millions of Albertans have rolled up their sleeves to have their best protection against COVID-19. While two doses continues to provide strong protection against severe outcomes, we will continue to push the federal government for supply to ensure all Albertans can receive their third doses to continue limiting COVID-19 infection and transmission."
"With the winter season increasing transmission risks, and more Albertans approaching the six-month milestone since receiving their second dose, the evidence supports expanding booster doses to add an additional layer of protection. Vaccines continue to be our best protection against COVID-19, and I continue to encourage Albertans to book their first, second and third doses as soon as they are eligible."
Current evidence indicates that vaccine effectiveness against COVID-19 infection appears to wane over time. While individual protection against severe outcomes remains strong after two doses for most people, there are still many in our communities who are completely unprotected, and third doses will help boost population protection and limit the spread of COVID-19.
Expansion of booster dose eligibility was informed by the advice of the Alberta Advisory Committee on Immunization.
Booking for booster doses
Effective Dec. 2, eligible individuals can book appointments for third doses online with participating pharmacies by using the Alberta vaccine booking system. Albertans can also call 811, participating pharmacies or participating physicians' offices. The first appointments will be available starting Dec. 6.
Booster eligibility is based on birth date. Albertans who are 59 turning 60, and First Nation, Métis or Inuit individuals who are 17 turning 18, are asked to not book appointments before their birthday.
Albertans who were previously eligible for third doses continue to be able to book their appointments.
Albertans eligible for additional doses
Albertans eligible for additional doses now include:
Eligible at least six months after receiving their second dose:
Albertans aged 60-plus
First Nations, Métis and Inuit people aged 18-plus
Health-care workers providing direct patient care and who received their second dose less than eight weeks after their first dose
Individuals who received two doses of AstraZeneca or one dose of Janssen vaccine
Eligible at least five months after receiving their second dose:
Seniors living in congregate care
Eligible at least eight weeks after receiving their second dose:
Individuals with eligible immunocompromising conditions
Quick facts
To date, 378,507 Albertans have received a third dose of COVID-19 vaccine.
84.1 per cent of eligible Albertans 12 years of age and older have received two doses of COVID-19 vaccine while 88.8 per cent have received at least one dose.