Our leaders are turning our country into one of the places we used to defend people against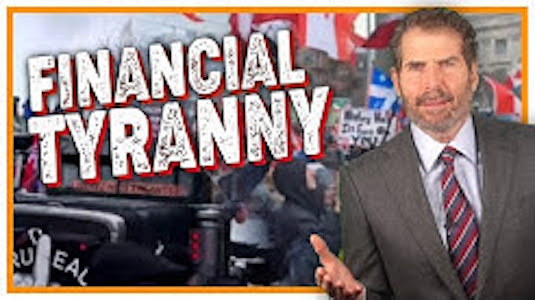 From John Stossel.
If politicians are frightened by a protest, some will take your money and your rights. If the government doesn't like your speech, or your business, you may face financial tyranny.
Truckers protesting Canada's COVID vaccine rules had their bank accounts frozen. "You do have to have a bank account, really, to be able to live," says law professor Todd Zywicki. Freezing accounts ended the protests quickly. "It's a very big threat to a free society," says Zywicki. "We need to tolerate people saying things we don't like." But politicians often don't. If they can silence protest by grabbing your money, they will.
———— To make sure you see the new weekly video from Stossel TV, sign up here: https://www.johnstossel.com/#subscribe ————
John Stossel
After 40+ years of reporting, I now understand the importance of limited government and personal freedom.
Libertarian journalist John Stossel created Stossel TV to explain liberty and free markets to young people. Prior to Stossel TV he hosted a show on Fox Business and co-anchored ABC's primetime newsmagazine show, 20/20. Stossel's economic programs have been adapted into teaching kits by a non-profit organization, "Stossel in the Classroom." High school teachers in American public schools now use the videos to help educate their students on economics and economic freedom. They are seen by more than 12 million students every year. Stossel has received 19 Emmy Awards and has been honored five times for excellence in consumer reporting by the National Press Club. Other honors include the George Polk Award for Outstanding Local Reporting and the George Foster Peabody Award.
'Freedom Convoy' organizer Tamara Lich released on bail, again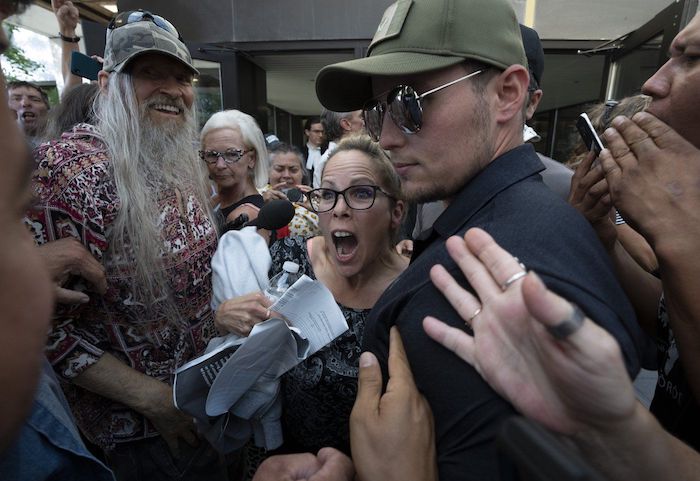 OTTAWA — "Freedom Convoy" organizer Tamara Lich was once again released from jail on Tuesday after a Ontario Superior Court judge found errors in the decision to revoke her bail two weeks ago.
Lich was mobbed outside the Ottawa courthouse with cheers and hugs from an enthusiastic group of about two dozen supporters.
They included familiar faces from the protest that gridlocked downtown Ottawa for three weeks earlier this, which saw crowds protesting COVID-19 restrictions, including vaccine mandates, and the Liberal government.
"We feel it's long overdue," Lich's lawyer, Lawrence Greenspon, said after his client's release.
Earlier Tuesday, Superior Court Justice Andrew Goodman gave Lich a stern warning before she was allowed to leave the courtroom.
"It must be crystal clear to you by now that the authorities are monitoring your every action," he told her. He added that should she return for another bail review, he thinks it would be unlikely that she would be released again.
Lich is charged with mischief, obstructing police, intimidation and counselling others to commit mischief for her role in the massive protest.
Initially arrested in February, Lich was released on bail the next month. She was then arrested on a Canada-wide warrant at the end of June for an alleged breach of her bail conditions, which forbade her from having contact with a long list of fellow convoy organizers without lawyers present.
Lich was photographed with one of the people on that list — Tom Marazzo — at an awards ceremony put on by the Justice Centre for Constitutional Freedoms in Toronto.
Lich received permission from the court to attend the gala, where she was treated as guest of honour and presented with a "Freedom Award" in recognition of her leadership during the convoy.
Justice of the Peace Paul Harris ordered her jailed until her trial, saying there was no evidence that lawyers were present and that the two were clearly not discussing her case.
On Tuesday, Goodman said the justice of the peace made several legal errors, including that her bail conditions didn't stipulate that she had to be discussing her case.
This report by The Canadian Press was first published July 26, 2022.
Laura Osman, The Canadian Press
Tamara Lich once again argues for freedom from jail at bail-review hearing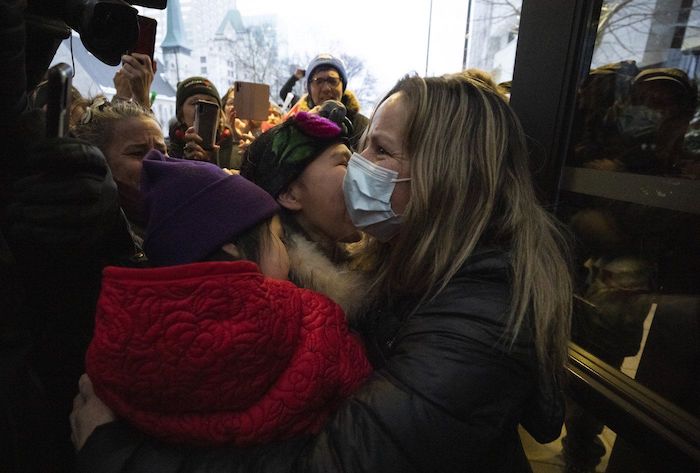 By Laura Osman in Ottawa
"Freedom Convoy" organizer Tamara Lich is once again arguing to be released from jail after a justice of the peace denied her bail earlier this month.
Lich was ordered to remain in jail to await trial for her role in the protest that paralyzed downtown Ottawa in February, after the court decided she had breached her bail conditions.
She had been ordered not to communicate with key convoy organizers except through counsel or in the presence of counsel, but was re-arrested after having contact with fellow protest leader Tom Marazzo at an awards gala in Toronto last month.
In court today, her lawyer Lawrence Greenspon argues the two organizers did nothing more than shake hands and pose for a photo together at the gala.
He says Lich has now spent 48 days in jail while she waits to answer to non-violent charges.
Lich faces charges of mischief, obstructing police, counselling others to commit mischief and intimidation for her role in the massive protest against COVID-19 restrictions and the Liberal government.
This report by The Canadian Press was first published July 25, 2022.