Ottawa's Sir John A. Macdonald Parkway to get an Indigenous name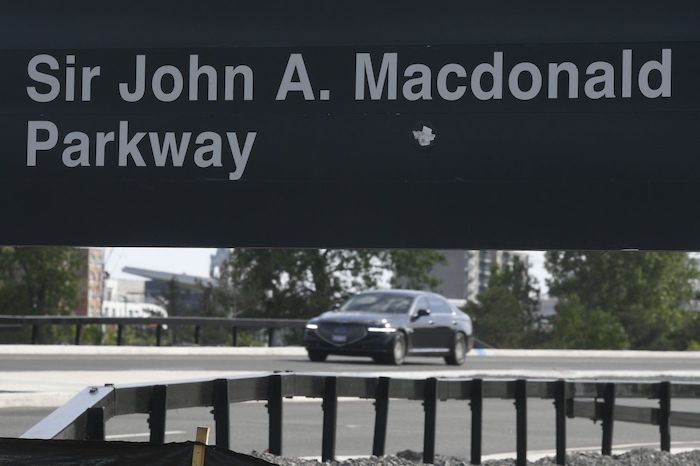 By Cindy Tran in Ottawa
An Ottawa thoroughfare currently named after Canada's first prime minister is expected to receive a new Indigenous name later this year, the National Capital Commission said Thursday.
"I'm fully supportive of this decision," Ottawa Mayor Mark Sutcliffe said Thursday after the commission's board of directors unanimously approved the recommendation to move forward with renaming the Sir John A. Macdonald Parkway.
"I think this is something that Canadians and residents of Ottawa can be proud of once this process is complete," Sutcliffe said.
In June 2021, three Ottawa city councillors sent a letter to Prime Minister Justin Trudeau urging the federal government to facilitate an Indigenous-led consultation process to rename the parkway.
They wrote the letter after ground-penetrating radar located some 200 suspected unmarked graves at a former residential school site in Kamloops, B.C., saying there was an "urgent need" for Canada to commit to projects of reconciliation.
Macdonald authorized the creation of the residential school system while he was in power in the 1880s. It is estimated that more than 150,000 First Nations, Métis and Inuit children were forced to attend the government-funded, church-operated schools, where many suffered abuse and some died. The last such school closed in 1996.
On Thursday, the National Capital Commission, a federal Crown corporation, said it will engage with Indigenous communities and the public to discuss a new name and to encourage storytelling and sharing with the community.
It will propose a new Indigenous name for the road by June 2023.
The new name for the parkway will be shared at a ceremony and public event on Sept. 30, the National Day for Truth and Reconciliation.
Coun. Theresa Kavanagh, who was one of the three city councillors who wrote the letter to Trudeau, called the discovery in Kamloops an "absolute turning point" and a "reality check."
"It's moving at a snail's pace, but I'll take it as a sign of hope," Kavanagh said ahead of Thursday's update. "I hope that this means that they've been doing some consultation with the local First Nations communities."
CEO Tobi Nussbaum had told the commission's board last October that the renaming project was "underway."
And last April, the commission had said in a press release that it provided its board of directors with an updated policy on toponymy — or the study of place names — to provide "a more transparent decision-making process for naming and renaming NCC-managed assets."
It announced that a new advisory committee on toponymy was being formed that included members of the Kitigan Zibi Anishinabeg and Algonquins of Pikwakanagan First Nations, along with other local experts.
"The committee's first order of business will be to consider an existing request for the renaming of the Sir John A. Macdonald Parkway," said the press release.
The parkway has carried the first prime minister's name for just over a decade.
The Ottawa River Parkway was renamed in his honour in 2012, under the government of former Conservative prime minister Stephen Harper. At the time, the NCC said it cost $60,000 to change the four major signs along the roadside.
This report by The Canadian Press was first published Jan. 19, 2023.
Canada to send more weapons to Ukraine, Trudeau says on trip to Kyiv
Prime Minister Justin Trudeau, left, and Ukrainian President Volodymyr Zelenskyy pose with joint declaration adopted by Canada and Ukraine during a press conference in Kyiv, Ukraine, on Saturday, June 10, 2023. THE CANADIAN PRESS/Frank Gunn
By Bill Graveland in Kyiv
Canada will spend $500 million to help Ukraine's military fight Russia's invasion, Prime Minister Justin Trudeau said Saturday on an unannounced visit to Kyiv, including more weapons and fighter-pilot training.
"Canada will continue to stand with Ukraine with whatever it takes as long as it takes," Trudeau said in a press conference while standing beside Ukraine's President Volodymyr Zelenskyy.
"You're fighting for your country and for values like democracy, freedom, respect, and dignity. And in fighting for Ukraine, you're also fighting for the future of us all," Trudeau told Zelenskyy.
The visit, which is happening at the invitation of Ukraine, comes amid signs a long-awaited spring counteroffensive against Russia could be underway.
It is also happening as there have been wildfires across Canada, with smoke reducing air quality, and after Friday's resignation of the special rapporteur Trudeau had assigned to probe foreign interference.
"Canada will be part of the multinational efforts to train fighter pilots and to help maintain Ukraine's fighter-jet program, leveraging Canadian expertise in these areas," Trudeau said during the news conference, adding that Canada will join a team of countries helping to maintain tanks, while providing hundreds more missiles and additional rounds of ammunition.
That includes 288 more AIM-7 missiles for warding off Russian airstrikes, and reallocating existing funds for 10,000 rounds of 105-millimetre ammunition, Trudeau said.
The prime minister also announced existing aid for Ukraine will be used to support those coping with a worsening humanitarian situation in southern Ukraine after the collapse of a hydroelectric dam this week.
Trudeau also announced more sanctions on 24 individuals and 17 entities for alleged support of Russia's invasion of Ukraine.
He also said the federal government would try to seize a massive Russian-registered Antonov 124 cargo plane that Canada grounded after it landed at Toronto Pearson International Airport in February 2022.
The prime minister said Canada will try to forfeit the plane to Ukraine, so it can't be used to support Russia's war effort. Ottawa has legislation to forfeit assets of people sanctioned by Canada, but as of a month ago it had not filed any court application despite promising last December to seize assets held by oligarch Roman Abramovich.
Deputy Prime Minister Chrystia Freeland joined Trudeau on the trip, which began with the laying of a wreath at the Wall of Remembrance at St. Michael's Golden-Domed Monastery. Freeland also placed some flowers at the wall, which features photos of Ukrainians who have died while defending their homeland. Both met Ukrainian soldiers there for the event.
On his way to the wall, Trudeau at one point crouched down low to look inside one of the frames of burnt-out Russian tanks and military vehicles that fill a public square. Not long before Trudeau and Freeland arrived, there was sombre music and an honour guard for a casket carried into the cathedral for a funeral.
This is the second time that Trudeau has made an unannounced visit to the embattled country since Russia began its large-scale invasion of Ukraine in February 2022.
Trudeau last travelled to Ukraine just over a year ago, where he reopened the Canadian Embassy in Kyiv and met Zelenskyy in person for the first time since the war began.
Some media outlets, including The Canadian Press, were made aware of this new trip ahead of time on the condition that it not be reported until it was made public, for security reasons.
Trudeau met Zelenskyy in the building housing the Office of the President on Saturday. Trudeau and Freeland then both took part in an expanded bilateral meeting with Zelenskyy and some of his officials, and he thanked Canada for taking in thousands of Ukrainians fleeing the conflict.
"We need more friends like Canada," Zelenskyy said.
The visit coincides with Ukraine's gradual ramping up of military activity. Moscow has claimed that Ukraine's long-promised spring counteroffensive is already happening. Ukraine's General Staff said Saturday that "heavy battles" were underway. It gave no details but said Russian forces were "defending themselves" and launching air and artillery strikes in Ukraine's southern Kherson and Zaporizhzhia regions.
Meanwhile, Britain's defence ministry reported on Saturday there has been "significant Ukrainian operations" in the country's east and south since Thursday morning, with gains in some areas.
The ministry reported mixed results from the Russian army, with some units holding ground "while others have pulled back in some disorder, amid increased reports of Russian casualties as they withdraw through their own minefields."
The ministry also noted "unusually active" Russian airstrikes in southern Ukraine, where it is easier for Moscow to fly planes.
On Friday, Russian President Vladimir Putin said Moscow will deploy some of its tactical nuclear weapons to Belarus next month, a move that the Belarusian opposition described as an attempt to blackmail the West ahead of a July meeting of the NATO military alliance.
Russia has used the territory of Belarus, its ally, to send its troops into Ukraine since the invasion began. It has kept forces and weapons there too.
Earlier this week, a hydroelectric dam on the Dnieper River ruptured, flooding a large part of the front line in southern Ukraine and worsening the humanitarian situation — including the need for drinking water — in an area that was already undergoing shelling.
It remains unclear how the dam collapse happened. Kyiv has accused Russia of blowing up the dam and its hydropower plant, which Russian forces controlled. Moscow said Ukraine did it.
Trudeau and Zelenskyy also spent some time together just last month on the margins of the G7 summit in Hiroshima, Japan, where the Ukrainian president continued his campaign to shore up support among western allies for the defence of his country.
Canada has joined other countries in condemning Russian President Vladimir Putin's regime for the incursion, including through economic sanctions.
Ottawa has also contributed more than $8 billion to efforts related to the war in Ukraine since last year.
That included launching a special immigration program to allow Ukrainians to come to Canada quickly with a temporary work and study permit, instead of going through the usual refugee system.
It also gave some $1 billion in military support, including the donation of eight Leopard 2 main battle tanks to support the Armed Forces of Ukraine.
Ukrainian Prime Minister Denys Shmyhal visited Toronto in April, when he thanked Canada for its support but also stressed the need for more.
Last month, Defence Minister Anita Anand announced a team of Canadian Armed Forces medical trainers helping instruct Ukrainian personnel in Poland would increase from seven to 12, and that Ottawa would donate 43 short-range missiles to Ukraine.
Canada has also recently joined Latvia in delivering training to Ukrainian soldiers being promoted to junior military officers, building on a program that focuses on teaching battlefield tactics.
During the G7 summit last month, Trudeau stressed that countries pushing for a negotiated ceasefire must recognize Russia is to blame for the conflict and could end things by stopping its invasion.
"It is not a ceasefire that is needed. It is peace. And that peace can only be achieved if Russia decides to stop its ongoing invasion of a sovereign neighbour," the prime minister said.
The House of Commons foreign-affairs committee took a similar view after its February visit to the region.
"The strategic consequences of allowing Russia to benefit from its aggression would far exceed the monetary costs associated with supporting Ukraine," reads the committee's April report.
"A frozen conflict would leave Ukraine facing constant threats and blackmail."
This report by The Canadian Press was first published June 10, 2023.
— with files from The Associated Press.
David Johnston quits as special rapporteur on foreign interference
David Johnston, Independent Special Rapporteur on Foreign Interference, appears as a witness at the Procedure and House Affairs Committee on Parliament Hill in Ottawa on Tuesday, June 6, 2023. Johnston says he is stepping down from his role, citing the highly partisan atmosphere around his work. THE CANADIAN PRESS/Sean Kilpatrick
By Sarah Ritchie in Ottawa
David Johnston says he is stepping down from his role as special rapporteur investigating foreign interference before the end of June, citing the highly partisan atmosphere around his work.
The former governor general said in a letter to Prime Minister Justin Trudeau on Friday that his objective in leading the government's probe into alleged meddling by China was to help build trust in democratic institutions.
"I have concluded that, given the highly partisan atmosphere around my appointment and work, my leadership has had the opposite effect," he said.
Johnston's appointment has been contentious, with Conservative Leader Pierre Poilievre repeatedly accusing him of being too close to Trudeau's family to provide an unbiased review of government actions.
Last week, MPs passed a non-binding NDP motion calling on Johnston to step down due to that perceived bias. Johnston was friends with Pierre Elliott Trudeau, and went on ski trips with the Trudeau family when Justin was a child.
On Tuesday, he told a committee he planned to stay in his role because "the vote was based on allegations that were false, and that it'd be wrong for me to simply step aside and let those allegations stand as fact and truth."
All opposition parties have been calling for the government to call a public inquiry into foreign interference.
Beginning last fall, the Globe and Mail and Global News published a series of reports that cited unnamed security sources who alleged there was a co-ordinated effort by Beijing to interfere in the last two federal elections.
In March, facing increasing pressure inside and outside the House of Commons, Trudeau named Johnston as special rapporteur and tasked him with setting a path forward for the government in tackling the issue. He was asked to report back by May 23 on whether that should include a public inquiry.
"A deep and comprehensive review of foreign interference, its effects and how to prevent it should be an urgent priority for your government and our Parliament," Johnston wrote Friday.
He reiterated the conclusion he came to in his report last month, which said that a public inquiry would not be useful given the constraints of national security laws and the amount of classified information that will be dealt with.
He suggested public hearings should be held to educate Canadians about how foreign interference happens and how to manage it.
Those hearings, which were supposed to make up the second part of his mandate over the next five months, were set to include testimony from government representatives, national security officials and members of the Chinese diaspora. The work was to be supported by three special advisers with expertise on national security intelligence, law and diaspora communities.
Johnston said Friday that he will instead release a brief final report no later than the end of June. That will conclude his work.
As he stepped aside, Johnston encouraged Trudeau to appoint a "respected person with national security experience" to finish the work he started, and suggested he consult with opposition parties on who that should be.
Intergovernmental Affairs Minister Dominic LeBlanc said in a statement Friday evening that he has been asked to consult experts and opposition parties on the next steps "and to assess who is best to lead that work."
"As I take on this assignment, our efforts to combat foreign interference in our democracy continue, as do the ongoing reviews of the classified annex of Mr. Johnston's report, and the work of both the National Security and Intelligence Committee of Parliamentarians and the National Security Review and Intelligence Agency," LeBlanc said.
Opposition politicians said the resignation is another signal that a public inquiry should begin.
"When we tabled our motion calling for the special rapporteur to step aside, we said that the appearance of bias was too much to continue," NDP Leader Jagmeet Singh said in a statement, adding that he believes Johnston is an honourable man.
Singh said Johnston fell victim to "the bungled handling of foreign interference by the Liberal government," but said his report outlined real and alarming gaps in national security.
"We are also calling on the government to work with opposition parties on an action plan that can begin to address these gaps and ensure the trust of Canadians in our democracy," he said.
Bloc Québécois Leader Yves-Francois Blanchet said in French that he salutes Johnston's dignified decision, and that Trudeau has no choice now but to call a public inquiry.
Poilievre said in a statement that Trudeau has been "flailing around for months trying to cover up the help he got from Beijing's Communist government," and accused him of destroying Johnston's reputation. He, too, called for a public inquiry.
A task force of senior civil servants has monitored each of the last two federal elections for signs of foreign interference. While it reported there were attempts to interfere, it concluded that none of those attempts rose to the level of threatening the integrity of the vote.
The director of the Canadian Security Intelligence Service, David Vigneault, told a House committee in March that the 2019 and 2021 elections were free and fair.
Poilievre has repeatedly said he does not doubt the results of either election.
Conservative MP Erin O'Toole called Johnston an "exceptional Canadian" in a tweet of his own, thanking him for his service to the country.
"It is so disappointing that the prime minister used his stellar reputation as a political shield," he wrote.
This report by The Canadian Press was first published June 9, 2023.