Ottawa to spend $1.5 billion to improve access to drugs for rare diseases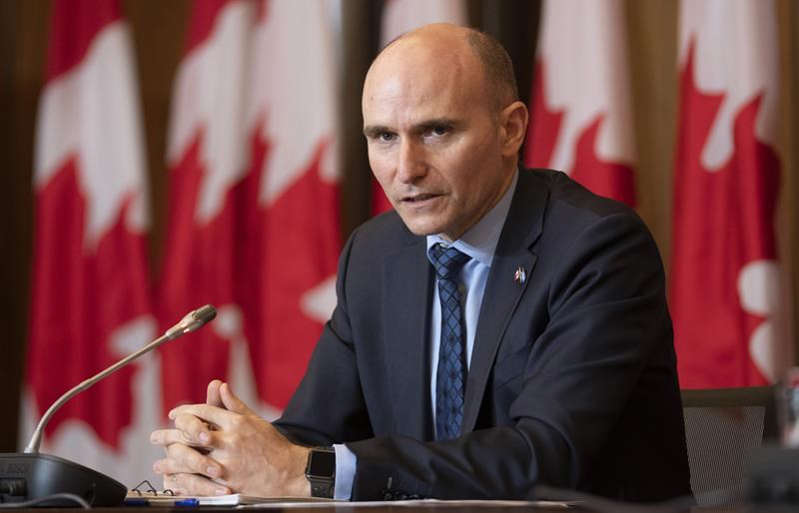 Minister of Health Jean-Yves Duclos speaks during a news conference in Ottawa, on Friday, March 10, 2023. The federal government says it will spend up to $1.5 billion over the next three years to improve access to new drugs used to treat rare diseases.THE CANADIAN PRESS/Justin Tang
Montreal (CP) – The federal government says it will spend up to $1.5 billion over the next three years to improve access to drugs used to treat rare diseases.
Health Minister Jean-Yves Duclos says up to $1.4 billion of that money will be used to help provinces and territories expand coverage of new and existing drugs that treat rare diseases.
The federal government says it wants to create a list of new and emerging drugs for rare diseases that would be covered in a similar way by all provincial and territorial health insurance plans.
Another $52 million will be used to gather evidence on the safety and effectiveness of these drugs as well as for research on diagnostic tools and creating a clinical trials network.
And $33 million will go to Indigenous Services Canada to support eligible First Nations and Inuit patients with rare diseases
The government says one in 12 Canadians has a rare disease, and that innovative treatments for those diseases can cost between $100,000 and $2 million per year.
This report by The Canadian Press was first published March 22, 2023.
Ruling clears way for Purdue Pharma to settle opioid claims, protect Sacklers from lawsuits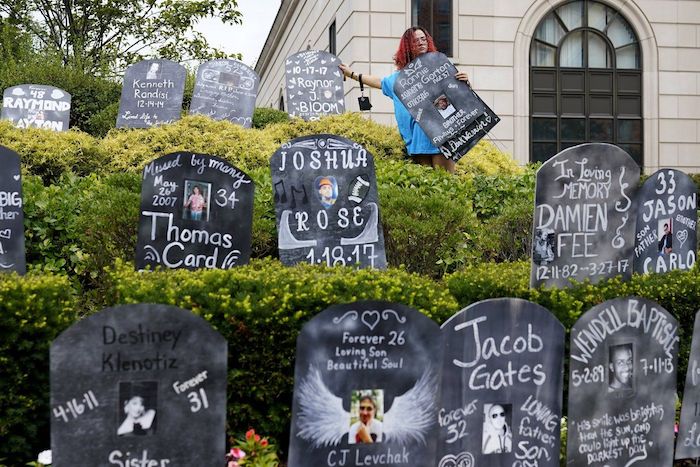 Jayde Newton helps to set up cardboard gravestones with the names of victims of opioid abuse outside the courthouse where the Purdue Pharma bankruptcy is taking place in White Plains, N.Y., on Aug. 9, 2021. A three-judge panel of the 2nd U.S. Circuit Court of Appeals in New York on Tuesday, May 30 overturned a lower court's 2021 ruling that found bankruptcy courts did not have the authority to protect members of the Sackler family who own the company and who have not filed for bankruptcy protection from lawsuits. (AP Photo/Seth Wenig, File)
By Geoff Mulvihill
A federal court ruling cleared the way Tuesday for OxyContin maker Purdue Pharma's settlement of thousands of legal claims over the toll of opioids.
Under the plan approved by the 2nd U.S. Circuit Court of Appeals in New York, members of the wealthy Sackler family would give up ownership of Stamford, Connecticut-based Purdue, which would become a new company known as Knoa, with its profits being used to fight the opioid crisis. They would also contribute $5.5 billion to $6 billion in cash over time. A chunk of that money — at least $750 million — is to go to individual victims of the opioid crisis and their survivors. Only one other major opioid lawsuit settlement includes payments for victims.
Tuesday's decision also protects members of the Sackler family from lawsuits over the toll of opioids, even though they did not file for bankruptcy.
The court's ruling reversed a 2021 ruling that found bankruptcy court judges did not have the authority to approve a settlement that would offer bankruptcy protections for those who have not filed for bankruptcy.
Those protections are at the heart of the proposed deal that would end claims against Purdue filed by thousands of state, local and Native American tribal governments and other entities.
"It's a great day for victims, some of who desperately need the money and have been waiting for this day for a long time," said Ed Neiger, a lawyer representing individual victims.
Sackler family members have been clear: If they don't get the legal protections, they won't do their part of the deal.
"The Sackler families believe the long-awaited implementation of this resolution is critical to providing substantial resources for people and communities in need," family members who own Purdue said in a statement Tuesday. "We are pleased with the Court's decision to allow the agreement to move forward and look forward to it taking effect as soon as possible."
Purdue issued its own statement, calling the ruling "a victory for Purdue's creditors, including the states, local governments, and victims who overwhelmingly support the Plan of Reorganization." The company said it would focus on delivering "billions of dollars of value for victim compensation, opioid crisis abatement, and overdose rescue medicines."
Several states had been withholding support for the plan, but after a new round of negotiations last year, all of them came on board. That left just one high-profile objector: the Office of the U.S. Bankruptcy Trustee, an arm of the Justice Department.
A lawyer from that office told the 2nd Circuit in April 2022 that it's a "fundamental inconsistency" that people who do not seek bankruptcy protection and have to give up most of their assets could be exempted from some lawsuits.
The Justice Department has not immediately said whether it would appeal Tuesday's ruling to the U.S. Supreme Court. A spokesperson declined comment Tuesday.
The the latest version of the settlement must still be approved by a bankruptcy court judge before it can be finalized.
While Sackler family members still technically own Purdue, they stopped receiving money from the company years ago.
All three federal appeals judges who heard the Purdue case last year agreed that the Sackler family can be protected from lawsuits. But one — Richard Wesley — said in a separate opinion that he did so reluctantly, noting that while courts allow such deals they're not explicitly allowed under bankruptcy law.
Purdue is perhaps the highest-profile player in the opioid industry. But several other drugmakers, distribution companies and pharmacies also have been sued by state and local governments. While a handful of cases have gone to trial, many also are being settled.
The total value of proposed and finalized settlements in recent years is more than $50 billion. Companies that have reached deals include drugmakers Johnson & Johnson and Teva; distribution giants AmerisourceBergen, Cardinal Health and McKesson; and pharmacy chains CVS, Walgreens and Walmart. Most of the money is required to be used to fight the opioid crisis, which has been linked to more than 500,000 deaths in the U.S. over the past two decades, including more than 70,000 a year recently.
In recent years, most of the deaths have been connected to fentanyl and other illicit synthetic opioids, not prescription painkillers.
Parliament votes down Conservative motion against safe supply of drugs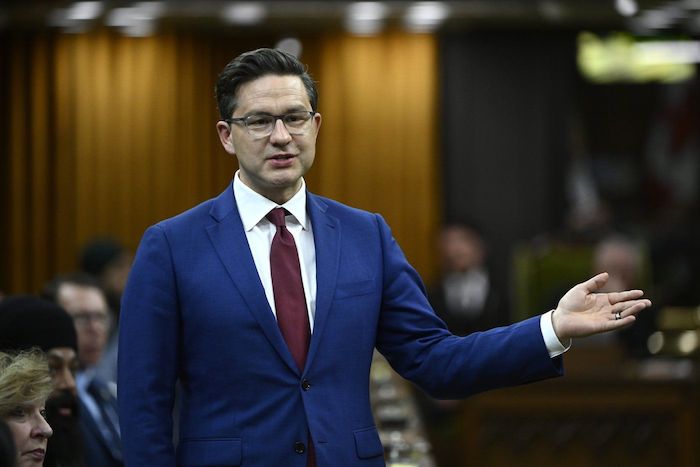 Conservative Leader Pierre Poilievre rises during Question Period in the House of Commons on Parliament Hill in Ottawa on Monday, May 29, 2023. An attempt from Poilievre for the House of Commons to condemn the Liberal government's approach to drug addiction has failed.THE CANADIAN PRESS/Justin Tang
By Stephanie Taylor in Ottawa
Conservative Leader Pierre Poilievre has failed to persuade the House of Commons to condemn the Liberal government's approach to fighting drug addiction.
In a vote of 209-113 Monday, MPs defeated a motion presented by Poilievre.
The motion took aim at the federal government's harm-reduction policies for drug users, but focused mainly on its decision to fund the supply of pharmaceutical alternatives as a replacement for certain illicit drugs to combat the opioid crisis.
Such programs are commonly referred to as "safe supply," or "safer supply," although the federal Conservatives and other critics dispute that term, given the risks associated with drug use.
The federal government has pointed to experts who say that a poisoned drug supply is one of the main reasons so many Canadians are dying from unintentional overdoses, and that providing access to other drugs as a substitute saves lives.
The Public Health Agency of Canada says nearly 35,000 people died from opioid toxicity between 2016 and 2022.
Since becoming Conservative leader last fall, Poilievre has pointed to the alarming number of people who have died from opioid overdoses as evidence of a failed approach. He has criticized the option of offering an alternative supply of drugs, which his motion referred to as the "tax-funded drug supply," as fuelling addiction rather than recovery.
He argues such policies have led to wider access to dangerous drugs by users who, instead of taking them, turn around and sell them. Poilievre has proposed diverting money used to fund safe supply towards treatment.
His motion specifically called on the House to "immediately reverse its deadly policies and redirect all funds from taxpayer-funded, hard drug programs to addiction, treatment and recovery programs."
Mental Health and Addictions Minister Carolyn Bennett has told MPs that Poilievre's criticism of a replacement drug supply is not based on evidence, with her office adding in a statement Monday that Health Canada is not aware of substitute drugs "flooding the streets."
"For Pierre Poilievre to state untrue information about safer supply, and try to create barriers to accessing harm reduction services that are saving lives amid this ongoing crisis is incredibly irresponsible and dehumanizing to people who use drugs," a spokeswoman said in a statement from Bennett's office.
It said the government takes reports of diversion "very seriously." Bennett's office also pointed out that the British Columbia coroners service, which studied deaths from drug toxicity from 2012 to 2022 in the province, concluded there was "no indication that prescribed safe supply is contributing to illicit drug deaths."
"The Conservatives want to take us back to the failed ideology of Harper-era drug policy, and the war on drugs that was proven to be ineffective, costly, deadly, and deeply stigmatizing," said Bennett's office.
A coalition of groups that advocate on behalf of drug users in B.C. and those whose loved ones have died from opioid-related overdoses released a statement Monday, voicing concern about hydromorphone, one of the drug alternatives Poilievre has singled out as problematic.
The joint statement from organizations, including the Vancouver Area Network of Drug Users, says such prescriptions "help many of us reduce or eliminate our reliance on street drugs."
"If we get cut off, our risks will go up."
This report by The Canadian Press was first published May 29, 2023.