Ottawa police cut email access over fears info would leak during 'Freedom Convoy'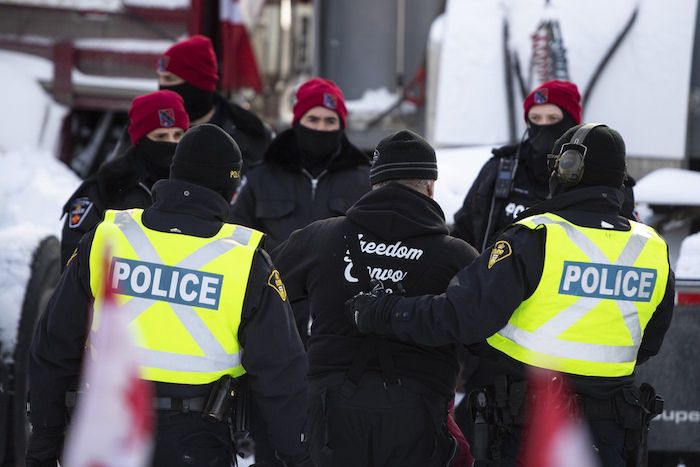 By David Fraser in Ottawa
Ottawa police were so concerned about leaks from "Freedom Convoy" sympathizers in their ranks that they proactively shut off the email accounts of members on leave, but now the force has little to say about how real those fears turned out to be.
The Public Order Emergency Commission investigating the federal Liberal government's use of the Emergencies Act learned there were several times when senior officers were concerned protesters who gridlocked downtown Ottawa for several weeks last winter were getting leaks.
A Feb. 28 email from Ottawa police Insp. Michel Marin to colleagues said that police members were observed participating in the protests downtown, and members who were away from work "sympathetic to the anti-mandate cause" still had access to their professional emails.
The email, submitted to the inquiry, said that "due to the state of emergency and believing this may have compromised (Ottawa Police Service) operations leading to the expulsion of the protesters," email and internal notification system access was restricted for members on leave.
Marin wrote the email after demonstrators had been cleared from the streets. He was seeking guidance on whether it was time to revisit the decision to remove email access, but it remains unclear whether it was restored.
Acting Ottawa police Supt. Robert Drummond told the inquiry there was concern current and former law enforcement officers were involved in the protest and that "as a precaution," access to corporate accounts was cut off for one member of the police force.
"There (were) concerns about information flowing out of the organization," he testified Oct. 26.
Deputy Ottawa police chief Steve Bell, who was acting police chief at the time, testified that concerns over potential leaks were "regularly" investigated, but nothing was found.
"As a result of those investigations, we didn't find any circumstances where there was a compromise of information or actions because information was shared from inside our organization (with) the protesters."
The Ottawa police, even now, have not said how many investigations were completed, or remain ongoing, into allegations of potential leaks.
In a statement, the Ottawa police referred only to "several internal investigations and discipline related to officers' conduct" that have already taken place, noting they were "related to donations made in support of the convoy."
Only one decision had been made public. A police officer pleaded guilty last month to discreditable conduct for having donated to the "Freedom Convoy" after then-chief Peter Sloly had deemed the protest an illegal occupation. She was docked 40 hours of pay.
No other disciplinary hearings for officers related to the protests appear to be scheduled.
The head of the Ontario Provincial Police's provincial operations intelligence bureau, Supt. Pat Morris, also warned senior officers in a Feb. 10 email chain about operational leaks, although it was unclear which police force.
In one email submitted to the inquiry, he linked to a Facebook comment from an unidentified person saying a "source from a city worker and front-line worker" had warned about something planned for the next day.
Morris described it in the email as "evidence," or at least intelligence, of an "operational leak" and "every example that I have been provided has been accurate."
The OPP did not respond to requests about what it is doing, or has done, to investigate leaks.
The inquiry learned that Sloly, who resigned as Ottawa's police chief on Feb. 15, the day after Prime Minister Justin Trudeau invoked the Emergencies Act, was aware of Morris's concerns.
On Feb. 14, Sloly's morning briefing notes show Morris indicated to him "we might have significant issues with police members being involved in the demos."
The former chief told the inquiry every complaint was assigned for review by the professional standards unit, and any that suggested misconduct were assigned for proper investigation. He said he suspended one officer during the protests, but he did not know the status of that case.
Protest organizers who appeared before the inquiry also spoke of police co-operation.
Danny Bulford, a "Freedom Convoy" spokesman and security liaison, said he did not have any active duty officers leaking him any sensitive information, but that he did get help from police.
"There was officers that were on leave for various reasons, whether it be the mandates or their own personal reasons — I didn't ask; it wasn't my business — that were also helping with some of the security tasks that I was co-ordinating," he testified.
Jeremy MacKenzie, founder of the far-right online "Diagolon" group, told the commission he was leaked information from law enforcement on several occasions during the protests.
MacKenzie told the commission that a self-described RCMP officer who was a fan of his podcast and online streaming activities warned of riot police being activated. Some of those details were also included in the OPP's Feb. 8 intelligence report, submitted to the inquiry.
MacKenzie said the person he believed to be a Mountie also leaked photos of a group text message featuring RCMP members joking about protest enforcement efforts.
RCMP Commissioner Brenda Lucki was not asked about police leaks during her Nov. 15 appearance at the inquiry, and she told reporters there were no code of conduct findings or charges laid.
A Feb. 10 RCMP intelligence document shared with the commission also warned the potential for "serious insider threats" existed.
"Those who have not lost their jobs but are sympathetic to the movement and their former colleagues may be in a position to share law enforcement or military information to the convoy protests," the report says.
The RCMP did not answer specific questions about instances of leaks during the convoy or ongoing investigations, saying in a statement its officials "stand by their testimony and have no additional comment."
"Generally, only in the event that an investigation results in the laying of criminal charges, would the RCMP confirm its investigation, the nature of any charges laid and the identity of the individual(s) involved," the RCMP statement said.
This report by The Canadian Press was first published Dec. 12, 2022.
Internal documents show what RCMP considered 'lessons learned' from 'Freedom Convoy'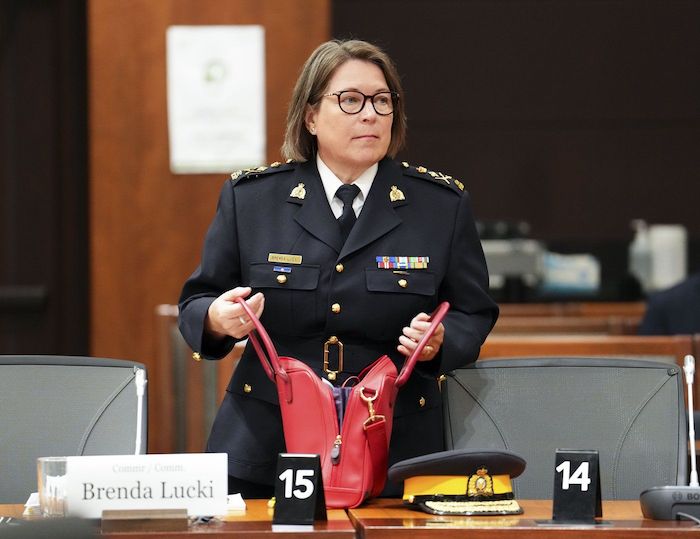 RCMP Commissioner Brenda Lucki appears as a witness at the Standing Committee on Public Safety and National Security on Parliament Hill in Ottawa on Monday, July 25, 2022. THE CANADIAN PRESS/Sean Kilpatrick
By Stephanie Taylor in Ottawa
After policing the "Freedom Convoy," the RCMP came away with lessons learned, newly released documents show — including the need to better prepare for the potential targeting of emergency phone lines.
Briefing notes obtained by The Canadian Press under access-to-information laws also point to security pressures to protect leaders in Ottawa and detail the challenges that arose from the fact the protests had no clear leadership.
The force compiled the documents before six top RCMP officials, including Commissioner Brenda Lucki, were interviewed by lawyers with the Public Order Emergency Commission last September.
In early 2022, Lucki was among the officials Prime Minister Justin Trudeau and members of his cabinet looked to as they grappled with how to respond to protests staged near Parliament Hill in Ottawa and at several U.S. border crossings.
To clear the protesters, who were demonstrating against Trudeau's government and COVID-19 public health measures, Ottawa ultimately invoked the federal Emergencies Act — a move that Justice Paul Rouleau ruled was justified in a final report released a month ago.
The hundreds of hours of testimony and thousands of pages of documents presented over six weeks of public hearings last fallculminated in 56 recommendations, 27 of which were directed at improving police operations.
But long before the Rouleau report's release, the RCMP had already prepped its own list of "preliminary lessons learned," two of the briefing documents show.
The Mounties acknowledged that "setting the tone early with protesters" was important and was "complicated by the lack of clear leadership."
Another lesson learned was the need to prevent vehicles or other encampments from becoming "entrenched" in a public space, according to the document.
Other suggested improvements to future operations included "anticipating swatting of emergency call lines," providing officers with hearing protection and planning for an uptick in security demands for members of Parliament and cabinet ministers.
University of Ottawa criminology professor Michael Kempa suggests that the lessons learned show the RCMP realizes that it cannot use its approach to policing past protests as a blueprint for future ones.
"They're saying, 'We can't rely on our past experience.'"
In an interview, Kempa said the convoy was an example of a "new form of mass protest," which can be organized through social media and can raise tons of money, but that doesn't have clear leadership among different protest groups.
The RCMP did not respond to a request for comment.
The document prepared for its officials came complete with a timeline and description of the tasks the RCMP performed during the weeks-long protest in Ottawa, which included providing security escorts for cabinet ministers, party leaders and judges.
It says the force's protective division saw a sharp uptick in the number of threats and "inappropriate comments" made against officials under its protection, the majority of which were directed at Trudeau.
The briefing note says the RCMP opened 168 "adverse files" from Jan. 21 to the end of Feb. 28 in 2022, compared to 44 during the same period in 2021.
During last fall's inquiry, Lucki's performance came under heavy scrutiny when it was revealed that she did not share information with cabinet that a plan was in place to clear protesters from Ottawa.
While testifying, Lucki acknowledged: "I guess in hindsight, yeah, that might have been something significant."
The inquiry also learned that in the hours before the decision was made, Lucki had sent a note to a senior official that suggested she felt not "all available tools" had been explored.
In a "hot issues note" dated two days after her time on the stand — also obtained by The Canadian Press under access laws — the RCMP was more direct about its need for the emergency powers due to Ottawa's "unique challenges."
"While law enforcement partners including the RCMP eventually devised a viable plan to dismantle the convoy in Ottawa, the timeliness of these actions would not have been possible without the proclamation of a public order emergency under the Emergencies Act," the note reads.
It adds: "The (Emergencies Act) gave law enforcement the tools to get the job done quickly and safely."
Kempa said that while Lucki's testimony was "somewhat confusing" as to whether she felt the powers were needed, the force seemed more "unambiguous" internally in suggesting they were not only helpful but necessary.
The briefing documents show that before the inquiry began, the RCMP also compiled a set of "outcomes" it wanted the commission to consider.
One was the introduction of a "new National Police Act" that it hoped would provide "clear" authorities for peace officers and "clarify thresholds" between different levels of police when it comes to national crises.
The RCMP also wanted Rouleau to consider "effective deterrents and increased penalties with the Criminal Code of Canada and applicable legislation to prevent individuals from organizing, participating or conducting unlawful protest activity."
Asked if the government was considering any legislative changes following Rouleau's report and the convoy protests, a spokeswoman for Justice Minister David Lametti's office did not offer a direct answer.
"We are reviewing the report carefully, and as (Prime Minister Justin Trudeau) committed to, will issue a comprehensive, public response to the commissioner's recommendations within the next year," Diana Ebadi said in an email.
This report by The Canadian Press was first published March 17, 2023.
"Meeting The Threshold": Justin's Tantrum Gets Justice Rouleau's Approval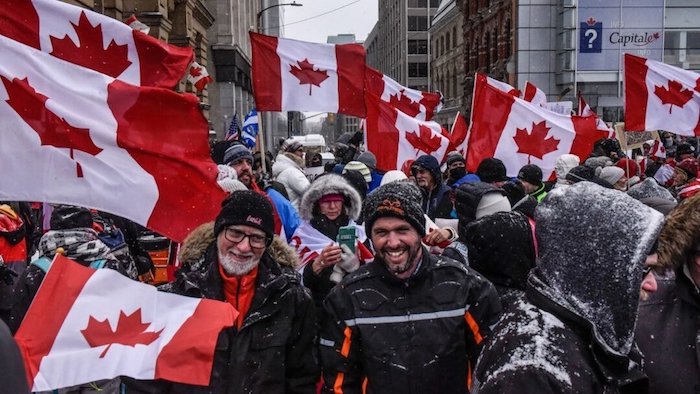 "The summer soldier and the sunshine patriot will, in this crisis, shrink from the service of their country; but he that stands it now, deserves the love and thanks of man and woman. Tyranny, like hell, is not easily conquered; yet we have this consolation with us, that the harder the conflict, the more glorious the triumph." Thomas Paine
Thomas Paine might say these are times that try the souls of men and women in Canada, not just Paine's United States. Last week's entirely predictable decision by Justice Paul Rouleau on Justin Trudeau's invocation of the Emergency Measures Act has now seemingly opened the way to Trudeau and future governments to remove the civil rights of those who criticize them.
Yes, Rouleau did concede that the prime minister's vitriolic language about the Truckers had enflamed and provoked. That his unwillingness to address any competing scientific evidence (immunity/ PCR false positives/ vaccine efficiency) led to misinformation. That his shirking leadership counted on other levels of government to do his heavy lifting. That the police and media created fake news about arson and crimes the Convoy people had nothing to do with.
But he (sighing) reluctantly conceded that, all things considered, other levels of government— hint, hint: Doug Ford and the inept Ottawa police— were more culpable. See? Ford, the guy on the outside of the Family Compact, gets the blame. Here's where Justice Rouleau put his finger on the scale to allow the PM his escape: "The (federal) Government did not have a realistic prospect of productively engaging" with those who "believed COVID-19 vaccines were part of a vast global conspiracy to depopulate the planet."
Realistic prospect? Where did the disappearing PM try to engage? He sent in mounted police and forensic accountants to save his skin. After scolding the PM for his divisive language, Rouleau buys into Trudeau's dystopian view of the conspiracy fanatics who would not engage with a PM who wouldn't engage them. If this mob had wanted to invade Parliament we'd have a trucker as PM now. But they didn't. They held back. But Rouleau gives that no credit. Only Trudeau's blind panic has merit.
And so, Shazam, bye-bye civil rights cherished for almost 200 years in order to win the PM's Doug Ford proxy war. Even the more aggressive Woke governments around the world were awed by how easy it all was. Made even easier by purchased media that bulleted the big takeaway in tandem. "Met the threshold".— as Trudeau knew they would.
—Federal government met the threshold to invoke Emergencies Act: Rouleau – CBC (which speculated during the occupation that Putin was at work behind the scenes).
—Canada's use of emergency powers during 'Freedom Convoy' met threshold, commissioner says – Reuters
—Trudeau's 'Freedom Convoy' shutdown was justified, inquiry rules – Politico
And so Canada's 'summer soldier and the sunshine patriot' escaped yet again from the standards he demands of others but not himself. Should we be surprised?
However honest Rouleau may be he is a creature of Ottawa® , marinated in its power structures and bred for the status quo of the Ontario/ Quebec nexus, trying to keep the game going a while longer. A Liberal party fixer for John Turner in the 1990s Rouleau practiced at those most sacred institutions of 514/ 613/ 416 power: Heenan/ Blaikie and Cassels/ Brock. His call to the bar has been supported by Liberal and Conservative PMs.
His sole venture outside Canada's Eastern Time Zone corridor of power was on the Supreme Court of Yukon in 2014, Nunavut Court of Justice in 2017 and Supreme Court of the Northwest Territories in 2017. And while he laboured honestly over the task of exculpating PMJT from his worst instincts, his judgment reinforces the politics, not the legals outside the political power grid of Justin's "otherness". Like the SCOTUS authors who issued the Dred Scott decision in 1857 to save the U.S. from the civil war that they soon caused, Rouleau's was more a political move than any judicial insight.
As has been noted before, justice must not simply be done, it must be seen to be done. And this patch-up job excusing another high-handed Justin episode will reverberate for generations as leaders grasp at its findings like a life preserver to crush opponents' rights and liberties. It was a decision to send a chill down the back of any civil libertarian.
So was Calgary mayor Jyoti Gondek's recent walk across a public space in the city. A protester asked the committed progressive how she and city council can support spending $70,000 on a Drag Queen Story hour for children at city libraries.
Gondek turned to a nearby Calgary policeman and accused the protester of breaking a new law prohibiting yelling at city politicians and suits. The cop responded by issuing the protester a ticket for $500. Gondek then strode away triumphantly, assured that while free speech is trampled she and her fellow council members have a safe space anywhere they go in public, far from the madding crowd.
No surprise, as the first woman mayor of Calgary has a PhD in urban sociology which "furnishes understanding of the complex as well as profound meaning of every urban reality, notably the territorial stabilization of social life, the rise of a space symbol system and culture, and the origin and evolution of human settlements."
Her grad-school word salad is just another tiny step in the progressives' march against "disinformation, misinformation and distortions", ie. anything that contradicts the WEF narratives of the day. Ones that judges like Rouleau will defend. We can only hope that someone tests this cavalier test of city council's Woke sensibilities at as higher level.
It's a clear sign to those who don't bother to vote in civic elections of the mischief that fluff-heads like Gondek can get up to. Her platform since winning the mayoralty? Day One she declared a climate emergency in Calgary, the conventional energy capital of Canada. Cost: $250K. Next, she scotched the arena deal with Calgary Flames over solar panels. Officials are still trying to undo that snarl. Her current obsessions are leaf blowers, gentrifying the Stephen Street mall and begging for ESG cuddles.
Gondek's mayoralty is a prime argument for preferential balloting. While garnering almost all the lefty votes she still failed to win 50 percent of the total vote. However, three opponents split the centre/ right vote (disclosure: one is a personal friend of Usual Suspects) that would have easily won the election had the trio settled on one opponent for Gondek.
As we've seen in the CPC vote and elsewhere, preferential balloting delivers a more nuanced result that better reflects the voters' preferences. Had there been preferential balloting at Calgary city hall it's likely Gondek would be free to walk unmolested around the city as defeated mayoralty candidate. Which is more freedom that she wishes on her protesters and the Trucker Convoys.
Sign up today for Not The Public Broadcaster newsletters. Hot takes/ cool slants on sports and current affairs. Have the latest columns delivered to your mail box. Tell your friends to join, too. Always provocative, always independent. https://share.hsforms.com/16edbhhC3TTKg6jAaRyP7rActsj5
Bruce Dowbiggin @dowbboy is the editor of Not The Public Broadcaster A two-time winner of the Gemini Award as Canada's top television sports broadcaster, he's a regular contributor to Sirius XM Canada Talks Ch. 167. Inexact Science: The Six Most Compelling Draft Years In NHL History, his new book with his son Evan, was voted the seventh-best professional hockey book of all time by bookauthority.org . His 2004 book Money Players was voted sixth best on the same list, and is available via http://brucedowbigginbooks.ca/book-personalaccount.aspx