O'Toole triggers campaign review after loss, saying no one more disappointed than him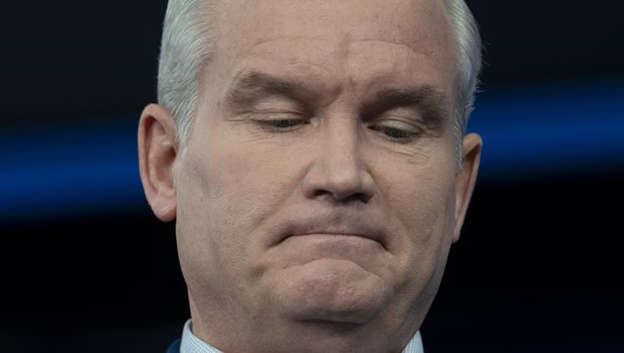 OTTAWA — The Conservatives will review their disappointing election loss, Erin O'Toole said Tuesday as he underscored his commitment to ensuring the party is battle-ready for the next campaign.
"We've started a process that will involve all parts of the party to make sure we learn those lessons to win the trust next time," he said at his party's broadcast studio in downtown Ottawa, where he struck a less spirited tone than during his speech after the results came in.
"I'm very, very proud of the gains we made, but we didn't get far enough. We will next time."
No further details were provided about what the review would examine or its parameters.
There are still mail-in ballots being counted, but by Tuesday evening the Conservatives were projected to finish the contest with 119 seats and the Liberals returned to Parliament with another minority government.
O'Toole made the effort to point out the election was not without its gains, pointing to the seats it picked up across Atlantic Canada after the region was swept by the Liberals in 2015.
"For the first time in a decade — back in Newfoundland and Labrador, some new members of our caucus from across the country, some new generation of talent, and we're closer in dozens upon dozens of ridings, but not close enough," he said.
The Conservatives are currently projected to win fewer seats than former leader Andrew Scheer did in 2019 when his party reduced the Liberals to a minority but failed to oust them.
Scheer, a social conservative who was easily re-elected as a member of Parliament in Saskatchewan in Monday's vote, stepped down as leader after the last election following an internal pressure campaign for him to leave.
Staying at the helm could prove a challenge for thecurrent Conservative leader after he took risks with his base by moving the party more into the political centre for the chance to pick up seats in Ontario, which didn't materialize.
O'Toole had to answer for reversing his stance on positions such as protecting the conscience rights of health professionals from having to refer patients for services such as abortion or medical assistance in dying because of personal objections, which he pledged to do during his leadership race.
He acknowledged the party failed to win all the seats it wanted in areas such as Metro Vancouver, the Greater Toronto Area and in Quebec, which would have provided them with a path to victory.
The Conservative leader did say, however, the party came within 2,000 votes in 30 ridings and will work to close that gap.
It appears some votes were siphoned off by the People's Party of Canada (PPC), which didn't elect any MPs, but posed enough of a threat to split the vote on that right.
O'Toole used his last public address at a rally before polls opened Monday to ask voters to stick with the Conservatives, despite how angry some felt towards the Liberals over support of mandatory vaccinations and vaccine passports, which the PPC railed against.
He didn't answer on Tuesday whether he plans to trigger a leadership review with supporters or caucus to determine their appetite for him to remain as leader.
"All of our members are disappointed that it's status quo after a pandemic election that divided the country and got us no further ahead," said O'Toole.
"We're all disappointed by the results and as leader, no one more than me."
This report by The Canadian Press was first published Sept. 21, 2021.
Stephanie Taylor, The Canadian Press
RCMP members taking a stand against "mandatory" vaccination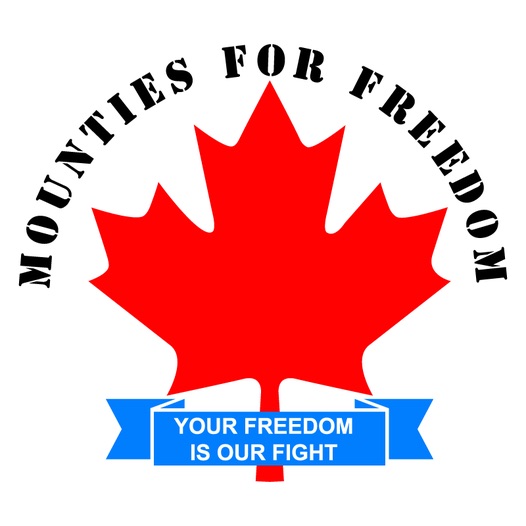 RCMP members facing the loss of their jobs over mandatory vaccination are reaching out to their Commissioner and asking for the support of Canadians.
In an extensive and detailed Open Letter to RCMP Commissioner Brenda Luck, the officers say they cannot "willingly participate in enforcing mandates" they don't believe in.
RCMP members opposed to vaccine mandates have formed an organization called Mounties For Freedom.  Members of the RCMP are among the thousands of federal public servants who feel threatened by Prime Minister Justin Trudeau's announcement that "There will be consequences" for those who choose not to be vaccinated.
The open letter (below) to Commissioner Lucki sets out a series of arguments culminating in a joint statement against "the discrimination faced by those who have exercised their right to bodily autonomy."
---
Open Letter to RCMP Commissioner Brenda Lucki
RCMP National Headquarters
73 Leikin Dr
Ottawa, Ontario K1A 0R2
October 21, 2021
Dear Commissioner Brenda Lucki:
We respectfully submit this open letter to express our most sincere concerns and resolute stand against the forced coercive medical intervention of Canadians, and against the undue discrimination experienced by those exercising their lawful right to bodily autonomy. We are not against vaccinations, but as law enforcement officers, we cannot in good conscience willingly participate in enforcing mandates that we believe go against the best interests of the people we protect.
As Canadians, our constitutionally-protected freedoms precede the government, and may only be temporarily limited if the majority of evidence justifies such infringements as reasonable, provable, and guided by law. If presented with all available evidence in a court, we firmly believe the government implemented mandates would not hold up under scrutiny.
As experienced investigators, we look past what information is provided and focus on how the information is presented. A proper investigation should be conducted as objectively as possible, and follow the principle that it is better to have questions that cannot be answered than to have answers that cannot be questioned. A complete investigation must include full disclosure of all the facts of the case, even contradictory evidence. Why, then, is there little to no tolerance for free and open debate on this matter? Many credible medical and scientific experts are being censored. Accordingly, we rightly have concerns about "the science" we are being coerced to "follow".
As representatives of our communities within the RCMP and representatives of the RCMP in our communities, we have never witnessed such division in our country. This sense of "Us versus Them" will be further fueled by having a police force consisting only of "vaccinated" people, while serving communities consisting of "unvaccinated" people, which goes against the community policing model the RCMP has strived to achieve.
As law enforcement officers, we already face higher levels of stress and mental illnesses due to the nature of our work. These have been compounded – considerably – by mandates that we believe are deeply unethical, threatening our livelihood, and dividing society.
As federal employees, what is being done to mitigate this stress? Moreover, what assurances are we given that the injections will not cause short or long-term side effects? What steps will be taken to ensure members are compensated for adverse side effects?
Police officers are expected to preserve the peace, uphold the law, and defend the public interest. We strongly believe that forced and coerced medical treatments undermine all three and, thus, contradict our duties and responsibilities to Canadians. We remain loyal to the Charter and Bill of Rights and ask you to send investigators to collect statements from medical professionals (and other reliable witnesses) who allege they have been silenced – putting lives at risk. Allow us to make this information publicly available to all so the public can scrutinize it and achieve informed consent.
This letter was created from the collective thoughts, beliefs, and opinions of actively serving police officers of the Royal Canadian Mounted Police (RCMP) from across the country. We have a wealth of experience which includes, but is not limited to, General Duty, Federal Serious and Organized Crime, School Liaison, Prime Minister Protection Detail, Emergency Response Team, Media Relations, and Combined Forces Special Enforcement Unit. We come from various ranks, levels of experience, communities, cultural backgrounds, religious beliefs, and vaccination statuses. Together we are the Mounties for Freedom. We are individual police officers who united in the belief that citizens, including federal employees, should not be forced and coerced into taking a medical intervention.
In August 2021, Canadian Prime Minister Justin Trudeau announced, "Federal public servants need to be fully vaccinated," and that for those without a medical exemption who choose not to be vaccinated: "There will be consequences"1.
Since that statement, many federal employees have been told they will be sent home without pay for refusing to receive a contested medical treatment. We have united in the belief that people should not be forced or coerced into receiving the current COVID-19 treatments – it should be voluntary. We stand united against the forced and coerced medical intervention of Canadians and against the discrimination faced by those who have exercised their right to bodily autonomy. We believe in democracy, the Canadian Charter of Rights and Freedoms, and the Bill of Rights.
This is not about whether people should be vaccinated – that is a personal choice.
———-
In an extensive
podcast interview with David Whitehead
, Mounties For Freedom spokesman Corporal Daniel Bulford points out several issues with vaccine mandates. Corporal Bulford (who ironically is a member of the Ottawa based detail in charge of protecting the Prime Minister) is particularly upset with  Canada's health authorities for not allowing treatments such as Ivermectin which have been
successfully and extensively tested
 in other parts of the world.
Over 40,000 supporters have signed up in support of the Open Letter to RCMP Commissioner Brenda Lucki.
Internal government analysis shows depth of reliance on now-defunct recovery benefit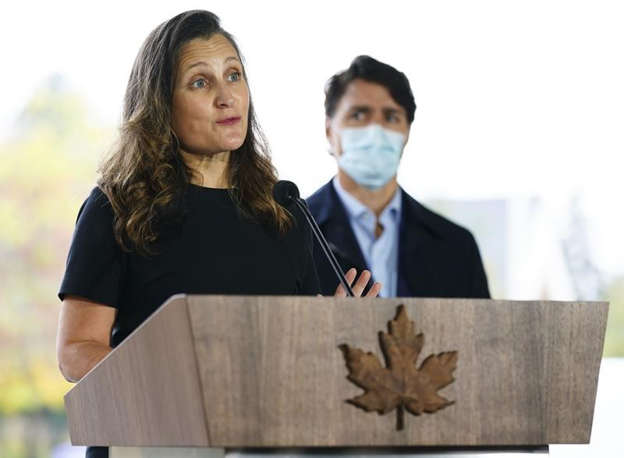 OTTAWA — The majority of Canadian residents who received the federal Canada Recovery Benefit were continuous or repeat recipients of the now-ended aid program, An internal government analysis reveals.
The assessment from Employment and Social Development Canada found that by early June, 1.5 million, or about 75 per cent of the 1.8 million unique recipients of the benefit, were continuous or repeat beneficiaries.
Among them were some 627,000 recipients who applied and received the benefit for months at a time, never once taking a break.
The Canadian Press obtained a copy of the briefing note to the top official at the department under the access to information law.
Experts who reviewed the document suggested the analysis hints at the level of need for the income-support program, which came to an end over the weekend.
As of Oct. 10, the CRB had paid out just over $27 billion to nearly 2.2 million applicants since launching in late September 2020, but had seen a steady decline in demand from its peak of 1.22 million recipients in January.
By the end, there were about 800,000 people reliant on the payments who only had 48 hours to adjust their finances when the Liberals announced a change in the benefit package on Thursday.
"Workers need the Canada Recovery Benefits to pay rent and not lose their housing. Many workers can only find part-time work & are not getting enough shifts to make ends meet. The pandemic is not over," Deena Ladd, executive director of the Toronto-based Workers Action Centre, wrote in a tweet Sunday asking the Liberals to reinstate the benefit.
The government said the CRB was no longer needed because the Canadian economy was faring better than a few months ago, including a labour market that had recovered the three million jobs lost at the onset of the pandemic last year.
Similarly, Finance Minister Chrystia Freeland said, the wage subsidy was no longer required as she proposed a broadened credit for companies that hire new workers.
Jennifer Robson, an associate professor of political management from Carleton University in Ottawa, said the Liberals' announcement didn't signal anything about the need for retraining or job-search services to help unemployed workers.
"The hiring credit might, in theory, help some kinds of employers hire more staff, but there's nothing here that would suggest this will do much in the short-term to help CRB users," Robson wrote in an email.
In their analysis, federal officials noted the number of first-time applicants for the CRB decreased starting in mid-January. The document also said more than 600,000 recipients who were paid in the first four months of the CRB's life were off the benefit by the start of June.
A similar trend was noticed among employment insurance claimants, "which indicates that Canadians have been steadily returning to work," officials wrote, adding that EI claims for sales and service jobs "have yet to recover as quickly as other occupations."
CIBC chief economist Avery Shenfeld wrote in an end-of-week analysis that there is now a risk that workers supported by the wage subsidy or CRB "will be added to the ranks of the job hunters" and affect progress on bringing down the national unemployment rate.
In place of the CRB, the Liberals introduced a rejigged $300-a-week benefit that would only go to workers who lose their jobs or income because of a government-ordered lockdown.
In a television interview aired Sunday, Employment Minister Carla Qualtrough told CTV's Question Period that the benefit would only go to those affected by a full lockdown and not tightened restrictions that limited capacity at restaurants, for instance.
"I'm not sure if there are any lockdowns presently in motion, in which case that is an effective shutdown to the CRB with no additional benefits," said David Macdonald, senior economist with the Canadian Centre for Policy Alternatives.
This report by The Canadian Press was first published Oct. 24, 2021.
Jordan Press, The Canadian Press