On Mexico's Caribbean coast, mountains of seaweed grow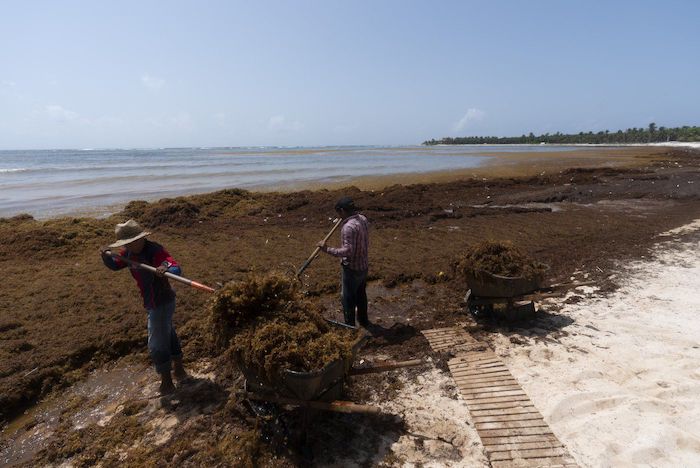 By Mark Stevenson in Tulum
TULUM, Mexico (AP) — Scraping the smelly sargassum seaweed off some beaches on Mexico's resort-studded Caribbean coast has become not only a nightmare, but possibly a health threat, for the workers doing it — with the quantities washing ashore this year seemingly mountains not mounds.
Decomposing sargassum, which is actually algae, generates hydrogen sulfide gas. In small amounts in open areas, it's not much more than an annoying odor: sulfurous, like rotting eggs.
But in the quantities seen in once-paradisical beach towns like Playa del Carmen, Tulum, and Xcalak, scientists say it can be dangerous to workers with respiratory problems as they rake up the seaweed maskless in the scorching heat. This year appears on track to be worse than even the peak sargassum year of 2018.
Ezequiel Martínez Lara is one of thousands of laborers who work six to eight hours per day heaving mounds of sargassum into wheelbarrows with pitchforks and then wheeling them off the beach to a growing pile on a neighboring street.
Martínez Lara used to earn as much as $50 per day guiding sports fishermen on catch-and-release outings, but now makes less than half that for collecting around 40 wheelbarrows of sargassum every day.
It is a Sisyphean task at a beach north of Tulum, where huge mats of seaweed float just offshore.
"If we clean it all off today, tomorrow more will have washed in," said another worker, Austin Valle.
But workers like Martínez and Valle are exposing themselves to more than just the burning sun, says Rosa Rodríguez Martínez, a biologist in the beachside town of Puerto Morelos who studies reefs and coastal ecosystems for Mexico's National Autonomous University.
"At the university we have started to measure the quantity of gases that sargassum produces when it is scraped up," Rodríguez Martínez said. "At one spot (in a decomposed pile of seaweed) it reached 56 parts per million. That's very high. Above two, that can be dangerous for people with respiratory problems."
"I took off running" from the spot, she said.
Martínez Lara doesn't have the luxury of avoiding the hydrogen sulfide gas. Like almost every other sargassum worker on the coast, he has no mask, gas sensor or medical care. He works at a day rate for the person who owns the house in front of the beach.
"When sargassum rots, it gives off a very strong odor like acid, and it is very bothersome when you breath it; it hurts a lot," Martínez Lara said. He said he takes more simple precautions.
"We try to clean it off (the beach) as quickly as possible … to get it off when it is as fresh as possible," he says.
A 2019 article in the Journal of Travel Medicine includes the disturbing warning, "More chronic exposure to these gasses can lead to conjunctival and neurocognitive symptoms such as memory loss and impaired balance, as well as non-specific symptoms such as headache, nausea and fatigue."
The Florida Health Department, on the other hand, says "hydrogen sulfide levels in an area like the beach, where large amounts of air flow can dilute levels, is not expected to harm health."
The sargassum problem isn't as bad for tourists as for workers. But neither is it pleasant.
Ligia Collado-Vides, a marine botanist at Florida International University who specializes in studying macroalgae like sargassum, said, "If you're swimming for a little bit, it shouldn't be a danger at all," but added that tiny jellyfish cousins known as hydrozoa often inhabit sargassum mats.
"If you're going to be there for a long time playing in the sargassum, you can get like many, many, many stings from hydrozoans and those are toxic," she noted, adding that long sleeves — something almost nobody wears at the beach — might help.
Sarah Callaway, a tourist from Denver, Colorado, was pretty much confined to playing with her kids in the pool in front of their rented beach house.
"The property is beautiful, but we were automatically struck … by the smell," Callaway said. "The smell is really pungent and very strong. And then, yeah, we were disappointed with how much seaweed sargasso there is here."
"The kids have tried to get in the ocean, but then they get kind of overwhelmed by it. So we really haven't gotten to do the beach part of it, which is why we came," she said.
It will also impact locals who depend on the tourist trade. Hundreds of thousands of people migrated to the coast in recent years for better paying jobs, but some may now be considering leaving.
Valle, the seaweed cleaner, said one of his friends in Tulum has been thinking of giving up her snack stand business because sales have dipped so much.
It's hard to measure the impact on tourism. The Caribbean coast suffered a drop in visits during the coronavirus pandemic, but because Mexico never declared travel restrictions, testing requirements or mandatory mask rules, Americans have continued to come.
International tourism to the country as a whole surpassed pre-pandemic levels in the first half of 2022, with 10.26 million visitors from January to June, 1.5% higher than the 10.11 million tourists who arrived in Mexico in the first half of 2019.
Mexico's strongest showing was with U.S. tourists. The number of Americans arriving by air in the first six months of 2022 was 6.66 million; that is 19.1% higher than in the same period of 2019.
But that boom may be slowing. Grupo Financiero Base noted in a research report that international tourist arrivals in June 2022 were down 13.8% from levels in June 2019. It's unclear what — sargassum, inflation, or the war in Ukraine — may have caused that dip.
And overall tourist spending remains below pre-pandemic levels.
The picture is mixed because some of the most-heavily developed resorts like Cancun have not suffered as much from sargassum as lower-key resorts further south, like Playa del Carmen and Tulum.
Ocean currents and islands like Isla Mujeres shield Cancun from much of the floating sargassum. Given the large number of big hotels in Cancun with huge cleaning staffs and money to deploy floating booms, what sargassum does arrive is cleaned up more quickly.
The jury is still out on the floating booms, meant to trap sargassum mats at sea before they reach the beach.
"When the sea is calm, all types of booms work," Rodríguez Martínez said. "When there are waves, none of them work."
Some tourists like the area so much they'll keep coming back.
"I will absolutely be back. We love it here," said Jeff Chambers, a tourist from Palm Desert, California, who was strolling down the main seaside street in Tulum. "We like things a little slower."
Some locals like Victor Reyes, who works in real estate in Tulum, are more sanguine about the seaweed, noting that it's not so bad in the winter months.
"In the winter it's better. In November, when the tourists want to come, the sargassum is gone," Reyes says.
As bad as sargassum is for people — and Collado-Vides stresses that much more study is needed — it's far worse for seagrass, fish and other marine life suffocated by seaweed that drops to the bottom, decomposes and creates oxygen-depleted or anoxic layers similar to dead zones.
"Sargassum stays there and goes down into the water column so nobody sees it, but on the bottom it is creating anoxic conditions," she said.
Recounting one recent monitoring expedition, Collado-Vides said: "It's really terrible … the amount of vertebrates, the amount of crabs, the amount of fish dead in just a 1-square meter quadrant."
After briefing on intel, Singh says 'clear evidence' India involved in B.C. killing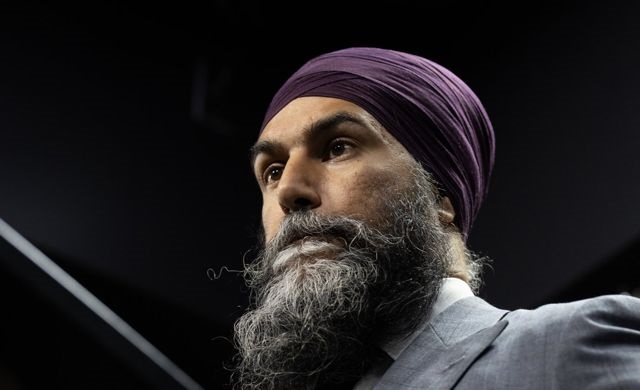 New Democratic Party leader Jagmeet Singh speaks with the media on Parliament Hill, Tuesday, September 26, 2023 in Ottawa. THE CANADIAN PRESS/Adrian Wyld
By Stephanie Taylor in Ottawa
Federal NDP Leader Jagmeet Singh said Tuesday he received an intelligence briefing about allegations that the Indian government could be behind the killing of a Sikh gurdwara leader in British Columbia.
"I can confirm what the prime minister has shared publicly: that there is clear intelligence that Canada has that lays out the following case that a Canadian citizen was killed on Canadian soil and a foreign government was involved," Singh told reporters in Ottawa on Tuesday.
"That intelligence is something that I think is very credible."
Prime Minister Justin Trudeau told the House of Commons Sept. 18 about "credible allegations" that the Indian government was involved in the June death of Hardeep Singh Nijjar in Surrey, B.C.
The well-known activist belonged to a movement that advocated for the creation of an independent Sikh state in India's Punjab province. India's government had labelled him a terrorist but has denied any involvement in his killing, calling the allegations by Trudeau "absurd and motivated."
The extraordinary allegation has worsened already rocky relations between India and Canada. India's government has accused Canada of not providing evidence to back up its claim, while Trudeau and other other ministers have called on India to co-operate with investigations.
Singh said Trudeau first told him and Conservative Leader Pierre Poilievre about the allegations against India before sharing them publicly. Three days later, Singh received a briefing from Trudeau's national security adviser, Jody Thomas.
Singh told reporters Tuesday that he was able to request the briefing on the matter because of the top-secret security clearance he obtained to review foreign-interference materials prepared by former governor general David Johnston, who had been named as a special rapporteur to explore that issue. Johnston has resigned from that role.
The former governor general's report had concluded that Trudeau's government did not knowingly or negligently fail to act on foreign attempts to interfere in the last two federal elections.
He had also recommended against calling a public inquiry into the issue. The Liberal government ended up tapping Quebec Court of Appeal Justice Marie-Josée Hogue to lead one earlier this month after months of outcry from, and discussions with, opposition parties.
Singh said that after reviewing the confidential material he had access to from Johnston, he agrees a public inquiry into foreign interference is necessary.
Poilievre has so far rejected getting the clearance needed to review the top-secret annex from Johnston's earlier report.
Poilievre said Tuesday that he was offered a briefing similar to one B.C. Premier David Eby received on the matter.
He said he doesn't believe the briefing will offer any more substantial details on the allegation and would only force him to be tight-lipped about whatever he learned.
The Conservative leader has called on Trudeau to "come clean" about the evidence behind the allegation against India, saying Canadians deserve more facts.
Singh said Tuesday he does not support that call.
"They're matters of national security and so information cannot be released beyond the general statements that were released," he said.
"There's going to be a next step in the investigation and a prosecution and then information will be made public in an appropriate manner. … To do it early would jeopardize the investigation."
A Canadian official told The Associated Press that the allegation of India's involvement is based on surveillance of Indian diplomats in Canada, including intelligence provided by a major ally.
The official said the communications involved Indian government officials and Indian diplomats in Canada and that some of the intelligence was provided by a member of the "Five Eyes" intelligence-sharing alliance — Canada, the U.S., Britain, Australia and New Zealand.
The official did not say which ally provided the intelligence or give any details of the communications or how they were obtained. The official spoke on condition of anonymity because they weren't authorized to discuss the matter publicly.
In an interview with CTV's Question Period that aired on Sunday, David Cohen, the U.S. ambassador to Canada, confirmed "there was shared intelligence among Five Eyes partners that helped lead Canada to making the statements that the prime minister made."
He said he does not generally comment on "private diplomatic conversations," but added: "There was a lot of communication between Canada and the United States about this, and I think that's as far as I'm comfortable going."
This report by The Canadian Press was first published Sept. 26, 2023.
— With files from James McCarten in Washington and The Associated Press.
JPMorgan settles claims that it enabled Jeffrey Epstein's sex trafficking acts for $75 million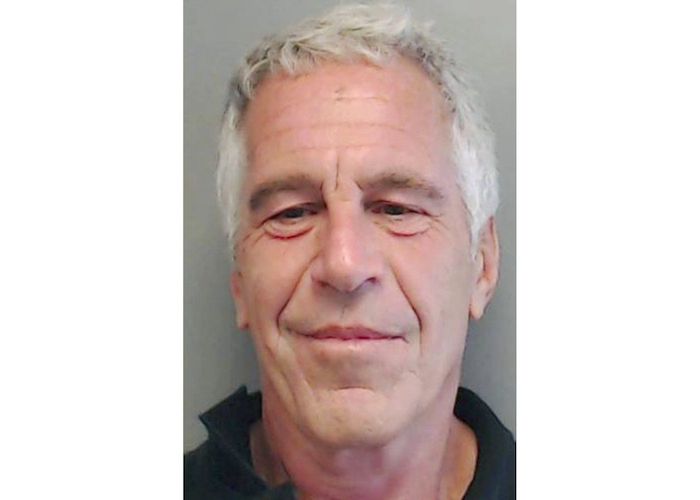 By Ken Sweet in New York
NEW YORK (AP) — JPMorgan Chase agreed Tuesday to pay $75 million to the U.S. Virgin Islands to settle claims that the bank enabled the sex trafficking acts committed by financier Jeffrey Epstein.
JPMorgan said that $55 million of the settlement will go toward local charities and assistance for victims. Another $20 million will go toward legal fees.
The Virgin Islands, where Epstein had an estate, sued JPMorgan last year, saying its investigation has revealed that the financial services giant enabled Epstein's recruiters to pay victims and was "indispensable to the operation and concealment of the Epstein trafficking enterprise."
In effect, the Virgin Islands had argued that JPMorgan had been complicit in Epstein's behavior and did not raise any red flags to law enforcement or bank regulators about Epstein being a "high risk" customer and making repeated large cash withdrawals.
The bank also said it reached an confidential legal settlement with James "Jes" Staley, the former top JPMorgan executive who managed the Epstein account before leaving the the bank. JPMorgan sued Staley earlier this year, alleging that he covered up or minimized Epstein's wrongdoing in order to maintain the lucrative account.
JPMorgan had already agreed to pay $290 million in June in a class-action lawsuit that involved victims of Epstein's trafficking crimes.
Epstein died by suicide in a federal jail in 2019.