Oilsands execs say they can't invest in decarbonization any faster, despite profits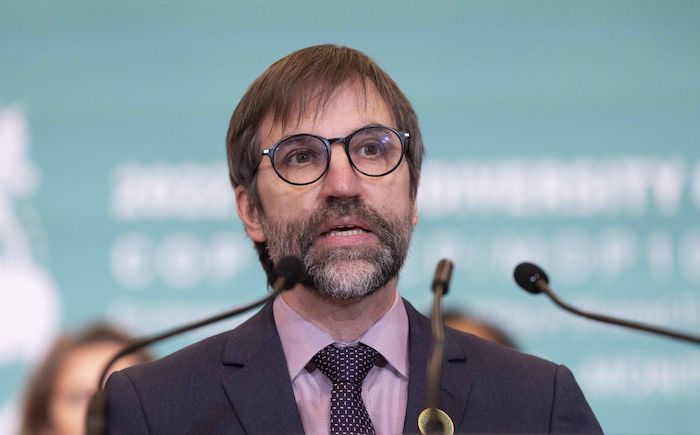 By Nojoud Al Mallees in Ottawa
Oilsands executives insist they are all in on cutting emissions and will make big investments in green technology, but they maintain there isn't a place to invest that money yet.
Many companies are coming off a year of windfall profits not because they pumped out more product, but because the war in Ukraine and global supply chain crunches pushed world oil prices way up.
Environment Minister Steven Guilbeault has said repeatedly over the last year that the companies need to prove their commitment by putting some of that cold hard cash into climate initiatives.
But in an interview with The Canadian Press, Cenovus CEO Alex Pourbaix said the companies are moving "as aggressively as (they) can."
"We're not yet at the point where we can invest billions in these projects," Pourbaix said.
Cenovus is one of six oilsands companies in the Pathways Alliance, a consortium created to work together to decarbonize their production entirely by 2050. The companies are looking to spend $24 billion by 2030 on emissions cutting, including two-thirds of that on carbon capture and storage systems.
However, who will pay for those investments is a point of contention.
So far, the consortium has spent half a billion dollars on Phase 1 of these projects, according to the alliance's president Kendall Dilling.
The industry is hoping to see the federal government do more to match the funding being offered by the U.S. government to incentivize the development of clean energy in that country.
The Liberal government has argued it has already created incentives for the industry, including an investment tax credit for carbon capture and storage projects, and that it's now time for the industry to step up.
"If they don't make those investments while they're making record-level profits, then when would it be a good time for them to make those investments?" Guilbeault said in an interview last September.
"If not now, then I don't know when."
Oil and gas companies have enjoyed record profits in the last couple of years thanks to skyrocketing energy prices. At a time when inflation is at decades-high levels, the growth of corporate profits has come under intense scrutiny, with some calling for windfall taxes to capture the excess profits.
In a new report from the Canadian Centre for Policy Alternatives, senior economist David Macdonald found that for every dollar Canadians spent on rising prices over the last two years, 25 cents went toward oil and gas sector profits.
However, Pourbaix rejected the notion that the industry needs to contribute more to government coffers.
"I think we are already contributing significantly," he said, estimating the industry will pay somewhere between $10 billion and $12 billion in federal taxes this year.
Pourbaix said countries that have opted for windfall taxes on the oil and gas sector have far less progressive tax systems than Canada.
However, Andrew Leach, an economics professor at the University of Calgary, said it's difficult to make comparisons across countries because in Canada the industry pays both royalties and taxes.
And while there is much debate about the appropriateness of windfall taxes, the federal government and some experts are concerned about the industry choosing not to invest these profits in carbon capture projects that would help decarbonize the oilsands.
"I would worry that their strategy here is, 'We can get Canadians excited about this and that will push the federal government to put more dollars in to defray some of the investment costs,'" said Leach.
He warned that strategy could backfire as Canadians watch the industry rake record profits and send cash to shareholders.
"If Canadian started asking, 'Well, if the owners of the oilsands companies aren't willing to make this bet, why should we?' then I think that becomes problematic for them."
Pourbaix said the spending will come in later phases of these projects and that in the meantime, shareholders need to be rewarded.
Many of the Canadian oil and gas giants have opted to do that through corporate share buybacks.
That prompted the federal government to introduce a two per cent corporate stock buyback tax to incentivize companies to reinvest profits rather than reward shareholders.
But some advocates want to see the federal government go further.
Keith Stewart, senior energy strategist with Greenpeace Canada, said the fact that the industry won't actually put money behind their rhetoric on climate change is a good reason to implement a windfall tax.
"They're still waiting for the government to come and pay for them," he said.
This report by The Canadian Press was first published Jan. 25, 2023.
Venezuela oil czar in surprise resignation amid graft probes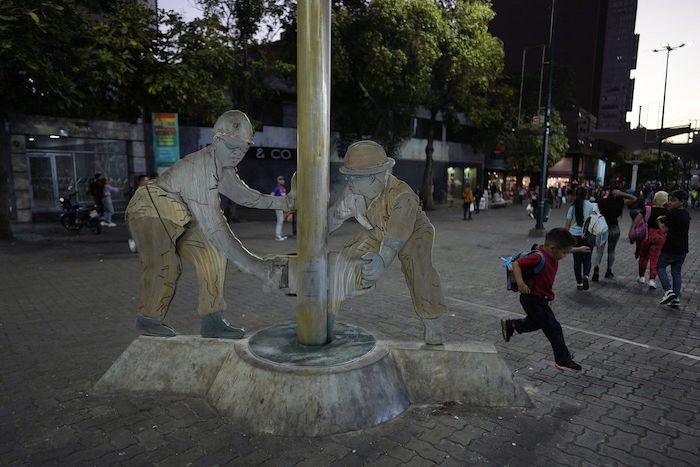 A boy jumps near the "Los Petroleros" sculpture that shows two men working on an oil drill of Petroleos de Venezuela, S.A, PDVSA, on the Sabana Grande boulevard, in Caracas, Venezuela, March 20, 2023. Venezuela's oil czar, Tareck El Aissami announced his resignation on Twitter and pledged to help investigate any allegations involving PDVSA. (AP Photo/Ariana Cubillos)
By Regina Garcia Cano in Caracas
CARACAS, Venezuela (AP) — The man responsible for running Venezuela's oil industry — the one that pays for virtually everything in the troubled country, from subsidized food to ridiculously cheap gas — has quit amid investigations into alleged corruption among officials in various parts of the government.
Tareck El Aissami's announcement Monday was shocking on multiple counts. He was seen as a loyal ruling party member and considered a key figure in the government's efforts to evade punishing international economic sanctions.
And he led the state oil company PDVSA in a Venezuelan business sector widely considered to be corrupt — in a country where embezzelment, bribery, money laundering and other wrongdoing are a lifestyle.
"Obviously, they are giving it the patina of an anti-corruption probe," said Ryan Berg, director of the Americas program at the Center for Strategic and International Studies, a Washington-based think tank.
"Rule of law is not being advanced here," Berg added. "This is really a chance for the regime to sideline someone that it felt for some reason was a danger to it in the moment and to continue perpetuating acts of corruption once particular individuals have been forced out of the political scene."
Hours after El Aissami revealed his resignation on Twitter, President Nicolás Maduro called his government's fight against corruption "bitter" and "painful." He said he accepted the resignation "to facilitate all the investigations that should result in the establishment of the truth, the punishment of the culprits, and justice in all these cases."
Venezuela's National Anti-Corruption Police last week announced an investigation into unidentified public officials in the oil industry, the justice system and some local governments. Attorney General Tarek William Saab in a radio interview Monday said that at least a half dozen officials, including people affiliated with PDVSA, had been arrested, and he expected more to be detained.
Among those arrested is Joselit Ramirez, a cryptocurrency regulator who was indicted in the U.S. along with El Aissami on money laundering charges in 2020.
Corruption has long been rampant in Venezuela, which sits atop the world's largest petroleum reserves. But officials are rarely held accountable — a major irritant to citizens, the majority of whom live on $1.90 a day, the international benchmark of extreme poverty.
"I assure you, even more so at this moment, when the country calls not only for justice but also for the strengthening of the institutions, we will apply the full weight of the law against these individuals," Saab said.
Oil is Venezuela's most important industry. A windfall of hundreds of billions in oil dollars thanks to record-high global prices allowed the late President Hugo Chávez to launch numerous initiatives, including state-run food markets, new public housing, free health clinics and education programs.
But a subsequent drop in prices and government mismanagement, first under Chávez's government and then Maduro's, ended the lavish spending. And so began a complex crisis that has pushed millions into poverty and driven more than 7 million Venezuela to migrate.
PDVSA's mismanagement, and more recently economic sanctions imposed by the U.S., caused a steady production decline, going from the 3.5 million barrels a day when Chávez rose to power in 1999 to roughly 700,000 barrels a day last year.
David Smilde, a Tulane University professor who has conducted extensive research on Venezuela, said the moves by Maduro's government are more than just an effort to clean its image.
"Arresting important figures and accepting the resignation of one of the most powerful ministers in a case that involves $3 billion does not improve your image," he said. "It is probably because the missing money actually has an important impact on a government with serious budgetary problems."
The Biden administration recently loosened some sanctions, even allowing oil giant Chevron for the first time in more than three years to resume production. Maduro's government has been negotiating with its U.S.-backed political opponents primarily to get the sanctions lifted.
U.S. congressional researchers saw El Aissami as an impediment to Maduro's goals.
"Should Al Aissami remain in that position, it could complicate efforts to lift oil sanctions," a November report from the Congressional Research Center said.
The U.S. government designated El Aissami, a powerful Maduro ally, as a narcotics kingpin in 2017 in connection with activities in his previous positions as interior minister and a state governor. The Treasury Department alleged that "he oversaw or partially owned narcotics shipments of over 1,000 kilograms from Venezuela on multiple occasions, including those with the final destinations of Mexico and the United States."
Under the government of Chávez, El Aissami headed the Ministry of Internal Affairs. He was appointed minister of oil in April 2020.
"El Aissami was a key player in the Maduro government's sanctions evasion strategy. We're talking about someone who knows where all the bodies are buried, so it will be key to watch where he ends up," said Geoff Ramsey, a senior fellow at the Atlantic Council focused on Colombia and Venezuela. "If El Aissami ends up being implicated himself, it could have serious implications for the entire power structure."
In September, Maduro's government renewed wrongdoing accusations against another former oil minister, Rafael Ramírez, alleging he was involved in a multibillion-dollar embezzlement operation during the early 2010s that took advantage of a dual currency exchange system. Ramírez, who oversaw the OPEC nation's oil industry for a decade, denied the accusations.
In 2016, Venezuela's then opposition-led National Assembly said $11 billion went missing at PDVSA in the 2004-2014 period when Ramirez was in charge of the company. In 2015, the U.S. Treasury Department accused a bank in Andorra of laundering some $2 billion stolen from PDVSA.
Indigenous-led prospective buyer 'not going away' even as Trans Mountain costs spiral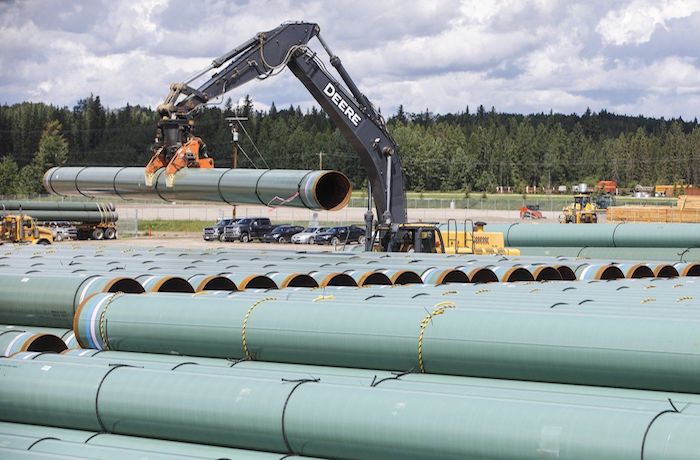 Pipe for the Trans Mountain pipeline is unloaded in Edson, Alta. on Tuesday June 18, 2019. An Indigenous-led initiative says it is still pursuing ownership of the Trans Mountain pipeline, in spite of the project's ballooning price tag. THE CANADIAN PRESS/Jason Franson
By Amanda Stephenson in Calgary
An Indigenous-led initiative is still pursuing ownership of the Trans Mountain pipeline, in spite of the project's ballooning price tag.
"We are not going away, just because it's $30.9 billion. We are entering into the early stages of negotiations," said Stephen Mason, managing director of Project Reconciliation, a Calgary-based group that is working to facilitate the purchase of a major equity stake in the pipeline for the 129 First Nations along the route.
"Yes, there are a couple of other proponents out there, but I think the federal government has recognized our readiness."
The Trans Mountain pipeline — Canada's only pipeline system transporting oil from Alberta to the West Coast — was bought by the federal government for $4.5 billion in 2018 after previous owner Kinder Morgan Canada Inc. threatened to scrap the pipeline's planned expansion project in the face of environmentalist opposition.
Construction on the expansion is still ongoing, and is expected to be completed later this year.
However, capital costs of the project have been steadily spiralling. Last week, Trans Mountain Corp. announced its estimated price tag for the project has increased once again, this time to $30.9 billion — a 44 per cent increase from the $21.4 billion cost projection placed on the pipeline expansion project a year ago, and more than double an earlier estimate of $12.6 billion.
The federal government has indicated it does not wish to be the long-term owner of the pipeline, and has said it is open to the idea of Indigenous ownership.
But due to existing contractual agreements with oil shippers, only 20 per cent to 25 per cent of the rising capital costs of the project can be passed on to oil companies in the form of increased tolls. (Tolls are the rates oil companies pay to shift product on a pipeline, and they are how the pipeline company makes money).
A report from the Parliamentary Budget Officer last June found the federal government stands to lose money from its investment in the pipeline, and suggested that if the project were cancelled at that time, the government would need to write off more than $14 billion in assets.
Mason did not say what his group is prepared to bid for a stake in the pipeline, but he said the ultimate selling price will only be what a buyer is willing to pay and will therefore reflect the anticipated return on investment.
"It's commercial value. It doesn't matter (who the buyer is), they will only pay what the commercial value is and what the tolls will support," he said.
This report by The Canadian Press was first published March 17, 2023.