Oilers give Evander Kane OK to negotiate with other teams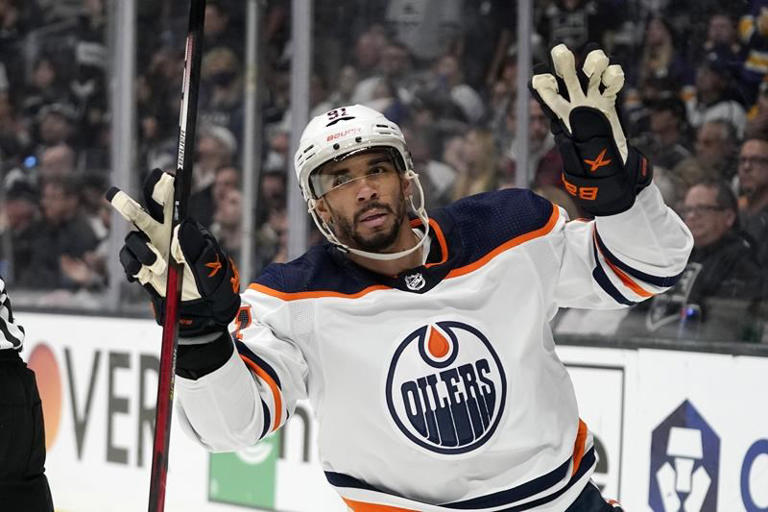 The Edmonton Oilers have granted Evander Kane permission to speak with other teams before the NHL's free agency period opens and Colorado's Nicolas Aube-Kubel went from celebrating with the Stanley Cup on Saturday to not receiving a qualifying offer from the Avalanche on Monday.
In a text to The Associated Press, Kane's agent, Daniel Milstein, wrote he's opening talks with other teams while also continuing discussions with the Oilers with his client eligible to become an unrestricted free agent on Wednesday.
Kane signed with Edmonton in January after the San Jose Sharks terminated the remainder of his seven-year, $49 million contract for violating COVID-19 protocols while in the American Hockey League. Kane has challenged the Sharks' decision by filing a grievance through the NHL Players' Association.
Earlier last season, he was suspended by San Jose for 21 games for submitting a fake vaccine card.
Kane topped 20 goals for the eighth time in 13 NHL seasons by scoring 22 goals and 39 points in 43 games with Edmonton. Oilers GM Ken Holland last week said he was having daily conversations in a bid to re-sign Kane.
In Colorado, the defending champion Avalanche informed forward Nicolas Aube-Kubel he will not receive a qualifying offer and will become a free agent when the market opens, a person with knowledge of the decision told The AP. The person spoke on condition of anonymity because the team had not announced its decisions.
The move comes with the Avalanche focusing their attention on attempting to re-sign forward Valeri Nichushkin, who completed the final year of his contract.
Aube-Kubel learned of the decision two days after bringing the Cup to his childhood home in Quebec. The 26-year-old Aube-Kubel has four seasons of NHL experience and was claimed by Colorado after being waived by the Philadelphia Flyers in November. He had 11 goals and 22 points in 67 regular-season games for the Avalanche, and had no points in 14 playoff games.
Elsewhere:
— The purge in Chicago continued with the Blackhawks placing veteran forward Brett Connolly and center Henrik Borgstrom on waivers with the intention to buy out the remainder of their contracts. Both had one year remaining on their respective deals. The moves follow Chicago trading forward Alex DeBrincat to Ottawa and center Kirby Dach to Montreal last week.
— The Columbus Blue Jackets declined to make offers to defenseman Gabriel Carlsson and center Kevin Stenlund. Carlsson has just two goals and 16 points in 75 career games over six seasons. Stenlund has 11 goals and 20 points in 71 games over four seasons. The Blue Jackets did extend qualifying offers to four players, including star forward Patrik Laine (26 goals, 36 assists last season).
___
AP Sports Writer Mitch Stacy contributed.
___
More AP NHL: https://apnews.com/hub/nhl and https://twitter.com/AP_Sports
John Wawrow And Stephen Whyno, The Associated Press
'Not true': Justice minister denies crying or yelling during doctor confrontation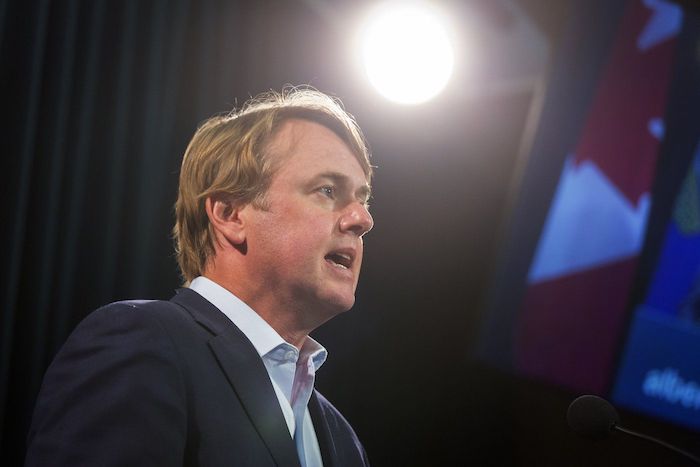 By Bill Graveland in Calgary
Alberta's justice minister said he felt sad and disappointed when he discovered someone he considered to be a friend was behind a social media post targeting him and his wife.
The Law Society of Alberta is in the final day of a hearing into allegations Tyler Shandro violated the profession's code of conduct. The three complaints date back to his time as the provincial health minister early in the COVID-19 pandemic.
Dr. Mukarram Zaidi, who had posted a photo on social media of Shandro with a caption related to privatizing health care, told the hearing the minister and his wife visited his home in March 2020. He said it occurred during fractious negotiations between the government and the Alberta Medical Association over fees.
The photo of Shandro, with a thought bubble caption, said: "So every Albertan that I can kick off health care is another client we can sign up for Vital Partners. We're going to be RICH." Shandro's wife, Andrea, is the co-founder of Vital Partners, a health insurance agency.
Shandro said Thursday his spouse alerted him to the post earlier in the day, when there had been up to a thousand threats made against the couple.
"I recognized the account being someone I considered a friend and who lived around the corner," Shandro said under questioning by his lawyer.
"The irony is that this is a fellow who had often engaged with me to discuss the importance of being careful with words, with online posts and what that could result in."
The doctor testified earlier this week that he went outside of his home to meet Shandro and described the minister as being highly upset as he demanded the doctor remove the post immediately because his family was being subjected to death threats.
"I see Shandro and his wife standing at the sidewalk. He was crying, he was emotionally charged. His wife was holding him," Zaidi said.
"He said: 'You can't do this to us. We're getting death threats.' I think I asked him: 'What do you want me to do?' And he said: 'Delete your post."'
Shandro said he walked over to Zaidi's home by himself and asked the doctors' children to send out their father. He said the conversation was over in a matter of minutes.
"I said: 'Mukarram, why wouldn't you have just asked me if you had questions? We know each other. You know me. You know Andrea. You know this isn't true.' And then I asked him: 'Do you know this conspiracy theory is resulting in Andrea getting death threats?'" Shandro said.
"He said softly: 'What do I do? Do I delete the post?' I specifically did not take him up on that offer. I said: 'Look, you have to decide that for yourself.'"
Shandro's lawyer, Grant Stapon, asked his client what he had to say to Zaidi's description of him crying and yelling while being held by his wife during the discussion.
"It's not true. It isn't true at all. Andrea was not there and if she really was there, it doesn't benefit me to say she wasn't there. If anything, it would be helpful to have her be there to corroborate," Shandro replied.
"I definitely did not yell at him."
Shandro said his wife did show up at the end of the conversation.
"She was emotional. She did have red eyes. She was crying earlier. She said: 'Don't talk to him. He's not interested in us. He's only interested in money.'"
Shandro said at that point they returned home.
Andrea Shandro is expected to testify later Thursday afternoon.
This report by The Canadian Press was first published Jan. 26, 2023.
Alberta considers training doctors for rural practice in smaller centres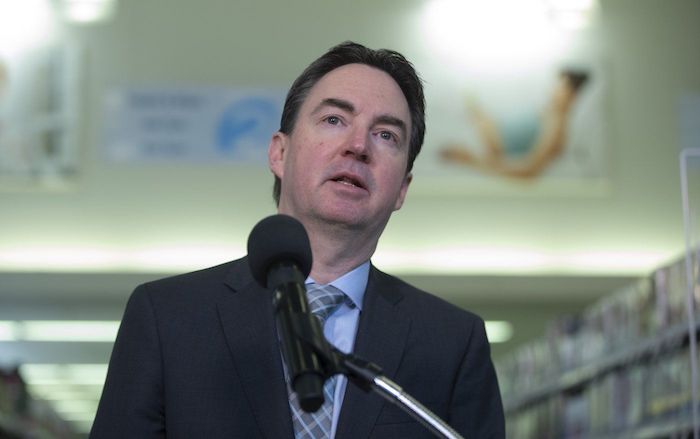 Calgary – Alberta is looking for ways to train doctors in smaller cities in hopes they will be more likely to help relieve a shortage of physicians in rural areas.
Health Minister Jason Copping and Advanced Education Minister Demetrios Nicolaides say the government is providing $1 million to four Alberta post-secondary institutions to look for ways to train doctors in Grande Prairie and Lethbridge.
Alberta has medical schools at universities in Edmonton and Calgary, but Copping says training doctors outside the big cities increases the odds of graduates practising in the province's smaller municipalities.
Todd Anderson of the University of Calgary's medical school says there are a wide variety of options being considered, including stand-alone schools.
The University of Lethbridge and Northwestern Polytechnic in Grande Prairie are also involved in the program.
Anderson says research suggests three-quarters of doctors who train in rural areas end up practising in one as well.
Copping says the project will take six to eight years to show results.
"It's going to take time to set the program up," he said Thursday. "That's a long-term strategy. But if you don't start, you'll never get there."
Meanwhile, rural health care continues to experience staff shortages. On Thursday, the Milk River Health Centre Emergency Department announced it would close until Monday due to a doctor shortage.
Nurses were to remain on-site to provide care for long-term care residents.
Copping said Thursday's announcement was just one part of the government's health-care strategy.
This report by The Canadian Press was first published Jan. 26, 2023.