'Nothing to come back to,' says Ukrainian woman in Canada, her beloved home destroyed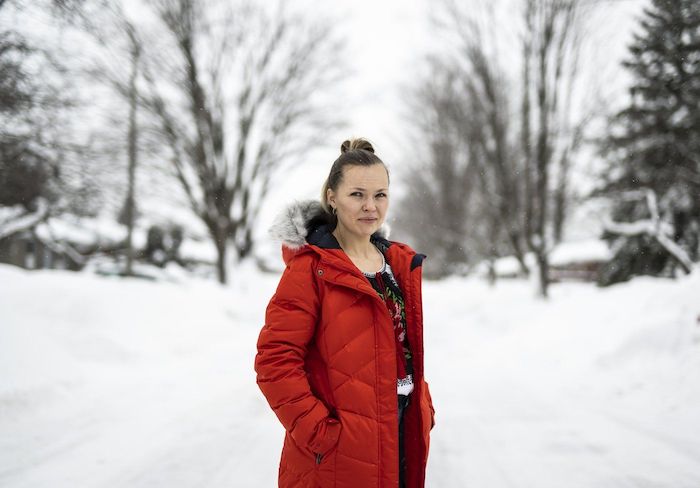 Oleksandra Verovkina is shown outside her home in Ottawa, on Monday, Jan. 30, 2023. THE CANADIAN PRESS/Justin Tang
By Laura Osman in Irpin
Oleksandra Verovkina and her son, Danylo, would stroll half a block through the back alley behind their apartment to a large forest. They would walk hand in hand beneath the tall trees, the air filled with the scent of pine resin, until the three-year old lost steam, and then return home.
The bright orange dining room in their fourth-storey apartment soaked up the sun streaming in from the skylight in the roof. Oleksandra would place a cup of hot chocolate on the child-sized table where Danylo worked away on his favourite puzzle, a map of the world.
When they did not feel up to a walk they would venture outside to the parking lot beside the white stucco building, where her son played on a bright yellow, metal play structure with a slide and swing. They were often joined by his best friend, who lived two floors below.
Oleksandra, 36, had dreamt of leaving Ukraine for Canada since 2014 when separatist forces first seized the Donbas region where she lived at the time. But she put that idea aside in 2020 when she and her husband bought the relatively newly built apartment in Irpin, a suburb of Kyiv. It was the first home they owned together.
"When we landed in Irpin I fell in love with the city. It's amazing," she said, wearing a traditional embroidered Ukrainian blouse called a Vyshyvanka, with her blond hair in a bun.
"You can feel this spirit of community."
The family does not live there anymore.
On the morning of Feb. 24, 2022, Oleksandra woke up to the sound of her buzzing phone. It wasn't until she shook off the sleep that she heard the explosions in the distance.
"When we woke up, we started hearing the bombs and military flights, helicopters," Oleksandra said.
Russian forces invaded from Belarus. Tanks rolled south toward the capital city of Kyiv. Airstrikes hit across the country in the early morning hours.
On the phone, her brother was asking her what they were planning to do. She did not have an answer.
Her husband, Oleksii, did. He had been paying attention to reports about enemy forces amassing on the border between Ukraine and Belarus to the north. Though most people in their lives did not believe news stories about an impending attack, Oleksii had started to get ready.
Together they packed a few essentials: toiletries, some clothing, and toys and books for their son. Oleksandra's favourite sweater was still in the laundry machine. She left it behind.
Given the massive amount of people trying to get out of the city, they knew they had a long journey ahead of them.
But when they heard bombs drop down on the nearby Hostomel Airport, they knew it was time to go.
"We got scared," she said. Oleksii urged them to leave at 7 p.m. They buckled Danylo in the back of the car to begin the 12-hour crawl through stop-and-go traffic to the home of her brother's girlfriend in Khmelnytskyi, in southwestern Ukraine.
Before they pulled out of the parking lot, Oleksandra ran back inside to take out the trash; she didn't want the house to smell by the time they returned.
She did not pause to take a last look at the home she loved.
Now, on a day just a year after the Russian invasion began, the scent of pine from the nearby forest mingles with that of burnt metal and dust.
The roof above Oleksandra's unit, where the skylight lit the dining room, is gone.
The sand in the playground where Oleksandra pushed Danylo on the swings is still scattered with broken glass. Coffee mugs and ceramic flowerpots on the burnt-out windowsills and balconies hint at how quickly neighbours picked up their lives and fled.
This time last year, the family spent a month together in a cramped, two-bedroom apartment with Oleksandra's brother, his girlfriend and his girlfriend's daughter. All six of them would eat around a small table, shoulder to shoulder. At night, when air-raid sirens went off, Oleksandra slept in the hallway with her son, away from the windows, in case a rocket landed nearby.
She felt lost and indecisive.
The suburb they left behind became a battleground. Russian soldiers occupied Irpin and nearby Bucha outside of Kyiv in an attempt to take the capital city. Returning home was not an option.
She still was not keen on leaving Ukraine, but now for a different reason. Men ages 18 to 60 were banned from leaving the country as part of the conditions imposed under martial law shortly after the invasion.
Leaving Ukraine meant leaving her husband, too.
"I was thinking that it's better to stay together, like family," she said.
But when Oleksii learned of a special three-year Canadian visa for Ukrainians fleeing the war, he dug out the application forms.
She hated the thought of splitting up her family to travel across the world, but the longer the conflict dragged on, the clearer it became that they would not be able to go home any time soon.
She applied on the first day the program opened and received a response right away. Within a week, she and Danylo were on their way to Romania to be fingerprinted and photographed as part of Canada's immigration process.
On March 26, 2022, days after making the wrenching decision to leave both her country and her husband, she found out the home she loved in Irpin was gone.
Oleksii had found a post on the social media app Telegram about a fire in their apartment building.
"The roof was on fire," she said, almost a year later. "It was very obvious."
Ukraine recaptured the suburb a few days later, but Oleksandra had already decided that her life in that country was over.
"We have nothing to come back to. We have nothing in Ukraine," she said, sitting in the sunny living room of the rental house in Ottawa.
She lives there now with her son, her parents and a friend, while Oleksii lives in Kyiv, where he plans to work until he can join his family in Canada.
The two talk on the phone twice a day.
Though Oleksandra says she has accepted what's happened to her home, her breath still catches in her throat when she sees it now.
"It looks horrible," she says softly as she scans photographs and videos taken by The Canadian Press during a recent visit to Irpin.
The white stucco siding is blackened and burned, the windows are blown out and twisted sheets of metal hang off the roof and balconies. The parking lot is full of debris, and small pieces of the building fall from the four-storey building with every strong breeze.
It is unclear what happened to it, because most neighbours were not in the suburb at the time. Those who have since returned to the area believe it was hit by a missile. Pockmarks in the side of the building suggest it was also hit by shrapnel from nearby explosions.
Damage to the building next door was mostly limited to blasted-out windows, which have since been repaired. Neighbours come and go, stepping over the sharp rubble scattered around Oleksandra's apartment building on their way in and out.
For those who have returned, the empty building is a reminder of what has been lost.
Oksana Kucheryna, an older woman who lives in a nearby building, walked by on her way to the shop on a day in late February, plastic bag in band. She says she often stops to take a long look at the crumbling building as she passes by. She wraps herself in her winter coat, kerchief tied neatly around her head, as she makes her way through the same alley Oleksandra and Danylo would take on their forest walks.
"Now we are used to looking at it, but at first, it was horrible to see it," she said, her eyes watering as she stared up at the charred building.
"I want to cry watching all this. People worked hard to buy these apartments. And at one point, all of it was gone."
Rebuilding efforts have been underway in Irpin since Ukraine retook the community last March, but the buildings that appear to be beyond repair, such as Oleksandra's, have been mostly left as they are: black and hollowed by the violence of the past year.
Craters in the pavement show where projectiles landed outside homes, shops and schools.
Outside the grocery store, a crowd of people — mainly seniors, teens and mothers with strollers — wait in line as volunteers hand out meals and small bags of food to take home for the week.
The toll of the war is on the faces of the people who have returned to the community, many of whom keep their eyes cast down to the sidewalk as they make their way past the wreckage.
In Ottawa, Oleksandra sometimes still feels a pull for the things and places she left behind. Often it's small things she yearns for, like the cosy, second-hand sweatshirt with the NASA logo, her favourite on cold days, that was in the laundry machine while she hastily packed her suitcase last year.
Not everything in Irpin is lost.
Near Oleksandra's former home, a mother and her son could be seen walking hand in hand through the towering trees.
Oleksandra cannot imagine returning now. She feels that even in the aftermath of the war, the community would be dangerous for her son.
Oleksandra is rebuilding, too, her life now in Ottawa.
"I feel like I'm Canadian," she says. Now that she is safe, she feels like she and Danylo can adjust to the new environment.
Volunteers have helped her furnish her new home. The table and chairs are almost the same as the ones she left in her bright orange dining room in Irpin.
A three-minute walk from her rental home in Ottawa, there is a forested lot full of maple trees where mother and son can go for a stroll.
This report by The Canadian Press was first published March 26, 2023.
Europe OKs plan to tally cost of Moscow's war in Ukraine with eye toward future reparations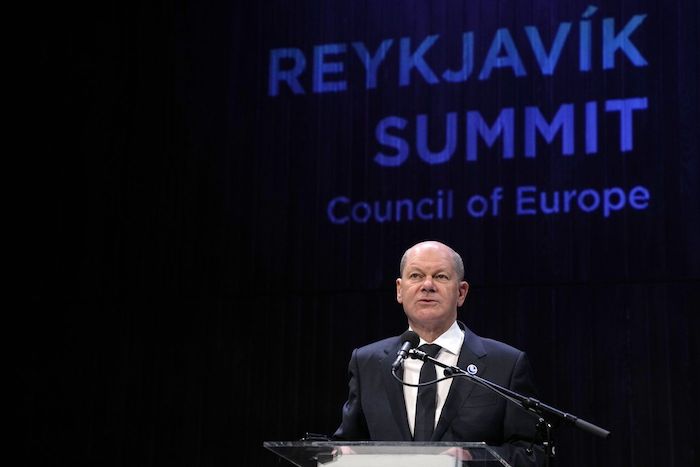 Germany's Chancellor Olaf Scholz speaks during a media conference at the Council of Europe summit in Reykjavik, Iceland, Wednesday, May 17, 2023. Leaders from across Europe were wrapping a two-day summit on Wednesday, putting the final touches on a system to establish the damage Russia is causing during the war in Ukraine, in the hopes it can be forced to compensate victims and help rebuild the nation once the conflict is over. (AP Photo/Alastair Grant)
By Molly Quell in Reykjavik
REYKJAVIK, Iceland (AP) — More than 40 nations agreed Wednesday to set up a system to tally the damage Russia has inflicted on Ukraine in the hope of getting reparations, adding to the international legal challenges the Kremlin is facing.
The register of damages, which will allow Ukrainian victims of war to catalog the harm they have suffered, found a plethora of support among the 46-nation Council of Europe summit in Iceland. Participants also discussed the details of a potential future tribunal where Russia would face charges for waging war.
"This Reykjavik summit shows clearly that Putin has failed with his calculations – he wanted to divide Europe and has achieved the opposite," said German Chancellor Olaf Scholz. "We stand closer together in Europe than ever before."
While leaders were at the waterside venue on the far-flung island nation for two days, the United Nations' top court announced it would hold hearings next month in a case between Russia and Ukraine. Kyiv claims Moscow is discriminating against minority groups in occupied Crimea and is financing terrorism in the region.
But even if Ukraine prevails at The Hague-based International Court of Justice, a ruling wouldn't make whole the millions of Ukrainians whose homes and lives have been torn apart by the conflict.
In theory, victims might have better luck at the Council of Europe's own court, the European Court of Human Rights, where Moscow is facing thousands of complaints of human rights violations, including three brought by Ukraine. The Strasbourg-based court can order countries to pony up restitution, but Russia's neighbor Georgia has been yet unable to collect for damages inflicted by Moscow when it invaded in 2008.
However, Russia was expelled from the council last year, in the wake of the full-scale invasion of Ukraine. And as long ago as 2015, it passed a law allowing it to overrule judgements from the ECHR.
Neither the court, nor the council, now has any channel of communication with the Russian authorities.
The damages register is seen as a first step toward justice in Ukraine. "Accountability is one of the topics that is of crucial importance," Marija Pejcinovic Buric, Secretary General of the Council of Europe, told the AP in an interview.
Compiling a comprehensive register of the destruction may be a first step: it's unclear what else might follow. The Council of Europe has made it clear that it will not assess the credibility of any claims, nor will it fund reparations payments. Those decisions will be left for other potential future institutions to determine.
Little wonder that Ukrainian President Volodymyr Zelenskyy, addressing the summit from Kyiv, reiterated his country's wish for such a court specifically for the prosecution of Russian aggression. In addition to military aid, another conference topic, he said his country needed "100% of justice, as there will be no reliable peace without justice."
While international institutions may be bogged down in overcoming legal hurdles to accountability, a group of squatters in Amsterdam has cut through the red tape – and the locks of the $3.5 million Amsterdam home belonging to one of Russia's sanctioned oligarchs.
A court in the Dutch city ruled on Wednesday that an anarchist group, who took over the Russian tech billionaire Arkady Volozh's house in October, could remain in the five-story, 19th-century mansion so long as they didn't annoy the neighbors.
Putin, Zelenskyy agree to meet with 'African leaders peace mission,' says South Africa president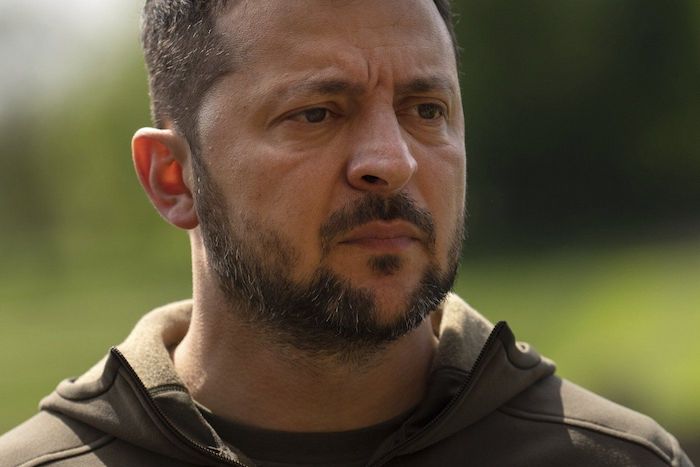 Ukraine's President Volodymyr Zelenskyy listens during a press conference with Britain's Prime Minister Rishi Sunak, in the garden at Chequers, in Aylesbury, England, on May 15, 2023. South African President Cyril Ramaphosa said Tuesday May 16, 2023 that his Russian and Ukrainian counterparts have agreed to separate meetings with a delegation of African heads of state to discuss a possible plan to end the war in Ukraine. (Carl Court/Pool via AP, File)
By Gerald Imray in Cape Town
CAPE TOWN, South Africa (AP) — Russian President Vladimir Putin and Ukrainian President Volodymyr Zelenskyy have agreed to separate meetings with a delegation of leaders from six African countries to discuss a possible plan to end the war in Ukraine, South Africa's president said Tuesday.
South African President Cyril Ramaphosa said he spoke with Putin and Zelenskyy by phone over the weekend and they each agreed to host "an African leaders peace mission" in Moscow and Kyiv, respectively.
"Principal to our discussions are efforts to find a peaceful resolution to the devastating conflict in the Ukraine," Ramaphosa said.
The leaders of Zambia, Senegal, Republic of Congo, Uganda and Egypt would make up the delegation along with Ramaphosa, he said in a statement. Putin and Zelenskyy gave him the go-ahead to "commence the preparations," the South African leader said.
Four of those six African countries — South Africa, Republic of Congo, Senegal and Uganda — abstained from a U.N. vote last year on condemning Russia's invasion. Zambia and Egypt voted in favor of the motion.
Ramaphosa did not give a time frame or outline any parameters for the possible peace talks. Zelenskyy has said he would not consider a peace deal to end the 15-month war until Russian forces withdraw completely from Ukrainian territory.
U.N. Secretary-General António Guterres also was briefed on the African delegation's planned meetings and "welcomed the initiative," Ramaphosa said.
U.N. spokesman Stephane Dujarric confirmed Monday that Ramaphosa spoke to Gutteres Monday afternoon during his visit to Jamaica.
"As we've said before, we are in favor of any initiative that could lead us to a peace in line with the (U.N.) Charter, in line with international law and in line with General Assembly resolutions," Dujarric said.
The announcement of the African-led peace effort came as Russia launched a heavy air attack on Kyiv.
There was no immediate reaction Tuesday from either the Kremlin or Kyiv. A readout from a phone conversation Putin and Ramaphosa had Friday said the Russian leader supported "Cyril Ramaphosa's idea about a group of African leaders participating in the discussion of the prospects of resolving the Ukrainian conflict."
It wasn't clear if that was the phone call Ramaphosa was referring to when he said he spoke with Putin over the weekend.
South Africa's leading position in the African delegation is bound to draw scrutiny. Ramaphosa's announcement came days after the U.S. ambassador accused South Africa of siding with Russia in the war in Ukraine and even providing weapons to help Moscow.
U.S. Ambassador to South Africa Reuben Brigety alleged last week that weapons and ammunition were loaded onto a Russian-flagged cargo ship at a South African naval base in December and taken to Russia. The South African government has denied it sent any weapons to Russia.
Ramaphosa has said the matter is under investigation.
South Africa has claimed its position on the war is neutral. The country has strong historical ties with Russia due to the former Soviet Union's support of South Africa's ruling African National Congress party when it was a liberation movement fighting to end the racist apartheid regime.
South Africa also hosted Russian and Chinese warships for joint naval exercises off its coast in February and which coincided with the one-year anniversary of Russia's invasion of Ukraine. South Africa's top army general traveled to Moscow and met with the commander of the Russian ground forces on Monday.
South Africa maintains it also retains a strong relationship with the United States and other Western supporters of Ukraine. Ramaphosa met with U.S. President Joe Biden at the White House late last year.
Zambia also has historical ties with Russia. Uganda is a U.S. ally on regional security in East Africa, but Ugandan President Yoweri Museveni has spoken of his country's friendship with Russia and its neutral position in the war in Ukraine.
Sipho Mantula, an analyst at South Africa's Thabo Mbeki African School of Public and International Affairs, said the neutrality of some of those African countries would help any talks.
"You don't need people who will take sides and become proxy mediators," Mantula said.
Russia and Ukraine are far apart in terms of an agreement to end the war.
The Kremlin wants Kyiv to acknowledge Russia's annexation of the Crimean Peninsula and the Ukrainian provinces of Donetsk, Kherson, Luhansk and Zaporizhzhia, which most nations have denounced as illegal. Ukraine has rejected the demands and ruled out any talks with Russia until its troops pull back from all occupied territories.
Ukraine is determined to recover all Russian-occupied areas.
Zelenskyy's 10-point peace plan also includes a tribunal to prosecute crimes of aggression, which would enable Russia to be held accountable for its invasion. Zelenskyy had private talks with Pope Francis at the Vatican on Saturday, later saying he sought support for Ukraine's peace plan from the pontiff.
China has been the only other country so far offering to mediate possible peace talks, an offer clouded by its show of political support for Moscow.
Beijing released a proposed peace plan in February, and a Chinese envoy is preparing to visit Russia and Ukraine.
But there appeared to be little chance of an imminent breakthrough to end the war since Ukraine and its Western allies largely dismissed the Beijing's proposal.
___
AP correspondent Hanna Arhirova contributed to this story from Kyiv, Ukraine. AP writers Dasha Litvinova in Talinn, Estonia, Rodney Muhumuza in Kampala, Uganda, and Mogomotsi Magome in Johannesburg also contributed.
___
Follow AP's coverage of the war in Ukraine at https://apnews.com/hub/russia-ukraine