'Not trying to be on the front page:' Toronto Mayor John Tory on re-election bid
TORONTO — Headlines and TV highlight clips are overrated, Mayor John Tory is saying at a Toronto diner shortly after he and his mother voted in front of photographers ahead of Monday's municipal election.
At 64, Tory, who by most accounts is set to cruise to a re-election victory that will give him another four years in the city's highest office, is comfortable with his track record, and himself.
"The politics of excitement, the politics of polarization, the politics of show business are actually of not much interest to me," Tory says. "I'm not trying to be on the front page of every newspaper with some pronouncement every day with giant headlines. I just really want to get things done."
While his opponents criticize just how much the former corporate executive and longtime politician has accomplished since winning the mayoralty on his second attempt four years ago, it's harder to argue with the contention that he, and by extension Toronto, are no longer the butt of late-night TV jokes.
Tory's style — measured but clear is how he describes it — contrasts sharply with the approach of the late former mayor Rob Ford, known for his folksy commitment to constituents as well as his international attention-grabbing drug use and lewd comments.
"There is a kind of 'father knows best' aura or projection and style to John Tory," says Myer Siemiatycki, a professor of political science at Ryerson University. "It is a significant achievement that there's a more normal, orderly, predictable course of city governance going on (but) whether there are sufficient tangible accomplishments and achievements over his past four years in the mayor's chair is a whole other question."
Ford, ailing with cancer, dropped his re-election bid in 2015, allowing Tory and his promise of stability to beat out Ford's brother Doug, who earlier this year became Ontario's premier after taking his Progressive Conservative party — which Tory once helmed — to victory in June.
When Doug Ford abruptly announced in July that he would slash Toronto city council nearly in half, Tory came under fire for what his critics branded as a weak response. Tory bristles at the criticism — in his low-key way. On the evening before Ford announced his plan, Tory says he took on the premier.
"I was very clear in how profoundly I objected to the process that he followed there, which was no process at all," Tory says. "It was just a unilateral decision that was rammed down our throats in the middle of an election campaign."
Toronto voters, he says, want their mayor to stand up for the city. Even more importantly, he says, they want him to forge productive relationships with both the provincial and federal governments on which cities rely so heavily.
"You can talk a good game about having a war going with the provincial government every day of the week," Tory says. "I just don't think that works in reality, when the morning after you had a big dispute about one matter, you're phoning them up to get help on another."
By any measure, the Toronto mayoralty field is crowded. Almost three dozen candidates are vying for Tory's office, though almost none, polls suggest, poses a real threat. If surveys are accurate, his main opponent is Jennifer Keesmaat, the city's former chief planner who jumped into the fray mid-summer amid the fracas caused by Ford's council-cutting decision.
Keesmaat has attacked Tory as a dithering non-leader who has accomplished little on critical files such as public transit and affordable housing. In response, he cites a list of what he feels he has achieved. For example, he says, upper governments have now committed $9 billion toward transit-infrastructure and the city is moving forward with a desperately needed "relief line."
Tory also says he is in "furious" agreement with Keesmaat on the need for more affordable housing, but criticizes her target of 100,000 new units over the next decade as unrealistic. He is pledging 40,000 over 12 years on top of the 3,700 units he says have already been built under his watch.
He has pledged to combat gun and gang violence by hiring 400 new police officers over two years and pushing for a ban on handguns.
The married father of four also brags of successive years of surplus budgets in which property taxes increased by no more than the inflation rate despite what he calls record amounts spent in areas such as transit and housing. City taxes are among the biggest cheques residents write, he says, and holding the line on taxes — even if it means limiting city revenues — is part of his commitment to affordability.
If there is a genuine crisis facing the city, Tory says it is the issue of mental health and addictions that saw 303 overdose deaths in Toronto last year.
"I see the human carnage that takes," he says, acknowledging supportive housing and programs are in critically short supply.
As he speaks about his re-election bid, Tory also kibitzes comfortably with other restaurant patrons and staff. He is clearly comfortable in his skin, confident that more than enough voters like what they see and will trust him anew with the keys to the mayor's office.
"Nothing about the election keeps me awake at night; my conscience is clear with respect to the efforts I've made," he says. "The universe unfolds as it should. It's the way it is."
Colin Perkel, The Canadian Press
Saskatchewan premier defends plan to use notwithstanding clause for pronoun policy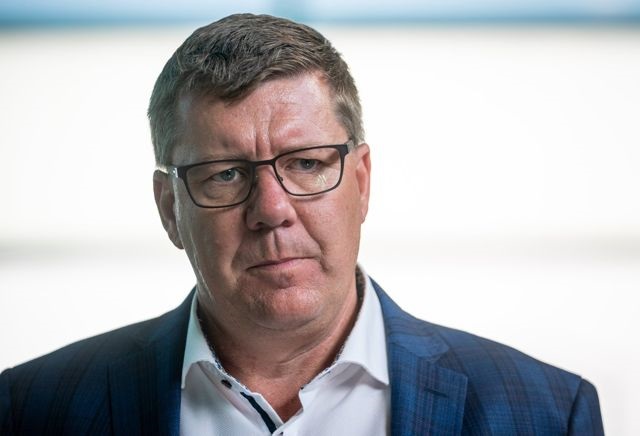 Saskatchewan Premier Scott Moe holds a news conference during a tour at Lakewood Civic Centre in Saskatoon, Sask., on Friday, Sept. 29, 2023. Moe is defending his decision to recall the legislative assembly early and use the notwithstanding clause to ensure the province's pronoun policy stays in place. THE CANADIAN PRESS/Heywood Yu
Saskatoon
Saskatchewan Premier Scott Moe is defending his decision to recall the legislative assembly early and use the notwithstanding clause to ensure the province's pronoun policy in schools stays in place.
Speaking to reporters in Saskatoon, he said he wants to make it clear the policy will go ahead.
"The policy is paused here today," Moe said Friday.
"What we feel is of paramount importance is to provide clarity to parents, to families and ultimately to school divisions and educators that are in our classrooms across the province. This will provide that clarity.
"We've said for a number of weeks now that there are tools available for the government to ensure this policy is in place moving forward for the next number of months and years."
Moe made the announcement Thursday that he plans to use the notwithstanding clause, shortly after a judge granted an injunction to pause the policy that requires parental consent when children under 16 want to go by different names and pronouns at school.
He had said in a statement that he was extremely dismayed by the injunction, calling it judicial overreach, and suggested the policy has strong support from the majority of Saskatchewan residents and parents.
On Friday, Moe added that he wants to provide clarity as soon as possible to families and school divisions.
"The school divisions, up until yesterday, have informed us they've been working on their implementation plans of this policy," he said.
"What pausing the policy means is for a period of time it will not be mandatory to include the parents in some of these discussions."
The legislative assembly is to be recalled on Oct. 10 to use the notwithstanding clause, a provision that allows governments to override certain Charter rights for up to five years.
This report by The Canadian Press was first published Sept. 29, 2023.
Cyberattacks hit military, Parliament websites as India hacker group targets Canada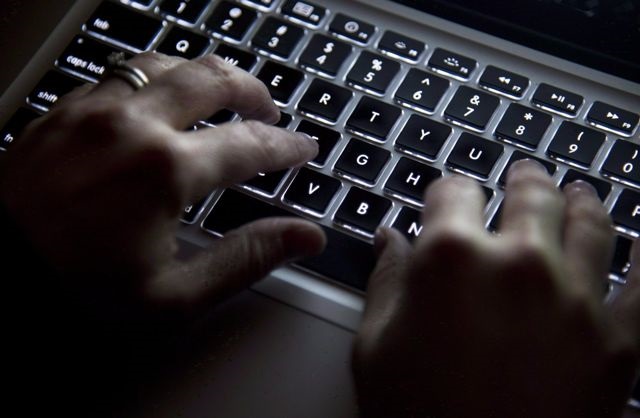 The federal government is coping with apparent cyber attacks this week, as a hacker group in India claims it has sowed chaos in Ottawa. Hands type on a keyboard in Vancouver on Wednesday, December, 19, 2012. THE CANADIAN PRESS/Jonathan Hayward
By Dylan Robertson in Ottawa
The federal government is coping with apparent cyberattacks this week, as a hacker group in India claims it has sowed chaos in Ottawa.
The Canadian Armed Forces said that its website became unavailable to mobile users midday Wednesday, but was fixed within a few hours.
The military said the site is separate from other government sites, such as the one used by the Department of Defence and internal military networks. The incident remains under investigation.
"We have no indication of broader impacts to our systems," said a statement from spokeswoman Andrée-Anne Poulin.
Meanwhile, various pages on the House of Commons website continued to load slowly or incompletely on Thursday due to an ongoing attack that officials say started Monday morning.
The Commons administration said it was facing a distributed denial-of-service attack, which is when bots swarm a website with multiple visits and cause it to stop loading properly.
"House of Commons systems responded as planned to protect our network and IT infrastructure. However, some websites may be unresponsive for a short period," spokeswoman Amélie Crosson said in a written statement Thursday morning.
"The House of Commons IT support team, in collaboration with our partners, have implemented mitigating measures and restored services to appropriate service levels. The IT team is still continuously monitoring for such activities."
She added that the Commons administration is helping their Senate colleagues "to provide guidance and support them to restore services."
Elections Canada also experienced roughly an hour-long denial-of-service attack starting around midnight early Wednesday, Ottawa time.
"This website does not host any sensitive data or information. It is separate from our main website, elections.ca, and is hosted by an external service provider. It is in no way connected to the network that supports elections.ca," the agency wrote in a statement.
"Our systems are monitored in real time both internally, and by the Canadian Cyber Security Centre, enabling us to quickly detect any anomalies on our platforms and systems. They are aware of the incident."
That centre is under the umbrella of the Communications Security Establishment, Canada's signals-intelligence agency.
A hacking group named Indian Cyber Force claimed responsibility for the incidents involving the military and Elections Canada, and it appeared to have managed to infiltrate a handful of websites owned by small businesses in Canada.
The group made reference to Prime Minister Justin Trudeau telling Parliament on Sept. 18 that there were "credible allegations" of Indian involvement in the killing of Sikh independence activist Hardeep Singh Nijjar, who had been wanted by India for years and was gunned down in June outside the temple he led.
The hacking group has posted multiple versions of a message riddled with spelling and grammatical errors onto websites of restaurants and medical clinics.
The affected sites show a message on a black background with green digits, similar to the film "The Matrix," as warlike music plays.
The message described Canada as a haven for terrorists — a "heaven hub," it said in butchered English — and similarly insulted Sikh separatists.
It also criticized Trudeau for "throwing something without any prove," or proof.
The group claimed to have attacked Elections Canada and the Ottawa Hospital, though these sites appeared to be operating normally Thursday morning. The Canadian Press has asked those responsible for these web pages to confirm whether they have been affected.
The hacking group also claimed to have taken down the Global Affairs Canada website for travel advisories, but the department insists this hasn't happened, and the group deleted that claim from its account on the social-media application Telegram.
News of the attacks came as questions abounded over Indian officials' level of co-operation with Canadian officials over Trudeau's allegations — and to what extent allies such as the United States were advocating on Canada's behalf.
On Thursday, U.S. Secretary of State Antony Blinken met with India's foreign-affairs minister Subrahmanyam Jaishankar.
Neither of them made mention of the controversy in Canada when they emerged briefly to pose for photos before their meeting began.
During a State Department briefing prior to that meeting, spokesman Matthew Miller refused to speculate on what the secretary would tell Jaishankar directly.
"What I will say, however, is we have consistently engaged with the Indian government on this question and have urged them to co-operate, and that engagement and urging them to co-operate will continue," Miller said.
"We urge them to co-operate with the Canadian investigation."
Miller flatly refused comment when asked about a television interview last week with U.S. ambassador to Canada David Cohen, who confirmed that Canada received intelligence from one of its Five Eyes security partners.
"I am not going to speak to intelligence matters from the podium."
This report by The Canadian Press was first published Sept. 28, 2023.
— With files from James McCarten in Washington, D.C.