North American stock markets wrap up brutal quarter and first half of 2022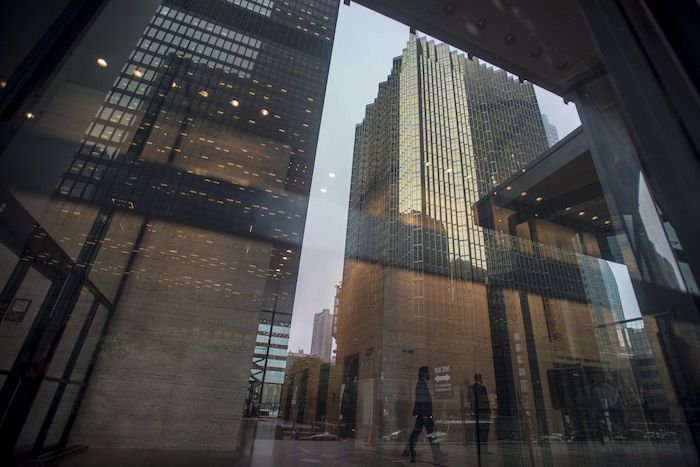 By Ross Marowits in Toronto
Allan Small said the first half of 2022 has proven to be the worst run of his 25-year investment career.
Canada's main stock index concluded its weakest quarter since before the pandemic while U.S. markets endured their worst six-months runs in decades on fears that rising interest rates will throw the economy into recession.
"As we hit the mid-point of the year, when you look back I think the first part of the year will be known for just a bloodbath in the markets," the senior investment adviser at IA Private Wealth said in an interview.
The S&P/TSX composite index closed down 217.28 points to 18,861.36 to end the quarter off nearly 14 per cent for the biggest decrease since December 2019. The TSX is closed Friday for Canada Day while U.S. markets will be closed Monday for Independence Day.
In New York, the Dow Jones industrial average was down 253.88 points at 30,775.43. The S&P 500 index was down 33.45 points at 3,785.38, while the Nasdaq composite was down 149.15 points at 11,028.74.
The TSX is down 11 per cent so far this year, while the Dow is down 15 per cent, the S&P 500 is off 20.6 per cent for the worst six months in 50 years and Nasdaq fell a record 29.5 per cent.
"I don't remember a year that started off the six months this poorly," said Small.
Soaring inflation has been stoked by Russia's invasion of Ukraine while supply chain bottlenecks have been accentuated by China's COVID-19 lockdowns.
While markets endured steep declines in the past due to COVID-19 and the financial crisis, they were always followed by people buying the dip. This time, many investors remain on the sidelines after getting hammered and unsure about when markets will bottom out.
Economic data out of the U.S. on Thursday said core inflation numbers, the Fed's preferred inflation measure, rose 4.7 per cent in May. That's 0.2 of a per cent lower than April but still around 40-year highs.
In Canada, economic growth slowed in April to 0.3 per cent, while a preliminary estimate for May suggests it likely contracted 0.2 per cent. The U.S. previously said its economy slipped 1.6 per cent in the first quarter.
A negative number in the second quarter will mean the U.S. economy is technically in recession. But Small said many people think the economy is already there and that Canada is either in recession or about to go into one.
Small said he wouldn't be surprised to see markets rise during a recession in anticipation of things getting better, with inflation moving down after peaking.
Real estate and utilities were the lone sectors in positive territory Thursday in a broad-based slump with six of nine sectors falling by more than one per cent.
Health care led the declines, losing 4.1 per cent with Canopy Growth Corp. plunging 18.5 per cent after the pot producer announced a convertible notes exchange.
Materials lost 3.6 per cent on a drop in metals prices, particularly copper.
The August gold contract was down US$10.20 at US$1,807.30 an ounce and the September copper contract was down 7.1 cents at US$3.71 a pound.
"Whenever you have fear of a recession, those types of metals which are used to build homes and build things, the fear is that you're not going to need to use as much of these building materials," Small said.
Energy lost 1.7 per cent on lower prices with crude oil dropping as Advantage Oil & Gas Ltd. shares were down six per cent.
The August crude contract was down US$4.02 at US$105.76 per barrel and the August natural gas contract was down US$1.07 at US$5.42 per mmBTU.
The Canadian dollar traded for 77.60 cents US compared with 77.65 cents US on Wednesday.
Shopify Inc. decreased 5.6 per cent to push technology lower while Laurentian Bank fell 2.5 per cent to lead a drop in the heavyweight financial sector.
Small is hoping for a better second half of the year after central banks conclude their aggressive interest rate hikes to tame soaring inflation.
"I don't know if we're going to make back enough to get us in the green for the year, but I'm hopeful that we'll see a positive second half and we'll make back some of the losses."
This report by The Canadian Press was first published June 30, 2022.
Companies in this story: (TSX:AAV, TSX:WEED, TSX:LB, TSX:SHOP, TSX:GSPTSE, TSX:CADUSD=X)
Indonesian leader calls for unity, braces for global crises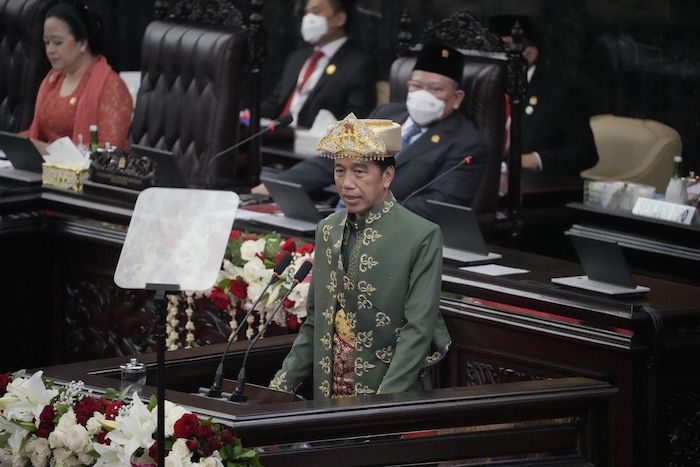 By Niniek Karmini in Jakarta
JAKARTA, Indonesia (AP) — Indonesia's president called on all citizens to remain united, vigilant and alert as they face crises fueled by the war in Ukraine and coronavirus pandemic in his State of the Nation address Tuesday.
After two years of remote meetings amid pandemic restrictions, more than half of Indonesia's Parliament was in attendance as President Joko Widodo told them and top officials on the eve of Independence Day that regional tensions are threatening security.
"We must always remain vigilant, cautious and alert," Widodo said. "Crisis after crisis still haunts the world."
He noted that when war broke out in Ukraine causing energy and food crises, the world was still grappling with the health and economic impacts of COVID-19. Some countries are predicted to go bankrupt, while over 550 million people face extreme poverty and 345 million others face food shortages and famine, Widodo said.
"The challenges are not easy for the world and for Indonesia. We must face those challenges with prudence and vigilance," he said.
Russia's war in Ukraine has exacerbated rising prices in Indonesia amid ongoing supply chain disruptions from the pandemic, causing cooking oil prices to soar while the interruptions in wheat, soybeans and corn have affected the cost of several foods.
In April, Indonesia banned all exports of crude palm oil, a key ingredient in cooking oils, for a month amid a series of student protests against skyrocketing food prices. Indonesia and Malaysia are the world's largest exporters of palm oil, accounting for 85% of global production.
As the host of the Group of 20 richest and biggest economies this year, Indonesia has sought to bridge divisions between members over Russia's invasion. Widodo has been guarded in his comments about the war in Ukraine in an attempt to remain neutral.
Widodo was the first Asian leader to visit the warring countries. Ukraine is not a G-20 member, but Widodo has invited Ukrainian President Volodymyr Zelenskyy to the November summit along with Russian President Vladimir Putin, hoping to appease all sides and limit any distractions from the forum's agenda. Zelenskyy has said he won't attend if the war is continuing then and has opted to follow the discussions by video link.
The inflation rate in Indonesia has been relatively modest with the shock being mostly absorbed through a budget bolstered by energy subsidies.
Widodo said the state budget recorded a surplus of 106 trillion rupiah ($7.2 billion), allowing the government to provide fuel, gas and electricity subsidies of 502 trillion rupiah ($34 billion) this year to cushion fuel prices.
However, he said the administration must recalculate its energy subsidies to reduce the burden on the budget.
Southeast Asia's largest economy served as a key exporter of coal, palm oil and minerals amid a global shortage in commodities after Russia's invasion of Ukraine. Coal exports increased to record levels in March after a brief ban on its shipments early this year to secure domestic supplies.
Luxury goods tax on super-rich could hit electric vehicles: expert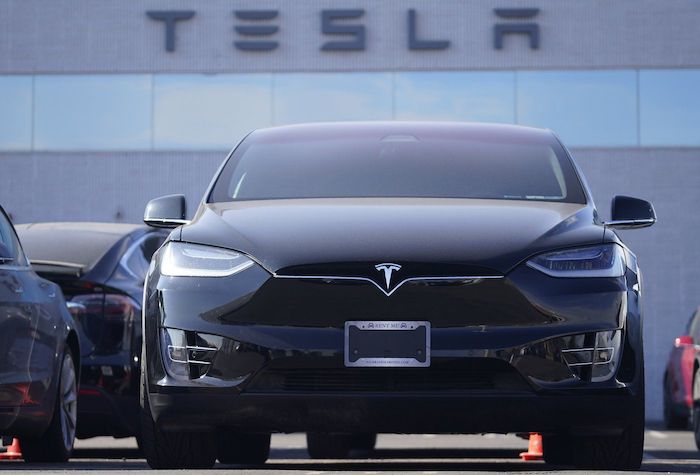 By Marie Woolf in Ottawa
A new tax on yachts, luxury cars and private aircraft designed to hit the super-rich could also cover vehicles meant to help the environment, a tax expert warns.
The luxury goods tax, which will come into force on Sept. 1, will cover cars and SUVs, as well as private planes and helicopters, worth more than $100,000.
The federal tax will also cover yachts and boats — including motorboats — worth more than $250,000.
But senior tax lawyer Héléna Gagné says the new tax could also hit some electric and hybrid vehicles, including Tesla and BMW models, which cost more than $100,000.
The federal government has been encouraging Canadians to invest in clean technology and zero-emission vehicles, which can carry a higher price tag than cars that run on fossil fuels.
Gagné said the thresholds for the tax could also affect people who would not be regarded as wealthy, but have saved up to buy a private plane for a hobby.
"It seems to be assumed that it is only the wealthiest who will be impacted by the luxury tax but it is not necessarily the case," said Gagné, a partner at Osler, Hoskin & Harcourt LLP. "It can also impact indirectly taxpayers who may not consider themselves as being among the wealthiest but who may decide to purchase an electric vehicle with a retail sales price that happens to be over the $100,000 threshold."
Adrienne Vaupshas, a spokeswoman for Finance Minister Chrystia Freeland, said the measures, originally proposed in the 2021 budget, are not designed to hit the middle class.
She said the threshold for the tax for boats was deliberately set at $250,000 so it would cover superyachts and not middle-class families buying boats.
Vaupshas said it was "only right and fair that the very wealthiest are asked to pay their fair share."
"The government was re-elected on a platform that included a commitment to bring forward a luxury tax on yachts, private jets, and luxury cars and implementing this measure is a priority," she said.
The tax was originally proposed in the 2021 budget. It will cover luxury cars, planes, and boats bought for personal use and leisure. Commercial vehicles, including small planes selling seats, and emergency vehicles are among the classes of vehicle exempt from the new tax.
The tax amounts to either 10 per cent of the taxable amount of the item or 20 per cent of the amount over the price threshold — whichever is less.
The NDP has been putting pressure on the federal government to do more to tax the super-rich. Measures to increase taxes on the wealthiest people in Canada, however, were not included in the Liberal-NDP confidence and supply pact.
NDP critic for tax fairness and inequality, Niki Ashton, said at a news conference last month that she wants the federal government to close loopholes she says are being used by the super-rich and corporations to avoid paying billions in taxes.
This report by The Canadian Press was first published Aug. 11, 2022.