Net-zero climate bill, conversion therapy ban, lab documents on Parliament's agenda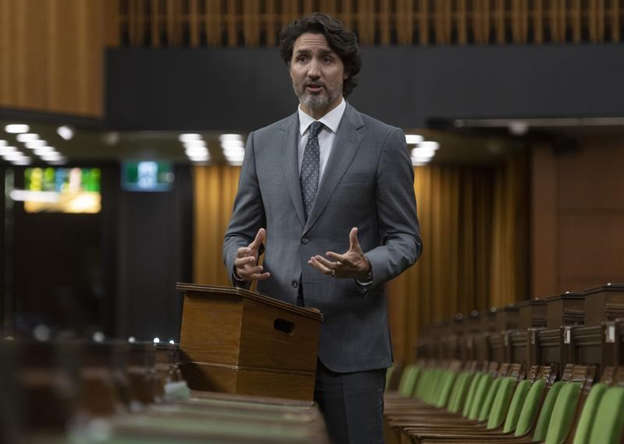 OTTAWA — Parliamentarians are entering what could be their final stretch in the House of Commons before summer break as the Liberal government sharpens its focus on two key pieces of legislation.
On the agenda are the Liberals' proposed ban on conversion therapy and a law that would track Canada's progress on reaching net-zero greenhouse gas emissions by 2050.
Given the minority government, the possibility of a general election at any time hangs over the House of Commons — autumn marks two years since the Liberals eked out their win.
Members of Parliament not seeking re-election recently delivered farewell speeches as the parties brace for a potential fall vote, which may also be driving some partisan finger-pointing.
Prime Minister Justin Trudeau used his government's latest briefing on the COVID-19 pandemic to blame the Opposition Conservatives for blocking passage of its conversion therapy and net-zero bills.
Some Conservative MPs have raised concerns about the Liberals' definition of conversion therapy, which aims to change someone's LGBTQ identity.
They say they don't support the coercive practice, but worry the government's definition is too broad and could threaten individual conversations about sex and gender issues, particularly between adults and children.
Conservatives, along with Green Party MP Elizabeth May, have also raised concerns over the speed at which the Liberals, with the help of federal New Democrats, are trying to get a proposed climate accountability law passed through the House of Commons.
Parliament will also focus today on the next steps for Public Health Agency of Canada President Iain Stewart, who has come under fire for refusing to release unredacted documents about the firing of two scientists at Winnipeg's National Microbiology Laboratory.
The Conservatives have spent months pressing the government for answers on why Xiangguo Qiu and her husband, Keding Cheng, were escorted from the site nearly two years ago and later fired for "policy breaches."
The party cites national security concerns involving China.
In addition to seeking unredacted documents related to their termination, a parliamentary committee studying the matter wanted files on why viruses, and other materials from the high security lab, were shipped to the Wuhan Institute of Virology.
Opposition parties passed a motion finding Stewart in contempt of Parliament for failing to release the documents and summoning him to appear Monday before the bar of the Commons to be reprimanded by the Speaker and to hand over the unredacted information.
"This issue is rapidly evolving into a second, much more serious issue," Conservative foreign affairs critic Michael Chong said of the initial firings.
"The government is seriously getting close to crossing a line of deliberately undermining the rule of law … these orders of the House, they're not optional to follow."
Last week, Stewart told MPs on a parliamentary health committee that the House order doesn't excuse him from his job of protecting privacy and national security interests.
This report by The Canadian Press was first published June 21, 2021
Stephanie Taylor, The Canadian Press
CP NewsAlert: Filmer, Janssens capture bronze in women's pair
TOKYO — Canadian rowers Caileigh Filmer of Victoria and Hillary Janssens of Surrey, B.C., have captured bronze in women's pair at the Tokyo Olympics.
More Coming.
This report by The Canadian Press was first published July 28, 2021.
The Canadian Press
ZZ Top: Bearded bassist Dusty Hill dies in his sleep at 72
HOUSTON (AP) — ZZ Top bassist Dusty Hill, one of the Texas blues rock trio's bearded figures, died at his Houston home, the band announced Wednesday. He was 72.
In their Facebook post, guitarist Billy Gibbons and drummer Frank Beard said Hill died in his sleep. They didn't give a cause of death, but a July 21 post on the band's website said Hill was "on a short detour back to Texas, to address a hip issue."
At that time, the band said its longtime guitar tech, Elwood Francis, would fill in on bass, slide guitar and harmonica.
Born Joe Michael Hill in Dallas, he, Gibbons and Beard formed ZZ Top in Houston in 1969. The band released its first album, titled "ZZ Top's First Album," in 1970. Three years later it scored its breakthrough hit, "La Grange," which is an ode to the Chicken Ranch, a notorious brothel outside of a Texas town by that name.
The band went on to chart the hits "Tush" in 1975, "Sharp Dressed Man," "Legs" and "Gimme All Your Lovin'" in 1983, and "Rough Boy" and "Sleeping Bag" in 1985.
The band's 1976 "Worldwide Texas Tour," with its iconic Texas-shaped stage festooned with cactuses, snakes and longhorn cattle, was one of the decade's most successful rock tours.
The band was inducted into the Rock and Roll Hall of Fame in 2004. Said Rolling Stones lead guitarist Keith Richards in introducing the band to the Hall: "These cats are steeped in the blues, so am I. These cats know their blues and they know how to dress it up. When I first saw them, I thought, 'I hope these guys are not on the run, because that disguise is not going to work.'"
That look — with all three members wearing dark sunglasses and the two frontmen sporting long, wispy beards — became so iconic as to be the subject of a New Yorker cartoon and a joke on "The Simpsons."
___
This story has been corrected to reflect that ZZ Top was formed in the late 1960s, not the late 1970s.
The Associated Press