NDP praises David Johnston as Tories, Bloc bemoan interference watchdog appointment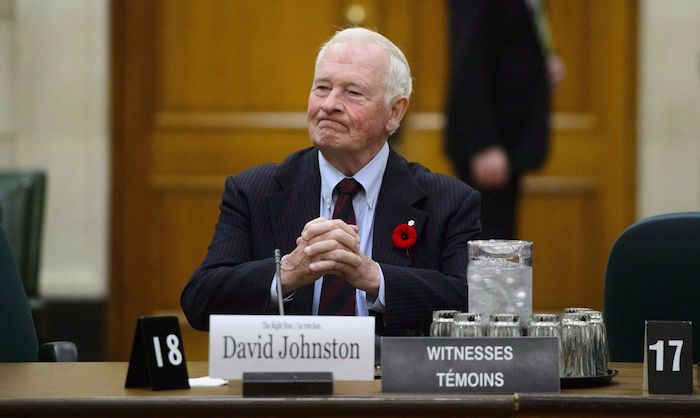 Former governor general David Johnston appears before a Commons committee reviewing his nomination as elections debates commissioner on Parliament Hill in Ottawa on Tuesday, Nov. 6, 2018. Opposition parties continue to call for a public inquiry on foreign interference, but the NDP are welcoming Prime Minister Justin Trudeau's choice of a special rapporteur. THE CANADIAN PRESS/Sean Kilpatrick
By Dylan Robertson in Ottawa
Opposition parties continue to call for a public inquiry into foreign interference, but the NDP is welcoming Prime Minister Justin Trudeau's choice of a special rapporteur.
On Wednesday, Trudeau announced that former governor general David Johnston will look into allegations of foreign meddling in Canada's last two federal elections and recommend what the Liberal government should do about it.
"Get real," Conservative Leader Pierre Poilievre wrote in a Thursday statement.
"Trudeau must end his cover up," he charged, noting that Trudeau referred to Johnston as a "family friend" in 2017 and that the former viceregal had been a member of the Pierre Elliott Trudeau Foundation.
Bloc Québécois Leader Yves-François Blanchet said those ties show that Johnston is "close" to Trudeau, and he said Johnstonhas been "chummy" with China.
"I don't want to make out of that any personal character accusations against Mr. Johnston," he added. "I'm not ready to go there."
Blanchet called the role a "superfluous" waste of time since opposition parties will still demand a public inquiry. He said he worried the minority government might even fall before Johnston wraps up his work.
The Bloc leader added that the allegations of Chinese interference and the lack of transparency around the matter have created terrible optics for Canada ahead of a visit next week by U.S. President Joe Biden.
Yet NDP Leader Jagmeet Singh says Johnston is a "non-partisan" official known for his integrity, and the New Democrats welcome his work while still pushing for an inquiry to sort out the timeline of when Trudeau knew various facts and how he responded.
"The other opposition parties, and frankly the Liberals as well, have been more focused on scoring political points than really focusing on solutions around protecting our democracy," Singh argued during a press conference in Toronto.
"That's why we've been calling for an independent process, while we still maintain we need a public inquiry to restore public confidence."
The Canadian Press has requested an interview with Johnston.
For its part, the Chinese embassy in Ottawa said it undertakes regular engagements "in various circles of Canada" but insisted Beijing does not interfere in internal affairs.
"It is the responsibility of consular institutions to have extensive contacts and carry out friendly exchanges with local governments and all circles of society," the embassy wrote on Twitter.
"Infiltration and interference is never in the genes and tradition of China's foreign policy."
Margaret McCuaig-Johnston, a China expert at the University of Ottawa who is often critical of Beijing, praised the appointment of Johnston. The two are not related.
"We know he is passionate about (Canada), having served our country impeccably for decades," she wrote on Twitter.
"Imagine then his deep concern with our electoral system upended by an autocracy. He will ensure that actions are taken to fix it."
Trudeau has said the appointment was made after consultations with all parties in the House of Commons, though the NDP said Johnston's name was not raised with them during the consultations.
The appointment came after Global News and the Globe and Mail newspaper reported allegations of Chinese interference in the 2019 and 2021 federal elections.
Johnston's recommendations could include a public inquiry or another independent review process. The Liberals have pledged to make his recommendations public and abide by the guidance.
Since 2018, Johnston has been a member of the Pierre Elliott Trudeau Foundation. The charity has previously said that Trudeau ended his formal involvement with it in 2014.
Johnston was named governor general on the advice of former Conservative prime minister Stephen Harper in 2010, who extended his initial five-year term in early 2015. He continued in the role after Trudeau was elected that fall, serving until 2017.
During his seven years as viceregal, he became one of the most well-travelled governors general in Canadian history, leading more than 50 international visits.
That included trips to China, which is now the focus of foreign interference allegations.
Shortly after delivering the throne speech in October 2013, Johnston travelled to meet with Chinese President Xi Jinping, who had recently taken power. The trip was intended to renew Chinese investment in Canada and overlapped with visits by two top Conservative cabinet ministers.
That was his first official visit as governor general, but Johnston had been to China about a dozen times previously during his academic career.
A mandate for Johnston's new role is being finalized and will be made public, Trudeau's office said.
This report by The Canadian Press was first published March 16, 2023.
— With files from David Fraser.
StatCan report casts clouds on claims of a widespread labour shortage in Canada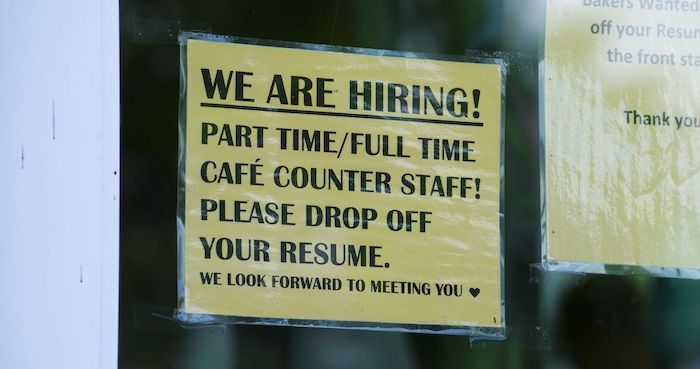 A new report is casting doubt on the idea that Canada is facing a widespread labour shortage, bolstering arguments by labour economists who say the country has more than enough workers. A sign for help wanted is pictured in a business window in Ottawa on Tuesday, July 12, 2022. THE CANADIAN PRESS/Sean Kilpatrick
By Nojoud Al Mallees in Ottawa
A new report is casting doubt on the idea that Canada is facing a widespread labour shortage and bolsters the arguments by some labour economists that high job vacancies aren't due to a shortage of workers.
The Statistics Canada analysis finds there are no labour shortages for jobs that require high levels of education, suggesting other factors, such as a mismatch in skills and pay, might be to blame for a high number of empty positions.
In the aftermath of the COVID-19 pandemic, labour shortages have grasped headlines from coast to coast as businesses have advertised more job openings than ever. Job vacancies skyrocketed to more than one million at one point last year.
The perceived countrywide labour shortage has put pressure on governments to help businesses find workers, including by increasing Canada's immigration targets.
But the report published this week compares unemployment and job vacancies by education level and paints a more nuanced picture of the labour market.
"Things look really different depending on whether you look at vacancies that require a high level of education, versus those that require a high school diploma or less," said René Morissette, the assistant director of social analysis and modelling division at the federal agency.
The report, which looked at labour data between 2016 and 2022, found for jobs requiring a bachelor's degree or higher education, there were always fewer jobs available than people to fill them.
For example, there were 113,000 vacant positions requiring a bachelor's degree or higher education in the fourth quarter of 2022, but 227,000 individuals who held such an education were unemployed during the same period.
But for positions that required a high school diploma or less, the shortage of workers only started in the third quarter of 2021.
Morissette said the findings don't mean that there are no labour shortages in some markets, but shortages may not be as extensive as previously assumed.
"It's certainly conceivable that there are local shortages in some in some positions," Morissette said. "What we're saying is that the shortages may not be as widespread as initially assumed in the early discussions about the high vacancy rates in Canada."
For employers trying to fill vacancies that require a post-secondary education, the report says their hiring challenges cannot be attributed to a lack of workers available with those qualifications.
Instead, the difficulties may be the result of a mismatch in skills required for the job and those possessed by candidates. Another factor could be that employers aren't offering wages that are on par with what job seekers expect.
The report also casts doubt on the hiring challenges facing firms trying to recruit workers with lower levels of education.
"The degree to which these job vacancies can be attributed to labour shortages in specific low-skilled occupations instead of relatively low-wage offers and fringe benefits or other factors remains an open question," the report says.
Jim Stanford, an economist and the director of the Centre for Future Work, says the report from Statistics Canada busts "long-standing myths" about labour shortages in the country.
"If you were really short of labour, and you couldn't find someone to do that minimum wage job at a McDonald's restaurant, then why aren't they either increasing the wage or trying to replace the work with machinery?" Stanford said.
"Neither are happening, which suggests to me that employers in general are quite happy with the current state of affairs, no matter how much they complain about labour being in short supply."
So what explains the high number of job vacancies?
Morissette said for low-skilled industries, businesses may be choosing to keep wages low and accept higher vacancy rates.
"For employers that have negligible training costs, a human resource strategy that combines relatively low wages with high worker turnover and some vacancies might actually … maximize profits," he said.
The federal government has kept an open ear to business groups raising alarm bells about labour shortages.
In the fall, Ottawa announced new immigration targets that would see the country welcome 500,000 immigrants annually by 2025. Immigration Minister Sean Fraser has touted the new plan as a solution to the country's labour woes.
Canada has also experienced a surge in the number of temporary foreign workers brought into the country to help businesses fill vacant positions.
The apparent shortage of low-skilled workers could push policymakers to think that even more temporary workers are needed, but Stanford said that would be a "disastrous" conclusion to draw from the report.
Many economists have reservations about temporary foreign worker programs that they worry can suppress wages domestically, if used excessively.
"The goal of immigration policy should not be to solve the recruitment problems faced by low-wage employers, or any employers for that matter," he said.
This report by The Canadian Press was first published May 27, 2023.
About half of Canada's environment ministers skip meeting on biodiversity loss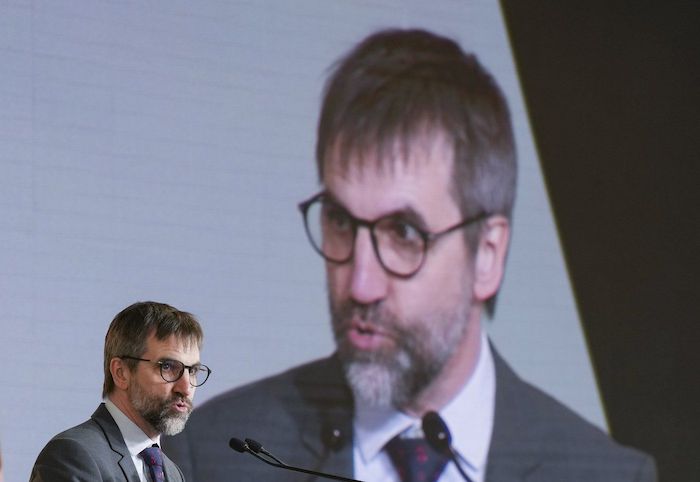 More than half of the provinces' ministers have skipped out on a meeting with the federal government and Indigenous leaders to discuss halting land and water loss in Canada. Minister of Environment and Climate Change Steven Guilbeault speaks during the Montreal Climate Summit in Montreal on Wednesday, May 10, 2023. THE CANADIAN PRESS/Christinne Muschi
Ottawa
More than half of the provinces' ministers have skipped out on a meeting with the feds and Indigenous leaders to discuss halting land and water loss in Canada.
Environment ministers from Saskatchewan, British Columbia, Prince Edward Island, Nova Scotia and the Northwest Territories attended the meeting.
The other provinces and territories sent their deputy ministers.
The Liberal government is leading a 2030 biodiversity strategy to protect 30 per cent of land and water by 2030, but it will be a difficult target to reach without the help of provinces and territories.
The federal ministry of environment and climate change says they have a critical role to play because they have significant authority over land use.
At the end of 2022 almost 14 per cent of Canada's land and freshwater and almost 15 per cent of marine areas and coastline were under some kind of conservation protection.
This report by The Canadian Press was first published May 26, 2023.