National police force grapples with calls for change, shifting role as it turns 150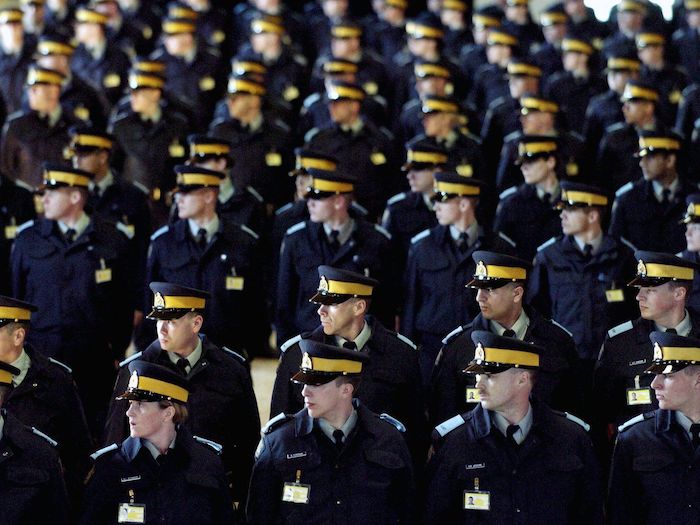 RCMP cadets attend daily marches at the Drill Hall at the RCMP headquarters in Regina, Sask. on Friday, March 3, 2005. THE CANADIAN PRESS/Troy Fleece
By Jim Bronskill in Ottawa
As the RCMP marks its 150th anniversary, a familiar, nagging question about the storied national police force is resurfacing: Should the Mounties withdraw from small communities across Canada to fully concentrate on big-ticket federal files such as cybercrime, fraud and human trafficking?
The notion of a more focused version of the Royal Canadian Mounted Police, a sort of "FBI North" that leaves provincial and municipal policing to others, has rarely been far from conversations about the force's mandate and future direction.
But debate and introspection about aspects of what the RCMP does have come to the fore following crises including the 9/11 attacks, the 2014 storming of Parliament Hill by a gunman,and the 2022 blockades of border crossings and downtown Ottawa.
In recent years, calls for change have been driven by the force's reckoning over harassment and bullying of members, public anger about police brutality and racism, shortcomings in the force's response to the 2020 mass shooting in Nova Scotia and more general concerns about rural crime.
The RCMP traces its roots to the May 23, 1873, approval of legislation to establish the North-West Mounted Police to keep the peace in vast tracts of land newly transferred to Canada. In 1920, the force would absorb the federal Dominion Police to become the RCMP.
With some 19,000 police officers and 11,000 civilian members, the Mounties work in over 700 detachments and provide policing services in more than 600 Indigenous communities.
The force also offers specialized services ranging from forensic analysis of evidence to criminal records information.
The RCMP provides contract policing services to every province but Ontario and Quebec, which have their own forces, as well as the three territories and some 150 municipalities.
Federal officials have quietly warned the demand for contract RCMP officers has outstripped the force's capacity to recruit and train them, causing shortages that have led to officer health and wellness concerns.
The prime minister has asked Public Safety Minister Marco Mendicino to carry out an assessment of contract policing in consultation with provinces, territories, municipalities, Indigenous partners and other parties.
It's time for the RCMP to withdraw from contract policing and devote itself to national investigations, said Michael Boudreau, a professor in the department of criminology and criminal justice at St. Thomas University in Fredericton.
"If it doesn't embrace fundamental change, it may not have another 150 years," he said.
Others say the answer isn't curtailing the scope of the RCMP's mission, but continuing to find ways to do things better.
"We're definitely not the same organization we were in 1873, or 1973, or even 2003," said Brian Sauvé, president of the National Police Federation, which represents thousands of regular RCMP members and reservists. "There's been a lot of change, and that's a constant within this police force. And a lot of those changes are industry leading."
An independent 2020 report on harassment of women in the RCMP said fundamental change was needed to rid the force of a toxic culture that tolerates hateful and homophobic attitudes. It called for a deep external review of the institution and the future of the force as a federal policing organization.
The recent report of the inquiry into the Nova Scotia shootings said the federal government should commission that external review, ensuring it specifically examines the RCMP's contract policing and work with contract partners, as well as its approach to community relations.
Upon receiving the review's findings, the inquiry report said, the federal public safety minister should establish clear priorities for the RCMP, retaining the tasks that are suitable to a federal policing agency, and identifying the responsibilities better reassigned to other agencies, perhaps including new police services.
"This may entail a reconfiguration of policing in Canada and a new approach to federal financial support for provincial and municipal policing services."
Where necessary, provincial, territorial, and federal governments must provide money to municipalities and local communities, including Indigenous ones, to ensure adequate policing services in rural and remote areas, the report added.
Boudreau said the RCMP is spread too thin to police communities effectively, and provinces should follow the lead of Ontario and Quebec and set up their own forces or expand municipal ones into regional services.
"That's going to take some time," he said. "But the sooner you start, the better."
Sauvé balks at the notion the RCMP does a poor job of front-line policing, citing statistical evidence to the contrary, and he notes the force has come to recognize the importance of officers setting down roots in the places they police.
He stresses the importance of robust RCMP recruitment and staffing to avoid overwork and burnout in detachments. Sauvé also sees benefits in giving communities a greater say in determining appropriate resource levels, rather than others deciding personnel and budget levels for them. "So it really has to be bottom-up versus top-down driven," he said.
Police are shouldering the burden of years of cuts to social and mental-health services, said Linda Duxbury, a professor at Carleton University's Sprott School of Business who has researched employee well-being and the sustainability of policing in Canada.
"We've got a homeless crisis, we've got a mental health crisis, we've got a drug crisis, we've got guns, we've got violence, we've got gangs," she said.
"We don't talk about the fact that in many communities, the police are the only service that's available 24/7."
There is an emerging consensus that policing must evolve to incorporate help from other professional service providers trained and equipped to deal with people in crisis.
Many see it not so much as defunding the police as detasking them.
Some innovative programs are already emerging. In Saskatchewan, the RCMP has added registered psychiatric nurses to its operational communication centre. They provide help to 911 callers experiencing a mental health crisis and to officers responding to such incidents.
The Nova Scotia inquiry recommended the federal government enact legislation within six months to create a statutory framework to support and enhance community safety and well-being in every province and territory.
This national framework would be based on guiding principles central to the delivery of public services that include a prevention-first approach to safety.
The approach involves trying to "break down some of the silos" between policing, mental health providers, housing services and education programs, said University of Toronto law professor Kent Roach, who this year became chair of the management advisory board for the RCMP which provides external guidance on modernization and management.
"I don't think you're hearing a lot of resistance from the police, because I think they recognize that they don't really have expertise with respect to mental health or some other issues that they're dealing with," Roach said.
He cautioned that it's one thing to come up with a safety and well-being plan, and another to ensure "there is seamless operation and equitable funding of all of these different services" that contribute to community safety.
Roach sees strong and effective governance of police as key.
"I think the more that can be done to ensure civilian oversight and political accountability for the RCMP, the better."
Writing as an academic before joining the management advisory board, he said it should be turned into a transparent and representative national police board that holds public meetings and provides open advice to the overseeing minister.
Duxbury said the RCMP must increase efforts to bolster public confidence "to actually move the conversation from one of distrust and 'How do I know the police won't hurt me?' to one where there's more mutual relationship building," she said.
She said the next permanent RCMP commissioner, to be chosen in the coming months, should be given a mandate to make some real changes, including how the force promotes officers to ensure the best ones advance.
There is a need for overarching value statements to guide the decision-making of senior RCMP officers, but also recognition that the way they go about their work will vary across the country, Duxbury added.
"You need leaders who are committed to change. And you need leaders who walk the talk. And you need leaders who have some ability to actually pull the levers that will impact change."
This report by The Canadian Press was first published May 22, 2023.
Saskatchewan premier defends plan to use notwithstanding clause for pronoun policy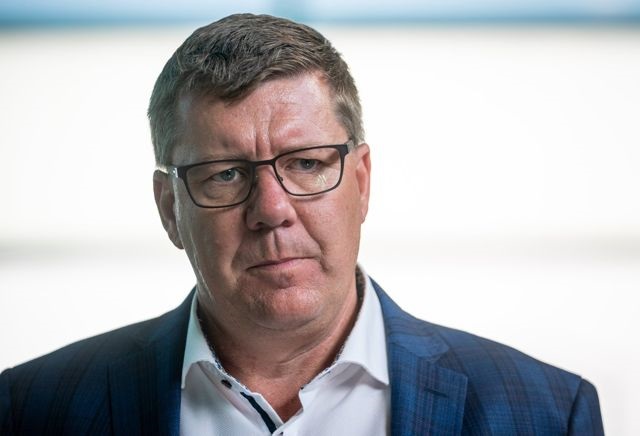 Saskatchewan Premier Scott Moe holds a news conference during a tour at Lakewood Civic Centre in Saskatoon, Sask., on Friday, Sept. 29, 2023. Moe is defending his decision to recall the legislative assembly early and use the notwithstanding clause to ensure the province's pronoun policy stays in place. THE CANADIAN PRESS/Heywood Yu
Saskatoon
Saskatchewan Premier Scott Moe is defending his decision to recall the legislative assembly early and use the notwithstanding clause to ensure the province's pronoun policy in schools stays in place.
Speaking to reporters in Saskatoon, he said he wants to make it clear the policy will go ahead.
"The policy is paused here today," Moe said Friday.
"What we feel is of paramount importance is to provide clarity to parents, to families and ultimately to school divisions and educators that are in our classrooms across the province. This will provide that clarity.
"We've said for a number of weeks now that there are tools available for the government to ensure this policy is in place moving forward for the next number of months and years."
Moe made the announcement Thursday that he plans to use the notwithstanding clause, shortly after a judge granted an injunction to pause the policy that requires parental consent when children under 16 want to go by different names and pronouns at school.
He had said in a statement that he was extremely dismayed by the injunction, calling it judicial overreach, and suggested the policy has strong support from the majority of Saskatchewan residents and parents.
On Friday, Moe added that he wants to provide clarity as soon as possible to families and school divisions.
"The school divisions, up until yesterday, have informed us they've been working on their implementation plans of this policy," he said.
"What pausing the policy means is for a period of time it will not be mandatory to include the parents in some of these discussions."
The legislative assembly is to be recalled on Oct. 10 to use the notwithstanding clause, a provision that allows governments to override certain Charter rights for up to five years.
This report by The Canadian Press was first published Sept. 29, 2023.
Cyberattacks hit military, Parliament websites as India hacker group targets Canada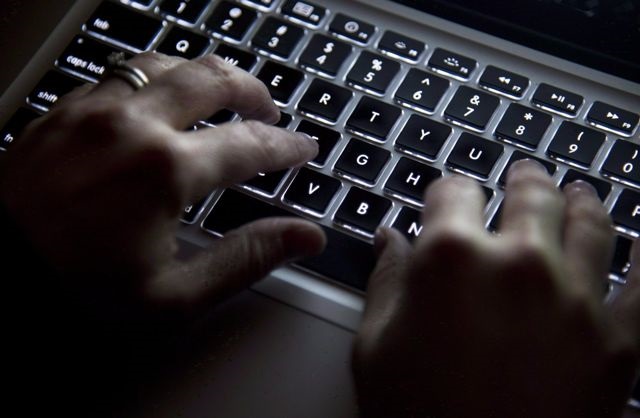 The federal government is coping with apparent cyber attacks this week, as a hacker group in India claims it has sowed chaos in Ottawa. Hands type on a keyboard in Vancouver on Wednesday, December, 19, 2012. THE CANADIAN PRESS/Jonathan Hayward
By Dylan Robertson in Ottawa
The federal government is coping with apparent cyberattacks this week, as a hacker group in India claims it has sowed chaos in Ottawa.
The Canadian Armed Forces said that its website became unavailable to mobile users midday Wednesday, but was fixed within a few hours.
The military said the site is separate from other government sites, such as the one used by the Department of Defence and internal military networks. The incident remains under investigation.
"We have no indication of broader impacts to our systems," said a statement from spokeswoman Andrée-Anne Poulin.
Meanwhile, various pages on the House of Commons website continued to load slowly or incompletely on Thursday due to an ongoing attack that officials say started Monday morning.
The Commons administration said it was facing a distributed denial-of-service attack, which is when bots swarm a website with multiple visits and cause it to stop loading properly.
"House of Commons systems responded as planned to protect our network and IT infrastructure. However, some websites may be unresponsive for a short period," spokeswoman Amélie Crosson said in a written statement Thursday morning.
"The House of Commons IT support team, in collaboration with our partners, have implemented mitigating measures and restored services to appropriate service levels. The IT team is still continuously monitoring for such activities."
She added that the Commons administration is helping their Senate colleagues "to provide guidance and support them to restore services."
Elections Canada also experienced roughly an hour-long denial-of-service attack starting around midnight early Wednesday, Ottawa time.
"This website does not host any sensitive data or information. It is separate from our main website, elections.ca, and is hosted by an external service provider. It is in no way connected to the network that supports elections.ca," the agency wrote in a statement.
"Our systems are monitored in real time both internally, and by the Canadian Cyber Security Centre, enabling us to quickly detect any anomalies on our platforms and systems. They are aware of the incident."
That centre is under the umbrella of the Communications Security Establishment, Canada's signals-intelligence agency.
A hacking group named Indian Cyber Force claimed responsibility for the incidents involving the military and Elections Canada, and it appeared to have managed to infiltrate a handful of websites owned by small businesses in Canada.
The group made reference to Prime Minister Justin Trudeau telling Parliament on Sept. 18 that there were "credible allegations" of Indian involvement in the killing of Sikh independence activist Hardeep Singh Nijjar, who had been wanted by India for years and was gunned down in June outside the temple he led.
The hacking group has posted multiple versions of a message riddled with spelling and grammatical errors onto websites of restaurants and medical clinics.
The affected sites show a message on a black background with green digits, similar to the film "The Matrix," as warlike music plays.
The message described Canada as a haven for terrorists — a "heaven hub," it said in butchered English — and similarly insulted Sikh separatists.
It also criticized Trudeau for "throwing something without any prove," or proof.
The group claimed to have attacked Elections Canada and the Ottawa Hospital, though these sites appeared to be operating normally Thursday morning. The Canadian Press has asked those responsible for these web pages to confirm whether they have been affected.
The hacking group also claimed to have taken down the Global Affairs Canada website for travel advisories, but the department insists this hasn't happened, and the group deleted that claim from its account on the social-media application Telegram.
News of the attacks came as questions abounded over Indian officials' level of co-operation with Canadian officials over Trudeau's allegations — and to what extent allies such as the United States were advocating on Canada's behalf.
On Thursday, U.S. Secretary of State Antony Blinken met with India's foreign-affairs minister Subrahmanyam Jaishankar.
Neither of them made mention of the controversy in Canada when they emerged briefly to pose for photos before their meeting began.
During a State Department briefing prior to that meeting, spokesman Matthew Miller refused to speculate on what the secretary would tell Jaishankar directly.
"What I will say, however, is we have consistently engaged with the Indian government on this question and have urged them to co-operate, and that engagement and urging them to co-operate will continue," Miller said.
"We urge them to co-operate with the Canadian investigation."
Miller flatly refused comment when asked about a television interview last week with U.S. ambassador to Canada David Cohen, who confirmed that Canada received intelligence from one of its Five Eyes security partners.
"I am not going to speak to intelligence matters from the podium."
This report by The Canadian Press was first published Sept. 28, 2023.
— With files from James McCarten in Washington, D.C.