Mix-up of women's bodies leads to funeral home reforms in Nova Scotia
HALIFAX — Nova Scotia has introduced legislation to make the funeral home industry more accountable, but the husband of a woman whose remains were mistakenly cremated after a bizarre mix-up says the new rules don't go far enough.
"They should have went further," Gary Bennett said Tuesday before amended legislation was tabled in the provincial legislature. "More transparency is needed."
Bennett's wife, 65-year-old Sandra Bennett, was mistakenly cremated while 96-year-old Myrtle Wilson was embalmed and presented as Sandra Bennett to her family during a visitation that went horribly wrong last December at the Serenity Funeral Home in Berwick, N.S.
"It's been very hard," Gary Bennett told reporters outside the legislature. "It's something that should have never happened."
In March, the provincial regulator revoked funeral director David Farmer's licence for his role in the botched ceremony, and the provincial government promised to tighten the rules for funeral homes.
On Tuesday, Service Nova Scotia Minister Geoff MacLellan introduced changes to the Embalmers and Funeral Directors Act and the Cemetery and Funeral Services Act.
"The serious and significant issues families experienced with certain funeral homes over the last few months were unacceptable," the minister said in a statement. "No one should experience such devastating situations."
The changes call for stiffer fines and stricter rules, and what the government describes as more transparent hearings when a complaint is filed against a funeral home.
However, Gary Bennett said the changes are lacking because complaint hearings won't be held in public, and bereaved family members won't be able to pose questions to the funeral home operators and their staff — options that are available when complaints are filed in Ontario.
It was for these key reasons that the Bennett family declined to participate in a February inquiry by the Nova Scotia Board of Registration of Embalmers and Funeral Directors.
Bennett said he has yet to make up his mind about taking further legal action.
The Bennett family's lawyer, Paul Walter, also said more should be done to allow families to participate more meaningfully in hearings that should be open to the public.
"This would enhance transparency and show that the government is indeed serious about protecting the public," he said in an email.
Still, Walter praised two new measures: the requirement for all funeral homes and crematoriums to label human remains at all times while in their custody, and the addition of two consumer representatives on the board of registration.
The board's chairman, Adam Tipert, offered an apology to the Bennett family.
"We apologize to the Bennett family if they feel that we weren't being transparent," he said. "I would agree that we could have done things differently."
However, he said the board decided public hearings were a bad idea because the privacy of bereaved families could not be protected.
As for the ability of families to pose questions to funeral home directors and staff, Tipert said that couldn't happen because the board is a licensing body that operates under administrative law.
"We are not solicitors, we are not in a court of law," he said. "We can't offer examination and cross-examination because we are not authorized to operate in that manner."
MacLellan said the government was opposed to public hearings because that could result in costly legal wrangling.
"It opens up the opportunity for countersuits and such," he told a bill briefing. "It's a legal implication for us."
Tipert said the new rules in Nova Scotia mirror those in other provinces, except Ontario. He said it would be wrong to compare Nova Scotia with Ontario, where the Bereavement Authority of Ontario is more like a consumer protection branch than a licensing authority.
"In terms of the events that happened with the Bennett family … they may disagree, but we have always kept them foremost in our minds as we moved forward," Tipert said. "The changes moving forward are going to be in everyone's benefit."
Other changes include increasing fines from $500 to a maximum of $25,000 for individuals and up to $300,000 for businesses. Funeral homes can also be prosecuted for offences up to three years after the incident happens or the registrar becomes aware of the incident.
Michael MacDonald, The Canadian Press
Province trumpets $105 million in new health spending for Rural Health Facilities Revitalization Program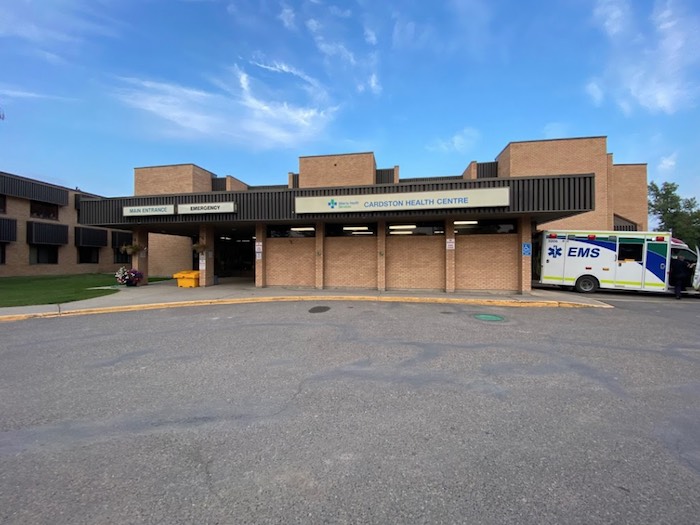 Strengthening rural health care
Budget 2023 expands rural health supports so Albertans can have additional access to modern health facilities and the care they need where and when they need it.
Alberta's government is committed to expanding and modernizing rural hospitals and other health facilities across the province to protect quality health care, grow system capacity and support the best front-line health care workers in the world.
Having access to quality health care when and where Albertans need it includes expanding capacity to provide better access for Albertans living in rural and remote areas of the province.
"We are making sure we have the necessary funding in place to build and strengthen health care in our rural communities and address barriers to care for those looking for support and treatment close to home and family. This work includes programs that focus on how to recruit, retain and even train more physicians, nurses and other professionals in areas outside of the cities."
Budget 2023 provides $105 million over three years for the Rural Health Facilities Revitalization Program, including $75 million in additional funding for capital projects in rural Alberta.
The program supports strategic renovations and developments in health facilities throughout the province, with an emphasis on emergency departments, EMS stations, surgical and dialysis clinics, and other clinical services to improve access to health care in rural Alberta.
Expanding capacity in the health care system also means having health care workers to fill those spots. In response, Alberta's government launched the Health Workforce Strategy to attract and retain the health care workers needed now and create more training opportunities for local students and internationally trained medical graduates.
"All Albertans, no matter where they live, need and deserve access to our health system. Physicians are a critical part of that system, especially in rural areas where we are trusted to support the needs of neighbours, friends and colleagues during all phases of life. It is a special calling to work in rural health care, but it can be tremendously rewarding for those who pursue it."
Rural Albertans are especially affected by the nationwide shortage of health care workers. To address this growing need, the Health Workforce Strategy provides $113 million to add 100 residency training spaces for newly graduated doctors, particularly in rural areas and specialist fields. Creating these new training spaces will provide more opportunities for Alberta students to learn, train and practise in their home communities.
In addition to this investment, a further $1 million will go toward exploring ways that regional post-secondary institutions, such as the University of Lethbridge and Northwestern Polytechnic in Grande Prairie, can help deliver medical education outside of Edmonton and Calgary.
"Whether it's emergency care or surgeries, primary care or continuing care, Albertans deserve equitable health care services in their communities. I am proud of the investments government is making through Budget 2023, both with infrastructure funding and workforce planning strategies, to help support the future of rural health care in our province."
This year's budget also funds the new agreement with the Alberta Medical Association, further stabilizing the health system and focusing on Alberta's rural communities. Under the agreement, more than $250 million over four years will go to addressing pressures, including recruitment and retention programs so more Albertans can access family doctors, and supporting physicians so their practices remain viable.
Budget 2023 secures Alberta's future by transforming the health care system to meet people's needs, supporting Albertans with the high cost of living, keeping our communities safe and driving the economy with more jobs, quality education and continued diversification.
Quick facts
The Rural Health Revitalization Program provides capital funding for revitalizing select rural health facilities throughout the province.

Budget 2023 invests $105 million over three years for the Rural Health Facilities Revitalization Program. This includes $75 million in additional funding for new capital projects in rural Alberta.
To date, about $65 million has been committed to 22 projects across the province, including emergency department renovations, upgrades to EMS stations and new dialysis spaces.

An investment of $237 million over three years towards the Alberta Surgical Initiative Capital Program will help reduce surgical wait times and help Albertans receive the surgeries they need.

This includes $120 million in new funding for projects in 15 communities across the province to expand and modernize operating rooms in public hospitals.

Budget 2023 includes $64 million over three years to continue the La Crete Community Health Centre capital project to provide increased access to maternity health services.
$11 million over three years is part of a $23.5-million commitment to expand the renal dialysis program at the Chinook Regional Hospital in Lethbridge.

This project will relocate the dialysis unit to provide additional treatment spaces and address patient and staff safety concerns with the current site.

$3 million over three years in planning dollars is committed to the North Calgary/Airdrie Regional Health Centre.
$3 million over three years in planning dollars is committed to expanding the Strathcona Community Hospital.
Planning dollars are also committed for new or upgraded facilities in Bassano, Cardston and Whitecourt.
Budget 2023: Key highlights from the federal Liberals' spending plan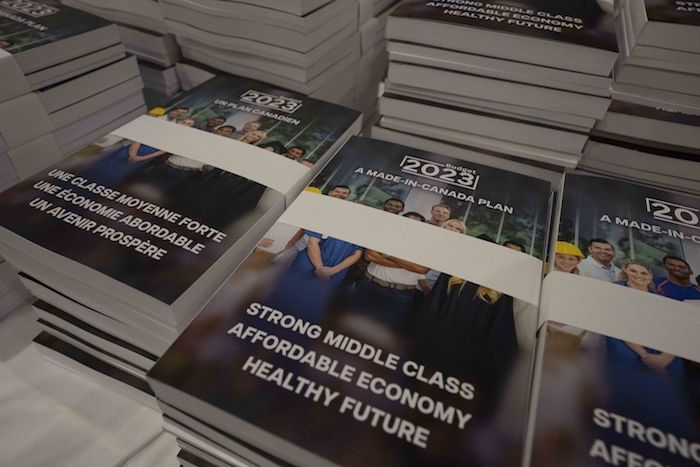 Copies of the Federal budget are seen on a table Tuesday, March 28, 2023 in Ottawa. THE CANADIAN PRESS/Adrian Wyld
By Stephanie Taylor in Ottawa
The federal Liberal government has released a 2023-24 spending plan that prioritizes spending on health care, transitioning Canadian businesses to a clean economy and offering affordability measures to help Canadians dealing with high prices from inflation.
Here are the key highlights from this year's federal budget:
– $40.1 billion: Projected federal deficit for the coming fiscal year.
– $59.5 billion: New spending over the next five years, with $8.3 billion to be spent over the coming fiscal year.
– $83 billion: The expected cost of tax credits for clean energy and electricity through to the 2034-35 fiscal year. The credits are part of Ottawa's stated goal to rapidly develop Canada's green economy.
– $13 billion: Expected cost of the Canada dental benefit over the next five years, or $7.3 billion more than the government initially projected.
– $49.4 billion: The amount of health-care cash flowing to provinces and territories in the 2023-24 year.
– $4.5 billion: Expected cost of a clean technology manufacturing investment tax credit over five years.
– $2.5 billion: The cost of another one-time doubling of GST rebates this financial year to help low-income Canadians who are struggling with high prices and inflation. The government has dubbed this measure a "grocery rebate," a nod to high food prices.
– $4 billion: How much the federal government says it plans to spend over seven years on an urban, rural and northern Indigenous housing strategy, beginning in 2024-25. But only $1.9 billion is expected to be spent in the next five years.
– An unknown amount: Finance officials would not specify how much Ottawa spent in an agreement with Volkswagen that will see the company build a battery manufacturing plant, called a "gigafactory," in St. Thomas, Ont. They said more details will be revealed in the weeks to come. The budget document stipulates that the expected costs are accounted for in this year's spending tables. Measures not yet announced have a line item in the budget that accounts for decisions related to commercial sensitivity, but the number is presented as an aggregate.
– $158 million: Funding over three years, starting this year, to create and operate a new 9-8-8 suicide prevention phone line.
– $14 per $100: What the federal government says will be the new maximum amount that payday lenders can charge people for the amount they borrow. The budget says a Criminal Code amendment will be made to that effect, while the government also intends to lower the maximum interest rates payday lenders can charge to an annual percentage rate of 35 per cent.
– "Reciprocal treatment": What Ottawa is announcing consultations about in response to the U.S. Inflation Reduction Act, which threatens to freeze out Canadian businesses, including green technology firms, from tax credits offered south of the border.
– $56 million: Spending allocated for "protecting diaspora communities and all Canadians from foreign interference, threats and covert activities." The budget announces funding for the RCMP to investigate foreign interference allegations, and says Public Safety Canada will stand up a new National Counter-Foreign Interference Office to respond to any attempted meddling by Russia, China and Iran.
– $200 million: The amount the government aims to provide to the Department of National Defence so the Canadian military can donate equipment to assist Ukraine, including the eight Leopard 2 battle tanks that the government previously announced it would deliver.
– Anti-scab legislation: The government is proposing to amend the Canada Labour Code to prohibit the use of replacement workers during a strike or lockout, fulling a commitment the Liberals made to the federal NDP in their supply-and-confidence agreement.
This report by The Canadian Press was first published March 28, 2023.