Minus suspended Kane, relaxed Oilers facing elimination: 'No pressure on our end'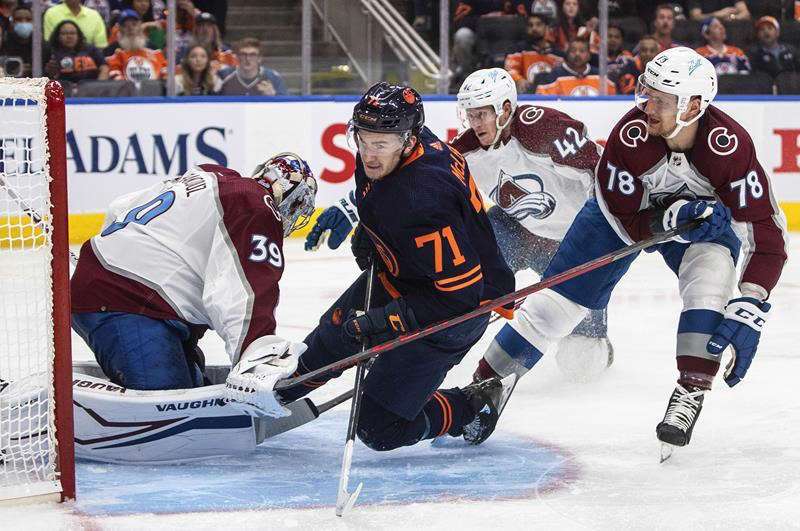 EDMONTON — Zach Hyman was up big in a playoff series last spring.
Fans of the Toronto Maple Leafs and Montreal Canadiens know what happened next.
Duncan Keith, meanwhile, and his Chicago Blackhawks were down 3-0 to the Vancouver Canucks back in 2011 before triumphing in a trio of must-wins to force Game 7.
At the tail end of their first seasons with the Edmonton Oilers, both men know the climb their current team faces is a daunting one.
The Colorado Avalanche have captured the first three games of the Western Conference final, and have four cracks at advancing to their first title series since 2001.
The task for the Oilers at home Monday night is simple — win a game.
"Everybody's counting us out, so there's no pressure on our end," Hyman said Sunday. "All the pressure flips to Colorado. They're expected to win now.
"For us, it's just about getting one and then go from there."
The gritty winger, who signed with Edmonton in free agency last summer, and the Leafs were up 3-1 on Montreal in the first round just over 12 months ago before the Canadiens roared back with three straight victories — including two in overtime — to stun Toronto in seven.
"A lot of guys in (this) locker room have either been up or down heavily in series and seen a swing," Hyman added. "I got a first-hand view of it last year. I don't think anybody gave them a chance to come back in that series, and sure enough, they did."
Hyman saw a straight-forward formula on the other side.
"It's hockey — you're not knocked out until you're knocked out," he said. "You've got to continue to plant that seed of doubt. It starts with one win."
Keith and the Blackhawks' comeback against Vancouver in the first round more than decade ago ultimately fell short — the Canucks won a dramatic Game 7 in OT — but he could feel the tension ratchet up with each Chicago victory.
"The pressure now kind of shifts," said Keith, a veteran defenceman and three-time Stanley Cup champion acquired by the Oilers last summer to provide steady, calm leadership in tough moments. "Not a lot of people are expecting us to do much now.
"Just go play hockey."
The fast, talented, skilled, unrelenting Avalanche, however, are a different animal.
And the Oilers will try to extend their season without Evander Kane after he was suspended one game for Saturday's ugly boarding incident involving Nazem Kadri.
"The most dangerous play in hockey," Colorado head coach Jared Bednar said in wake of his team's 4-2 win. "He puts him in head-first from behind."
Following a wild 8-6 opener in Denver, the West's top seed has given up just two goals over the last 127 minutes 24 seconds, with both coming in Saturday's victory that pushed Edmonton to the brink of elimination.
Looking to become just the fifth team in NHL history to win a series after trailing 3-0, the Oilers scored 31 combined goals in their five-game victory over the Calgary Flames and the curtain-raiser against the Avalanche, led by the ridiculous offensive pace set by Connor McDavid and Leon Draisaitl.
But they haven't generated much off the rush — Edmonton's bread and butter all season and playoffs — against Colorado and have been either unwilling or unable to get to the middle of the ice off the cycle.
"I don't think we've scored enough dirty goals," Hyman said. "Those are the chances that we need to generate more frequently."
Oilers interim head coach Jay Woodcroft said his group did a better job of that in a Game 3 that was tied 2-2 midway through the third before Edmonton hit a post on the power play and Colorado scored moments later to grab the victory.
But he's looking for more.
"You have to be prepared to shoot through structure," Woodcroft said. "You have to get the puck there, but you have to have bodies there as well in order to get those second and third chances."
Woodcroft, who replaced the fired Dave Tippett with 2 1/2 months left in the regular season and led the Oilers to the NHL's second-best record over his 38 games in charge, has moved plenty of chess pieces around the board through the conference final's first three games.
He's used different combinations up front — McDavid and Draisaitl together, then apart, then together again — but hasn't found a solution.
That will have to change for the series to head back to Denver.
"We're here to win a game," Woodcroft said. "That message has been drilled into our team since Feb. 11. We're here to win one hockey game and take care of that day's business.
"When you do that, outcomes take care of themselves."
The series has been a nasty one by 2022 standards.
Edmonton lost winger Kailer Yamamoto to a high hit from Avalanche captain Gabriel Landeskog in Game 2, while Woodcroft accused Colorado star Nathan MacKinnon of a slewfoot on Draisaitl in Game 3.
And then there was Saturday's other incident that saw Kane, who leads the playoffs with 13 goals, crush Kadri from behind.
Assessed a five-minute penalty on the play, the Oilers forward was suspended by the NHL's department of player safety Sunday and will watch Game 4 with his team's season on the line.
Kadri, meanwhile, has been ruled out for at least the rest of the series, but Bednar said Sunday before Kane's ban was announced that Colorado is better equipped to handle a loss of that magnitude — the Avalanche are also minus top-4 defenceman Samuel Girard and No. 1 goaltender Darcy Kuemper — than in years past.
"The depth that we added at the (trade) deadline really helped us," said Bednar, whose team acquired the likes of Arturri Lehkonen, Andrew Cogliano and Josh Manson in March.
"Those guys have all come in and made impacts."
On the other side, the Oilers need an impact performance and an even better effort in order to take a first step out of this deep hole.
Because if they don't, Edmonton's first trip to the conference final since 2006 will come to an abrupt end.
"We're a team that's faced adversity, we've talked about it all year long," Hyman said. "We're a confident group, still. If there's ever a team that could do it, I believe that this is the team.
"It starts with one."
This report by The Canadian Press was first published June 5, 2022.
___
Follow @JClipperton_CP on Twitter.
Joshua Clipperton, The Canadian Press
Police arrest two more people following killing of eight-year-old girl in Alberta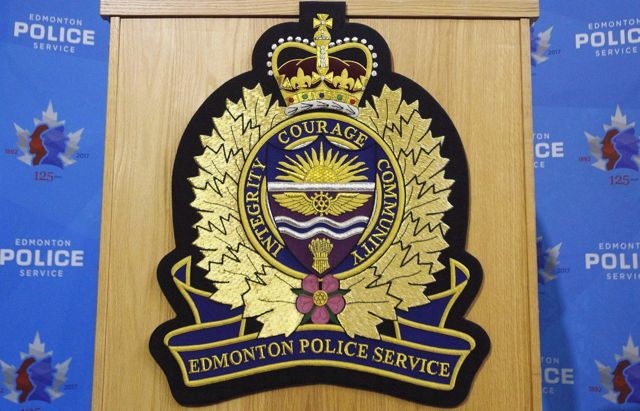 An Edmonton Police Service logo is shown at a press conference in Edmonton, Oct. 2, 2017. Police in Edmonton have charged two more people following the killing of an eight-year-old girl whose remains were found on a First Nation south of the provincial capital in April. THE CANADIAN PRESS/Jason Franson
Edmonton
Police in Edmonton have charged two more people following the killing of an eight-year-old girl whose remains were found on a First Nation south of the provincial capital.
Officers responded on April 24 to a welfare call about the girl at an Edmonton home but were unable to locate her.
Her remains were discovered five days later on the Samson Cree Nation in Maskwacis.
Shayden Lightning, who is 21, and Raighne Stoney, who is 36, have been charged with being an accessory to murder and causing an indignity to a body.
Three others were initially charged in the case.
Police are not releasing the names of two of the accused in order to protect the identities of other children related to the victim, whose identity is under a publication ban.
A 27-year-old woman faces a charge of first-degree murder and a 25-year-old man faces charges of being an accessory to murder and causing an indignity to a body.
Edward Nievera, 67, was charged with being an accessory to murder and causing an indignity to a body.
Edmonton police Staff Sgt. Colin Leathem said in a release Friday that the recent arrests will be the last in the case and that the investigation has concluded.
"We want to thank the RCMP in Maskwacis and Wetaskiwin for their assistance with this investigation," he said. "Needless to say, this was an exceptionally distressing investigation to work on, and they went above and beyond in helping to facilitate these final arrests and bring this file to conclusion.
"While nothing can change the horror of what occurred, we hope (the arrests) can provide some measure of justice to those who knew and loved this little girl."
This report by The Canadian Press was first published Sept. 22, 2023.
Smith says despite difficulty with Ottawa, Alberta has allies in Trudeau cabinet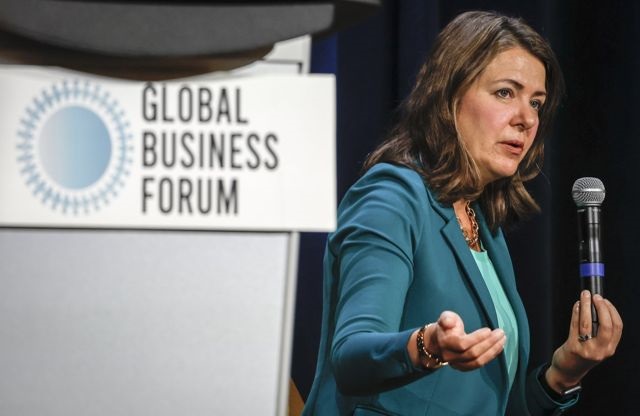 Alberta Premier Danielle Smith speaks to business leaders at the Global Business Forum in Banff, Alta., Friday, Sept. 22, 2023. Smith told the conference that despite her concerns with the federal Liberal government there was some cabinet ministers she can work with. THE CANADIAN PRESS/Jeff McIntosh
By Bill Graveland in Banff
Alberta Premier Danielle Smith told a business conference on Friday that despite her concerns with the federal Liberal government, there are some cabinet ministers she can work with.
Smith has been at odds with federal Environment Minister Steven Guilbeault and Natural Resources Minister Jonathan Wilkinson amid concerns over Ottawa's climate-change policies and transition plan for a net-zero emissions economy.
Guilbeault intends to publish draft regulations this fall to cap emissions from oil and gas, then force them downward overtime. Ottawa has also set a target to have the electricity grid be net-zero by 2035, but Alberta says it's unrealistic.
Smith says Alberta won't implement the emissions cap, nor will it follow the 2035 target.
The premier told delegates at the Global Business Forum in Banff, Alta., that Wilkinson needs to answer for comments he made earlier this week at the World Petroleum Congress in Calgary.
Wilkinson's call for the industry to work aggressively to get to net-zero was basically telling them to "pack it up, because the oil and gas industry is winding down," said Smith.
"You could just feel the energy leave the room and you could just feel the investment dollars leave the room."
Smith said energy producing provinces such as Alberta, Saskatchewan and Newfoundland and Labrador, can't trust the Trudeau government to look out for their interests at international conferences.
"After hearing how the natural resources minister talks about our industry, after hearing how the federal environment minister talks about our industry, we can't afford to let them carry our message," Smith said.
"We can't afford not to be there."
Smith said she has been in discussions with Saskatchewan Premier Scott Moe and intends to talk to Newfoundland and Labrador Premier Andrew Furey about joint presentations at conferences in the future.
Despite her disappointment with Wilkinson and Guilbeault, Smith said it's not all bad.
Finance Minister Chrystia Freeland among the top allies, she said.
"Let's give her credit for shepherding through all of the constant need to give more debt financing to Trans Mountain pipeline to get that to the finish line. That has not been easy," Smith said.
She also praised Innovation Minister Francois-Philippe Champagne, Public Safety Minister Dominic LeBlanc, Labour Minister Seamus O'Regan and Employment Minister Randy Boissonnault.
"I would say it's not uniformly negative in the Liberal caucus. But for some reason they're allowing Stephen Guilbeault to be a maverick and a renegade and quite offensive to those of who are trying to be reasonable and adult about this," Smith said.
Smith said it's time for the federal government to back away from setting "aggressive targets" in dealing with the provinces.
"Aggressive targets are not helpful. They're not helpful to us. They're not helpful to investors."
This report by The Canadian Press was first published Sept. 22, 2023.