Milley: Calls to China were `perfectly' within scope of job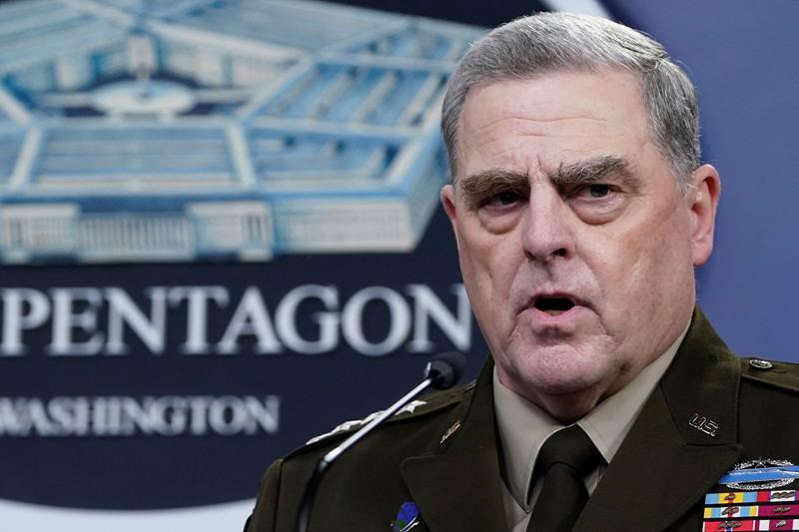 ATHENS, Greece (AP) — The top U.S. military officer said Friday that calls he made to his Chinese counterpart in the final stormy months of Donald Trump's presidency were "perfectly within the duties and responsibilities" of his job.
In his first public comments on the conversations, Gen. Mark Milley such said calls are "routine" and were done "to reassure both allies and adversaries in this case in order to ensure strategic stability." The chairman of the Joint Chiefs of Staff spoke to The Associated Press and another reporter traveling with him to Europe.
Milley has been at the center of a firestorm amid reports he made two calls to Gen. Li Zuocheng of the People's Liberation Army to assure him that the United States was not going to suddenly go to war with or attack China.
Descriptions of the calls made last October and in January were first aired in excerpts from the forthcoming book "Peril" by Washington Post journalists Bob Woodward and Robert Costa. The book says Milley told Li that he would warn Li in the event of an attack.
Milley on Friday offered only a brief defense of his calls, saying he plans a deeper discussion about the matter for Congress when he testifies at a hearing later in September.
"I think it's best that I reserve my comments on the record until I do that in front of the lawmakers who have the lawful responsibility to oversee the U.S. military," Milley said. "I'll go into any level of detail Congress wants to go into in a couple of weeks."
Milley and U.S. Defense Secretary Lloyd Austin are scheduled to testify Sept. 28 before the Senate Armed Services Committee, in what initially was going to be a hearing on the U.S. military withdrawal from Afghanistan and the chaotic evacuation of Americans, Afghans and others from that country.
Now, however, Milley is expected to face tough questioning on the telephone calls, which came during Trump's turbulent last months in office as he challenged the results of the 2020 election. The second call, on Jan. 8, came two days after a violent mob attacked the U.S. Capitol in an effort to prevent Congress from certifying Joe Biden's White House victory.
A special House committee that is investigating the Jan. 6 riot at the Capitol has asked for details about Milley's calls. U.S. Reps. Bennie Thompson, D-Miss., and Liz Cheney, R-Wyo., leaders of the committee, have also sought records related to the November election, the transfer of power from Trump to Biden and the riot.
Milley was appointed Joint Chiefs chairman by Trump in 2019 and has remained in that post in the Biden administration. As chairman, Milley is the top military adviser to the president and to the defense secretary.
The White House and the Pentagon chief have said they continue to have full trust and confidence in Milley.
The new book says Milley, fearful of Trump's actions late in his term, twice called his Chinese counterpart to assure him that the U.S. was not going to attack China. One call took place on Oct. 30, four days before the American election. The second call was on Jan. 8, less than two weeks before Biden's inauguration and two days after the insurrection at the Capitol by supporters of Trump.
Some U.S. lawmakers have said Milley overstepped his authority, and they have called for Biden to fire him. Trump blasted Milley as treasonous, called him "a complete nutjob" and said Milley "never told me about calls being made to China."
Biden told reporters after the disclosures in the book that "I have great confidence in Gen. Milley."
Milley's office, in a statement this week, said the calls were intended to convey "reassurance" to the Chinese military and were in line with his responsibilities as Joint Chiefs chairman.
The statement from Milley spokesman Col. Dave Butler also said that the calls were "staffed, coordinated and communicated" with the Pentagon and other federal agencies.
According to the book, which the AP obtained, Milley assured his Chinese counterpart in the first call that "the American government is stable and everything is going to be okay." It said he told Li, "We are not going to attack or conduct any kinetic operations against you."
"If we're going to attack, I'm going to call you ahead of time. It's not going to be a surprise," Milley reportedly said.
Milley spoke with a number of other military leaders around the world after the Jan. 6 riot; they included leaders from the United Kingdom, Russia and Pakistan. A description of those calls in January referred to "several" other counterparts that Milley spoke to with similar messages of reassurance that the U.S. government was strong and in control.
The second call was meant to placate Chinese fears about the events of Jan. 6. But the book reports that Li wasn't as easily assuaged, even after Milley promised him: "We are 100 percent steady. Everything's fine. But democracy can be sloppy sometimes."
In response to the book, U.S. Sen. Marco Rubio, R-Fla., urged Biden to fire Milley, saying the general worked to "actively undermine" the American commander in chief, Trump.
Lolita C. Baldor, The Associated Press
Edward Rogers files B.C. court petition to have newly formed board declared valid
TORONTO — The son of late Rogers Communications Inc. founder Ted Rogers is seeking a ruling from B.C.'s Supreme Court that would legitimize a company board he formed by replacing five of its members.
Edward Rogers' mother Loretta Rogers and sisters Melinda Rogers-Hixon and Martha Rogers claim the board is illegitimate and does not comply with laws in B.C., where the company is incorporated.
They and several other associates say the only legitimate version of the Rogers board is the one that existed last week, before Edward Rogers replaced five directors with people of his choosing.
Edward Rogers was ousted from his role as board chair, but he remains at the helm of his family's trust, which controls 97 per cent of the firm's Class A voting shares and 10 per cent of outstanding Class B shares.
He has been at the centre of a power struggle since media reports revealed he was plotting to give Rogers' former chief financial officer Tony Staffieri the job of CEO Joe Natale, a move some family and board members oppose.
The ongoing feud has left Rogers in a state of uncertainty as it awaits regulatory approvals for a $26-billion takeover of rival Shaw Communications Inc.
This report by The Canadian Press was first published Oct. 26, 2021.
Companies in this story: (TSX:RCI)
The Canadian Press
Blackhawks GM Bowman resigns after sexual assault probe
Chicago Blackhawks general manager and president of Hockey Operations Stan Bowman resigned Tuesday after an investigation commissioned by the team found he was among a group of leaders who failed to respond promptly to allegations that an assistant coach sexually assaulted a player in 2010.
The results of the independent review by Jenner & Block were handed over to the Blackhawks on Monday, and team CEO Danny Wirtz said the report "is both disturbing and difficult to read."
Former federal prosecutor Reid Schar, who ran the investigation, said Tuesday that Bowman, former team president John McDonough, hockey operations executive Al MacIsaac, former executive vice president Jay Blunk and then-assistant general manager Kevin Cheveldayoff met with then-coach Joel Quenneville and mental skills coach Jim Gary to discuss allegations that then assistant coach Brad Aldrich had assaulted a player.
Schar said accounts of the meeting "vary significantly."
"What is clear is that after being informed of Aldrich's alleged sexual harassment and misconduct with a player no action was taken for three weeks," Schar said.
The investigation was commissioned by the team after two lawsuits were filed against the Blackhawks: one alleging sexual assault by assistant coach Aldrich during the team's Stanley Cup run and another filed by a former student whom Aldrich was convicted of assaulting in Michigan. Aldrich left the Blackhawks after the 2009-10 season.
A former player said Aldrich assaulted him, and that the team did nothing after he informed an employee. The lawsuit, filed May 7 in Cook County Circuit Court, alleges Aldrich also assaulted another unidentified Blackhawks player. The former player who sued and is seeking more than $150,000 in damages is referred in the document as "John Doe."
The eight-page lawsuit says Aldrich, then a video coach for the Blackhawks, "turned on porn and began to masturbate in front of" the player without his consent. It says Aldrich also threatened to "physically, financially and emotionally" hurt the player if he "did not engage in sexual activity" with him.
___
More AP sports: https://apnews.com/hub/apf-sports and https://twitter.com/AP_Sports
Jay Cohen And Stephen Whyno, The Associated Press