Michigan man says son, 6, ordered $1K in food from Grubhub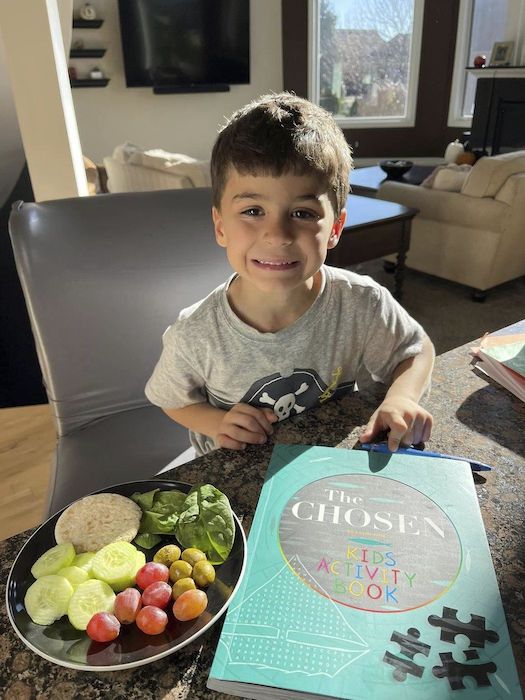 CHESTERFIELD TOWNSHIP, Mich. (AP) — A Michigan man says he was left with a $1,000 bill after his 6-year-old son ordered a virtual smorgasbord of food from several restaurants last weekend, leading to a string of unexpected deliveries — and maybe a starring role in an ad campaign.
Keith Stonehouse said the food piled up quickly at his Detroit-area home Saturday night after he let his son, Mason, use his cellphone to play a game before bed. He said the youngster instead used his father's Grubhub account to order food from one restaurant after another.
The boy's mother, Kristin Stonehouse, told The Associated Press on Thursday that Grubhub has reached out to the family and offered them a $1,000 gift card. The company also is considering using the family in an online promotional campaign, she said. Grubhub officials did not immediately respond to a message from the AP seeking comment.
Keith Stonehouse said he was alone with his son while his wife was at the movies when Mason ordered jumbo shrimp, salads, shawarma and chicken pita sandwiches, chili cheese fries and other foods that one Grubhub driver after another delivered to their Chesterfield Township home.
"This was like something out of a 'Saturday Night Live' skit," Keith Stonehouse told MLive.com.
He added: "I don't really find it funny yet, but I can laugh with people a little bit. It's a lot of money and it kind of came out of nowhere."
Keith Stonehouse said his son ordered food from so many different places that Chase Bank sent him a fraud alert declining a $439 order from Happy's Pizza. But Mason's $183 order of jumbo shrimp from the same restaurant went through and arrived at the family's house.
Stonehouse said it took the arrival of a few orders of food for him to realize what was going on. By that time, there was nothing he could do to stop the orders from coming.
Kristin Stonehouse told the AP that Mason is extremely intelligent and has been reading since he was 2 1/2 years old.
"He's very smart," she said. "He's not your average 6-year-old."
She said her husband had just used the Grubhub app on his phone to order dinner before she left and probably just left the app open. She said her son took the phone, hid in the basement and proceeded to order his feast.
She said she and her husband had a talk with Mason on Sunday morning and told him what he did was akin to stealing.
"I don't think he grasped that concept at first," she said.
To drive the point home, she and her husband opened up Mason's piggy bank and pocketed the $115 he had gotten for his birthday in November, telling him the money would go to replenish their accounts. That didn't seem to faze the boy.
"Then he found a penny on the floor and said he could start all over again," she said.
Keith Stonehouse said most of the food went into the family's refrigerators. He said he also invited some neighbors over to eat some of it.
He said he's heard of things like this happening to other parents, but not at the level he experienced last weekend. He recommends making sure important apps are not readily available for children to click on when they're using a parent's phone. He said he's changing his password.
"I knew this could happen, but you just don't think your kid is going to do something like this. He's definitely smart enough, I just didn't expect it," Keith Stonehouse said.
What to know about new research on coffee and heart risks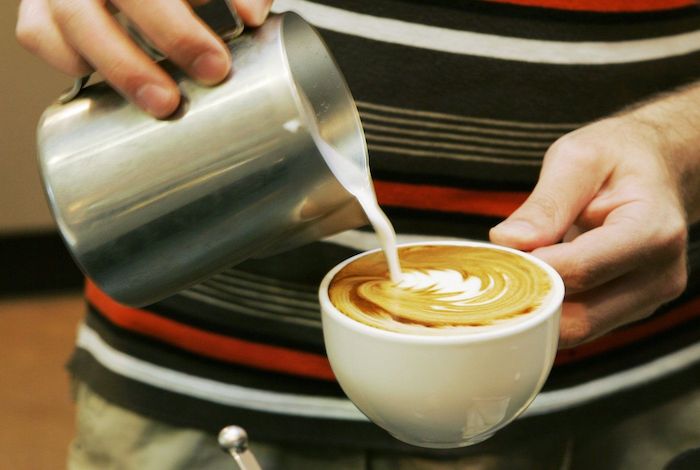 A worker prepares a coffee drink at a shop in Overland Park, Kan., Thursday, Aug. 14, 2008. In a study published in the New England Journal of Medicine on Wednesday, March 22, 2023, healthy volunteers who were asked to drink coffee or skip it on different days showed no signs of an increase in a certain type of heart rhythm after sipping the caffeinated drinks, although they did walk more and sleep less. (AP Photo/Orlin Wagner)
By Jonel Aleccia
Coffee lovers — and their doctors — have long wondered whether a jolt of java can affect the heart. New research published Wednesday finds that drinking caffeinated coffee did not significantly affect one kind of heart hiccup that can feel like a skipped beat.
But it did signal a slight increase in another type of irregular heartbeat in people who drank more than one cup per day. And it found that people tend to walk more and sleep less on the days they drank coffee.
Coffee is one of the most common beverages in the world. In the U.S., two-thirds of Americans drink coffee every day, more than bottled water, tea or tap water, according to the National Coffee Association, a trade group. Coffee contains caffeine, a stimulant, which is widely regarded as safe for healthy adults at about 400 milligrams per day, or roughly the equivalent of four or five cups brewed at home.
Coffee has been associated with multiple health benefits and even a lower risk of dying, based on large studies that observed participants' behavior. Despite research that has shown moderate coffee consumption doesn't raise the risk of heart rhythm problems, some professional medical societies still caution against consuming caffeine.
The latest research:
THE EXPERIMENT
Researchers outfitted 100 healthy volunteers with gadgets that continuously monitored their heart function, daily steps, sleep patterns and blood sugar. The volunteers, who were mostly younger than 40, were sent daily text messages over two weeks instructing them to drink or avoid caffeinated coffee on certain days. The results were reported Wednesday in the New England Journal of Medicine.
This type of study, which directly measures the biological effects of drinking or not drinking caffeinated coffee in the same people, is rare and provides a dense array of data points, said study co-author Dr. Gregory Marcus, a cardiologist at the University of California, San Francisco, who specializes in treating heart arrhythmias.
THE FINDINGS
Researchers found that drinking caffeinated coffee did not result in more daily episodes of extra heartbeats, known as premature atrial contractions. These extra beats that begin in the heart's upper chambers are common and typically don't cause problems. But they have been shown to predict a potentially dangerous heart condition called atrial fibrillation.
They also found slight evidence of another kind of irregular heartbeat that comes from the lower heart chambers, called premature ventricular contractions. Such beats are also common and not usually serious, but they have been associated with a higher risk of heart failure. The researchers found more of these early beats in people on the days they drank coffee, but only in those who drank two or more cups per day.
The volunteers logged about 1,000 more steps per day on the days they drank coffee — and they slept about 36 minutes less, the study found. There was almost no difference in blood sugar levels.
One interesting result: People with genetic variants that make them break down caffeine faster experienced less of a sleep deficit, while folks with variants that lead them to metabolize caffeine more slowly lost more sleep.
WHAT IT MEANS FOR YOU
Because the study was performed in a small number of people over a short period of time, the results don't necessarily apply to the general population, said Dr. Dave Kao, a cardiologist and health data expert at the University of Colorado School of Medicine, who was not involved in the study. However, the study is consistent with others that have found coffee is safe and it offers a rare controlled evaluation of caffeine's effect, Kao added.
Co-author Marcus cautions that the effects of drinking coffee can vary from person to person. He said he advises his patients with heart arrhythmias to experiment on their own to see how caffeine affects them.
"They're often delighted to get the good news that it's OK to try coffee and drink coffee," he said.
"Cook With Meg" creating community through online courses and camps for 3 years now
VIRTUAL COOKING SCHOOL THAT STARTED DURING PANDEMIC CELEBRATES 3 YEARS
On March 23, 2020, 27 families from across Canada connected via Zoom amidst the early days of lockdown to Cook with Meg. In this 4 day virtual cooking series, they made Picky Eater Sheet Pan Pancakes, Sticky Chicken Lo-Mein Noodle Bowls, Freaky Friday Fried Rice and That's A Lotsa Pizza D'oh using limited ingredients with former MasterChef Canada finalist Meg Tucker.
Many will remember when food products and ingredients were not readily available, so families used what they had, or what grocery stores click and collect services would provide. Through these daily cooking lessons, families not only cooked together, but formed friendships across the miles. Week after week, month after month, Cook with Meg grew to include families from Canada, USA, Mexico, Costa Rica, New Zealand and the United Kingdom.
Families became friends. We became a Cook with Meg Community.
Today, with over 6000 Zoom connections to thousands of families, the Red Deer and District Chamber of Commerce Small Business of the Year award and hundreds of five star reviews, Cook with Meg continues to thrive. Meg partners with the Egg Farmers of Alberta, Central Alberta Co-op, Alberta Pulse Growers, and Salton Canada to offer incredible experiences to families. She blends her years of experience and talents as a professional cook together by providing live and on-demand cooking classes and camps for families in six countries. Whether it's a class tackling some of the latest food trends, attending a virtual culinary summer camp, or an adult date night class, Meg's passion goes far beyond teaching people how to cook. It's building life skills, it's practicing patience, it's building kitchen confidence, strengthening family bonds and boosting self esteem.
No matter where you live, Meg says "everyone can connect through making and sharing food". To do that, Meg carefully designs her classes and camps in ways that help people to connect with their inner chef and the people around them.
A message from Meg: "To every person that has supported the Cook with Meg adventure. Whether you registered for a class, attended a class, liked a post on social, or shared us with your friends and family, THANK YOU. Thank you to all the families who continue to believe in the value of online learning, specifically in the kitchen. We often get asked if we will transition to "in person" classes, now that "life is getting back to normal". I have one simple answer. I always say we know that virtual and online learning was here before the pandemic, and it's definitely not going anywhere. I love it because for parents, you don't have to pack your kids in the car and drive them all over town. Your kids are getting to learn in YOUR kitchen, using your own appliances and tools. There is no learning curve, only a beautiful path to KITCHEN CONFIDENCE! So the answer is no. We are a virtual cooking school and will remain as such. This allows us to keep our costs low for you, to provide families with an amazing opportunity to learn and make friends all over the world, without boundaries!"
Head to cookwithmeg.com to register for one of our upcoming classes, and watch our social as Summer Camp registration officially opens May 1.
*******************
Meg Tucker has been creating shared experiences through media for over twenty years. Creator of the Shaw TV original kids cooking show Just One Bite, and a top twenty-five finalist on Masterchef Canada, Meg's catchy enthusiasm for life brings joy to everyone she meets in front of and behind her kitchen counter.
When the world shifted in March 2020, Meg made the ultimate pivot to build a food community called Cook with Meg..