Mexico president's ruling party ousts once-dominant party in most populous state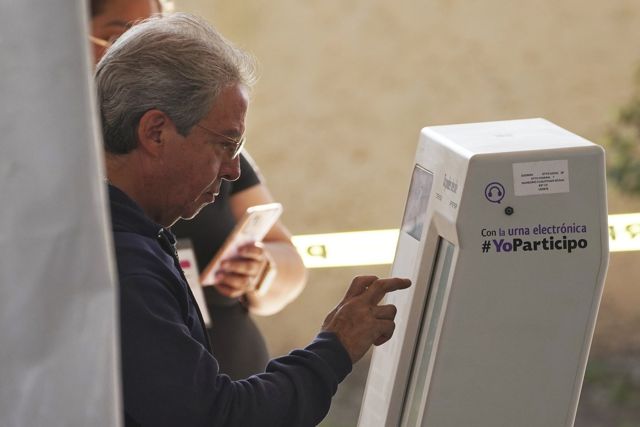 MEXICO CITY (AP) — The ruling party of Mexico's President Andrés Manuel López Obrador won the governorship of the country's most populous state, dealing a life-threatening blow to the old ruling Institutional Revolutionary Party — or PRI — which had governed the State of Mexico without interruption for nearly a century.
With over 99% of precincts counted in a preliminary report, electoral authorities said Monday that Morena's Delfina Gómez won 52.7% of votes in the State of Mexico — which surrounds Mexico City on three sides — to 44.3% for the PRI's Alejandra del Moral.
Del Moral later gave a concession speech acknowledging her defeat.
The result was a new low for the PRI, which held Mexico's presidency uninterrupted for 71 years until losing power in 2000 elections; the party had governed the State of Mexico and its 17 million inhabitants for 94 years until its loss Sunday.
The PRI managed to hold on to the governorship of the sparsely populated northern border state of Coahuila, and governs the neighboring state of Durango in coalition with other opposition parties. But the PRI is now a shadow of the old days when it ruled Mexico with a combination of hand-out programs and corruption.
Propelled by López Obrador's personal popularity — and more generous payments to the elderly and students — Morena now governs 22 of Mexico's 32 states. The conservative National Action party governs five states, the Morena-allied Green party governs one and the small Citizens Movement holds two states.
López Obrador said he was pleased with the results, but struck a magnanimous tone Monday, saying his administration would deal fairly with governors from all parties.
"We have to serve all citizens, whatever party they belong to, that is our responsibility," the president said.
Gómez celebrated her victory as the first woman to serve as governor in the State of Mexico.
"This is a victory for working families, this is a victory for us women, who have fought for years for the recognition of our rights," Gómez said in a victory speech late Sunday. The state has been plagued by a bloody series of killings of women in recent years, and widespread poverty among female-headed households.
The State of Mexico covers everything from Mexico City suburbs, industrial sprawl and rural communities plagued by violence, and displays stunning extremes of inequality, violence and corruption.
The contest was closely watched, too, because of its potential implications for next year's presidential elections. Even without having selected its nominee yet, Morena is considered the frontrunner in that national election and will be even more so with control of the State of Mexico.
Political scientist Georgina de la Fuente of the Tecnologico de Monterrey university noted that Sunday's results highlight several things: the PRI has been defeated, though perhaps not as soundly as expected; Morena is not invincible; and parties are going to have to reconfigure their agreements. She added that the smooth elections also confirmed the effectiveness of Mexico's electoral system, whose authorities had come under heavy fire from López Obrador.
The loss of the State of Mexico could spell the end of the PRI's political relevance on a national stage.
Turnout was only about half of eligible voters in the State of Mexico.
"It doesn't seem like the elections have excited" people, said Miguel Agustín López Moreno, a political scientist and social worker in Ecatepec, one of the state's largest municipalities. He was uncertain the situation for residents would change significantly, attributing the Morena party's success in large part to the amount of resources it invested in the state.
Adair Ortiz Herrera, a 21-year-old information systems student from Coyotepec, a rural area in the northern part of the state, said before the results were known Sunday that he was sure "a new direction" was coming. "My vote is to end the current government's hegemony," he said.
___
Romero reported from Naucalpan, Mexico. Emilio Lugo in Huehuetoca, Mexico, contributed to this report.
Excess deaths in Canada and most western nations remain very high long after pandemic deaths subside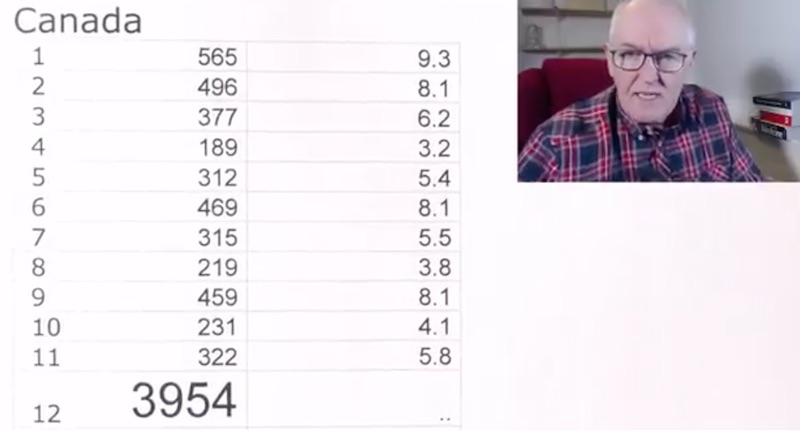 The numbers for 2023 are rolling in and they show a disturbing trend in most of the wealthy nations in the world. In Canada, the United States, and virtually every country in Western Europe, the excess rate of death is astounding and so far unexplained by officials in any nation.
British health researcher Dr. John Campbell shares official data from the OECD (Organization for Economic Co-operation and Development) and wonders why the media doesn't seem to notice or care.
Confirmation of excess deaths in 2023 for US, UK, Canada, Australia, NZ, Netherlands, and Denmark. However, deaths are lower than expected in Poland, Hungary, and Sweden.
OECD data https://stats.oecd.org/index.aspx?que…
Migrants hoping to reach US continue north through Mexico by train amid historic migration levels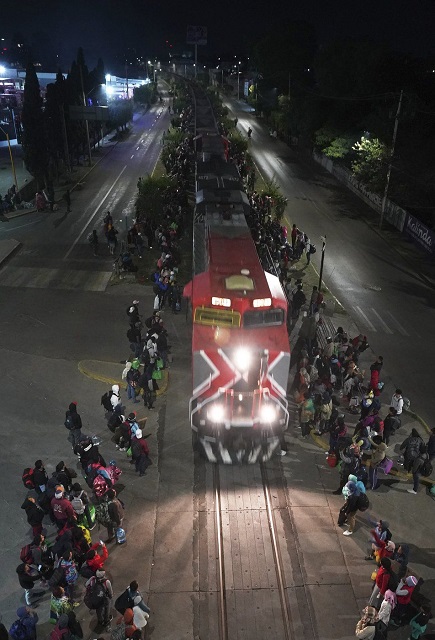 Migrants stand alongside a rail track as a northbound freight train pulls into Irapuato, Mexico, Saturday, Sept. 23, 2023. (AP Photo/Marco Ugarte)
By Megan Janetsky in Irapuato
IRAPUATO, Mexico (AP) — As a train roared in the distance, some 5,000 mostly Venezuelan migrants hoping to make it to the U.S. snapped into action.
Families with young children sleeping on top of cardboard boxes and young men and women tucked away in tents under a nearby bridge scrambled to pack their things. After the train arrived on the outskirts of the central Mexican city of Irapuato, some swung their bodies over its metal trailers with ease, while others tossed up bags and handed up their small children swaddled in winter coats.
"Come up, come up," migrants atop the train urged those below. Others yelled, "God bless Mexico!"
After three days of waiting for the train that many in the group worried would never come, this was their ticket north to Mexico's border with the United States.
Thousands of other migrants were stranded in other parts of the country last week after Mexico's biggest railroad said it halted 60 freight trains. The company, Ferromex, said so many migrants were hitching rides on the trains that it became unsafe to move the trains. The company said it had seen a "half dozen regrettable cases of injuries or deaths" in a span of just days.
When the train arrived Saturday, "Ferromex" was painted on many of the gondolas. Local police were stationed around the improvised camp where the migrants had been waiting, but when the train stopped for about 30 minutes there was no attempt to stop migrants from climbing aboard.
Despite violence from drug cartels and the dangers that come with riding atop the train cars, such freight trains — known collectively as "The Beast" — have long been used by migrants to travel north.
The closures temporarily cut off one of the most transited migratory routes in the country at a time of surging migration, and left families like Mayela Villegas' in limbo.
Villegas, her partner and their six children had spent three days sleeping on the concrete ground surrounded by masses of other migrants. Before boarding the train, the Venezuelan family said they had packed food for only a few days of train rides and struggled to feed their kids.
"The more days we are here, the less food we have. Thankfully people here have helped us, have given us bread," Villegas said. "We're sleeping here because we don't have anything to pay for a room or hotel. We don't have the funds."
The halting of the train routes also underscores the historic numbers of people heading north in search of a new life in the United States, and the dilemma it poses for countries across the Americas as they struggle to cope with the sheer quantities of migrants traversing their territories.
When several thousand migrants crossed into Eagle Pass, Texas, over a few days the border town declared an emergency.
In August, the U.S. Border Patrol made 181,509 arrests at the Mexican border, up 37% from July but little changed from August 2022 and well below the high of more than 220,000 in December, according to figures released Friday.
It reversed a plunge in the numbers after new asylum restrictions were introduced in May. That comes after years of steadily rising migration levels produced by economic crisis and political and social turmoil in many of the countries people are fleeing.
Once, just dozens of migrants from Central American countries would pass through Irapuato by train each day, said Marta Ponce, a 73-year-old from who has spent more than a decade providing aid to those who travel the tracks running through her town.
Now, that number often reaches the thousands.
"We once thought that 50 or 60 people was massive, now it's normal," Ponce said. "It has grown a lot, a lot, a lot."
And migrants come from all over. Ponce noted that Venezuelan migrants fleeing economic crisis in their country are in the overwhelming majority, but she's seen people from around the world, including African nations, Russia and Ukraine.
Most travel through the Darien Gap, a dayslong trek across the rugged Colombia-Panama border. The crossing was once so dangerous that few dared to attempt it, but now so many migrants flood through its dense jungles that it's rapidly become a migratory highway similar to the trains winding through Mexico.
Crossings of the Darien Gap have shot up so much they could approach 500,000 people this year alone.
Villegas, whose family spent three days in Irapuato waiting for the train, was among many who saw the Darien Gap as an opportunity. The family was among 7.7 million people to leave Venezuela in recent years, and spent three years in neighboring Colombia.
The family was able to set up a small barbershop business on the fringes of the Colombia's capital, but rising xenophobia and low pay left the family of eight struggling to scrape by.
This summer, when a gang threatened them for not paying extortion money, Villegas and her partner, 32-year-old Yorver Liendo, decided it was time to go to the U.S. For them, the dangers are worth it if it means a change for their children, who ate yogurt out of plastic bottles and snuggled together on the ground.
"It's the country of a thousand opportunities, and at least my kids are still small. They can keep studying, and have a better quality of life," Liendo said.
But it's not just Ferromex that has been overwhelmed by the crush of people. Regional governments have also struggled with what to do.
Colombia, which has taken on the brunt of the exodus from Venezuela, has long called on the international community for aid. Panama and Costa Rica, meanwhile, have tightened migratory restrictions and demanded that something be done about hundreds of thousands of people passing through the Darien Gap.
Panama even launched a campaign dubbed "Darien is a jungle, not a highway."
Meanwhile, the Biden administration has pushed Mexico and Central American nations to control migratory flows and now requires asylum seekers to register through an app known as CBP One.
On Thursday, the Biden administration announced it would grant temporary protected status to nearly a half million more Venezuelans already in the country.
Meanwhile, activists like Ponce say they expect migration along the train line to grow.
As bleary-eyed migrants climbed onto the train early Saturday morning, they cheered as the train picked up speed and continued them on their winding route north.