Mets' Edwin Díaz injured celebrating Puerto Rico's WBC win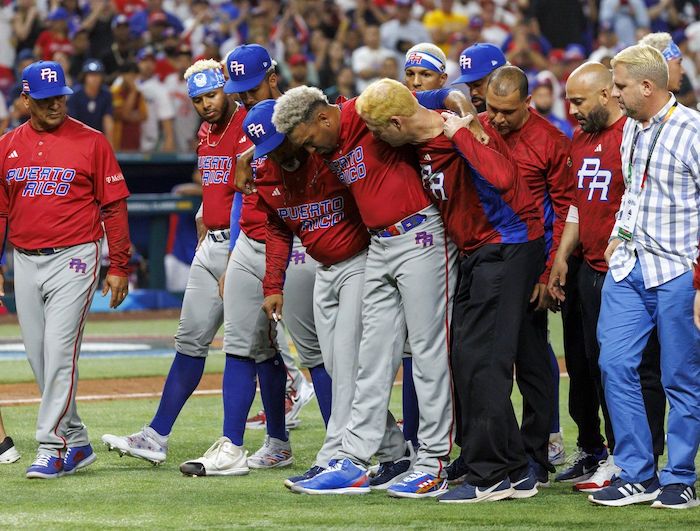 Puerto Rico pitcher Edwin Diaz (39) is helped by team pitching coach Ricky Bones and medical staff after a World Baseball Classic game against the Dominican Republic, Wednesday, March 15, 2023, in Miami. (David Santiago/Miami Herald via AP)
MIAMI (AP) — New York Mets fans began the year dreaming about a World Series closed out by Edwin Díaz.
For now, they're facing a nightmare scenario.
In a startling scene, Díaz was taken off the field in a wheelchair after injuring his right knee celebrating Puerto Rico's victoryover the Dominican Republic in the World Baseball Classic on Wednesday night.
There was no immediate word on how severely Díaz was hurt — the Mets said he will undergo more tests Thursday.
But the injury was exactly what big league teams and their fans fear the most when their high-priced stars go play for their countries. Diaz signed a $102 million, five-year deal in November.
It is true that injuries can happen anytime in baseball. Dodgers infielder Gavin Lux tore his knee in a spring training game this year and is out for the season. Los Angeles teammate Freddie Freeman hurt his hamstring this week playing for Canada in the WBC.
But the intensity of many WBC games is what often scares MLB teams about seeing their players in the event.
"Nightmare scenario for Mets fans and the WBC," tweeted longtime reliever Jerry Blevins. "Edwin Díaz seems to have been really injured after celebrating a win. This is the big fears mlb players & teams have with participating in the Tournament."
Díaz was swarmed by teammates after pitching a perfect ninth inning in a 5-2 win that clinched Puerto Rico a spot in the WBC quarterfinals. The group was jumping together in the infield when the right-hander collapsed to the ground, and he immediately reached for his right leg.
Díaz — as famous for his trumpet-driven entrance music as his dominant pitching — was in tears and did not put any weight on his right leg as a coach and trainer helped him limp toward the dugout.
Díaz's brother, Reds pitcher Alexis Díaz, was also crying as Edwin was put in a chair and wheeled away. Mets teammate and Puerto Rico shortstop Francisco Lindor stood nearby with his hands on his head.
Díaz is critical to the Mets' World Series aspirations. Without him, newcomer David Robertson probably would be next in line for the closer's spot.
Puerto Rico manager Yadier Molina said Díaz also underwent testing at the stadium.
"I was hugging our coaches in the dugout. Then when we looked up, Edwin was on the ground," Molina said. "I didn't know. I didn't know how to act, I didn't know how to — what to say. I mean, I didn't know. It got me for a surprise.
"Like I said in the dugout, it sucks, sorry, but when you see a guy that works so hard like Edwin, I mean when you see him on the ground like that, I mean it just is sad."
The 28-year-old Díaz is a two-time All-Star and two-time reliever of the year. He converted 32 saves for the Mets last season with a 1.31 ERA and 118 strikeouts in 62 innings.
He's become a sensation in New York for his pitching and his dance-inducing entrance music that leads with a rousing trumpet riff. Díaz comes out of the bullpen at Citi Field to "Narco" by Blasterjaxx and Timmy Trumpet. He even had trumpets painted onto his cleats for the WBC.
Díaz is hardly the first pro athlete injured during a rowdy celebration. Los Angeles Angels slugger Kendrys Morales broke his leg in 2010 taking a big leap onto home plate after hitting a game-ending grand slam — manager Mike Scioscia subsequently outlawed bouncing scrums at home plate.
Chicago Cubs pitcher Ryan Dempster broke a toe catching his foot in a dugout railing while rushing the field in 2009, and the Minnesota Twins' Denny Hocking had his nose broken by overzealous teammates after his first walk-off home run in 2001. Perhaps most famously of all, Arizona Cardinals kicker Bill Gramatica ended his rookie season in 2001 by tearing his ACL jumping up and down after a field goal.
But those were games that counted for their teams in regular-season play. Díaz's injury is sure to fuel those who say it's a bad idea for big league teams to loan out players for international play.
The WBC tournament is being played as MLB players ramp up for the start of the season at the end of March. The WBC has rules in place — in addition to some request from MLB teams — to try and protect players, particularly pitchers, from getting injured.
Pitchers for all countries are limited to 65 pitches per outing in the first round. If a player throws more than 50 pitches in an outing, he can't pitch for the next four days. If he throws more than 30, he can't pitch the next day. Finally, if he throws on back-to-back days, he must sit out the next day.
But few could have imagined Wednesday's scene.
Puerto Rico center fielder Kiké Hernandez said the locker room was quiet after Diaz's injury.
"It's a certain point that its bigger than the game," Hernandez said. "It's very unfortunate that it happened. As excited as we were about the game and all that, that's one of our brothers."
___
AP MLB: https://apnews.com/hub/mlb and https://twitter.com/AP_Sports
Diverse Republican presidential primary field sees an opening in 2024 with voters of color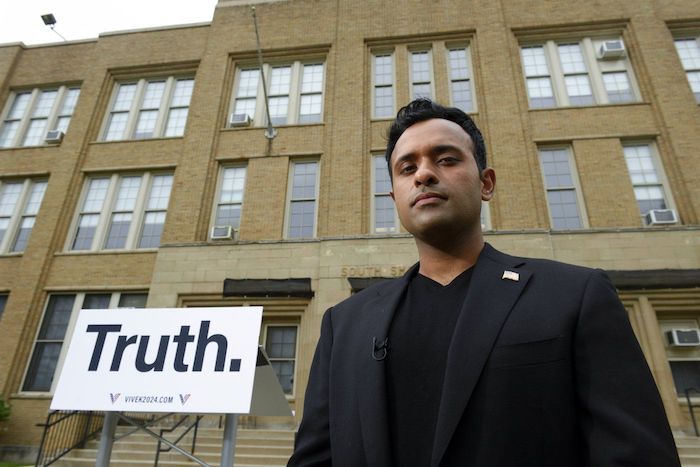 CHICAGO (AP) — During Donald Trump's first visit as president to Chicago, a frequent target in his attacks on urban violence, he disparaged the nation's third largest city as a haven for criminals and a national embarrassment.
At a recent town hall, Republican presidential contender Vivek Ramaswamy sat alongside ex-convicts on the city's South Side and promised to defend Trump's "America First" agenda. In return, the little-known White House hopeful, a child of Indian immigrants, found a flicker of acceptance in a room full of Black and brown voters.
The audience nodded when Ramaswamy said that "anti-Black racism is on the rise," even if they took issue with his promise to eliminate affirmative action and fight "woke" policies.
"America First applies to all Americans — not just the few that Republicans talk to," he said.
Race has emerged as a central issue — and a delicate one — in the 2024 presidential contest as the GOP's primary field so far features four candidates of color, making it among the most racially diverse ever.
South Carolina Sen. Tim Scott, the first Black senator in the South since Reconstruction, entered the contest earlier in the month. He joined Nikki Haley, a former South Carolina governor and U.N. ambassador who is of Indian descent, and Larry Elder, an African American raised in Los Angeles' South Central neighborhood who came to national attention as a candidate in the failed effort two years ago to recall California Gov. Gavin Newsom. Miami Mayor Francis Suarez, who is of Cuban descent, says he may enter the race in the coming days.
Most of the candidates of color are considered underdogs in a field currently dominated by Trump and Florida Gov. Ron DeSantis.
Yet the party's increasingly diverse leadership, backed by evolving politics on issues such as immigration, suggest the GOP may have a real opportunity in 2024 to further weaken the Democrats' grip on African Americans and Latinos. Those groups have been among the most loyal segments of the Democratic coalition since Republican leaders fought against the Civil Rights Act of 1964.
The Republican presidential contenders of 2024 walk a fine line when addressing race with the GOP's overwhelmingly white primary electorate.
In most cases, the diverse candidates in the Republican field play down the significance of their racial heritage. They all deny the existence of systemic racism in the United States even while discussing their own personal experience with racial discrimination. They oppose policies around policing, voting rights and educationthat are specifically designed to benefit disadvantaged communities and combat structural racism.
The NAACP recently issued a travel advisory for the state of Florida under DeSantis' leadership, warning of open hostility "toward African Americans, people of color and LGBTQ+ individuals." The notice calls out new policies enacted by the governor that include blocking public schools from teaching students about systemic racism and defunding programs aimed at diversity, equity and inclusion.
The Republican presidential candidates of color largely support DeSantis' positions.
Marc Morial, president and CEO of the National Urban League, said the GOP's policies are far more important than the racial and ethnic diversity of their presidential candidates. He noted there also were four Republican candidates of color in 2016, the year Trump won the White House after exploiting tensions over race and immigration.
"White nationalists, insurrectionists and white supremacists seem to find comfort in the (Republican) Party," Morial said. "I think we're beyond the politics of just the face of a person of color by itself appealing to people of color. What do you stand for?"
With few exceptions, the Republican candidates who have entered the presidential primary field have embraced the GOP's "anti-woke" agenda, which is based on the notion that policies designed to address systemic inequities related to race, gender or sexuality are inherently unfair or even dangerous.
DeSantis this past week described such policies as "cultural Marxism."
Still, the GOP's diverse field is not ignoring race. Indeed, some candidates are making their race a central theme in their appeal to Republican primary voters even as they deny that people of color face systemic challenges.
Scott insisted that America is not a racist country in his recent announcement speech.
"We are not defined by the color of our skin. We are defined by the content of our character. And if anyone tells you anything different, they're lying," he said.
In her announcement video, Haley noted that she was raised in a small town in South Carolina as "the proud daughter of Indian immigrants — not black, not white, I was different." Like Scott, she has defended the GOP against charges of racism.
"Some think our ideas are not just wrong, but racist and evil," Haley said. "Nothing could be further from the truth."
Elder is quick to criticize the Democrats' "woke" agenda, Black Lives Matter and the notion of systemic racism.
Critics say such messages are actually designed to win over suburban white voters more than to attract voters of color. But on the South Side of Chicago on a recent Friday afternoon, there were signs that some Black voters were open to the GOP's new messengers, given their frustration with both political parties.
One attendee at Ramaswamy's town hall waved a flyer for a "Biden boycott" because the Democratic president has not signaled whether he supports reparations for the descendants of slaves, although Biden did back a congressional effort to study the issue. None of the GOP's presidential candidates supports reparations, either.
Others condemned Democrats, in Chicago and in Washington, for working harder to help immigrants who are in the country illegally than struggling African American citizens.
Federal officials were preparing to relocate hundreds of migrants from the U.S.-Mexico border to the South Side, even as many local residents struggled with violence and difficult economic conditions.
"It is certainly true that there are multiple shades of melanin in this Republican race," Ramaswamy said in an interview before the event. "I think that in some ways dispels the myth that much of the left will perpetuate that this is somehow you know, a racist party or whatever drivel."
He added: "But personally, I could care less what someone's skin color is. I think what matters is, what are they going to accomplish? What's their vision?"
As of now, the GOP does not have any Hispanic candidates in the 2024 contest. But Suarez, the Miami mayor, said he may change that in the coming days.
"I think it's important the field does have candidates that can connect with and motivate Hispanics to continue a trend that's already happening," he said in an interview, noting that he's "very strongly" considering a White House bid. "Democrats have failed miserably to connect with Hispanics."
A majority of Latino voters supported Biden in the 2020 presidential contest, according to AP VoteCast, an extensive national survey of the electorate. But Trump cut into that support in some competitive states, including Florida and Nevada, revealing important shifts among Latinos from many different cultural backgrounds.
In last fall's midterm elections, support grew for Republican candidates among Black voters, although they remained overwhelmingly supportive of Democrats, AP Votecast found. Overall, Republican candidates were backed by 14% of Black voters, compared with 8% in the midterm elections four years earlier.
While the shifts may be relatively small, strategists in both parties acknowledge that any shift is significant given how close some elections may be in 2024.
In Chicago, Tyrone Muhammad, who leads Ex-Cons for Social Change, lashed out at Republicans for being "losers" for not seizing a very real opportunity to win over more African Americans. While sitting next to Ramaswamy on stage, he also declared that the Republican Party is racist.
Later, he said he actually voted for Trump in 2020 because Trump enacted a criminal justice bill that aimed to shorten prison sentences for nonviolent drug offenders and address racial inequalities in the justice system. While the GOP has since embraced tough-on-crime rhetoric, Muhammed noted that Biden as a senator helped pass the 1994 crime bill that led to the mass incarceration of Black people.
Muhammad said he might vote Republican again in 2024, despite the party's shortcomings. He pointed to the GOP's fight against illegal immigration as a core reason for support.
"I may not like you as an individual, but I like your issues, I like your policies," he said.
___
Fields reported from Washington. Associated Press writer Thomas Beaumont in Des Moines, Iowa, contributed to this report.
___
US cities hope crime strategies keep homicide numbers dropping and prevent summer surge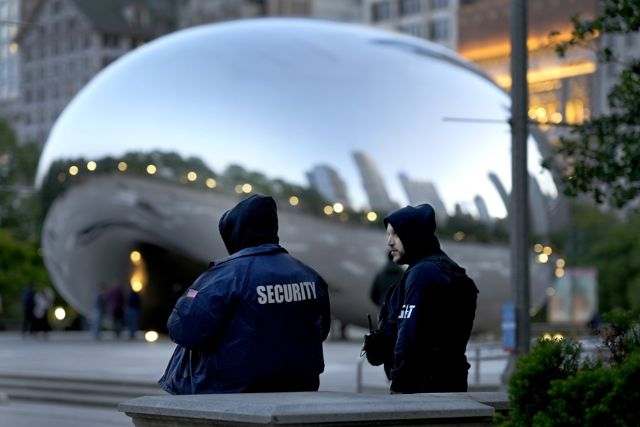 CHICAGO (AP) — An expected bump in violent crime this summer has mayors and police officials around the U.S. rolling out familiar strategies of making officers more visible and engaging with community groups, in some cases leaning on civilians to enforce curfews and keep the peace.
Chicago is among the U.S. cities under scrutiny following a mayoral race that focused on public safety in response to demands for change. Violence often surges during summer months, so this holiday weekend will undoubtedly ramp up pressure on Mayor Brandon Johnson's new administration to deliver short-term improvement along with the long-term strategies that the former union organizer advocated while campaigning to lead the nation's third-largest city.
"It's going to take all of us, not just the police, not just city government, to ensure that our communities can live and thrive in peace and safety," Johnson said at a lakefront press conference promoting the city's Memorial Day weekend strategy.
Most large U.S. cities are reporting fewer homicides this year, according to data collected by the Council on Criminal Justice, which created a Crime Trends Working Group this spring in hopes of providing more real-time information on crime.
The shift is a tentative reprieve following those spikes that began in 2020 and began to come down last year. The totals remain far higher than pre-pandemic reports and are "cause for serious concern but not for panic," said Thomas Abt, founding director of the Center for the Study and Practice of Violence Reduction at the University of Maryland.
"Where cities are seeing success, they're generally investing in a balanced approach that includes policing but … also supports community-based approaches," Abt said. "They have recognized the need for enforcement but also emphasize prevention and intervention."
Officials in Cleveland; Newark, New Jersey; and Philadelphia have announced summer plans to make officers more of a visible presence in locations where violent crimes have happened, while also promoting community efforts to prevent violence and provide alternative activities.
In Baltimore, city officials — not police officers — will enforce curfews on teenagers starting Friday and continuing through Labor Day weekend. The controversial policy has long been on the books but rarely enforced.
"We are going back to the old days," Baltimore Mayor Brandon Scott said in announcing the summer enforcement, after two teens were wounded as hundreds gathered on a Sunday night in the city's popular Inner Harbor district.
That shooting in April, which unfolded while officers were trying to break up a fight at the scene, added to a significant spike in youth violence, which has persisted even as overall shootings and homicides trend downward in Baltimore.
According to Scott's plan, non-law enforcement staff will approach children and teens violating the curfew policy on weekend and holiday nights. First, they'll encourage kids to go home, but if that doesn't work, the children will be brought to a youth engagement center that provides a supervised environment where they can hang out.
In Detroit, federal prosecutors are expanding efforts to help local police this summer by taking armed carjacking cases and business robberies in high-crime areas, in addition to certain gun crimes. Federal convictions typically bring longer sentences.
"The most dangerous people will be prosecuted immediately in federal court," U.S. Attorney Dawn Ison said Wednesday.
Following a half-dozen shootings — including one fatality — in the downtown Detroit area over one weekend in April, Police Chief James White instituted a crowd control strategy including increased police presence. Curfews for minors also will be enforced.
In Chicago, mayors face annual pressure to demonstrate a proactive approach to violent crime ahead of Memorial Day, the traditional kickoff to warm weather and summer events where crowds gather.
Johnson promised to move away from a policing-first strategy as he took office at the start of May, but he's also distanced himself from calls to cut money for policing. He chose a retired department veteran as interim police chief.
Federal data shows that Chicago's homicide rate remains lower than other Midwestern cities such as St. Louis and Detroit, with 211 killings reported so far this year, lower than the same period in 2022 and 2021.
Johnson's holiday weekend strategy includes making officers a visible presence, and even having them check bags at crowded beaches, parks and events. Police rushed to Chicago's North Avenue Beach on Friday afternoon after a report of gunshots following a large fight. The department said one juvenile was in custody but didn't provide more information. No injuries were reported.
Philanthropic and business groups have donated to anti-violence groups organizing events aimed at young people. And the state of Illinois has authorized a team of 30 "peacekeepers" — not police — who have training and experience in deescalating conflict, to roam Chicago aiming to prevent outbreaks of violence.
Community groups with similar strategies have operated for years across Chicago, focusing on specific neighborhoods or blocks with a history of violence. State officials said their team would be mobile and able to respond anywhere, including downtown, where large gatherings of teens during a warm April weekend ended with several shootings and other violence.
Norman Livingston Kerr led a Chicago anti-violence organization before he became assistant deputy mayor for public safety under Johnson's predecessor, Lori Lightfoot. He now consults with cities and nonprofits to develop anti-violence strategies that rely on deescalation or intervention. He's encouraged by signs that the city and state are committing long-term resources to efforts such as the peacekeepers program.
"This violence intervention work, it can take time for people to see it work and believe in it," Kerr said. "I'm not going to dwell on the fact it took years to happen; I'm going to say this is a new day."
Johnson has promised to give a variety of community organizations a larger role in his administration's public safety strategy and devoted much of Thursday's city presentation to promoting plans for basketball tournaments, neighborhood barbecues and karaoke contests.
Tamar Manasseh, founder of Mothers/Men Against Senseless Killings, said her organization has worked to prevent crime around a South Side intersection for nearly 10 years using "positive loitering." This weekend is no exception, with a neighborhood barbecue and other activities planned.
"We built a community center, our pop-up community center, in a vacant lot," Manasseh said. "And since then we've seen crime drop astronomically. And we feel like that can happen anywhere."
___
Associated Press writers Lea Skene in Baltimore and Corey Williams and Ed White in Detroit contributed to this report.