Memphis braces for release of video in Tyre Nichols' arrest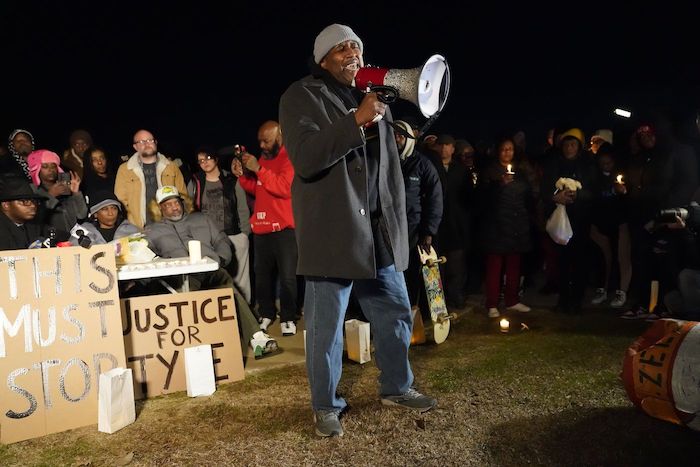 By Adrian Sainz in Memphis
MEMPHIS, Tenn. (AP) — The city of Memphis and the nation on Friday awaited the release of a police video depicting five officers viciously beating Tyre Nichols, a Black man whose death prompted murder charges against the cops and outrage at the country's latest instance of police brutality.
The officers were charged Thursday with murder and other crimes in the killing of Nichols, a motorist who died three days after a confrontation with the officers during a traffic stop.
Shelby County District Attorney Steve Mulroy told a news conference that although the officers each played different rolesin the killing, "they are all responsible."
The officers, who are all Black, each face charges of second-degree murder, aggravated assault, aggravated kidnapping, official misconduct and official oppression.
Nichols' family members and their lawyers said the footage shows officers savagely beating the 29-year-old FedEx worker for three minutes in an assault that the legal team likened to the infamous 1991 police beating of Los Angeles motorist Rodney King. His family urged supporters to protest peacefully.
Memphis Police Director Cerelyn Davis said she expected protests after the release of video showing officers' actions, which she described as "heinous, reckless and inhumane," but she also urged the community to remain peaceful.
"I expect our citizens to exercise their First Amendment right to protest, to demand actions and results, but we need to ensure our community is safe in this process," she said. "None of this is a calling card for inciting violence or destruction on our community or against our citizens."
Davis said Friday that her department has been unable to substantiate the reckless driving allegation that prompted the stop.
"As far as I know today, I do believe that the stop itself was very questionable," she told Good Morning America.
Video of the Jan. 7 traffic stop will be released to the public sometime Friday evening, Mulroy said, noting that local and state investigators wanted to complete as many interviews as possible before releasing it.
Davis told GMA that the decision to release the video on Friday evening rather than earlier in the day had been made after consulting with other local leaders, who believe it's best to do it when schools are out and people are home from work.
As a precaution, Memphis area schools canceled all after-class activities and postponed a school event scheduled for Saturday morning.
Nichols' stepfather, Rodney Wells, told The Associated Press by phone that he and his wife, RowVaughn Wells, who is Nichols' mother, discussed the second-degree murder charges and are "fine with it." They had sought first-degree murder charges.
"There's other charges, so I'm all right with that," he said.
The Wellses were joined by several dozen supporters on a cold Thursday night for a candlelight vigil and prayer service at a Memphis skate park. Nichols, who had a 4-year-old son, was an avid skateboarder.
RowVaughn Wells, who said her family is "grief-stricken," warned supporters of the "horrific" nature of the video set to be released Friday, but like Davis, pleaded for peaceful protests.
"I don't want us burning up our city, tearing up the streets, because that's not what my son stood for," she said. "If you guys are here for me and Tyre, then you will protest peacefully."
Activists and clergy led the group in prayer and a drummer played a steady rhythm to lead into the spoken part of the vigil. Afterward, skaters rode their boards as the Wellses watched.
Court records showed that all five former officers — Tadarrius Bean, Demetrius Haley, Desmond Mills Jr., Emmitt Martin III and Justin Smith — were taken into custody.
Martin's lawyer, William Massey, confirmed that his client had turned himself in. He and Mills' lawyer, Blake Ballin, said their clients would plead not guilty. Lawyers for Smith, Bean and Haley could not be reached.
"No one out there that night intended for Tyre Nichols to die," Massey said.
Both lawyers said they had not seen the video.
"We are in the dark about many things, just like the general public is," Ballin said.
Second-degree murder is punishable by 15 to 60 years in prison under Tennessee law.
The attorneys for Nichols' family, Ben Crump and Antonio Romanucci, issued a statement saying that Nichols "lost his life in a particularly disgusting manner that points to the desperate need for change and reform to ensure this violence stops occurring during low-threat procedures, like in this case, a traffic stop."
At the White House, President Joe Biden said the Nichols family and the city of Memphis deserve "a swift, full and transparent investigation."
"Public trust is the foundation of public safety, and there are still too many places in America today where the bonds of trust are frayed or broken," Biden said in a statement.
Davis said other officers are still being investigated for violating department policy. In addition, she said "a complete and independent review" will be conducted of the department's specialized units, without providing further details.
Two fire department workers were also removed from duty over the Nichols' arrest.
As state and federal investigations continue, Davis promised the police department's "full and complete cooperation" to determine what contributed to Nichols' Jan. 10 death.
Crump said the video showed that Nichols was shocked, pepper-sprayed and restrained when he was pulled over near his home. He was returning home from a suburban park where he had taken photos of the sunset.
Police have said Nichols was stopped for reckless driving and at some point fled from the scene.
Relatives have accused the police of causing Nichols to have a heart attack and kidney failure. Authorities have only said Nichols experienced a medical emergency.
One of the officers, Haley, was accused previously of using excessive force. He was named as a defendant in a 2016 federal civil rights lawsuit while employed by the Shelby County Division of Corrections.
The claims were ultimately dismissed after a judge ruled that Sledge had failed to file a grievance against the officers within 30 days of the incident.
___
Associated Press reporters Aaron Morrison in New York, Travis Loller in Nashville and Rebecca Reynolds in Lexington, Kentucky, contributed to this report.
With overdoses up, states look at harsher fentanyl penalties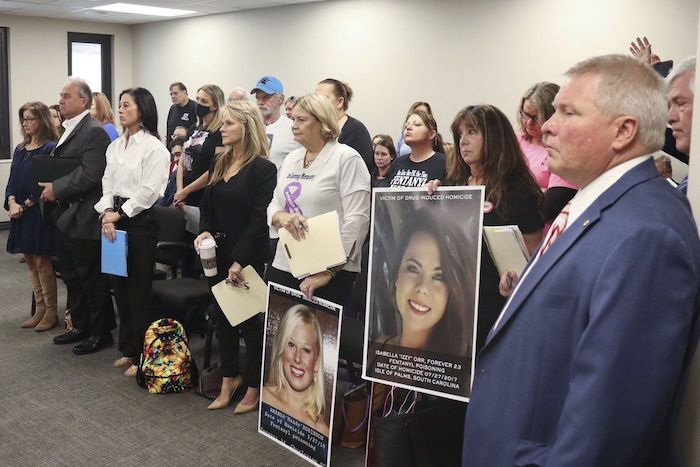 People whose family members have died from fentanyl overdose stand at a committee meeting on Jan. 19, 2023, in Columbia, S.C. With U.S. overdose fatalities at an all-time high, state legislatures are considering tougher penalties for possession of fentanyl, the powerful opioid linked to most of the deaths. (AP Photo/James Pollard)
By Gabe Stern, James Pollard And Geoff Mulvihill in Reno
RENO, Nev. (AP) — State lawmakers nationwide are responding to the deadliest overdose crisis in U.S. history by pushing harsher penalties for possessing fentanyl and other powerful lab-made opioids that are connected to about 70,000 deaths a year.
Imposing longer prison sentences for possessing smaller amounts of drugs represents a shift in states that in recent years have rolled back drug possession penalties. Proponents of tougher penalties say this crisis is different and that, in most places, the stiffer sentences are intended to punish drug dealers, not just users.
"There is no other drug — no other illicit drug — that has the same type of effects on our communities," said Mark Jackson, the district attorney for Douglas County, Nevada, and president of the Nevada District Attorneys Association, which is pushing for stricter penalties for fentanyl-related crimes.
But the strategy is alarming recovery advocates who say focusing on the criminal angle of drugs has historically backfired, including when lawmakers elevated crack cocaine penalties in the 1980s.
"Every time we treat drugs as a law enforcement problem and push stricter laws, we find that we punish people in ways that destroy their lives and make it harder for them to recover later on," said Adam Wandt, an assistant professor of public policy at John Jay College of Criminal Justice in New York. He said people behind bars often continue getting drugs — often without receiving quality addiction treatment — then emerge to find it's harder to get work.
Since 2020, drug overdoses are now linked to more than 100,000 deaths a year nationally, with about two-thirds of them fentanyl-related. That's more than 10 times as many drug deaths as in 1988, at the height of the crack epidemic.
Fentanyl mostly arrives in the U.S. from Mexico and is mixed into supplies of other drugs, including cocaine, heroin, methamphetamine and counterfeit oxycodone pills. Some users seek it out. Others don't know they're taking it.
Ingesting 2 milligrams of fentanyl can be fatal, meaning 1 gram — about the same as a paper clip — could contain 500 lethal doses.
That's what's driving some lawmakers to crack down with harsh penalties, along with adopting measures such as legalizing materials to test drug supplies for fentanyl and distributing naloxone, a drug that can reverse overdoses.
Before this year's legislative sessions began, a dozen states had already adopted fentanyl possession measures, according to tracking by the National Conference of State Legislatures.
And in this year, in one legislative chamber of liberal Oregon and one chamber of conservative West Virginia, lawmakers have agreed upon tougher penalties. In her State of the State speech this March, Alabama Gov. Kay Ivey, a Republican, called on lawmakers to adopt a drug trafficking bill that includes tougher fentanyl sentences.
In Nevada, where Democrats control the Legislature, a bill backed by Democratic Attorney General Aaron Ford would give one to 20 years in prison for selling, possessing, manufacturing or transporting 4 grams or more of fentanyl into the state, depending on the amount. It's a change for Ford, who has supported criminal justice reforms including a sweeping 2019 law that, among other provisions, raised the threshold for such penalties to 100 grams. It would also remove fentanyl from the state's "Good Samaritan" law, which exempts people from criminal drug possession charges while reporting an overdose.
"What we've learned is that lowering the thresholds for all drugs was overinclusive," Ford said.
Harm reduction advocates are pushing Ford and others to rethink their support, arguing the thresholds for longer penalties can sweep up low-level users — not just the dealers the law is aimed at — as well as some who may not even know they are taking fentanyl. They warn that the state's crime labs test only for the presence of fentanyl, not the exact amount in a mixture of drugs. Thus, people with over 4 grams of drugs containing a few milligrams of fentanyl could be subject to trafficking penalties, they say.
Rosa Johnson runs a needle exchange where she meets people who could face consequences should the stricter fentanyl bill pass. For the dozens of people that show up each day, it is rare for them to cite fentanyl as their "drug of choice." But it's also rare that fentanyl test strips come back negative, with the drug being "laced in a lot of things," Johnson said.
Other lawmakers introduced two bills to create penalties for fentanyl with lower thresholds, though much of the internal debate surrounds the Ford-backed bill. Meanwhile, Nevada's Republican Gov. Joe Lombardo, a former sheriff, has vowed to introduce tougher legislation that would make possession of any amount of fentanyl the same felony threshold as fentanyl trafficking.
Both Republican-led chambers in South Carolina have passed fentanyl trafficking measures with bipartisan support, although lawmakers haven't agreed on which version to send the governor. Senators also unanimously approved a bill allowing alleged drug dealers to be charged with homicide in overdose deaths.
House Minority Leader Todd Rutherford slammed colleagues for selling a "false bill of goods." While Republican Rep. Doug Gilliam said he understood concerns about ambiguity, he said lawmakers had to send a "strong message" to drug dealers.
A Senate subcommittee heard emotional testimony from family members of people who died of a fentanyl overdose. Among them was Holly Alsobrooks, co-founder of an advocacy group that also supports more fentanyl test strips, opioid antidotes and rehabilitation centers. While Alsobrooks said there is no "perfect" solution, she said the fentanyl trafficking measures are the "best" answers she has heard.
"We are fully behind this bill," she said. "And if people go to jail, they're going to go to jail."
Marc Burrows, who leads a Greenville-based harm reduction program that reports it has reversed 700 overdoses through the provision of opioid antidotes, said these bills could increase deaths by creating hesitancy among drug users to report overdoses.
"I just don't know if a policy like this is the way to do it," Burrows said.
___
Pollard reported from Columbia, South Carolina, and Mulvihill from Cherry Hill, New Jersey. Pollard and Stern are members for the Associated Press/Report for America Statehouse News Initiative. Report for America is a nonprofit service program that places journalists in newsrooms to report on undercovered issues.
Edmonton Police Service releases further details about the shooting of Const. Brett Ryan and Const. Travis Jordan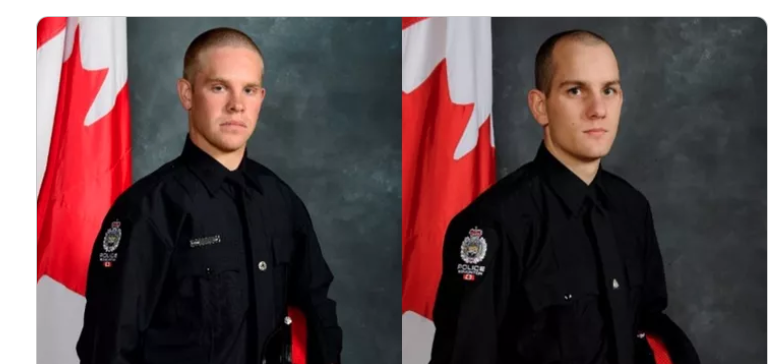 News release from the Edmonton Police Service
Police release further details in line of duty deaths
The Edmonton Police Service continues to investigate the circumstances around the deaths of Constables Travis Jordan and Brett Ryan.
At approximately 12:47 a.m. on Thursday, March 16, 2023, Const. Travis Jordan and Const. Brett Ryan responded to a family dispute call in an apartment complex near 114 Avenue and 132 Street.
When the two officers arrived, they were met by a 55-year-old female complainant outside of the complex. The two officers then responded to the suite where she resided, along with her 73-year-old male partner and their 16-year-old son.
Immediately upon arriving at the suite, both constables were shot multiple times by the 16-year-old male, and were immediately incapacitated. A struggle reportedly ensued between the mother and son over the firearm, and the suspect shot his mother before turning the firearm on himself, taking his own life. The father was not physically injured during the shootings.
It has since been confirmed that neither officer discharged their firearm.
Following 911 calls by multiple reporters, additional police and EMS arrived. One of the injured officers was transported in a police vehicle to hospital, while the other injured officer was taken by ambulance. The female complainant was taken by ambulance to hospital, where she remains in serious but stable condition.
Soon after arriving at the hospital, both officers were declared deceased.
As the 16-year-old suspect died in the presence of police, the Director of Law Enforcement was notified and directed that the Alberta Serious Incident Response Team (ASIRT) provide oversight to the investigation being conducted by the EPS Homicide Section.
Autopsies for both officers will be conducted this weekend. The autopsy for the youth suspect is scheduled for Wednesday, Mar. 22, 2023.
Information on the public portion of the funeral arrangements for the fallen officers will be released as soon as it becomes available.