McKinsey doesn't meet criteria for banning company from federal contracts: bureaucrat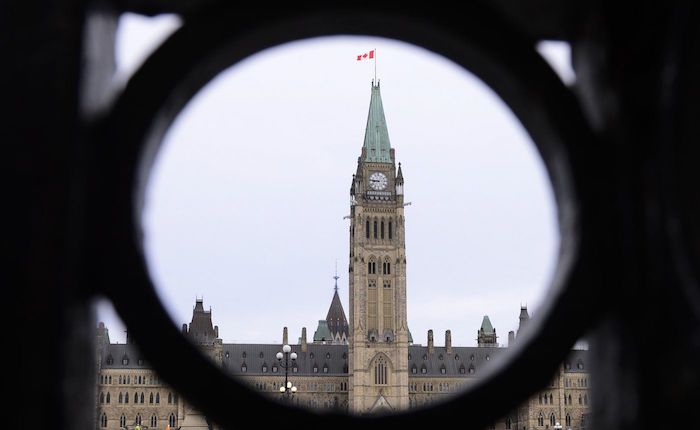 By Nojoud Al Mallees in Ottawa
The deputy minister of Public Services and Procurement Canada says the federal government's ethics rules do not disqualify consulting firm McKinsey & Company from doing business with the federal government despite scrutiny of the firm's global track record.
Paul Thompson answered questions about the firm's government contracts at a House of Commons committee Monday.
He said a Canadian company would be barred from federal contracts if one of its affiliates has been convicted of a crime, which is not the case for McKinsey.
The company has faced scrutiny for its work around the world, including its alleged involvement in the opioid crisis in the U.S. and its work with authoritarian governments.
The House of Commons government operations committee is digging into contracts awarded to McKinsey since 2011 following media reports showing a rapid increase in the company's federal contracts under Prime Minister Justin Trudeau's Liberal government.
The government says McKinsey has received at least $116.8 million in federal contracts since 2015.
At a news conference Monday, Conservative MP Garnett Genuis said the federal government shouldn't be contracting with McKinsey. "We cannot work with a company that's behaving in the way McKinsey has."
This report by The Canadian Press was first published Feb. 6, 2023.
Freeland says drop in foreign-aid spending is not a cut, Ukraine fight is pivotal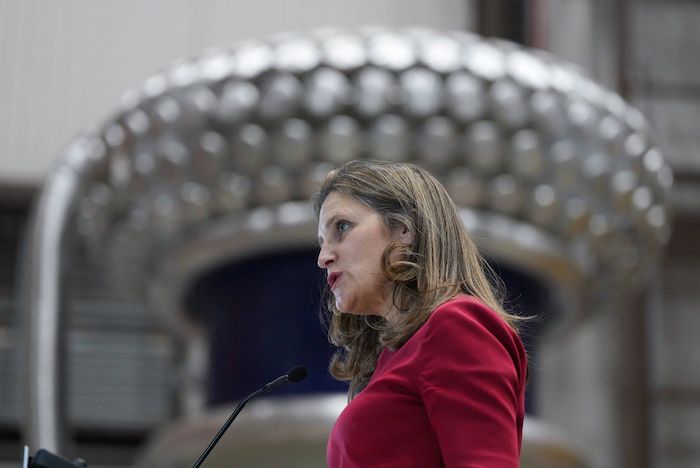 Deputy Prime Minister and Minister of Finance, Chrystia Freeland, speaks during a news conference at Powertech Labs, in Surrey, B.C., on Thursday, March 30, 2023. Freeland insists the government's projected $1.3-billion drop in foreign aid spending does not amount to a cut. THE CANADIAN PRESS/Darryl Dyck
By Dylan Robertson in Ottawa
Finance Minister Chrystia Freeland insists the government's projected $1.3-billion drop in foreign aid spending does not amount to a cut.
The Liberal budget released this week projects that Ottawa will spend nearly $6.9 billion for international development in the coming fiscal year, which is a 16 per cent drop from last year's allocation.
That's despite Prime Minister Justin Trudeau tasking International Development Minister Harjit Sajjan to increase aid spending every year.
The Liberals had delivered a historic boost in aid in response to the COVID-19 pandemic and the war in Ukraine.
Asked about criticism from the aid sector about the cut, Freeland said she "wouldn't characterize it that way."
She stressed that Canada is allocating $2.4 billion in direct financial aid to Ukraine, and called that country's fight the world's most important struggle.
The Liberals have also allocated funding for infrastructure projects in developing countries in the Indo-Pacific region, arguing that these countries want investment more than aid.
Representatives of Canada's aid sector have said they will need to end projects abroad due to the lower-than-hoped funding projected in the Liberals' budget last week, and they're particularly concerned about whether aid dollars are being diverted from Africa to Ukraine.
Freeland told reporters Thursday at a press conference in Surrey, B.C., that Ukraine's fight is crucial to Canada's interests.
"The fight that is happening in Ukraine today is the single most important battle in the world between democracy and dictatorship," she said, while defending her government's record.
"I believe that Canada has a responsibility to be strong and active around the world," she added.
"We're making a very big difference. Canada is the eighth-largest foreign-aid donor (in the world). That is a big deal."
Last October, Freeland was criticized for her response to an African aid expert who said that the West diverting dollars to Ukraine leaves the continent relying more on Russia's support, an idea she rejected.
"A democracy can only be defended by people themselves if they're actually prepared to die for their democracy," she said.
In a later apology for those remarks, she said she was sorry if people found the comments insensitive, adding: "If a white western person has offended someone, the first answer is to say, 'I really didn't mean to offend you.'"
At the time, Freeland said the western world needs to recognize that Africa's current problems stem from colonization.
"These are challenges that have been imposed from the outside. And I think that means we have a high level of responsibility."
This report by The Canadian Press was first published March 31, 2023.
WestJet pilots to launch strike authorization vote as negotiations fizzle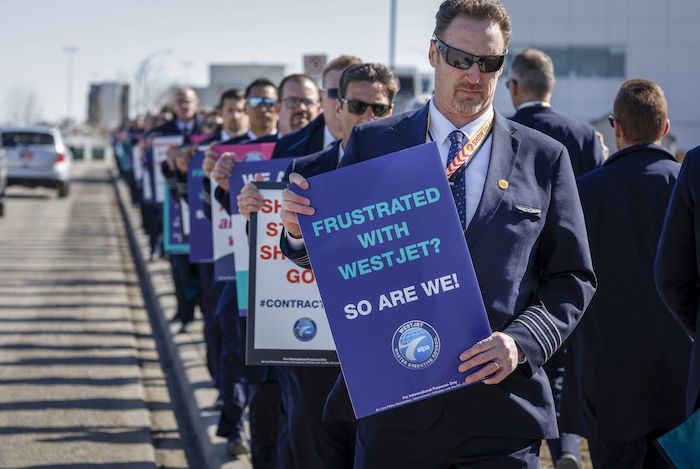 Members of the Air Line Pilots Association demonstrate amid contract negotiations outside Westjet's headquarters in Calgary, Alta., Friday, March 31, 2023. THE CANADIAN PRESS/Jeff McIntosh
By Christopher Reynolds in Montreal
The union representing WestJet pilots will launch a strike authorization vote Monday as contract talks with management drag on, the Air Line Pilots Association said Friday.
Bernard Lewall, who heads ALPA Canada's WestJet contingent, said its 1,600-person membership is "frustrated" after six months of bargaining with a company he claims has failed to seriously engage with it.
The issues revolve around wages, scheduling and work conditions at WestJet and its discount subsidiary Swoop, with 39 pilots opting to leave for other airlines in the past month alone, Lewall said in a phone interview from Calgary.
"WestJet used to be a place where young pilots wanted to come and work. That's not the case anymore. It's not just more experienced pilots that are leaving; you have new pilots looking at other places to fly too," he said, ahead of a union demonstration at WestJet headquarters at the Calgary airport.
"We want to show that the company has to treat its pilots better."
WestJet said the threat of a strike is a "common and expected tactic" in the negotiation process.
"However, that does not mean a strike will occur. WestJet is committed to this process and will continue to work with ALPA to reach a collective agreement that provides value to our current and future pilots, is sustainable for the company and avoids disruption to our guests," spokeswoman Madison Kruger said in an email.
Lewall said their wages remain well below the North American industry standard. Meanwhile, pilots are being asked to spend more time away from home. "We're already away from our families half the month."
If successful, the 15-day authorization vote would set the stage for the bargaining team to call a strike following a three-week "cooling-off period," which in turn would begin after the ongoing federal conciliation process wraps up April 24.
That means the union could go on strike or lockout by the May long weekend, which traditionally kicks off the summer travel season.
The strike mandate vote comes amid a severe pilot shortage as airlines struggle to shore up bottom lines badly dented by the pandemic.
One stumbling block is "equal pay for equal work," said Lewall.
Currently, pilots who fly under the Swoop banner are paid less than those who fly for WestJet. With the company's takeover of leisure carrier Sunwing approved by the federal government on March 10, Lewall said the union is worried it could lead to the creation of yet another class of pilots with a different pay scale.
"We could find ourselves in a place where there would be three airlines basically within WestJet who are all operating the same aircraft for different wages and with different conditions," he said.
Proposed last March, the Sunwing acquisition will see Calgary-based WestJet bolster its vacation package offerings as it adds the tour operator to its fleet, though the two brands will be marketed separately.
Poised for completion in the next few weeks, the takeover marks a major consolidation of the Canadian aviation market following a tumultuous year for travel.
WestJet pilots first unionized in May 2017, signalling a major shift in culture at the famously non-union airline.
Since then, other employee groups at the company have also unionized, including flight attendants and certain airport employees.
The pilots' first union contract, which expired at the end of last year, was the result of an arbitrated settlement reached in 2018. That deal averted a threatened strike, as WestJet pilots had voted in favour of job action after contract talks fell apart.
This report by The Canadian Press was first published March 31, 2023.