McDavid scores in OT, Oilers down Flames to advance to Western Conference final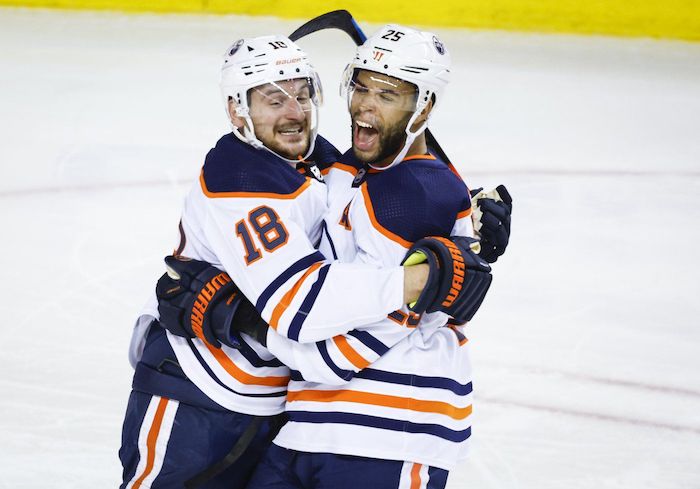 By Joshua Clipperton in Calgary
The Edmonton Oilers are off to the Western Conference final.
Connor McDavid scored at 5:03 of overtime as the Oilers defeated the Calgary Flames 5-4 on Thursday to win their second-round playoff series 4-1.
The Edmonton captain fired his seventh goal of the post-season past Jacob Markstrom off a pass from Leon Draisaitl to send the Oilers spilling over the bench in celebration.
Zach Hyman, with a goal and two assists, Darnell Nurse, Jesse Puljujarvi and Evan Bouchard also scored for the Oilers. Mike Smith made 32 saves as Edmonton claimed the first post-season Battle of Alberta in 31 years.
Draisaitl added four assists — his fifth straight contest registering three-plus points to build on the NHL playoff record he set in Game 4.
McDavid and Draisaitl have both amassed 26 points to lead the playoffs so far.
The Oilers will face either the Colorado Avalanche or St. Louis Blues in their first conference final appearance since 2006. Colorado leads that series 3-2, with Game 6 set for Friday in St. Louis.
Mikael Backlund, with a goal and an assist, Johnny Gaudreau, Calle Jarnkrok and Andrew Mangiapane replied for Calgary. Blake Coleman added two assists, while Jacob Markstrom made 30 saves as the Flames dropped to 0-10 when trailing a playoff series 3-1.
Coleman, who won the Cup the last two seasons with the Tampa Bay Lightning, appeared to snap a 4-4 tie with just under six minutes left in regulation after Backlund took the puck hard to Edmonton's net. But the goal was waved off following a video review after it was ruled the winger kicked the puck over Smith's goal line with his skate as he battled with Oilers defenceman Cody Ceci.
With his team trailing 1-0 after a tentative first period, Edmonton interim head coach Jay Woodcroft double-shifted Draisaitl and McDavid early in the second, and it nearly paid off on a couple of good opportunities.
But the Flames, who topped the Oilers by seven points in the regular season to claim the Pacific Division crown, went up 2-0 at 5:41 when Backlund scored his fifth on a slick deflection.
The Oilers got on the board at 7:40 after Draisaitl protected the puck against Backlund before finding Nurse in the slot for him to fire his second past a screened Markstrom.
Edmonton tied it up just 2:26 later on a 3-on-1 rush when Markstrom could only get a piece of Hyman's shot before Puljujarvi swept home his second as the Oilers erased another multi-goal deficit on the road.
The offensive floodgates then really opened over a wild stretch that would see four pucks find the back of the net in 71 seconds.
Hyman scored his sixth goal of the series, and eighth of the post-season, on a power play at 14:57 before Gaudreau tied things again at 3-3 at 15:12 with his third.
Jarnkrok then scored his first as a member of the Flames since coming over in a trade with the Seattle Kraken at 15:28 to make it 4-3.
But the Oilers responded again at 16:08 when Bouchard's blast beat Markstrom for his second as the teams set an NHL record for the fastest four goals in playoff history — 22 seconds faster than the previous mark set by the Philadelphia Flyers and Toronto Maple Leafs in 1976.
Following a tepid start for both teams inside a nervous Scotiabank Saddledome, the Flames nudged in front at 10:13 of the first when Mangiapane took a terrific pass from Coleman to bury his third goal of the playoffs.
The winger's first point of the series gave his team its first lead since late in the second period of Game 2 — a stretch of exactly 155 minutes — that started a run of three straight losses to push Calgary to the brink of elimination.
One of three finalists for the Vezina Trophy as the league's top goalie in the regular season, Markstrom entered Thursday with an .850 save percentage in the series after posting a .943 mark in Calgary's seven-game victory over the Dallas Stars in the opening round.
After the Oilers, who beat the Los Angeles Kings 4-3 to set up the matchup with their provincial rival, killed off a McDavid high-sticking penalty, the Flames goaltender had to scramble to keep the Edmonton captain's dash to the net at bay with the puck briefly lying free in Calgary's crease.
This report by The Canadian Press was first published May 26, 2022.
___
Follow @JClipperton_CP on Twitter.
Alberta to bring in another five million bottles of children's pain medication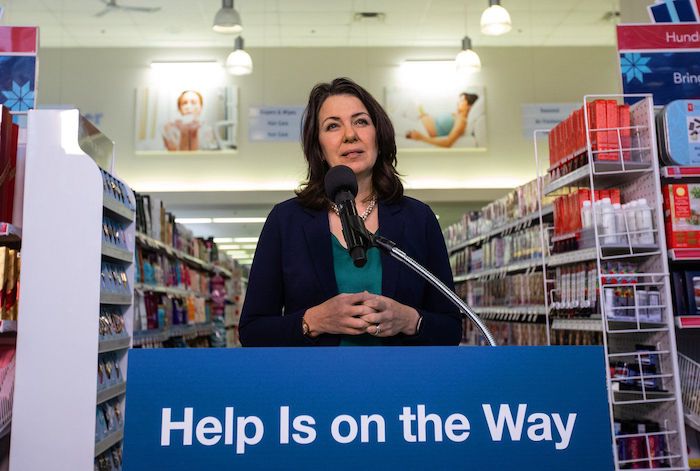 The Alberta government says it has secured another five million bottles of children's medication to manage fever and pain.
Premier Danielle Smith says the government is working with Alberta Health Services and Health Canada to bring in the pediatric acetaminophen and ibuprofen.
Parents across Canada have been scrambling to manage their children's fever and pain as rates of respiratory syncytial virus, or RSV, and influenza skyrocket amid a dire shortage of the medications.
Smith says overwhelmed parents can feel confident the government is moving as quickly as it can to bring in the medication and get it to pharmacies across the province.
The federal government also imported one million units of children's acetaminophen — commonly known as Tylenol — across the country late last month.
Health Canada has distributed the children's Tylenol to retailers and has also sent children's ibuprofen — commonly known as Advil — to hospitals.
This report by The Canadian Press was first published Dec. 6, 2022.
CannTrust CEO was warned over illicit pot growing: former compliance worker
TORONTO — A former director of quality and compliance at CannTrust Holdings Inc. says he warned the company's chief executive that Health Canada could levy penalties if the firm grew pot in unlicensed rooms at its Niagara, Ont. facility.
In the months leading up to Health Canada finding pot growing in unlicensed rooms, Graham Lee said Tuesday that he told Peter Aceto he couldn't say what the exact consequences could be, but knew the government regulator had previously issued warning letters and handed out penalties.
For example, Lee said Health Canada reviewed CannTrust's inventory more extensively after it discovered the company using a storage facility at its Vaughan, Ont. location contrary to licensing.
"In general, Health Canada was there every day checking up on the inventory," Lee recalled.
His comments were made at the Old City Hall courthouse in Toronto in response to questioning from Dihim Emami, a lawyer representing the Ontario Securities Commission (OSC) in a case aiming to prove Aceto and other former CannTrust executives are guilty of several offences related to unlicensed growing at the Niagara facility.
Aceto, former CannTrust chairman Eric Paul and former vice-chairman Mark Litwin have pleaded not guilty to fraud and authorizing, permitting or acquiescing in the commission of an offence.
Litwin and Paul are also facing insider trading charges, and Litwin and Aceto are charged with making a false prospectus and false preliminary prospectus.
The OSC and Royal Canadian Mounted Police allege Litwin, Aceto and Paul did not disclose to investors that about 50 per cent of the growing space at CannTrust's Pelham, Ont. facility in the Niagara area was not licensed by Health Canada. They say the men used corporate disclosures to assert that they were compliant with regulatory approvals.
They also allege that Litwin and Aceto signed off on prospectuses used to raise money in the U.S., which stated that CannTrust was fully licensed and compliant with regulatory requirements, and that Litwin and Paul traded shares of CannTrust while in possession of material, undisclosed information regarding the unlicensed growing.
The men no longer work for CannTrust and their lawyers are arguing their clients are all innocent.
Frank Addario, Aceto's lawyer, previously told The Canadian Press his client was hired because of his financial acumen and track record. Before his time at CannTrust, Aceto was the president and chief executive of ING Direct Canada.
Addario also pointed out that CannTrust was subject to inspections and financial audits that uncovered no material issues.
"The evidence will show Peter Aceto behaved legally and with integrity during his time at CannTrust," Addario said in an email.
However, Lee testified Monday that the growth of cannabis in unlicensed rooms was "very openly discussed" at the pot company.
"There was no hiding this. There was no denial of this," he said.
On Tuesday, he reinforced those allegations, describing how he brought up his concerns about unlicensed activity during at least one meeting in winter 2019 that he recalled Aceto attended.
"I noticed that no one in the room was referring to or cognizant of the fact that these were unlicensed areas, so I reminded them," Lee said.
This report by The Canadian Press was first published Dec. 6, 2022.
Tara Deschamps, The Canadian Press