McDavid scores hat trick, adds assist to fuel Oilers' 5-3 comeback win over Canucks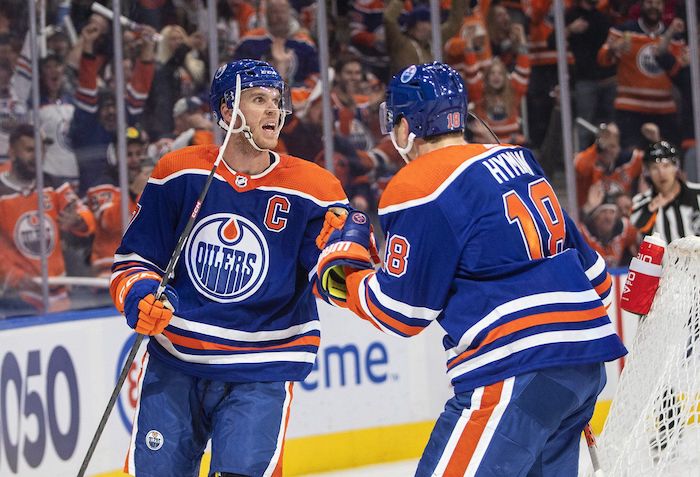 By Shane Jones in Edmonton
After a sluggish start to its regular-season opener, Edmonton eventually found its way by orchestrating a huge comeback to win.
Connor McDavid scored a hat trick and added an assist as the Oilers battled from a 3-0 deficit to take a 5-3 victory over the Vancouver Canucks on Wednesday.
"It was just not a good start for our group. It was the first game and maybe there was a little bit of jitters," McDavid said. "It is not going to be perfect every night. You are not going to have the game you want every night and sometimes you get a win with your 'B' or 'C' game. It was certainly not our 'A' game to start, but we found a way to get our legs going and get ourselves back in it."
Leon Draisaitl recorded a goal and two assists while Darnell Nurse also scored for the Oilers (1-0). Goaltender Jack Campbell made 33 saves in the victory.
"It wasn't according to anyone's script, for sure," said Edmonton head coach Jay Woodcroft. "I don't think we were sharp. I don't think we were in sync early. We found a way to win the game, that's a really good sign, but we can be better."
Elias Pettersson, J.T. Miller and Andrei Kuzmenko all scored for the Canucks (0-1). Thatcher Demko stopped 20-of-24 shots he faced in the loss.
"That was pretty disappointing, I thought we came out pretty good in the first and special teams kind of cost us the game," said Canucks defenceman Oliver Ekman-Larsson. "The power play wasn't good enough and we couldn't keep the puck out of our net on the (penalty kill)."
Edmonton looked to have a bad case of the nerves to start the contest and the Canucks took advantage, establishing an early 2-0 lead less than three minutes in.
Just 1:49 into the opening period, Oilers rookie forward Dylan Holloway coughed up the puck to Pettersson who had a clear lane to the net and was able to fish his own rebound out of the feet of Campbell and slip it in for a goal.
51 seconds later, Miller picked the top corner with a bullet past Campbell to double the lead.
Vancouver made it 3-0 on the power play just 39 seconds into the middle period as Miller made a perfect pass to give Kuzmenko a backdoor tap-in for his first goal in his NHL debut. Kuzmenko is the first player in Canucks history to score a power-play goal in his debut.
Edmonton got on the board 4:12 into the second frame as Draisaitl took a deflected pass at the side of the net and slammed it past Demko on a power play. The goal came with some controversy, however, as Evander Kane caught Vancouver's Quinn Hughes with a high stick to the face that went uncalled despite causing Hughes to bleed not long before the goal went in.
"He's OK. They missed it, it happens," said Canucks head coach Bruce Boudreau. "The game is pretty quick, unfortunately by them missing the play, it ends up in the back of our net and gives them a little bit of life."
The Oilers pulled to within a goal with another power-play marker 14:01 into the second as a perfect three-way passing play saw the puck go from Zach Hyman to Draisaitl and then to McDavid for his first of the season.
Edmonton pulled even in dramatic fashion with 41 seconds left in the period on a two-on-one shorthanded break as Draisaitl fed it across to Nurse, who beat Demko with a one-timer.
The Oilers took their first lead 15:01 into the third period as McDavid orchestrated a give-and-go with Hyman before depositing his own rebound past Demko. It was McDavid's 700th career point, becoming the sixth fastest player to hit the mark, only needing 488 games.
McDavid completed the hat trick with 25 seconds left as Kane dropped it back to him for an empty-net power-play goal, setting off a flurry of hats thrown onto the ice. It was his 11th career hat trick.
NOTES: It is the fourth consecutive season the Oilers began their campaign with a home game against the Canucks … Edmonton starts the season with a six-game homestand and plays nine of its first 12 at Rogers Place … The Canucks play their first five games on the road, waiting until Oct. 22 against Buffalo for their home opener … Edmonton was without forwards Kailer Yamamoto and Warren Foegele, forcing the cap-hindered squad to go with 11 forwards and six defencemen for the game … Vancouver was without Travis Dermott, Tyler Myers and Ilya Mikheyev. Ekman-Larsson did not take part in the morning skate but was able to play.
UP NEXT: Both teams return to action on Saturday, with the Canucks playing an afternoon game in Philadelphia against the Flyers. The Oilers will host the Calgary Flames in a rematch of last year's second-round playoff series.
This report by The Canadian Press was first published Oct. 12, 2022.
Canada under pressure to produce more food, protect agricultural land: report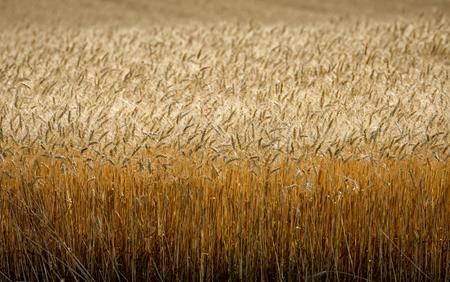 Canada's agricultural land is under increasing pressure to produce more food as demand grows domestically and internationally, while the industry grapples with limited resources and environmental constraints, a new report found.
"We need to grow more food on less land and in a volatile climate," said Tyler McCann, managing director of the Canadian Agri-Food Policy Institute.
The report by the institute released Thursday looks at the pressures on Canada's agricultural land to produce more food while also mitigating and adapting to the effects of climate change, said McCann.
Despite Canada being a big country, it doesn't have as much agricultural land as people might think, said McCann, with the report noting that agricultural land makes up only around seven per cent of the country.
Because of that, we can't take what we do have for granted, he said. "We need to be really thoughtful about how we are using our agricultural land."
In 2020, Canada was the eighth largest country in terms of cropland area, the report said, with that cropland decreasing by seven per cent over the previous two decades.
Canada is a major producer and net exporter of agriculture and agri-food products, the report said, exporting $91 billion in products in 2022, and one of the top 10 exporters of wheat, canola, pulses, pork and beef.
In the coming years, Canada will face increased demand from countries whose populations are growing, the report said.
"With population growth on one side and climate change on the other, Canada will be amongst an increasingly smaller number of countries that is a net exporter," said McCann, noting that Canada's own population is growing, and farmland also needs to be protected against urban sprawl.
The wildfires clouding Canadian skies this week are a "vivid reminder" of the pressure that extreme weather and the changing climate are putting on the agricultural sector, said McCann.
"We need to clearly mitigate … agriculture's impact on climate change. But we also need to make sure agriculture is adapting to climate change's impacts," he said.
One of the ways the world has responded to demand for increased agricultural production over time is to create more agricultural land, in some cases by cutting down forests, said McCann. But that's not a viable option for Canada, which doesn't have a lot of land that can be sustainably converted into farmland — and even if it could, doing so could have a variety of adverse environmental effects, he said.
Some of the practices used to reduce emissions and sequester carbon in agriculture can also improve production output on existing farmland, the report found, such as precision agriculture and no-till practices.
However, intensifying the production of current agricultural land also comes with potential environmental downsides, the report said.
For example, McCann said fertilizer is an important part of sustainable agriculture, but there's a balance to be struck because excessive use of fertilizer can quickly turn food production unsustainable.
"We need to be a lot more thoughtful about the inputs that we're using," he said, adding the same can be said about the use of technology in agriculture and the policies and programs put in place to encourage sustainable intensification of Canadian agriculture.
The report recommends that Canada adopt policies that provide financial incentives and technical assistance to farmers and develop regulatory frameworks promoting sustainable land use, as well as promoting education and awareness campaigns, so that the country can "ensure the long-term sustainability of its agricultural sector while protecting the environment."
This report by The Canadian Press was first published June 8, 2023.
Rosa Saba, The Canadian Press
Lawyer tells Alberta's highest court review board biased in de Grood's case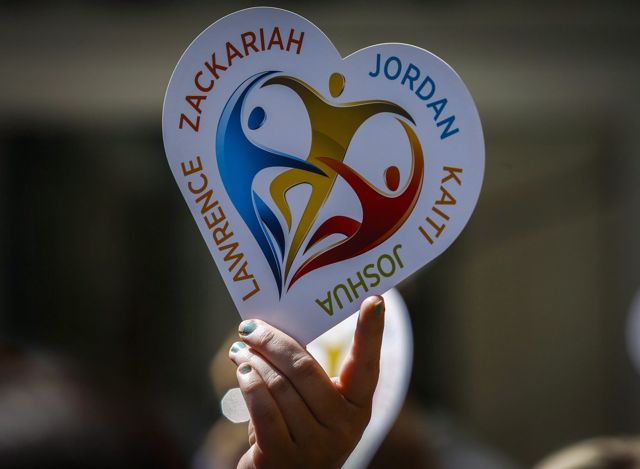 A family member of five slain students holds a heart sign with their names on it following a court decision in Calgary, Alta., Wednesday, May 25, 2016. Alberta's highest court is being asked to overturn a review board decision on the stabbing deaths of five young people at a Calgary house party that confined a man to a supervised Edmonton group home. THE CANADIAN PRESS/Jeff McIntosh
By Ritika Dubey in Edmonton
Alberta's highest court is being asked to overturn a review board decision that confined a man to a supervised Edmonton group home after the stabbing deaths of five young people at a Calgary house party.
The lawyer representing Matthew de Grood argued Wednesday the review board's decision was biased, citing what she described as political interference from Alberta's former justice minister.
"The appellant says, 'I think the conclusion about me is wrong. The board's conclusion is incorrect and not supported by evidence,"' Jacqueline Petrie said before the Alberta Court of Appeal. "He says there's no significant evidence that he's a risk."
De Grood, 31, was found not criminally responsible in 2016 for the killings two years earlier of Zackariah Rathwell, Jordan Segura, Kaitlin Perras, Josh Hunter and Lawrence Hong because he was suffering from schizophrenia at the time. Petrie said de Grood has been stable on medication, is at low risk to reoffend and should be allowed to live with his parents while being monitored under a full warrant.
She argued the review board misunderstood medical evidence during the September 2022 review, which deemed de Grood a significant risk despite the assessment showing improvements. She said the board is supposed to recommend the least onerous disposition compatible with public safety and did not do that for de Grood.
The defence lawyer has said the review had been influenced by former justice minister Doug Schweitzer, who weighed in on de Grood's case in October 2019 after the panel allowed de Grood to transition from institutional care to a supervised group home.
He has been under supervision at a group home. His case is reviewed by the Alberta Review Board yearly to see whether he can transition back into the community while maintaining public safety.
Petrie pointed at de Grood's "exemplary record," and that he has been "compliant to the (medical) treatment team."
"Nobody knew he had schizophrenia (at the time of the stabbings) and needed medication."
Crown prosecutor Matthew Griener said the board considered a conditional discharge but dismissed it, citing a relapse in schizophrenia symptoms in 2021.
Griener said de Grood's relapses were brief and happened at the hospital, providing an early window for medical professionals to intervene.
Justice Kevin Feehan said de Grood may be low-risk, but the consequences of even one relapse could be significant.
Reading from an expert's report, Feehan said: "A low risk to offend doesn't mean the reoffence would not be severe."
Some family members of the victims drove from Calgary for the hearing.
Segura's mother, Patty, said the last nine years have been about de Grood and his rights.
"He should be thankful that he ended up NCR (not criminally responsible) rather than end(ing) with five life sentences for murdering five people," she said. "He should not be appealing."
Hunter's father, Barclay, opposed a potential full release.
"The idea that he wouldn't be monitored for the rest of his life seems to defy logic, it doesn't make any sense," said the father.
Hunter's mother, Kelly, said the family has had "no healing."
"We do this every year, at least once. Now, this is the second appeal," she said. Barclay
Hunter said although there are attempts to reintegrate de Grood into society, he hopes the man is not left on his own with an absolute discharge.
"Regardless of what they say, he killed five people. If that doesn't stand on its own as a risk factor, then I don't know what does."
This report by The Canadian Press was first published June 7, 2023.
—