Masks off, Poles cheer reopening of bars and restaurants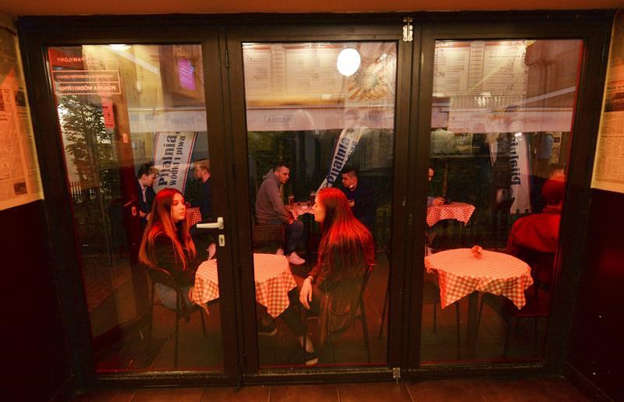 WARSAW, Poland (AP) — Poles pulled off their masks, hugged their friends and made toasts to their regained freedom as restaurants, bars and pubs reopened for the first time in seven months and the government dropped a requirement for people to cover their faces outdoors.
The reopening, for now limited now to the outdoor consumption of food and drinks, officially took place on Saturday. Yet many could not wait for midnight to strike and were out on the streets of Warsaw and other cities hours earlier on Friday evening to celebrate, gathering outside popular watering holes. Some brought their own beer to hold them over until they could buy drinks at midnight — though some bars were also seen serving up beers and cocktails early.
"Now they are opening and I feel so awesome. You know, you feel like your freedom is back," said Gabriel Nikilovski, a 38-year-old from Sweden who was having beer at an outdoor table at the Pavilions, a popular courtyard filled with pubs in central Warsaw. "It's like you've been in prison, but you've been in prison at home."
DJs were finally back at work and waiters and waitresses were rushing to fill orders once again. Meanwhile, the end of a requirement to wear masks outdoors added to the sense of liberation. Masks will still be required in settings like public transport and stores.
Bar owners were also happy, thanks to the prospect of being able to finally start earning money, and many said they had been bombarded with reservation requests leading up to the opening.
"Today we feel as if it was New Year's Eve because we are counting down to midnight," said Kasia Szczepanska, co-owner of a bar, CAVA, on Warsaw's trendy Nowy Swiat street. "It's like New Year's in May."
Pandemic restrictions have meant that restaurants, cafes and other establishments have been limited to offering only takeout food and drinks since last fall.
"Everyone says they're fed up with takeout food, food served on plastic," Szczepanska said.
The easing of the country's lockdown is coming in stages but the reopening of bars with outdoor gardens or dining areas was clearly a key psychological step on the road back to normality. From May 29, indoor dining will again be allowed.
Not all businesses survived the long months of forced closure, however, even with some government assistance, and others will be working at first simply to recoup their losses.
The loosening of restrictions comes as vaccinations have finally picked up speed across the European Union, of which Poland is a member, and the numbers of new COVID-19 infections and hospitalizations have plunged in Poland in recent weeks.
Yet many people don't feel like they can fully relax yet.
Aleksandra Konopka, who manages a bar along a popular promenade on the Vistula River where people were lounging in deck chairs and sipping drinks in the sandy garden with a beach-like vibe, said she was thrilled that things were coming back. But she is also nervous there could be more lockdowns as new virus variants circulate. And she said there are new challenges coming from the difficulty of finding workers.
"Not everyone is willing to work in the gastronomy or hotel industry because they expect that they will lose their job," Konopka said. "They changed professions and it's hard to get service."
One of the customers lounging at her bar, Monika Rzezutka, said she had badly missed contact with people during the many months of lockdown and welcomed the resumption of normal life.
"What used to be the norm suddenly becomes something unbelievable," said Rzezutka, a 23-year-old psychology student. "It's a nice feeling."
Vanessa Gera And Rafal Niedzielski, The Associated Press
Justice official resigning amid uproar over Dems' subpoenas
WASHINGTON (AP) — The Justice Department's top national security official is resigning from his position after revelations that the department secretly seized records from Democrats and members of the media.
John Demers will leave his position by the end of next week, a Justice Department official told The Associated Press on Monday. The official could not discuss the matter publicly and spoke to AP on condition of anonymity.
It comes as amid questions about what Demers knew about the Justice Department's efforts to secretly seize the phone data from House Democrats and reporters as part of the aggressive investigations into leaks.
Michael Balsamo, The Associated Press
Indigenous people can now reclaim traditional names on their passports and other ID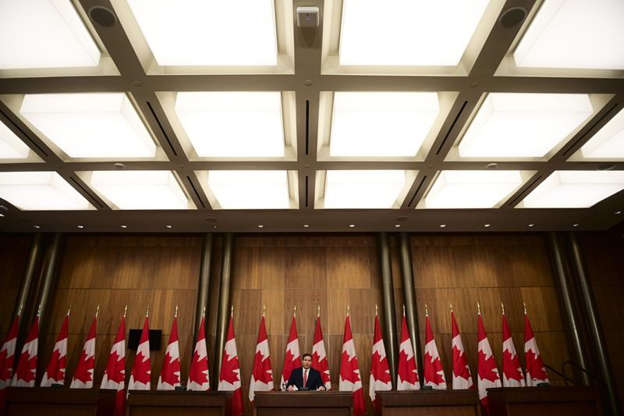 OTTAWA — The federal government is announcing that Indigenous people can now apply to reclaim their traditional names on passports and other government identification.

The announcement comes in response to a call to action from the Truth and Reconciliation Commission that demanded governments allow survivors and their families to restore names changed by the residential school system.

Indigenous Services Minister Marc Miller says the announcement applies to all individuals of First Nations, Inuit and Métis background, potentially affecting hundreds of thousands of people who aim to reclaim their identity on official documents.

Citizenship Minister Marco Mendicino says all fees will be waived for the process, which pertains to passports, citizenship certificates and permanent resident cards.
The move comes six years after the Truth and Reconciliation Commission made the recommendation, and follows last month's news that ground-penetrating radar detected what are believed to be the remains of 215 children at a former residential school in Kamloops, B.C.
Most of the commission's 94 calls to action remain unfulfilled, though cabinet ministers pointed to a pair of bills that would incorporate Indigenous rights into the oath of citizenship and align Canada's laws with the United Nations Declaration on the Rights of Indigenous Peoples.
This report by The Canadian Press was first published June 14, 2021.
The Canadian Press