Marner nets OT winner, extends point streak to 22 games as Maple Leafs top Flames 5-4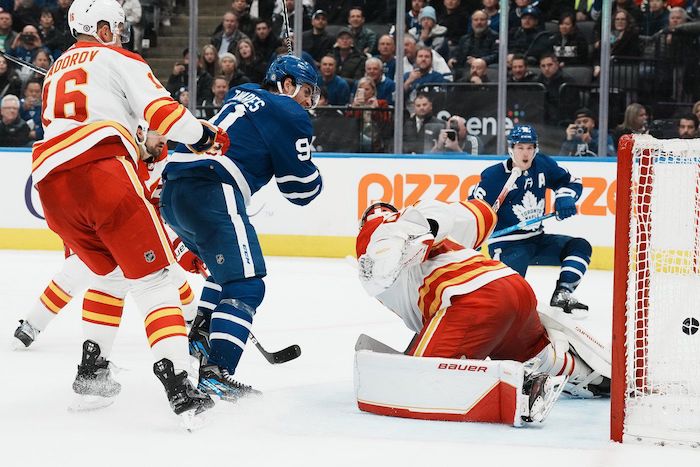 By Tim Wharnsby in Toronto
Although Mitch Marner was the hero on Saturday, he shared the spotlight with William Nylander.
Marner scored the game-winning goal 43 seconds into overtime to push the Toronto Maple Leafs past the Calgary Flames 5-4 and extend his franchise-record point streak to 22 games. Nylander, meanwhile, enjoyed a five-point night, including two goals and an assist on Marner's winner.
Only 29 games old into the season, the 26-year-old Nylander has scored 17 times, halfway to his career-high 34 goals from just a season ago.
"Obviously, tonight he carries our team and is basically the reason we get two points," said Maple Leafs goaltender Matt Murray, who made 22 saves.
"He's just a stud. He's incredibly gifted. He works hard. I've said this a bunch of times, but he just seems to win a ton of 50/50 battles. That goes to his strength and his dedication to win those battles."
Nylander pinned his solid play on his skating.
"That's the most important thing for me and helping me create space and get chances out there," he said.
The win was the Maple Leafs' (18-5-6) eighth in nine outings but only their second in eight overtime games this season. Meanwhile, the Flames (13-11-4) have dropped two straight.
With Nylander playing alongside Auston Matthews, who had a goal and an assist, and Marner moving to a line with captain John Tavares, Toronto has piled up victories in the last month.
They have gone 11-0-3 and haven't lost in regulation time since a 4-2 defeat to the Pittsburgh Penguins at home on Nov. 11.
"[Nylander] still has a long way to go in terms of fulfilling his potential," Maple Leafs coach Sheldon Keefe said. "I think he can and will be in that top-tier of players."
Marner, who picked up an assist on Nylander's first goal, has 10 goals and 20 assists in his 22-game run. His winner came on the power play after Calgary's Jonathan Huberdeau took a high-sticking penalty on the opening faceoff of the extra period.
Early in the first period, Murray made a shoulder save on a Blake Coleman short-handed breakaway. Toronto then went the other way at 5:04 of the frame for the game's opening goal from Matthews on an early power play.
It was his sixth goal in seven games.
However, a Matthews turnover inside the Flames' blue line led to a tying goal from Calgary defenceman Noah Hanifin 9:13 into the first period.
It was the first goal allowed by the Maple Leafs in 129:13 after Murray and backup Ilya Samsonov posted back-to-back shutouts earlier this week.
Marner failed to close in time on a trailing Nazem Kadri before the former Toronto centre put Calgary in front 2-1 at 12:52 of the first.
Toronto drew even with another power-play goal at 17:10 of the frame. This time, Nylander's wrist shot beat goaltender Dan Vladar, who made 29 saves on the night. Marner made a short pass to Rasmus Sandin, who found his fellow Swede for his second assist of the first period.
The Flames snatched the lead for the second time 11:11 into the middle frame. Mikael Backlund hit the post, but fourth-liner Trevor Lewis lassoed the rebound to score.
Calgary was the better team in the second period, but Matthews bailed out the Leafs late in the frame. He forced a turnover behind the Flames goal, and the puck squirted out to a wide-open Nylander for his second of the night.
A harmless shot from Hanifin was bobbled by Murray and snuck through his pads for a power-play goal, giving Calgary a 4-3 lead at 3:31 of the third period.
But Michael Bunting knocked in a rebound off the end boards to tie the game for a fourth time less than three minutes later, and eventually send it to overtime.
ROBERTSON OUT
The Maple Leafs announced Nick Robertson would miss the next six to eight weeks with a shoulder injury suffered against the Los Angeles Kings on Thursday. To take his place, Joey Anderson was recalled from the AHL's Toronto Marlies for his season debut with the Maple Leafs.
UP NEXT
Calgary concludes its three-game road trip with a visit to Montreal to play the Canadiens on Monday.
The Maple Leafs finish their three-game homestand against the Anaheim Ducks on Tuesday.
This report by The Canadian Press was first published Dec. 10, 2022.
Alberta says first steps to reform provincial health delivery system coming this fall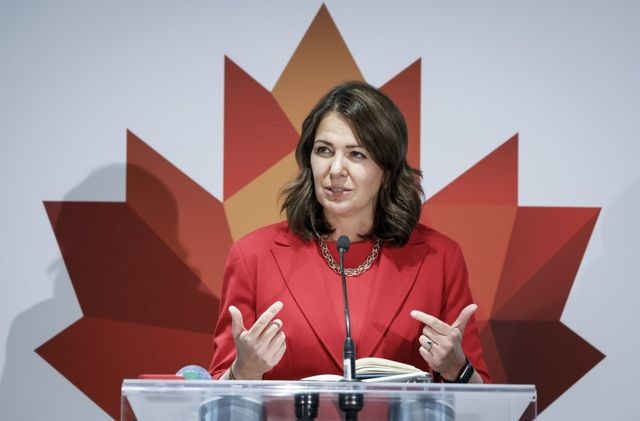 Alberta Premier Danielle Smith speaks to the media in Calgary, Monday, Sept. 18, 2023. Smith says the first steps are coming this fall to reconfigure Alberta's health delivery system – a plan the Opposition calls a recipe for more chaos from a government fresh off turning lab testing into a debacle. THE CANADIAN PRESS/Jeff McIntosh
By Dean Bennett in Edmonton, Alberta, Canada
Premier Danielle Smith says the first steps are coming this fall to reconfigure Alberta's health delivery system — a plan the Opposition calls a recipe for more chaos from a government fresh off turning lab testing into a debacle.
"We will not delay," Smith told mayors, councillors and other local leaders at the Alberta Municipalities convention Friday.
She said Health Minister Adriana LaGrange is to present her proposal to Smith and cabinet Wednesday on how to decentralize Alberta Health Services.
"If we get the cabinet approval and the caucus approval, we would be moving on some of that direction in the fall so that we are prepared for the new budget cycle in February."
Smith has directed LaGrange to revamp the structure of Alberta Health Services, better known as AHS, saying it needs to be more responsive to regional needs and focus more on direct hospital care.
She has said LaGrange will look at whether AHS still needs to be in charge of non-acute functions such as midwifery, primary care staffing and continuing care.
Alberta finished centralizing its health system 15 years ago to create AHS.
Smith has made AHS reform the centrepiece of her leadership.
Last year, she fired the governing board of AHS and replaced it with a single administrator. She blamed the agency for failing to step up during the COVID-19 pandemic as hospitals came close to being overrun with patients.
Opposition NDP Leader Rachel Notley said Smith's plan is only going to make things worse, particularly given the province abandoned last month its attempt to fully privatize community lab services after the changes resulted in long waits for tests in Calgary and southern Alberta.
"People all across this province are struggling to get access to lab (testing) now because of the dysfunction of this UCP (government)," Notley told reporters after her speech to Alberta Municipalities delegates.
"Overlaying more disorganization on top of that is a recipe for further undermining our health care and our public health care.
"There is not a single solitary thing that this UCP government has done under (former premier) Jason Kenney's leadership or Danielle Smith's leadership that has made our health care better."
Alberta Municipalities represents and speaks for villages, towns and cities that make up about 85 per cent of the province's population.
Wetaskiwin Mayor Tyler Gandam, the newly elected president of Alberta Municipalities, said they're hoping for changes and improvements to fix doctor shortages and emergency rooms forced to limit their operating hours.
"I was speaking with members of council from Ponoka and hearing that their emergency room had been shut down nearly 20 times this year so far," Gandam told reporters.
"The last thing that a person should be worrying about is whether or not the emergency room is going to be open or an ambulance is going to able to respond to their call when they need it."
The convention focused mainly on calls for more funding from the province.
On Thursday, delegates voted 98 per cent on a motion calling on the province to roll back years of municipal funding cuts on infrastructure.
The association says the province has cut both per capita spending and the percentage of total budget spending for years, resulting in about $1.3 billion less investment in community infrastructure per year that needs to be returned, particularly as the province continues to attract thousands more newcomers a year.
Smith said she will look at ways to get more money to municipalities to help bring property taxes down along with more one-time funding from recent budget surpluses to help accelerate capital projects.
"'I've watched it happen many times that we're very generous (and) increase the funding when times are good, and then when times turn the other way, we ask you to take a pretty big haircut, and that puts a lot of extra pressure on you," Smith told the delegates.
This report by The Canadian Press was first published Sept. 29, 2023.
Man dies in Edmonton mall parkade after standing up through car sunroof: police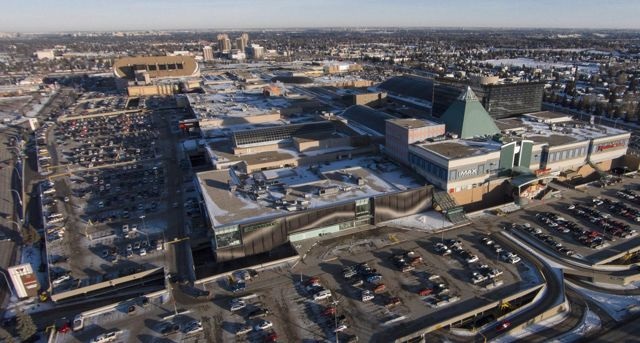 The West Edmonton Mall is shown on Sunday, Feb. 22, 2015. Edmonton police say they are investigating the death of a man in a parkade at the mall after he stood up through the sunroof of a car and was struck by a beam. THE CANADIAN PRESS/Ian Jackson
Edmonton
Edmonton police say they are investigating the death of a man in a mall parkade after he stood up through the sunroof of a car and was struck by a beam.
Officers responded to the call Thursday at West Edmonton Mall.
They were told a sedan had been travelling through the mall parkade when the 18-year-old passenger stood up.
As the car passed underneath a ramp, the man was struck by a concrete beam.
Emergency workers treated the man at the scene and took him to hospital, but he died of his injuries.
The 17-year-old male driver and 15-year-old female passenger were unhurt.
Police say speed and impairment are not believed to be factors.
This report by The Canadian Press was first published Sept. 29, 2023.