MacKenzie Scott gives $123M to Big Brothers Big Sisters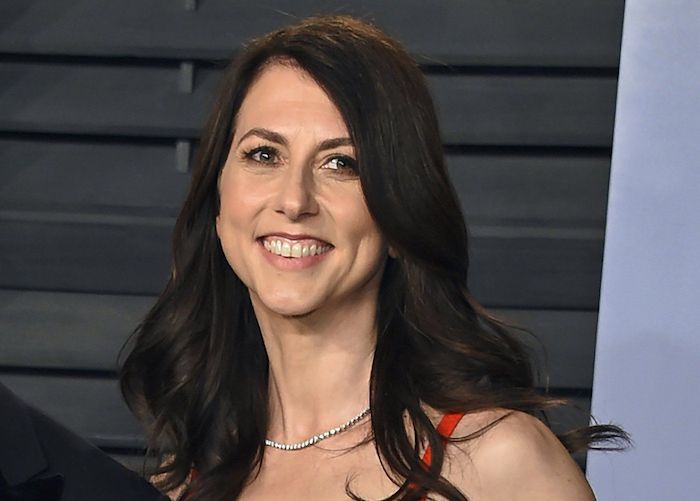 MacKenzie Scott gave $122.6 million to Big Brothers Big Sisters of America, the national youth-mentoring charity announced on Tuesday. The gift is the latest of several the billionaire writer has given to large national nonprofits that carry out their missions through local chapters in neighborhoods throughout the country.
With this latest donation, Scott has contributed a total of nearly $12.5 billion since 2020 to at least 1,253 nonprofits, many of which aim to help low-income and underserved populations. Her latest gift to Big Brothers Big Sisters of America follows three other nine-figure donations she gave to large national charities with local affiliates in March.
Those include $275 million to Planned Parenthood Federation of American for its national office and 21 of its local affiliates, $436 million to Habitat for Humanity International and 84 of its U.S. affiliates, and $281 million to the Boys & Girls Clubs America and 62 of its local chapters.
So far Scott has given at least $1.5 billion in the first five months of 2022, according to roughly 30 nonprofits that have announced Scott gifts this year.
Like almost all of Scott's donations, the contribution is unrestricted, so the charity can use it for programs, operations, or any other purpose.
"This is a moonshot for the work that we are going to do," said Artis Stevens, the group's CEO, who said it has spent the past two years designing a strategic plan for expanding its mentoring capabilities and was starting to devise fundraising efforts when Stevens received news of the gift last week. "Even though this gift is going to be transformative, one in three kids in this country don't have a positive sustained mentor in their lives and so this challenge is bigger than one organization can take on. We know we have to be able to build a capacity both in our organization as well as partnering with others to take this on."
Stevens says the organization plans to use Scott's gift for a variety of efforts in both its national office in Tampa, Florida, and at 38 of its 230 chapters throughout the county. Many of the families and youths the nonprofit serves are from underserved populations and were hit hard by the pandemic and recent social-justice struggles.
The organization currently has 30,000 youths waiting for a mentor. Stevens says Scott's gift will help expand its ability to match more youths with mentors and provide more mentor-training programs. It also aims to attract more volunteers who identify as people of color and LGBTQ+, as well as those in rural areas.
The nonprofit plans to broaden its offerings beyond its traditional format of one-to-one mentoring for children and teens by creating more group mentoring, peer-to-peer mentoring, and workplace mentoring for 18- to 25-year-olds.
"We're the largest provider of youth workplace mentoring in the country," said Stevens. "We want to be able to expand and extend our vision to every company in America to have a youth-mentoring program that both helps supply more of the work force and helps engage employees and give opportunities to kids in underrepresented, underserved communities."
Youth-mentoring programs take a tremendous amount of resources and staff time to be run well, said David DuBois, a University of Illinois professor who has studied mentoring programs for three decades and was a volunteer mentor for Big Brothers Big Sisters for two years earlier in his academic career.
"You've got to be able to support those relationships and check in and make sure that all parties — the kid, the volunteer, the parents — are getting the encouragement and the guidance," DuBois said. "So there's a lot of moving parts to these programs."
A key part is the extensive interview and vetting process volunteer mentors must go through before they are approved to work with youths, he said. Volunteers must be trained, and then the relationship between the volunteer and the young person needs continued guidance and monitoring. Having enough resources to carry all of that out is crucial.
While Scott's gift is a windfall for the organization, Stevens says with all that the charity hopes to accomplish, he knows it will go only so far. He and his team are already having conversations with the organization's donors about its ongoing needs. Stevens says he sees the gift as an "invitation" to other donors to support the group's plans for the future.
As with all big gifts, however, some donors might think that Big Brothers Big Sisters no longer needs their support, said Tyrone McKinley Freeman, associate professor of philanthropic studies and director of undergraduate programs at the Indiana University Lilly Family School of Philanthropy.
"There's that kind of tension that organizations have long dealt with," Freeman said. "It will be important to communicate how the resources are being used and what's being done and then how (others) can continue to contribute — especially for something like this where the need outpaces the group's volunteer base."
Stevens said he is having those conversations with his other donors now.
He described the gift as "awesome," saying, "It is transformative for 38 of our agencies, but we've got 230 agencies, and we know that there's much more work to do. There is more opportunity and more growth and more need in this country. But we need more people at the table. It takes all of us."
____
This article was provided to The Associated Press by the Chronicle of Philanthropy. Maria Di Mento is a senior reporter at the Chronicle. Email: [email protected] The AP and the Chronicle receive support from the Lilly Endowment for coverage of philanthropy and nonprofits. The AP and the Chronicle are solely responsible for all content. For all of AP's philanthropy coverage, visit https://apnews.com/hub/philanthropy.
Canadian swimmer says she was drugged at world championships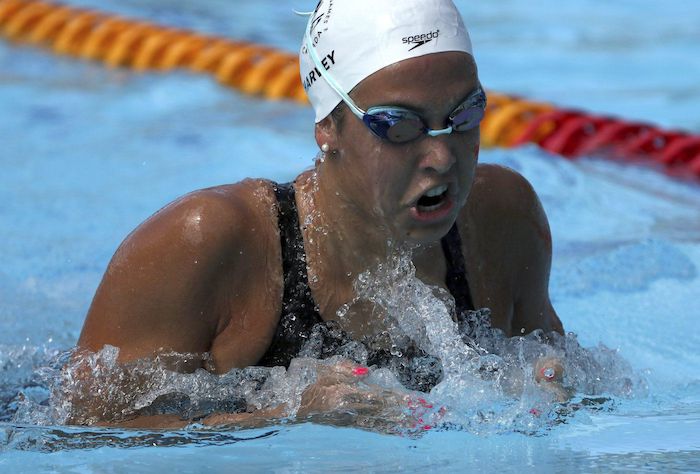 Canadian swimmer Mary-Sophie Harvey says she was drugged on the final day of the world aquatics championships and suffered a rib sprain and a concussion.
Harvey said in an Instagram post that there is a four-to-six hour window where she has no recollection of what happened, and that she remembers waking up with the Canadian team manager and doctor by her bedside.
She also posted photos of bruises on her body.
Montreal's Harvey competed in the women's 200-metre individual medley at the world championships in Budapest, Hungary, finishing eighth. She also earned a bronze medal in the women 4×200-metre freestyle relay after swimming in the preliminaries.
"We are aware there was an incident the night before departure from Budapest," Swimming Canada spokesman Nathan White said in an email to The Canadian Press. "As soon as team staff became aware, Mary received excellent medical treatment from our team physician on site, and was cleared to travel home.
"Staff have been in contact with Mary since her return and we are offering her support. We continue to gather information on the situation, and the file has been forwarded to our independent Safe Sport officer."
Harvey said she debated on whether to write her post, but said "these situations sadly happen too many times for me to stay silent."
"I'm still scared to think about the unknowns of that night," she wrote. "I'm still in a way, ashamed of what happened, and I think I always will be. … But I won't let this event define me."
The 22-year-old Harvey competed for Canada in last year's Tokyo Olympics. She's scheduled to swim in this summer's Commonwealth Games in Birmingham, England.
This report by The Canadian Press was first published July 6, 2022.
New report details missed chances to stop Uvalde shooting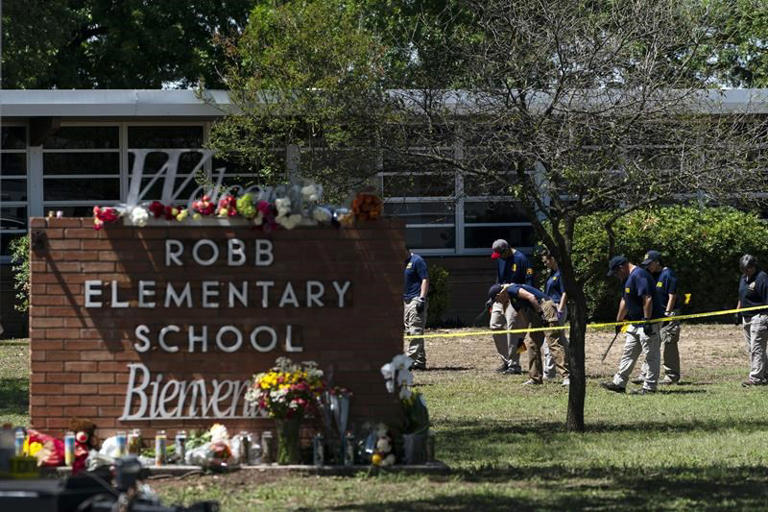 AUSTIN, Texas (AP) — A police officer armed with a rifle watched the gunman in the Uvalde elementary school massacre walk toward the campus but did not fire while waiting for permission from a supervisor to shoot, according to a sweeping critique released Wednesday on the tactical response to the May tragedy.
Some of the 21 victims at Robb Elementary School, including 19 children, possibly "could have been saved" on May 24 had they received medical attention sooner while police waited more than an hour before breaching the fourth-grade classroom, a review by a training center at Texas State University for active shooter situations found.
The report is yet another damning assessment of how police failed to act on opportunities that might have saved lives in what became the deadliest school shooting in the U.S. since the slaughter at Sandy Hook Elementary School in 2012.
"A reasonable officer would have considered this an active situation and devised a plan to address the suspect," read the report published by the university's Advanced Law Enforcement Rapid Response Training program.
Authors of the 26-page report said their findings were based off video taken from the school, police body cameras, testimony from officers on the scene and statements from investigators. Among their findings:
— It appeared that no officer waiting in the hallway during the shooting ever tested to see if the door to the classroom was locked. The head of Texas' state police agency has also faulted officers on the scene for not checking the doors.
— The officers had "weapons (including rifles), body armor (which may or may not have been rated to stop rifle rounds), training, and backup. The victims in the classrooms had none of these things."
— When officers finally entered the classroom at 12:50 p.m. — more than an hour after the shooting began — they were no better equipped to confront the gunman than they had been up to that point.
—"Effective incident command" never appears to have been established among the multiple law enforcement agencies that responded to the shooting.
The gunman, an 18-year-old with an AR-15-style semi-automatic rifle, entered the building at 11:33 a.m. Before that a Uvalde police officer, who the report did not identify, saw the gunman carrying a rife toward the west hall entrance. The officer asked a supervisor for permission to open fire, but the supervisor "either did not hear or responded too late," the report said.
When the officer turned back toward the gunman, he already gone inside "unabated," according to the report.
The report is one of multiple fact-finding reviews launched in the aftermath of the worst school shooting in Texas history. A committee formed by Texas legislators has also interviewed more than 20 people, including officers who were on the scene, behind closed doors for several weeks. It is unclear when they will release their findings.
It follows testimony last month in which Col. Steven McCraw, director of the Texas Department of Public Safety, told the state Senate that the police response was an "abject failure." He pinned particular blame on Chief Pete Arredondo, saying that as on-scene commander the Uvalde schools police chief made "terrible decisions" and stopped officers from confronting the gunman earlier.
Arredondo has tried to defend his actions, telling the Texas Tribune that he didn't consider himself the commander in charge of operations and that he assumed someone else had taken control of the law enforcement response. He said he didn't have his police and campus radios but that he used his cellphone to call for tactical gear, a sniper and the classroom keys.
According to he report released Wednesday, Arredondo and another Uvalde police officer spent 13 minutes in the school hallway during the shooting discussing tactical options, whether to use snipers and how to get into the classroom windows.
"They also discussed who has the keys, testing keys, the probability of the door being locked, and if kids and teachers are dying or dead," the report read.
McCraw said police had enough officers and firepower on the scene of the Uvalde school massacre to have stopped the gunman three minutes after he entered the building, and they would have found the door to the classroom where he was holed up unlocked if they had bothered to check it.
A lawyer for Arredondo and a spokeswoman for the Uvalde city police department did not immediately respond to requests for comment. Arredondo is on leave from his job with the Uvalde Consolidated Independent School District and resigned from his position as a city councilor last week.
Public leaders, including Texas Gov. Greg Abbott, initially praised the police response in Uvalde. Abbott said officers reacted quickly and ran toward the gunfire with "amazing courage" to take out the killer, thereby saving lives. He later said he was misled. In the days and weeks after the shooting, authorities gave conflicting and incorrect accounts of what happened. The fallout has driven recriminations and rifts between local at state authorities. On Tuesday, Uvalde Mayor Don McLaughlin and state Sen. Roland Gutierrez released a letter asking Abbott to move administration of a victims relief fund from the local prosecutor's office to the Texas Department of Emergency Management. They wrote that they've received numerous complaints about District Attorney Christina Mitchell Busbee, "including the failure to timely deliver victim's compensation resources to those in need.″
Busbee's office declined to comment Wednesday.
___
Bleiberg reported from Dallas.
___
Find more AP coverage of the Uvalde school shooting: https://apnews.com/hub/uvalde-school-shooting
Paul J. Weber And Jake Bleiberg, The Associated Press