Line 5 opponents urging White House to reject Canada's 'audacious' treaty gambit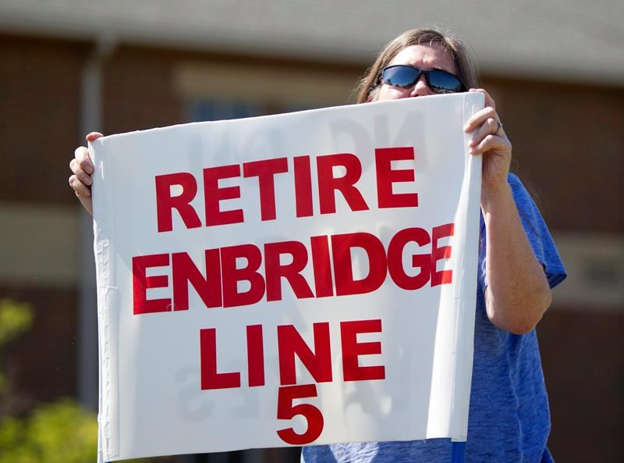 WASHINGTON — Environmental activists in the United States are seizing on Canada's decision to invoke a 44-year-old treaty with the United States as an "audacious," misguided and misleading gambit aimed at short-circuiting Michigan's effort to shut down the Line 5 cross-border pipeline.
Oil & Water Don't Mix, a coalition of Michigan environmental and Indigenous groups that includes the Sierra Club and the Michigan Climate Action Network, said Tuesday it has a 33,000-signature petition that it plans to circulate among U.S. lawmakers this week.
The petition urges U.S. President Joe Biden to support the state of Michigan and Gov. Gretchen Whitmer in their legal effort to shut down Line 5, a 68-year-old pipeline that crosses beneath the Great Lakes to deliver crude oil and natural gas liquids from Canada to the U.S. Midwest.
The state has revoked the 1953 easement that allows Calgary-based owner Enbridge Inc. to operate Line 5, citing the risk of a catastrophic spill in the Straits of Mackinac, an ecologically sensitive waterway that links Lake Michigan and Lake Huron.
The resulting dispute has lawyers for both sides arguing in court about whether a district court in Michigan has the jurisdiction to decide the fate of the pipeline and Enbridge's efforts to upgrade and fortify the twin lines that run along the lakebed under the straits.
Last week, the federal government filed court documents confirming that it wants formal negotiations with the U.S. under the terms of a 1977 treaty specifically drafted to deal with cross-border pipelines, and asking Judge Janet Neff to hold the case in abeyance.
"We're calling on the president to stand with Gov. Whitmer in rejecting Enbridge's delay tactics," said Sean McBrearty, the co-ordinator for Oil & Water Don't Mix.
McBrearty called the treaty tactic a "direct attack on our sovereignty" that intentionally misinterprets the treaty itself "to make the audacious claim that we must leave a major risk pumping oil indefinitely through the heart of the Great Lakes."
He pointed to the oil spill last week off the coast of California, which was likely the result of an underwater anchor strike — precisely the sort of peril that Whitmer and her supporters fear could befall the Great Lakes shoreline if Line 5 continues to operate.
"This fight is not really about Enbridge's fuel," he said. "This fight is about Michigan's water."
Andy Buchsbaum, the legal adviser for the National Wildlife Federation, said when it comes to pipeline safety and environmental concerns, Michigan is well within its rights to demand the line be shut down.
"The government of Canada is misrepresenting the terms of the 1977 treaty, which explicitly authorizes Michigan to take exactly the kind of action it did when it issued the order shutting down the pipeline," Buchsbaum said.
The shutdown order "is actually authorized by the same treaty that Canada claims invalidates the shutdown order."
Michigan's attorney general showed similar contempt for Canada's move, disputing the notion that treaty talks are relevant to the legal matters at hand and that the hearings should be paused to allow those talks to proceed.
"Canada is wrong on both counts," Dana Nessel wrote in a response filed in court last week.
"Neither the 1977 Transit Pipelines Treaty itself nor Canada's recent invocation of the dispute resolution process … are relevant to the sole legal issue now before this court: whether it has jurisdiction over the state's complaint removed by Enbridge."
Canada's letter, she continues, "is devoid of any legal authority or persuasive argument for its assertion that this court should decline to rule" on the matter.
"Staying this case based on some speculative outcome of international treaty negotiations would deprive the state of its ability to protect these core sovereign interests while indefinitely enshrining the status quo that Enbridge desires."
Proponents of Line 5 say its 540,000 barrels of crude oil and natural gas liquids per day are a vital energy source for markets across the Midwest, including Michigan, Ohio and Pennsylvania, as well as Canadian refineries that provide jet fuel to some of Canada's busiest airports.
Enbridge has insisted from the outset that it has no plans to voluntarily shut down the pipeline.
A court-sanctioned voluntary mediation process, which began in April, has failed to yield any agreement and appears to have fallen apart, although the official status of those talks remains unclear.
Court documents show the state has no "desire to continue with the mediation process," while Enbridge has said publicly that it wants the talks to continue.
This report by The Canadian Press was first published Oct. 12, 2021.
James McCarten, The Canadian Press
CFL leaves door open for Argos' quarterback Bethel-Thompson playing in East final
TORONTO — The CFL has left the door open to McLeod Bethel-Thompson playing in the East Division final Sunday.
The Toronto Argonauts starting quarterback was held out of practice and sent home Friday after attending the Toronto Raptors 97-93 home win over the Milwaukee Bucks on Thursday night.
That violated the CFL's COVID-19 protocol, which would've normally meant Bethel-Thompson having to quarantine for four days and provide two negative tests before being able to resume team activities.
But Toronto hosts the Hamilton Tiger-Cats in the conference final Sunday afternoon at BMO Field.
The CFL announced Friday afternoon Bethel-Thompson will be allowed to play Sunday if he produces negative COVID testing following a 48-hour quarantine at his residence.
Argos Dexter McCoil, Charleston Hughes, Llevi Noel and Jeff Richards also attended the basketball game and will be subject to the same requirements as Bethel-Thompson.
Toronto (9-5) finished atop the East Division standings to secure home-field advantage for the conference final.
Bethel-Thompson was 7-2 as Toronto's starter this season.
Both the Argos and Raptors are owned by Maple Leafs Sports & Entertainment.
If Bethel-Thompson can't play, Antonio Pipkin will start for Toronto on Sunday.
The six-foot-three, 225-pound Pipkin started Toronto's season-ending 13-7 home loss to Edmonton on Nov. 16, completing 10-of-22 passes for 111 yards and an interception while rushing for 78 yards and a TD on nine carries.
Video of Bethel-Thompson holding his infant daughter at the NBA game was carried on the Argos' Twitter account Thursday night but was no longer available Friday.
But it was present long enough for Hamilton receiver Brandon Banks to notice.
"Wow when I tried to go to raptors game the @cfl told me I couldn't go!" Banks tweeted. "I ain't snitching but shit fishy ! #Protocol #tier1."
Bethel-Thompson also appeared on TSN's broadcast of the Raptors-Bucks game.
TSN is the CFL's broadcast partner.
"So lemme get this straight," TSN's Kayla Grey, who interviewed Bethel-Thompson during the broadcast, tweeted Friday. " … a starting quarterback goes on a national broadcast to promote an East Final that he is now forced to miss because the league is forcing him to quarantine for going to a game to promote said East Final?
"Baby what a mess."
This report by The Canadian Press was first published Dec. 3, 2021.
The Canadian Press
Canada buying up to 1.5 million courses of oral antiviral drugs to fight COVID-19
OTTAWA — Procurement Minister Filomena Tassi says Canada has signed agreements to buy up 1.5 million courses of oral antiviral treatment for COVID-19.
The government has signed up for an initial one million courses of antiviral treatment, once Health Canada endorses their safety and efficacy.
Pfizer submitted a request for Health Canada approval earlier this week.
Canada has also purchased 500,000 courses of Merck's oral antiviral treatment for COVID-19, with the option to purchase another 500,000 once Health Canada approves the drug.
The drugs are designed to block the enzyme essential for viral replication.
Merck's clinical trial showed a 50 per cent reduced risk of hospitalization or death compared to placebo patients with mild or moderate COVID-19.
This report by The Canadian Press was first published Dec. 3, 2021.
The Canadian Press