'Life-changing': Call for refugee sponsors as study suggests 4M Canadians open to it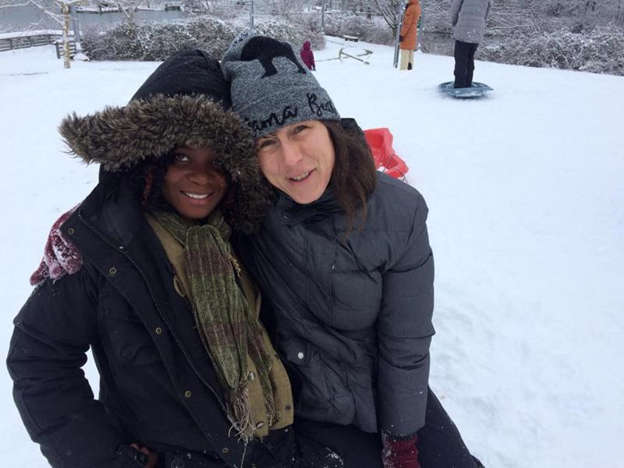 Karina Reid watched as the little boy, fascinated by the running tap water, jumped into the bathtub.
"This is the best day of my life!" then four-year-old Delphin said.
Delphin and his pregnant mother Atosha Ngage had just arrived in Canada earlier that day in February 2019. They stayed at a refugee camp in Namibia after leaving their home in the Democratic Republic of Congo.
The little family arrived in Canada through the Blended Visa Office Referred Refugees (BVOR) program, one of the country's three resettlement streams to sponsor refugees. Reid, along with five of her friends, sponsored Ngage, who was pregnant with her second child, and Delphin.
"It was the most life-changing experience for them but also for me," Reid said in an interview. "It changed my entire view of the world."
Reid is one of the many Canadians who have brought a refugee family to Canada via the BVOR program. It's the most distinctive of the three refugee resettlement programs; the others are Government-Assisted Refugees (GAR) and Private Sponsorship of Refugees (PSR).
The BVOR program allows private citizens and non-governmental organizations to step up and sponsor individuals or families with whom they don't have prior relationships.
"We also refer to this kind of sponsorship model as 'sponsoring the stranger,'" said Louisa Taylor, director of Refugee 613, a communications hub that works to build inclusion and welcome newcomers.
Taylor said people in her circle know how "powerful" and "transformational" the experience of sponsorship can be for both newcomers and sponsors. Usually, these stories are relayed through word of mouth, such as Reid's case.
However, there has been no data or resources to help promote the BVOR program properly, Taylor said.
"So recruiting new sponsors has long been a struggle," she said.
In the hopes to rectify this, Refugee 613 partnered with the Environics Institute to conduct a market study on refugee sponsorship in Canada. The project was funded by Immigration, Refugees and Citizenship Canada but all data gathered are owned by Refugee 613 and Environics.
The study involved a representative sample of 3,000 Canadians ages 25 and over and with household incomes of $30,000 or more, which translates to roughly 24 million individuals.
Results suggest close to one-fifth of the target population, who haven't been involved in sponsoring a refugee or refugee family yet, say they could definitely or likely see themselves participating in the program at some point over the next few years.
"This translates into a pool of approximately four million Canadians who are open to potential recruitment into the program," the report reads.
In contrast with BVOR, the Private Sponsorship of Refugees program has had no issues with recruiting sponsors, Taylor said.
"For the most part, PSR sponsors are motivated because they are sponsoring a relative or a friend or a friend of a friend," she said. "So the PSR program has largely become a way to reunite families."
Between 2015 and 2016, when Canadians became exposed to the idea of supporting Syrian refugees and the issue of refugee resettlement became an issue, Taylor said the BVOR program was oversubscribed.
However, since then, the program's annual target of around 1,000 people has never been met.
"That causes a lot of pressure within government if you're not meeting your targets," Taylor said. "You're seen as a failed program."
Immigration Minister Marco Mendicino told reporters Friday that BVOR is one of those streams that had some challenges around "finding a proper alignment between what the community needs and what is the best fit for refugees."
Taylor said the new data proves that there's still interest in sponsoring refugees and refugee families to Canada.
"The next question is: how do we reach them and what messages do we share with them to show them that not only is there still a need, there's a whole spectrum of organizations ready and willing to walk people through this process?" she said.
"They may just find it's the most powerful experience of their lives."
It's been more than two years since Reid and her friend picked up Atosha Ngage and Delphin at the airport. Since then, there have been powerful memories shared between people who were once complete strangers.
They've made snow angels, gone to the pool and shared lots of laughs.
Reid said the program is one of the best-hidden gems in Canada. Through it, she met people she would treasure for a long time.
"The BVOR program is life-changing," Reid said. "It opens doors to curiosity, understanding and wanting to make your community a better place like."
This report by The Canadian Press was first published June 20, 2021.
Arvin Joaquin, The Canadian Press
CP NewsAlert: Income tax cuts and big drop in GDP growth in Quebec budget
Quebec Finance Minister Eric Girard's budget for the 2023-24 fiscal year cuts income taxes and projects a big drop in economic growth.
Girard's budget, tabled today, includes a cut of one percentage point to the tax rate paid by those in the lowest two income brackets, starting in 2023.
It also estimates that GDP growth will fall to 0.6 per cent in 2023 from 2.8 per cent last year.
The budget projects a deficit of about $1.6 billion, which rises to about $4 billion after it accounts for legally required payments into a fund dedicated to reducing the province's debt.
More coming.
The Canadian Press
Putin hosts Xi in the Kremlin with imperial palace pageantry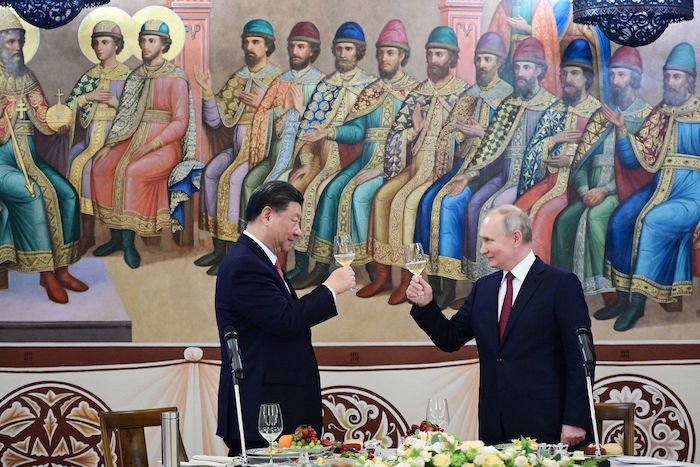 Russian President Vladimir Putin, right, and Chinese President Xi Jinping toast during their dinner at The Palace of the Facets is a building in the Moscow Kremlin, Russia, Tuesday, March 21, 2023. (Pavel Byrkin, Sputnik, Kremlin Pool Photo via AP)
By Vladimir Isachenkov in Moscow
MOSCOW (AP) — Russia and China showcased their "no-limits friendship" on Tuesday during a pomp-laden Kremlin ceremony intended to further cement ties amid the fighting in Ukraine.
After hosting Chinese leader Xi Jinping over a seven-course private dinner for 4 1/2 hours the previous night, Russian President Vladimir Putin greeted him in the old imperial palace for talks involving top officials from both countries.
Xi walked slowly up the opulent red-carpeted staircase of the Grand Kremlin Palace as guards in 19th century-style parade uniforms snapped to attention.
Putin was waiting to greet the Chinese leader in St. George's hall where walls are covered by white-marble plaques with gold engravings of the names of military units and soldiers awarded the order of St. George, a top military award established by Catherine the Great.
In a tightly choreographed ceremony filled with imperial grandeur, the two leaders entered the huge chandeliered room from opposite sides and shook hands in the middle to the sound of the Russian and Chinese national anthems.
They walked past a lineup of Russian and Chinese officials to sit down for talks. Putin and Xi both wore black suits and dark red ties.
The pageantry reflected the importance of Xi's three-day visit to Russia that gave a strong political boost to Putin just days after the International Criminal Court issued an arrest warrant for the Russian leader on charges of alleged involvement in abductions of thousands of children from Ukraine.
Moscow, which doesn't recognize the court's jurisdiction, dismissed the move as "legally null and void," but the arrest warrant further ramped up the pressure on the Russian leader as the fighting in Ukraine has dragged into a second year.
After the talks, Putin and Xi issued joint declarations pledging to further bolster their "strategic cooperation," develop cooperation in energy, high-tech industries and other spheres and expand the use of their currencies in mutual trade to reduce dependence on the West.
They said they would develop military cooperation and conduct more joint sea and air patrols, but there was no mention of any prospective Chinese weapons supplies to Russia that the U.S. and other Western allies feared.
Putin and Xi made long statements after the talks to a selected audience of officials and reporters from their pools. They didn't take questions.
Putin hailed China's proposals for a political settlement and a cease-fire in Ukraine, saying that it could serve as a basis for a peaceful settlement "once the West and Kyiv are ready for it." The U.S. has criticized Beijing's plan as a move intended to allow Russia to shore up its gains.
Putin and Xi wrapped up the day with a state dinner in the 15th-century Palace of Facets that served as a banquet hall for the czars. They again exchanged pledges of expanding the countries' "comprehensive partnership" at a table next to a frescoed wall before the audience of top officials.
Putin cited a long quote from China's classical Book of Changes about friendship capable of overcoming any obstacles that the interpreter failed to fully grasp. He raised a glass with a toast wishing good health to Xi and prosperity for the two countries and their peoples, ending it with 'Ganbei,' the Chinese equivalent of 'cheers.' Xi responded in kind.
After hosting Xi in the Kremlin for six hours, Putin accompanied him down the grand staircase.
"We are now witnessing the changes that haven't been seen for more than a century, and we are pushing them together," Xi told Putin through an interpreter as they stood in the Kremlin's doorway. "Take care, dear friend!"
They shook hands, and Putin stood on the pavement for a moment, waving his hand as Xi's limo drove away.
Before the Kremlin talks, Xi met with Russian Prime Minister Milkhail Mishustin. Unlike them, Russian and Chinese officials who attended the talks wore medical masks — a reminder of the COVID-19 pandemic that halted mutual visits.
Xi briefly referred to it, telling Mishustin he was happy to be back in Moscow after a long break because of the pandemic. He said that he invited Putin over Monday's dinner to visit China later this year to attend a top-level meeting of China's Belt and Road regional initiative.
Kremlin foreign affairs adviser Yuri Ushakov said Putin could make the trip but didn't give the date.
Xi stayed at a brand-new Chinese-owned Soluxe Hotel set in a lavish riverside park in northern Moscow that features trees and plants from all over China. He used a Chinese-made Hongqi limousine for driving around Moscow.