'Learn to live with this:' Humboldt focuses on future five years after bus crash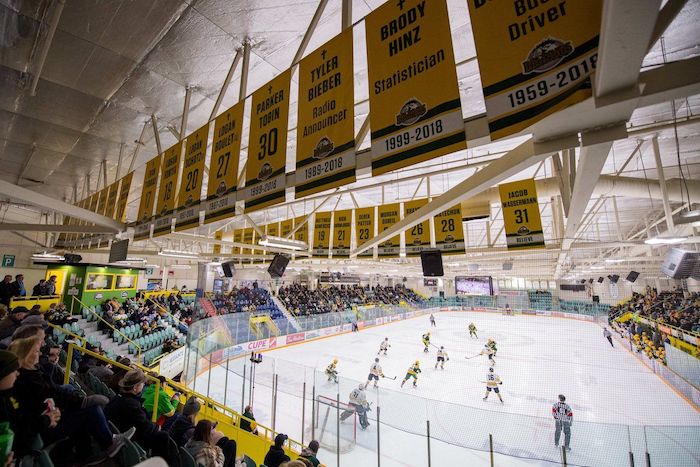 The Humboldt Broncos take on the Nipawin Hawks in the first round of Saskatchewan Junior Hockey League playoffs at the Elgar Petersen Arena in Humboldt, Sask., on Friday, March 17, 2023. Banners in the arena represent the people who were in the deadly Humboldt bus crash in 2018. THE CANADIAN PRESS/Liam Richards
By Kelly Geraldine Malone in Humboldt, Sask.
Kevin Garinger says it feels like the passage of time is inexplicable. The five years since a deadly bus crash changed his city, his hockey team and his life sometimes feel like a lifetime. Other times it feels like yesterday.
"I don't know if anyone ever heals from significant loss or tragedy," Garinger says after a moment of deep thought in his Humboldt, Sask., office.
"You eventually just learn to live with this."
Garinger was the president of the Humboldt Broncos when 16 people died and 13 were injured after a transport truck went through a stop sign and into the path of a bus carrying the Saskatchewan junior hockey team on April 6, 2018.
The CEO of the Horizon School Division, whose term at the helm of the hockey team has ended, was unexpectedly thrust into an international spotlight after the crash. So was his community and team.
Now, Garinger says, the intense focus has faded but the small Saskatchewan city east of Saskatoon is still figuring out how to exist within that legacy.
At first, he says, kids couldn't make sense of what happened and some were even afraid to get on buses. A few families moved away. As months turned to years, the grief seemed less immediate, Garinger says, less debilitating.
"You learn to live with a hole in your heart that never heals."
Humboldt is a hockey town.
The city has a population of just over 6,000, but the Broncos average 1,000 fans in the stands at the Elgar Petersen Arena each home game.
"Back in the day, when I was younger than I am now, you hung out at the rink," said Rob Muench, a city councillor who was mayor at the time of the crash.
"We grew up playing hockey and we grew up watching the hockey teams playing."
The Broncos were first established in 1970, and a team photo from the following year shows 20 players and four coaches wearing white and green jerseys. Each following year, most of the faces in the team photo change, as do haircuts and moustaches.
But each picture shows a group of young hockey players with big dreams.
The Humboldt Broncos' current roster of young players have no direct connection to the team from five years ago. The youngest players were in Grade 6 when it happened.
They are in the midst of an exciting playoff run after beating out the Nipawin Hawks in the first round. In the initial matchup against the Hawks — a longtime Humboldt rival and the first team they played following the crash — the Broncos quickly scored two goals and fans roared with applause. The Broncos won 5-1.
That same rink was a place of mourning five years ago as thousands of people came together and heard the team's chaplain struggle to describe "the valley of darkness" he saw at the crash site.
Now, the ice once again sees a group of young men full of dreams wearing green and gold jerseys.
"I think it's an honour for those kids to put on that Humboldt Broncos jersey," says head coach and general manager Scott Barney.
Barney joined the team as assistant coach in the year after the crash. Before coaching, he played 19 years of professional hockey, including 27 games in the National Hockey League.
"Anybody who has played junior hockey has been on buses before and I travelled millions of hours on there," Barney says.
They may not talk about the 2018 team every day, but there is evidence of it throughout the arena. There are 29 banners that represent each person on the bus and a memorial with the 2018 team photo behind glass. The numbers of all the players have also been retired.
"We play for them every day," Barney says.
The end goal for any team is to win the championship, Barney says, but it would mean even more this year. They have a good group, he says, a mix between younger and experienced players.
He adds Humboldt's support and strength over the last five years has allowed the team to return, to build and to grow.
"Without the community, we wouldn't be a team," he says.
Broncos players have changed many times in the years since the crash, so have the team's board members.
"The one connection from then until now is the fan base," Muench says.
At the recent game, the stands were a sea of Broncos shirts, hats and toques. These seats are where the memory of the tragedy is more pronounced, especially with season ticket holders who the team says have continued to come out in droves.
Carol Brons was sitting in the top row watching the team her 24-year-old daughter, Dayna Brons, loved so much. Dayna Brons was the team's athletic therapist when she was killed in the crash.
The team and the town are looking to focus on positive things that have been created after the catastrophe.
Green Shirt Day honours defenceman Logan Boulet and encourages organ donation. Northern Lights Movement for Kids was created by the family of Jacob Leicht to help bridge gaps between Indigenous and non-Indigenous kids. The Adam Herold Legacy Foundation helps Saskatchewan youth develop hockey and leadership skills. Many other funds were started to honour the players.
The crash also inspired the creation of Hockey Gives Blood, as well as numerous scholarships and bursaries.
An entire floor at the city's museum is dedicated to a rotating exhibit of the tens of thousands of items received from around the world after the crash.
More than 210 kilometres northeast of Humboldt on the side of a highway there are a cluster of crosses with the names of each person who died in the crash. The Humboldt Broncos Memorial Committee intends to create a permanent roadside memorial there.
Across from the crosses, at the intersection of Highway 35 and Highway 335, is a new gigantic stop sign.
Back in Humboldt, Garinger's office is also still filled with Broncos memorabilia, but he finds it difficult to sit down and just enjoy a hockey game these days. Individuals will be at varying places, he says, but as time marches on, the community is moving forward.
"There's no real road map for how to deal with this."
This report by The Canadian Press was first published March 31, 2023.
Saskatchewan running coal power later than 2030 would be illegal: Guilbeault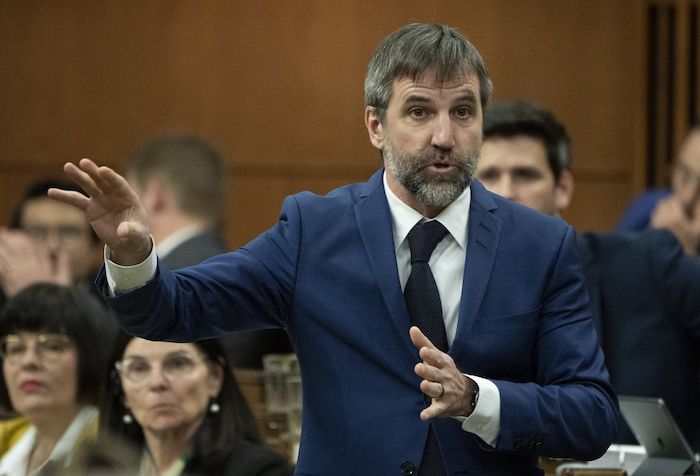 Minister of Environment and Climate Change Steven Guilbeault rises during Question Period, Thursday, May 11, 2023 in Ottawa. Guilbeault says it is against the law for Saskatchewan to run its coal-fired power plants after 2030 unless their emissions are captured. THE CANADIAN PRESS/Adrian Wyld
By Mia Rabson in Ottawa
It would be against the law for Saskatchewan to run its coal-fired power plants after 2030 unless the greenhouse-gas emissions from those plants are captured, federal Environment Minister Steven Guilbeault said Wednesday.
His comment comes as electricity generation becomes the latest jurisdictional battle over climate policy between federal and provincial governments.
Canada's current climate plan aims for all electricity to be emissions-free by 2035, and regulations to enforce the target are expected later this year.
The draft policy published last year suggests that by 2035, all electricity will have to be clean — such as hydroelectricity, nuclear, wind or solar. Either that or the emissions will have to be abated somehow, such as with carbon capture and storage systems.
Under the proposal, some natural gas plants built before regulations are established would be able to operate after 2035 for an as-yet-undefined length of time.
But when it comes to coal plants, the federal rules are stricter. And they are already in place.
In 2018, Ottawa passed coal power regulations that mean all power plants that rely on coal must be closed, converted to natural gas or equipped with carbon-capture systems by the end of 2029.
Saskatchewan Premier Scott Moe said Tuesday his province can't meet the federal rules and keep the lights on at an affordable price. Instead he proposed a clean electricity target of 2050, 15 years later than what Ottawa wants.
And he said he expects his province will keep operating its three coal-plants until the end of their lifespans, which would see the first plant close three years after the 2030 phase-out date. The other two would extend beyond that date by 12 and 14 years.
Guilbeault said Wednesday that the coal regulations exist within the Canadian Environmental Protection Act and violating them would be illegal.
"We've regulated the ban on coal through CEPA, which is a criminal tool that the federal government has," he said. "So not complying with this regulation would be a violation of Canada's Criminal Code."
Moe said Tuesday that provinces have jurisdiction over electricity, so he was not anticipating a legal battle over his power-grid plan.
Guilbeault said the clean electricity regulations aren't finalized, so it is premature for Moe to insist his province can't meet them. He also said more and more companies are looking to make investments in places that have clean power.
German auto giant Volkswagen cited Ontario's abundant clean electricity as one of the reasons it opted to built a new electric-vehicle battery plant in that province, for example.
"If we want to be competitive in the in the 21st century economy, we have to decarbonize our grid," Guilbeault said.
"It's about jobs, not just for the next five or 10 years, but for the next 30, 40, 50 years. And of course, we want to do that in a way that is affordable for Canadians. We want to have a reliable grid.
"No one wants a situation where we flick off the switch and it's not working."
When it comes to climate policy, electricity has been one of Canada's biggest success stories.
Emissions from power generation have been cut by more than half between 2005 and 2021. They now account for less than eight per cent of Canada's total emissions.
Hydroelectricity provides almost two-thirds of Canada's total electricity now, and non-hydro renewables like wind and solar went from almost nothing in 2005 to six per cent of electricity generation in 2021.
But in Alberta and Saskatchewan, coal and gas remain a significant source of electricity.
The latest National Inventory Report says Alberta gets 30 per cent of its electricity from coal and 54 per cent from natural gas, while Saskatchewan gets 40 per cent from coal and 44 per cent from gas.
Alberta and Saskatchewan have challenged federal climate policies in court more than once, most notably over Ottawa's jurisdiction to impose a national minimum price on carbon pollution.
The Supreme Court of Canada ruled Ottawa had the authority to do that because climate change was a serious threat and emissions did not respect provincial borders.
This report by The Canadian Press was first published May 17, 2023.
Saskatchewan to use natural gas, possibly coal beyond 2035 federal target: Moe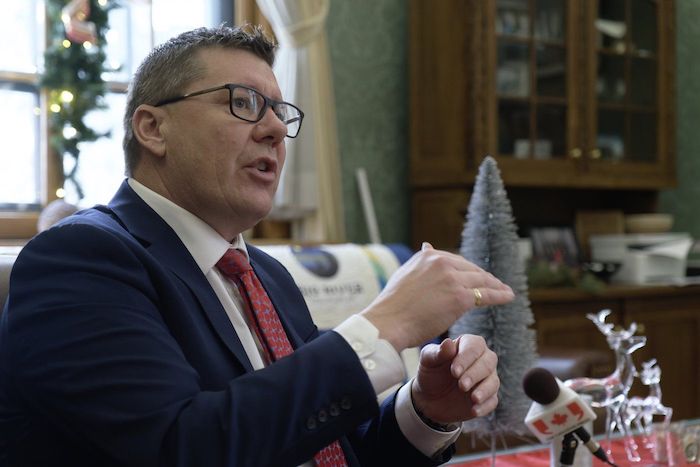 Saskatchewan Premier Scott Moe speaks from his office at the Saskatchewan Legislative Building in Regina on Tuesday Dec. 13, 2022. THE CANADIAN PRESS/Michael Bell
By Jeremy Simes in Regina
Saskatchewan Premier Scott Moe says the province is to continue using natural gas and possibly coal beyond the federal government's target date.
Moe said Tuesday the province's existing and soon-to-be built natural gas plants are to be used until their end of life, which would be well past the federal government's 2035 net-zero target.
He said the province is also interested in running its two coal plants, one of which captures carbon, until their end of life in the early 2040s, arguing the facilities help keep power affordable and reliable.
"We do reserve the right provincially to choose how we are going to produce that power, whether it's natural gas, whether it's coal-fired power production with or without (carbon capture and storage)," Moe said at a news conference.
"What we are interested in is running those assets to the end of their life, which is 2042 and 2044. That's the most efficient, affordable way to provide power, that is what they were designed to do, and we made those investments in those facilities with the full expectation of utilizing those investments until the end of their life."
Moe's comments come as the federal government develops electricity standards that propose provinces meet net-zero targets by 2035.
He said the 2035 target is unrealistic, arguing it would cost the province $46 billion and cause utility bills to more than double.
Saskatchewan's power grid is largely made up of natural gas and coal to supply consistent baseload power. The province does not have much hydro capacity.
The premier said Saskatchewan can instead meet a 2050 net-zero target. It would be achieved by using natural gas, as well as working toward small modular reactors and intermittent power sources, such as wind and solar.
Ottawa's proposal would allow provinces to use natural gas plants if they capture carbon or are connected to non-emitting fuels.
The minister for SaskPower, the Crown corporation responsible for electricity, said it's too early to decide whether new natural gas plants will be equipped with carbon capture technology.
"It's new technology. It may come to pass," Don Morgan said.
However, the province's concerns go beyond natural gas.
The federal government has required the phaseout of unabated coal facilities by 2030, but Moe said it would force Saskatchewan to shutter Boundary Dam Unit 3, the only facility that captures carbon.
"We won't sacrifice the reliability and the affordability of Saskatchewan's power grid to meet some notional target that is not achievable," Moe said.
He acknowledged there are other coal-fired plants that will close by their end of life before 2030. He said such facilities are being replaced by new natural gas plants.
Federal Environment Minister Steven Guilbeault has dismissed Moe's claims, saying the regulations aren't yet developed.
He has also said clean electricity projects are becoming "cost competitive," pointing to a study that suggested energy costs would be lower in 2050 because of greener electricity.
Ian Cameron, spokesman for the federal Ministry of Natural Resources, said Ottawa is spending more than $40 billion in clean power generation, noting Saskatchewan has recently received $174 million.
He said low-carbon grids would provide Canada a competitive advantage, adding that other countries are moving to net-zero power by 2035.
Moe said Saskatchewan has asked Ottawa to provide SaskPower with a grant that covers 75 per cent of the cost for the province's first nuclear reactor and 50 per cent in funding for other renewable technologies.
Saskatchewan NDP Opposition energy critic Aleana Young said the Saskatchewan Party government has been "missing in action" in expanding renewables, while other provinces took steps years ago.
"Scott Moe has made it clear that he doesn't care about reducing emissions," Young said in a statement. "His government killed the solar industry through its changes to the net-metering program, and has only expanded the capacity of renewables at SaskPower from 25 per cent to 31 per cent over the last 10 years."
She also said it's unrealistic for Saskatchewan to meet the 2035 target.
"Would net zero by 2035 have been possible with a different provincial government committed to emissions reductions over the last 16 years? Probably," Young said. "But because of Saskatchewan Party inaction for the last 16 years, that isn't an achievable goal for the province today."
She said the province should use the dollars it collects from the carbon tax to help people pay their utility bills.
The money should also be invested in renewable power and support energy efficiency retrofits, she added.
This report by The Canadian Press was first published May 16, 2023.