Leafs' Auston Matthews, Oilers' Connor McDavid among Hart Trophy finalists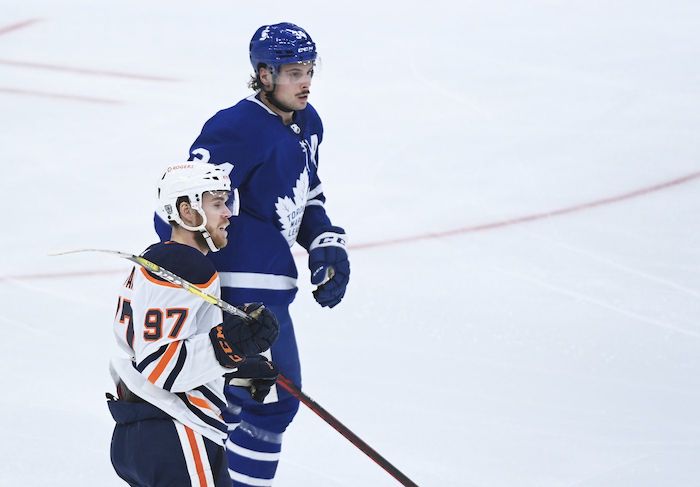 New York
Toronto Maple Leafs centre Auston Matthews and Edmonton Oilers centre Connor McDavid are two of the finalists for the Hart Memorial Trophy, the NHL's most valuable player award.
New York Rangers goaltender Igor Shesterkin is also in contention for the prize awarded "to the player adjudged to be the most valuable to his team."
Matthews, who earned this season's Maurice (Rocket) Richard Trophy as the NHL's leading goal-scorer, posted career highs with 60 goals and 46 assists. He became the 21st different player in NHL history – and first in a decade – to register 60 goals in a season.
The 24-year-old Matthews was asked about the nomination on Thursday ahead of Game 6 between the Leafs and Tampa Bay Lightning at Amalie Arena. Toronto led the series 3-2 and hoped to advance to the second round of the playoffs for the first time since 2004.
"It's a big honour," said Matthews. "But I think right now the focus isn't really much on that. It's more on what we're going through … what (Thursday night) means to this team.
"Just a great opportunity for us."
McDavid, who claimed the Art Ross Trophy as the League's top scorer this season, also established career highs with 44 goals and 79 assists.
The reigning Hart Trophy winner, McDavid never went more than three games without a point.
Shesterkin, who earlier this week was named a finalist for the Vezina Trophy, as the NHL's best goaltender, had a 2.07 goals-against average, .935 save percentage and six shutouts.
— With files from Joshua Clipperton in Tampa, Fla.
This report by The Canadian Press was first published May 12, 2022.
Russell Martin bids farewell to Blue Jays fans after retiring in May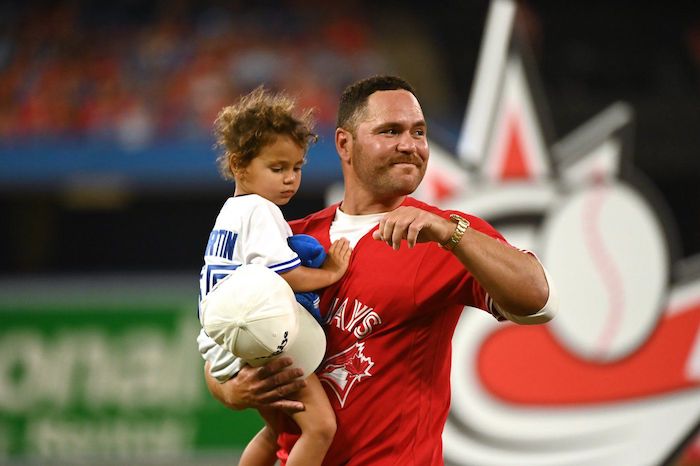 By John Chidley-Hill in Toronto
Russell Martin's favourite memory at Rogers Centre is the same as many Toronto Blue Jays' fans: Jose Bautista's infamous bat flip in Game 5 of the 2015 American League Division Series.
"Just the electricity of the crowd, you could feel the ground trembling and the energy was insane," said Martin. "That's definitely one moment that just sticks out more than any other."
Martin added another memorable moment on Friday, throwing out the opening pitch in front of a packed Canada Day crowd at Toronto's ballpark. He formally announced his retirement from baseball on May 28 and making an appearance at Rogers Centre was his opportunity to say thanks and farewell to Blue Jays fans.
Before the game Martin said he hoped for a "couple of claps, a couple of laughs" when he came out to throw the opening pitch. Instead, he got a rousing standing ovation from the packed ballpark and a tribute video narrated by Bautista featuring messages from several former teammates.
He threw the opening pitch to Blue Jays catcher Gabriel Moreno, who wears No. 55 as a tribute to Martin. Mustafa (Moose) Hassan, Toronto's clubhouse operations manager, told Martin last season that Moreno was going to wear his number and connected the two catches by phone.
"It's awesome," said Martin. "He gave me a call and I just told him there's a lot of a lot of hits left in that jersey and I wish him the best."
Born in Toronto and raised in Montreal, Martin is one of the most accomplished Canadians to ever play for the Blue Jays. The catcher had a .225 batting average, 66 home runs and 211 runs batted in, as well as an all-star game appearance, in his four seasons with Toronto.
He said that playing in Toronto on Canada Day has a different feel than a typical game at Rogers Centre.
"You feel the energy of the crowd and the crowd gets hyped for Canada Day," said Martin, sitting in the Blue Jays dugout before the matinee game against the Tampa Bay Rays. "It's special because you get the red jerseys and the crowd feels like you're in the playoffs, even though it's not the playoffs.
"You have that energy that you don't really don't get in a regular-season game."
Martin began his career with the Los Aneles Dodgers before moving on to the New York Yankees, Pittsburgh Pirates, Toronto, and then playing one last season back with L.A. He finished his career with a .248 average, 191 home runs, 771 RBIs, and four all-star games.
He said that he has generally stopped watching baseball, instead focusing on raising his children and playing golf. When asked if he might come out of retirement and represent Canada at an international tournament like the 2023 World Baseball Classic, Martin said it was unlikely.
"I'm so out of shape right now. As much as I'd like to think I could do it, I'm not even close to being in playing shape," he said with a laugh. "I have too much respect for the guys that spend a lot of time in their off-season, they go to work and they're in tune.
"They're like fine-tuned racecars right now. I'm like a beat up Chevy."
This report by The Canadian Press was first published July 1, 2022.
Blue Jays add three-time World Series champion Sergio Romo to bullpen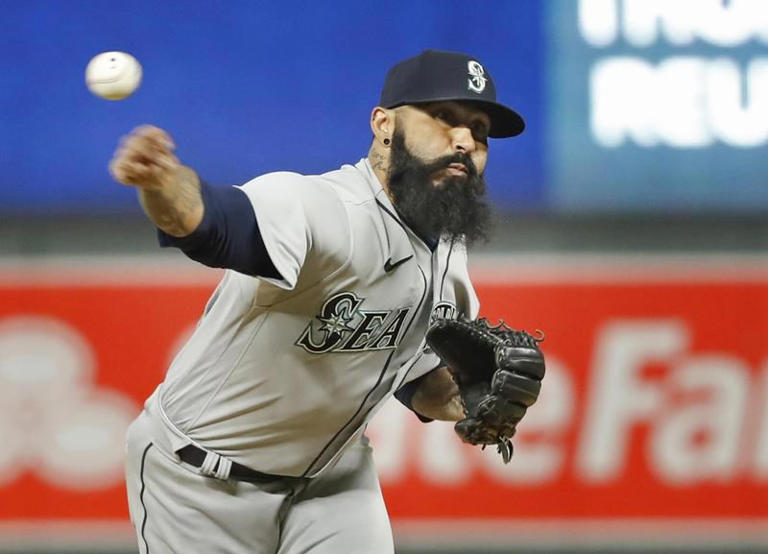 TORONTO — His activation not official until Wednesday, Blue Jays pitcher Sergio Romo watched from a stadium restaurant as his new team earned a walkoff victory over Boston a night earlier at Rogers Centre.
Enjoying a beverage on his own after passing his physical, the 39-year-old reliever — a three-time World Series champion with the San Francisco Giants — was impressed.
"Just the fight, these guys want to win and they expect to win," Romo said in a pre-game media availability. "They showed it yesterday. Backs against the ropes and they still fought it out and it wasn't just on one shot either. It was a hit, a walk, this and that.
"Everyone contributed, so it was cool. It was fun to see and I'm glad I'm here."
The Blue Jays agreed to terms with the right-hander on a one-year big-league contract. Toronto also optioned right-hander Shaun Anderson to Triple-A Buffalo and transferred left-hander Tayler Saucedo to the 60-day injured list.
Romo, who spent a month on the IL this season due to right shoulder inflammation, was recently released by Seattle after posting an 8.16 earned-run average in 17 games. He was 1-1 with a 4.67 ERA over 66 appearances last year for Oakland and has a 42-35 mark over his 15-year career with a 3.20 ERA.
"I come in here fearless, happy and appreciative, so let's go," Romo said. "I'm hungry too. I want to win. I've been blessed with three rings. By the end of my career, I wouldn't mind being able to say there's four."
It didn't take long for him to get settled in. An engaging, affable sort, Romo was holding court in the clubhouse with his new teammates before the finale of a three-game series against the Red Sox.
That kind of interaction may be where the Brawley, Calif., native is most valuable.
It's unclear how much gas he has left in the tank and what kind of leverage situation he'll be used in. But if his championship pedigree can rub off on a young team — even if it's just with a casual chat in the bullpen — then Romo could be an asset.
"I'm excited to add his experience, his skillset, his track record to the organization," said general manager Ross Atkins. "I'm really excited about his mindset and I think our team is excited as well."
The veteran right-hander also has history with Blue Jays manager Charlie Montoyo. Romo played for Tampa Bay over parts of two seasons ('17, '18) when Montoyo was on the Rays' coaching staff.
"Well you know he's not going to be nervous in any situation," Montoyo said. "We know that for sure."
After a wide-ranging 20-minute chat with reporters, Romo was all smiles as he threw balls in the outfield to bullpen catcher Alex Andreopoulos before the game.
"I'm noticing they've got this camaraderie here, plus the talent, plus the aspirations," Romo said. "It's kind of hard not to be excited to be here."
This report by The Canadian Press was first published June 29, 2022.
Follow @GregoryStrongCP on Twitter.
Gregory Strong, The Canadian Press