Lawyer questions coverage of First Nations water settlement as deal to be ratified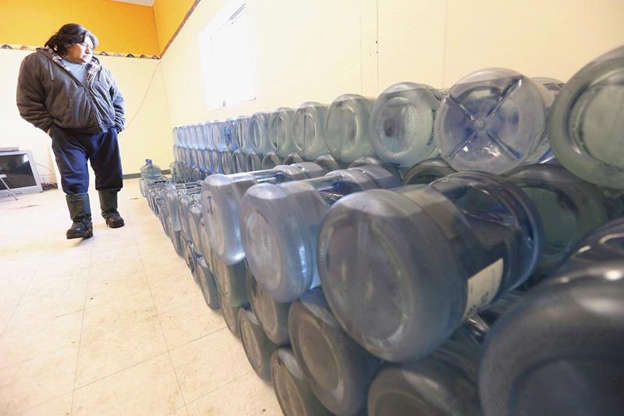 An $8-billion class-action settlement on First Nations drinking water due to be ratified next week still isn't clear on who it will cover, says a lawyer involved with the issue.
Clayton Leonard, who represents several Alberta bands that have filed their own drinking water lawsuits, said Wednesday he's getting conflicting answers from the Justice Department and federal lawyers who worked on the deal.
"Who are the members of the class?" he asked. "Who gets left behind?
"There are still lots of things that don't seem to have a sense of clarity or fairness around them."
In July, the federal government reached an agreement in principle on an out-of-court settlement for a class-action lawsuit brought over the lack of clean, safe, drinking water in First Nations communities.
The agreement includes $1.5 billion in compensation for people deprived of clean drinking water, $400 million for a First Nations economic and cultural restoration fund, and at least $6 billion to support reliable access to safe drinking water on reserves.
The class action, brought by Tataskweyak Cree Nation in Manitoba and the Curve Lake and Neskantaga First Nations in Ontario, included all First Nations people whose communities were subject to a drinking water advisory for at least a year starting on Nov. 8, 1995.
The settlement is scheduled for a ratification hearing Tuesday in parallel hearings in Federal Court and Manitoba Court of Queen's Bench.
But Leonard points out the settlement could exclude a lot of First Nations. Some bands, he said, solved their own problem or had water advisories that didn't meet the one-year advisory threshold.
"Why a year?" he asked. "There might have been 30 in a year that were six months long and were lifted because a First Nation took its own steps to respond."
Others have had recurring short-term water problems, he said.
"Sometimes they're seasonal, during high turbidity levels in the spring, but when you look at the big picture it's a compelling story of chronic drinking water problems. Doesn't match the class, but it tells the same story.
"Why are those nations being left behind?"
Leonard said federal officials have told him the $6 billion is for all First Nations, but federal lawyers who negotiated the deal have told him it's only for members of the class action.
Leonard said the settlement is also ambiguous on which advisories are counted. It's not clear if they have to be Health Canada advisories, provincial advisories or advisories issued by band councils.
He said he's aware of at least five court actions against the federal government on drinking water, including two brought by his clients, that won't be settled by the class action.
Spokespeople from Indigenous Services Canada or the Assembly of First Nations, which supported the class action, were not immediately available for comment.
Leonard said the confusion stems from using a class-action lawsuit to settle an issue that should have been addressed through legislation.
It has been estimated the settlement will affect 120 First Nations across Canada.
A government website says there remain 43 water advisories in 31 First Nations communities. Since 2015, 119 such advisories have been lifted.
In 2011, a national engineering assessment estimated the cost of bringing all First Nations water systems up to Canadian standards would be $4.9 billion over 10 years.
In a report tabled Wednesday, Parliamentary Budget Officer Yves Giroux said the government has set aside more than enough money to meet the expected capital costs to build water and wastewater systems over the next five years but needs to fund training programs to run and maintain the systems.
This report by The Canadian Press was first published Dec. 1, 2021.
— Follow Bob Weber on Twitter at @row1960
Bob Weber, The Canadian Press
Crowd gathers north of Toronto to cheer on trucker convoy heading to Ottawa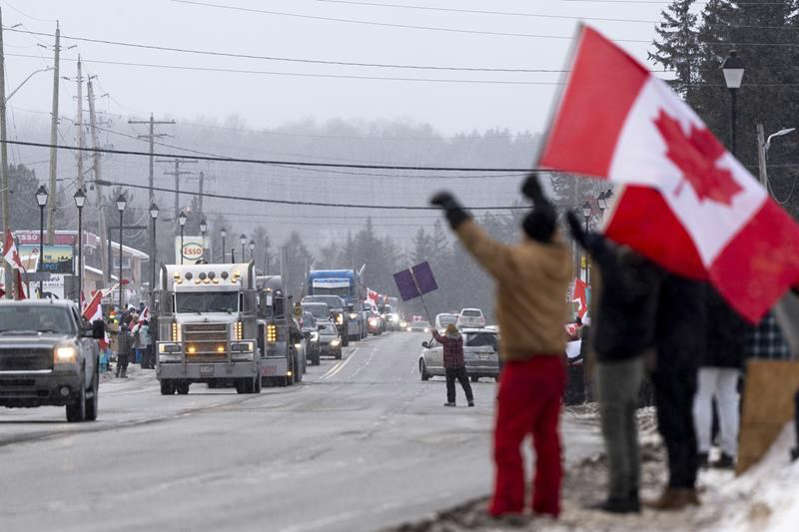 TORONTO — A large crowd gathered outside a mall north of Toronto on Thursday as a group of local truckers prepared to join a convoy to Ottawa in protest of the federal government's COVID-19 vaccine mandate for cross-border drivers.
Some in the crowd threw cash and food up to truckers in their vehicles at the Vaughan Mills mall while others hoisted Canadian flags and signs protesting the government as the truckers gradually rolled out.
Mike Fabinski, a truck driver from Barrie, Ont., said the vaccine mandate means he won't be able to work cross-border routes any more.
"You want to be vaccinated, go ahead, your choice. I don't want to be vaccinated, that's my choice," he said.
Fabinski said he's been a truck driver for 20 years but has not been able to travel to the U.S. since the federal mandate came to effect on Jan 15.
"I was going non-stop until they started last Saturday," he said. "Now I cannot go. I cannot work no more."
The federal government ended truckers' exemption to the vaccine mandate two weeks ago meaning Canadian truck drivers need to be fully vaccinated if they want to avoid a two-week quarantine when they cross into Canada from the U.S.
Some with extreme, far-right views have latched onto the protest against the mandate. One online video includes a man expressing hope the rally will turn into the Canadian equivalent of the Jan. 6, 2021, riot at the U.S. Capitol by supporters of former president Donald Trump.
On Thursday, some in the crowd that came out to support the truckers said they planned to join the convoy and make the trek to Ottawa as well.
Dean Brown said he supported peaceful protest intended by the convoy and rejected suggestions that it could lead to violence.
"The people who are in charge of this (convoy) are blocking people who are insisting or suggesting violence," the 57-year-old Toronto man said.
"It's all about peace. It's all about freedom. It's all about getting the Canadian way of life back. We are not here to turn it to violence."
Ontario Provincial Police were urging drivers to be patient as several groups of truckers planned to drive across the province to Ottawa before a so-called "freedom rally" on Parliament Hill planned for Saturday.
Police spokesman Sgt. Kerry Schmidt said drivers should prepare for delays on Toronto-area highways, including Highway 401, Highway 400 and the Queen Elizabeth Way.
Police in Ottawa have said they are planning for as many as 2,000 demonstrators, and while protest leaders have been co-operative, there are concerns that far-right extremist groups that have attached themselves to the convoy could spark violence.
The Canadian Trucking Alliance, which has denounced the convoy protest, estimates that roughly 15 per cent of truckers — up to 16,000 — are not fully vaccinated against COVID-19.
This report by The Canadian Press was first published Jan. 27, 2022.
Maan Alhmidi, The Canadian Press
Bodies of family from India trying to cross into U.S. by foot identified
Officials in Ottawa say they have confirmed the identities of four Indian nationals whose bodies were found frozen in Manitoba near the Canada-U. S. border last week.
The High Commission of India has released a notice saying the four who died were Jagdish Baldevbhai Patel, a 39-year-old man, Vaishaliben Jagdishkumar Patel, a 37-year-old woman, Vihangi Jagdishkumar Patel, an 11-year-old girl, and Dharmik Jagdishkumar Patel, a three-year-old boy.
Investigators believe the family of four was attempting to cross over the border by foot on Jan. 19 during severe winter weather and died from exposure.
The family's immediate relatives have been informed, says the release.
"The Consulate General of India in Toronto is in touch with the family of the deceased and is providing all consular support. The High Commission offers its sincere condolences to the family and friends of the victims."
The release says a special team, led by a senior consular officer from the Consulate General of India, is in Manitoba to help with investigations on the Canadian side and to offer services for the victims.
Manitoba RCMP found the four bodies near Emerson, Man., after U.S. border patrol agents advised them they had picked up a group of Indian nationals on the U.S. side.
One of the individuals was found with a backpack full of items for an infant. He told investigators he was carrying the backpack for a group that got separated from his.
Investigators have said they believe the deaths are linked to a human smuggling scheme.
Steve Shand of Deltona, Fla., faces counts of transporting or attempting to transport illegal aliens. He was released from custody on Monday.
Police in the western state of Gujarat in India have begun delving deeper into the deaths of four Indian migrants.
Ashish Bhatia, director general of police in Gujarat, says investigators are trying to determine whether there was a travel agent in India who helped the group.
This report by The Canadian Press was first published Jan. 27, 2022.
The Canadian Press