Jury to begin deliberations in Calgary trial for parents charged in baby's death
CALGARY — A jury is expected to begin deliberating today about whether a Calgary couple is responsible for their 14-month-old son's death.
Jennifer and Jeromie Clark have pleaded not guilty to criminal negligence causing death and failure to provide the necessaries of life for their son John.
Queen's Bench Justice Paul Jeffrey is to instruct jurors this morning on how to reach a verdict, after which they are to be sequestered.
The trial heard the Clarks brought their son to hospital on the afternoon of Nov. 28, 2013, and that he died the next day following a seizure and two cardiac arrests.
The Crown says John was on the verge of death when he arrived in hospital and that his parents played with his life by not seeking treatment sooner.
The Clarks' lawyers say doctors at the Alberta Children's Hospital are to blame because they raised the boy's sodium and fluid levels too aggressively.
Jurors were shown pictures of John after he died. He had blackened toes and a red rash in a swirling pattern that covered 70 per cent of his body. It was initially believed the rash was eczema, but Crown witnesses said was likely to have been due to a nutritional deficiency.
Emergency and intensive care doctors testified the boy had an abnormally low heart rate and temperature, a sign he could be in the final stages of an overwhelming infection.
The forensic pathologist's report said John was malnourished and died from sepsis.
Defence lawyers said John was sick when he arrived in hospital, but was not near death. Nor was he malnourished or septic, they argued.
A defence witness, former Alberta chief medical examiner Anny Sauvageau, suggested John's underlying illness was due to hormonal issues. She testified that doctors infusing him with saline caused his death.
The Canadian Press
The Plan: Lock You Down for 130 Days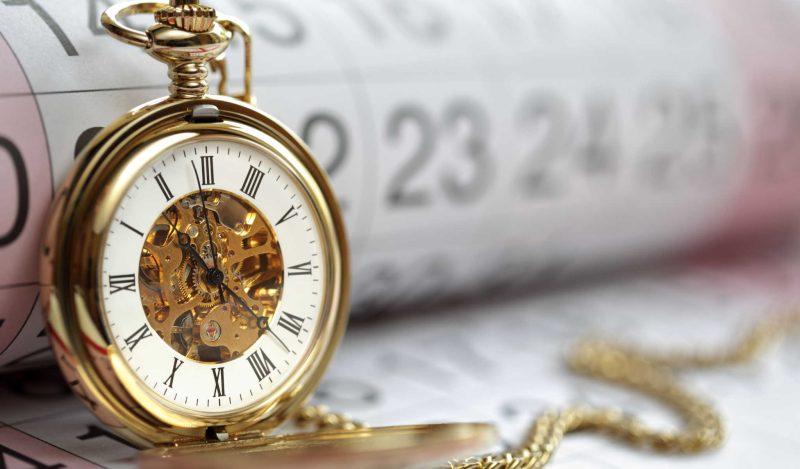 BY
JAYANTA BHATTACHARYA
What if the coronavirus pandemic was not a once-in-a-century event but the beginning of a new era of regular deadly respiratory viral pandemics? The Biden administration is already planning for this future. Last year, it unveiled a national strategy to develop pharmaceutical firms' capacity to create vaccines within 130 days of a pandemic emergency declaration.
The Biden plan enshrines former president Donald Trump's Operation Warp Speed as the model response for the next century of pandemics. Left unsaid is that, for the new pandemic plan to work as envisioned, it will require us to conduct dangerous gain-of-function research. It will also require cutting corners in the evaluation of the safety and efficacy of novel vaccines. And while the studies are underway, politicians will face tremendous pressure to impose draconian lockdowns to keep the population "safe."
In the case of COVID-19 vaccines, it took about a year for governments to deploy the jab at scale after scientists sequenced the virus. Scientists identified a vaccine target—fragments of the spike protein that the virus uses to access cells—by early January 2020, even before the WHO declared a worldwide pandemic.
This rapid response was only possible because some scientists already knew much about the novel virus. Despite heavy regulations limiting the work, the US National Institutes of Health had funded collaborations between the EcoHealth Alliance and the Wuhan Institute of Virology. They collected bat viruses from the wild, enhanced their function to study their potential, and designed vaccines before the viruses infected humans.
While there is controversy over whether this gain-of-function work is responsible for the COVID pandemic, there is no question this research is potentially dangerous. Even cautious scientists sometimes accidentally leak hazardous, highly infectious viruses into the surrounding community. In December 2021, for instance, the virus that causes COVID-19 accidentally leaked out of a laboratory in Taiwan, where scientists were researching the virus.
A promising vaccine target would be needed immediately after a disease outbreak for the Biden pandemic plan to work. For that to be possible, there will need to be permanent support for research enhancing the capacity of viruses to infect and kill humans. The possibility of a deadly laboratory leak will hang over humanity into perpetuity.
Furthermore, before any mass vaccination campaign, pharmaceutical firms must test the vaccines for safety. High-quality randomized, controlled studies are needed to make sure the vaccine works.
In 1954, Jonas Salk's group tested the vaccine in a million children before the polio mass vaccination campaign that effectively defanged the threat of polio to American children. Physicians need the results of these studies to provide accurate information to patients.
Operation Warp Speed cut red tape so that vaccine manufacturers could conduct these studies rapidly. The randomized trials cut some corners. For instance, the Pfizer and Moderna trials did not enroll enough people to determine whether the COVID vaccines reduce all-cause mortality.
Nor did they determine whether the vaccines stop disease transmission; a few months after the government deployed the vaccines, researchers found protection against infection was partial and short-lived. Each of these cut corners has since created policy controversies and uncertainty that better trials would have avoided. Because of the pressure to produce a vaccine within 130 days, President Biden's pandemic plan will likely force randomized trials on future vaccines to cut the same corners.
This policy effectively guarantees that lockdowns will return to the US in the event of a new pandemic. Though the lockdowns did not work to protect populations from getting or spreading COVID—after 2.5 years, nearly everyone in the US has had COVID—public health bureaucracies like the CDC have not repudiated the strategy.
Imagine the early days of the next pandemic, with public health and the media fomenting fear of a new pathogen. The impetus to close schools, businesses, churches, beaches, and parks will be irresistible, though the pitch will be "130 days until the vax" rather than "two weeks to flatten the curve."
When the vaccine finally arrives, the push to mass vaccinate for herd immunity will be enormous, even without evidence from the rushed trials that the vaccine provides long-lasting protection against disease transmission. This happened in 2021 with the COVID vaccine and would happen again amidst the pandemic panic. The government would push the vaccine even on populations at low risk from the novel pathogen. Mandates and discrimination against the unvaccinated would return, along with a fierce movement to resist them. The public's remaining trust in public health would shatter.
Rather than pursue this foolish policy, the Biden administration should adopt the traditional strategy for managing new respiratory-virus pandemics. This strategy involves quickly identifying high-risk groups and adopting creative strategies to protect them while not throwing the rest of society into panic.
The development of vaccines and treatments should be encouraged, but without imposing an artificial timeline that guarantees corners will be cut in evaluation. And most of all, lockdowns—a disaster for children, the poor, and the working class—should be excised from the public health toolkit forever.
A version of this piece appeared in Newsweek
Premiers need to keep talking about the health-care crisis: medical associations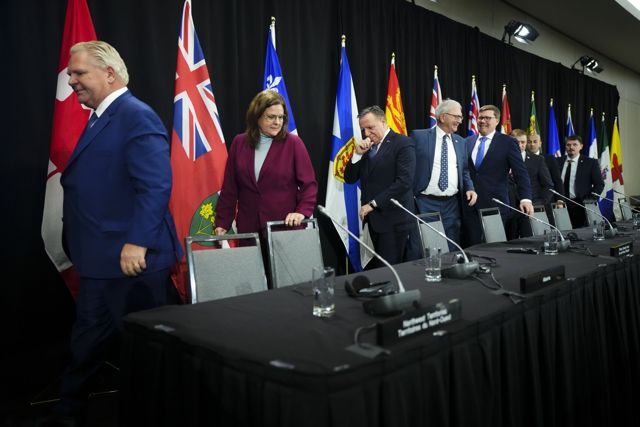 Ontario Premier Doug Ford, left to right, Manitoba Premier Heather Stefanson, Quebec Premier Francois Legault, New Brunswick Premier Blaine Higgs, Saskatchewan Premier Scott Moe, Newfoundland Premier Andrew Furey, Yukon Premier Ranj Pillai and Nunavut Premier P.J. Akeaagok, leave following a press conference of Canada's premiers discussing health care, in Ottawa on Tuesday, Feb. 7, 2023. The Canadian Medical Association and 14 other organizations representing health-workers are urging provincial and territorial premiers to make sure health-care remains at the top of their agenda at their next meeting in July. THE CANADIAN PRESS/Sean Kilpatrick
Ottawa
The Canadian Medical Association and 14 other organizations representing health workers are urging premiers to keep health care at the top of the agenda at their next meeting in July.
The provincial and territorial leaders met several times last year to compare notes on the health-care crisis and call on the federal government to give them more money to fix it.
In February, Prime Minister Justin Trudeau announced a deal that will see Ottawa give $196 billion for the Canada Health Transfer over the next 10 years.
All provinces except Quebec have agreed to the deal in principle.
In a press release on behalf of several doctors' and nurses' associations, the Canadian Medical Association says the deals are a positive step but the health-care crisis has not ended.
They say excessive wait times, a lack of primary care, a shortage of workers and overcapacity in emergency rooms should all be on the premiers' agenda.
This report by The Canadian Press was first published June 5, 2022.