July 4 parade shooting leaves 6 dead, 30 hurt; man detained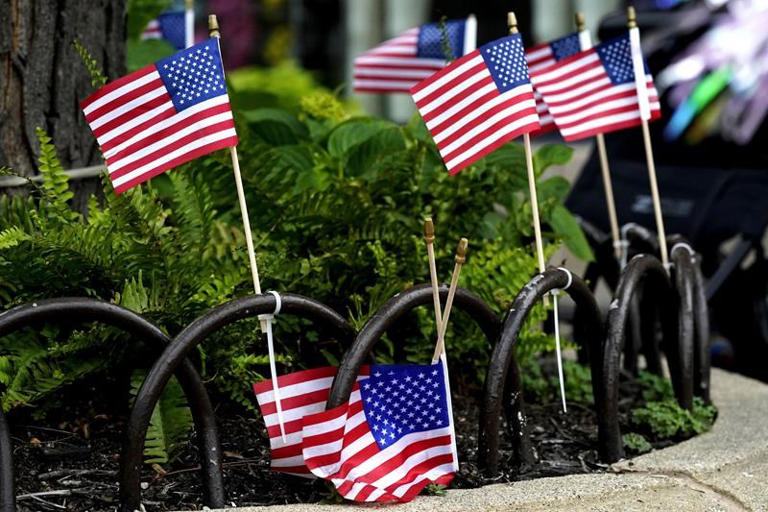 HIGHLAND PARK, Ill. (AP) — A shooter fired on an Independence Day parade from a rooftop in suburban Chicago, spraying the crowd with gunshots initially mistaken for fireworks before hundreds of panicked revelers of all ages fled in terror. At least six people were killed and at least 30 wounded.
An hourslong manhunt during which residents hunkered down in businesses or received police escorts to their homes ended with a traffic stop and brief chase Monday evening, when authorities detained a man they described as a person of interest. They gave no motive for the attack in Highland Park, a close-knit community on the shores of Lake Michigan that has long drawn the rich and sometimes famous
The July 4 shooting was just the latest to shatter the rituals of American life. Schools, churches, grocery stores and now community parades have all become killing grounds in recent months. This time, the bloodshed came as the nation tried to find cause to celebrate its founding and the bonds that still hold it together.
"It definitely hits a lot harder when it's not only your hometown but it's also right in front of you," resident Ron Tuazon said as he and a friend returned to the parade route Monday evening to retrieve chairs, blankets and a child's bike that he and his family abandoned when the shooting began.
"It's commonplace now," Tuazon said. "We don't blink anymore. Until laws change, it's going to be more of the same."
The shooting occurred at a spot on the parade route where many residents had staked out prime viewing points early in the day for the annual celebration.
Among them was Nicolas Toledo, who was visiting his family in Illinois from Mexico. He was shot and died at the scene, his granddaughter, Xochil Toledo, told the Chicago Sun-Times. Also killed was Jacki Sundheim, a lifelong congregant and "beloved" staff member at nearby North Shore Congregation Israel, which announced her death on its website.
Dozens of fired bullets sent hundreds of parade-goers — some visibly bloodied — fleeing. They left a trail of abandoned items that showed everyday life suddenly, violently disrupted: a box of chocolate cookies spilled onto the grass; a child's Chicago Cubs cap; baby strollers, some bearing American flags.
"There's no safe place," said Highland Park resident Barbara Harte, 73, who had stayed away from the parade fearing a mass shooting, but later ventured from her home.
Highland Park Police Chief Lou Jogmen said a police officer pulled over Robert E. Crimo III about 5 miles (8 kilometers) north of the shooting scene, several hours after police released the man's photo and warned that he was likely armed and dangerous.
Authorities initially said Crimo, whose father once ran for mayor of Highland Park, was 22, but an FBI bulletin and Crimo's social media said he was 21.
Police declined to immediately identify Crimo as a suspect but said identifying him as a person of interest, sharing his name and other information publicly was a serious step.
Lake County Major Crime Task Force spokesman Christopher Covelli said at a news conference "several of the deceased victims" died at the scene and one died at a hospital. Lake County Coroner Jennifer Banek said the five people killed at the parade were adults, but didn't have information on the sixth.
Police have not released details about the victims, but Toledo's granddaughter told the Sun-Times that Toledo had spent most of his life in Morelos, Mexico. Xochil Toledo said she remembers looking over at her grandfather, who was in his late 70s, as a band passed them.
"He was so happy," she said. "Happy to be living in the moment."
Xochil Toledo said her father tried to shield her grandfather and was shot in the arm; her boyfriend also was shot in the back and taken by someone to nearby hospital because they weren't sure there would be enough ambulances for all the victims.
Roberto Velasco, Mexico's director for North American affairs, said on Twitter that two Mexicans were also wounded.
Sundheim had spent decades on the staff at North Shore Congregation Israel, early on teaching at the congregation's preschool and later serving as Events and B'nei Mitzvah Coordinator, "all of this with tireless dedication," the congregation said in its statement announcing her death.
"Jacki's work, kindness and warmth touched us all," the statement said.
NorthShore University Health Center received 26 patients after the attack. All but one had gunshot wounds, said Dr. Brigham Temple, medical director of emergency preparedness. Their ages ranged from 8 to 85, and Temple estimated that four or five were children.
"It is devastating that a celebration of America was ripped apart by our uniquely American plague," Illinois Gov. J.B. Pritzker said at a news conference.
"While we celebrate the Fourth of July just once a year, mass shootings have become a weekly — yes, weekly — American tradition."
Since the start of the year, there have been 15 shootings where four or more people have been killed, including the Highland Park one, according to The Associated Press/USA TODAY/Northeastern University mass killing database.
The shooter opened fire around 10:15 a.m., when the parade was about three-quarters through, authorities said.
Highland Park Police Commander Chris O'Neill, the incident commander on scene, said the gunman apparently used a "high-powered rifle" to fire from a spot atop a commercial building where he was "very difficult to see." He said the rifle was recovered at the scene. Police also found a ladder attached to the building.
Highland Park Mayor Nancy Rotering told NBC's "Today" show that she did not know where the gun came from but that it was "legally obtained."
President Joe Biden on Monday said he and first lady Jill Biden were "shocked by the senseless gun violence that has yet again brought grief to an American community on this Independence Day."
In recent days, Biden signed the widest-ranging gun violence bill passed by Congress in decades, a compromise that reflected at once both progress on a long-intractable issue and the deep-seated partisan divide that persists.
Crimo, who goes by the name Bobby, was an aspiring rapper with the stage name Awake the Rapper, posting on social media dozens videos and songs, some ominous and violent.
In one animated video since taken down by YouTube, Crimo raps about armies "walking in darkness" as a drawing appears of a man pointing a rifle, a body on the ground and another figure with hands up in the distance.
Crimo's father, Bob, a longtime deli owner, ran unsuccessfully for mayor of Highland Park in 2019, calling himself "a person for the people."
The community of about 30,000 on Chicago's north shore has mansions and sprawling lakeside estates and was once home to NBA legend Michael Jordan. John Hughes filmed parts of several movies in the city, including "Ferris Bueller's Day Off," "Sixteen Candles" and "Weird Science."
Gina Troiani and her 5-year-old son were lined up with his daycare class ready to walk onto the parade route when she heard a loud sound that she believed was fireworks — until she heard people yell about a shooter.
"We just start running in the opposite direction," she told The Associated Press. "There were people that got separated from their families, looking for them. Others just dropped their wagons, grabbed their kids and started running."
___
Foody contributed from Chicago. Associated Press writers Martha Irvine and Mike Householder in Highland Park; Mike Balsamo and Bernard Condon in New York; David Koenig in Dallas; Jeff Martin in Woodstock, Georgia; Fabiola Sánchez in Monterrey, Mexico; and Jim Mustian in New Orleans contributed reporting.
Michael Tarm, Kathleen Foody And Roger Schneider, The Associated Press
Author Salman Rushdie attacked on lecture stage in New York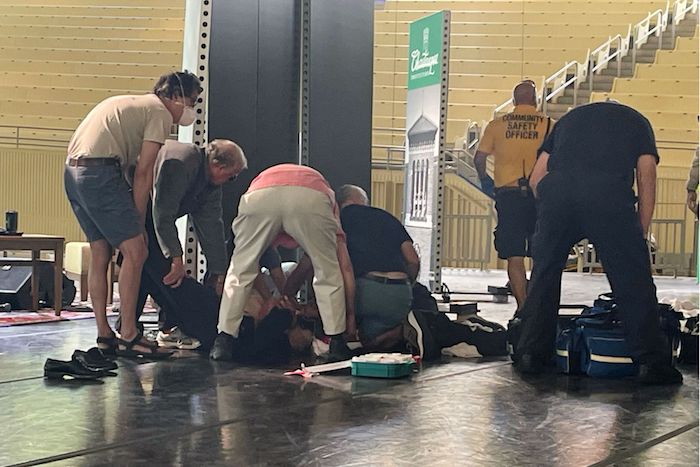 CHAUTAUQUA, N.Y. (AP) — Salman Rushdie, the author whose writing led to death threats from Iran in the 1980s, was attacked and apparently stabbed in the neck Friday by a man who rushed the stage as he was about to give a lecture in western New York.
An Associated Press reporter witnessed a man confront Rushdie on stage at the Chautauqua Institution and punch or stab him 10 to 15 times as he was being introduced. The 75-year-old author was pushed or fell to the floor, and the man was arrested.
State police said Rushdie was apparently stabbed in the neck and was flown to a hospital. His condition wasn't immediately known. The moderator at the event was also attacked and suffered a minor head injury, police said.
Rabbi Charles Savenor was among the roughly 2,500 people in the audience. Amid gasps, spectators were ushered out of the outdoor amphitheater.
The assailant ran onto the platform "and started pounding on Mr. Rushdie. At first you're like, 'What's going on?' And then it became abundantly clear in a few seconds that he was being beaten," Savenor said. He said the attack lasted about 20 seconds.
Another spectator, Kathleen Jones, said the attacker was dressed in black, with a black mask.
"We thought perhaps it was part of a stunt to show that there's still a lot of controversy around this author. But it became evident in a few seconds" that it wasn't, she said.
A bloodied Rushdie was quickly surrounded by a small group of people who held up his legs, presumably to send more blood to his chest.
Rushdie has been a prominent spokesman for free expression and liberal causes. He is a former president of PEN America, which said it was "reeling from shock and horror" at the attack.
"We can think of no comparable incident of a public violent attack on a literary writer on American soil," CEO Suzanne Nossel said in a statement.
Rushdie "has been targeted for his words for decades but has never flinched nor faltered," she added.
His 1988 book "The Satanic Verses" was viewed as blasphemous by many Muslims. Often-violent protests against Rushdie erupted around the world, including a riot that killed 12 people in Mumbai.
The novel was banned in Iran, where the late leader Grand Ayatollah Ruhollah Khomeini issued a 1989 fatwa, or edict, calling for Rushdie's death. Khomeini died that same year.
Iran's current Supreme Leader Ayatollah Ali Khamenei has never issued a fatwa of his own withdrawing the edict, though Iran in recent years hasn't focused on the writer.
Iran's mission to the United Nations did not immediately respond to a request for comment on Friday's attack.
A bounty of over $3 million has also been offered for anyone who kills Rushdie.
The death threats and bounty led Rushdie to go into hiding under a British government protection program, which included a round-the-clock armed guard. Rushdie emerged after nine years of seclusion and cautiously resumed more public appearances, maintaining his outspoken criticism of religious extremism overall.
He has said he is proud of his fight for freedom of expression, saying in a 2012 talk in New York that terrorism is really the art of fear.
"The only way you can defeat it is by deciding not to be afraid," he said.
Iran's government has long since distanced itself from Khomeini's decree, but anti-Rushdie sentiment has lingered. The Index on Censorship, an organization promoting free expression, said money was raised to boost the reward for his killing as recently as 2016, underscoring that the fatwa for his death still stands.
In 2012, Rushdie published a memoir, "Joseph Anton," about the fatwa. The title came from the pseudonym Rushdie had used while in hiding.
Rushdie rose to prominence with his Booker Prize-winning 1981 novel "Midnight's Children," but his name became known around the world after "The Satanic Verses."
The Chautauqua Institution, about 55 miles southwest of Buffalo in a rural corner of New York, has served for more than a century as a place for reflection and spiritual guidance. Visitors don't pass through metal detectors or undergo bag checks. Most people leave the doors to their century-old cottages unlocked at night.
Police said a state trooper was assigned to Rushdie's lecture.
The Chautauqua center is known for its summertime lecture series, where Rushdie has spoken before. Speakers address a different topic each week. Rushdie and moderator Henry Reese were set to discuss "the United States as asylum for writers and other artists in exile and as a home for freedom of creative expression."
___
Associated Press writers Carolyn Thompson in Buffalo, New York; Michael Hill in Albany, New York; and Jennifer Peltz in New York City contributed to this report.
Wanted man cut through fence to cross U.S. border with children: Border Patrol
United States Border Patrol says a convicted Canadian sex offender drove through a barbed wire fence to cross the intentional border with two children and their mother.
U.S. border patrol says agents found a cut fence near the Turner Port of Entry between Saskatchewan and Montana.
Mounties in Saskatchewan issued an Amber Alert for the boy and girl Monday and it was extended into South Dakota Wednesday.
Benjamin Martin Moore, who is 50, was taken into custody in South Dakota soon after.
The seven-year-old girl and eight-year-old boy, as well as their mother, were with Moore.
U.S. Immigration and Customs Enforcement confirm that Moore, as well as the mother, remain in custody.
This report by The Canadian Press was first published Aug. 11, 2022.