Iran's hard-line president-elect says he won't meet Biden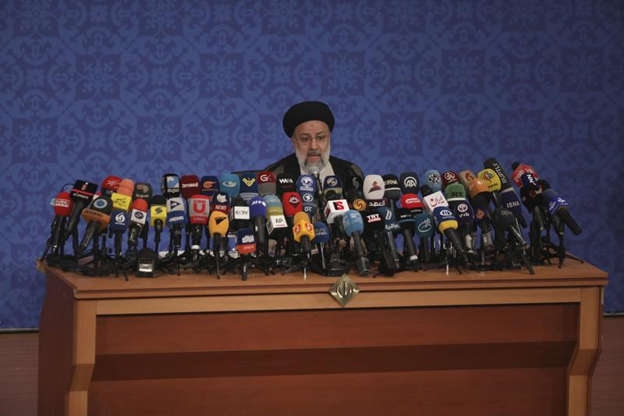 DUBAI, United Arab Emirates (AP) — Iran's president-elect said Monday he would not meet with President Joe Biden or negotiate over Tehran's ballistic missile program and its support of regional militias, sticking to a hard-line position following his landslide victory in last week's election.
Judiciary chief Ebrahim Raisi also described himself as a "defender of human rights" when asked about his involvement in the 1988 mass execution of about 5,000 people. It marked the first time he's been put on the spot on live television over that dark moment in Iranian history at the end of the Iran-Iraq war.
"The U.S. is obliged to lift all oppressive sanctions against Iran," Raisi said at his first news conference after Friday's election, a contest widely seen as a coronation after his strongest competition found themselves barred from running.
Raisi, 60, sat in front of a sea of microphones, most from Iran and countries home to militias supported by Tehran. He looked nervous at the beginning of his comments but slowly became more at ease over the hourlong news conference.
Asked about Iran's ballistic missile program and its support of regional militias, Raisi described the issues as "nonnegotiable."
Tehran's fleet of attack aircraft date largely back to before the 1979 Islamic Revolution, forcing Iran to instead invest in missiles as a hedge against its regional Arab neighbors, who have bought billions of dollars in American military hardware over the years. Those missiles, with a self-imposed range limit of 2,000 kilometers (1,240 miles), can reach across the Mideast and U.S. military bases in the region.
Iran also relies on militias like Yemen's Houthi rebels and Lebanon's militant Hezbollah group for counterbalance against enemies such as Saudi Arabia and Israel, respectively.
On a possible meeting with Biden, Raisi curtly answered: "No." His moderate competitor in the election, Abdolnasser Hemmati, had suggested during campaigning that he might be willing to meet Biden.
The White House did not immediately respond to Raisi's statements. Raisi will become the first serving Iranian president sanctioned by the U.S. government even before entering office, in part over his time as the head of Iran's internationally criticized judiciary.
The victory of Raisi, a protégé of Iran's Supreme Leader Ayatollah Ali Khamenei, came amid the lowest voter turnout in the Islamic Republic's history. Millions of Iranians stayed home in defiance of a vote they saw as tipped in Raisi's favor after a panel under Khamenei disqualified prominent reformist candidates.
Of those who did vote, 3.7 million people either accidentally or intentionally voided their ballots, far beyond the amount seen in previous elections and suggesting some wanted none of the four candidates. In official results, Raisi won 17.9 million votes overall, nearly 62% of the total 28.9 million cast. Tehran had a 34% turnout, far lower than previous years, with many polling stations across the capital noticeably empty.
Raisi's election puts hard-liners firmly in control across the government as negotiations in Vienna continue to try to save a tattered deal meant to limit Iran's nuclear program.
Then-U.S. President Donald Trump unilaterally withdraw America from the landmark agreement in 2018, setting in motion months of tensions across the region. In response, Iran has abandoned the limits of the deal and is now enriching uranium at 60%, its highest levels ever, though still short of weapons-grade levels. Representatives of the world powers party to the deal returned to their capitals for consultations following the latest round of negotiations on Sunday.
Raisi's victory has raised concerns that it could complicate a possible return to the nuclear agreement. In his remarks Monday, Raisi called sanctions relief as "central to our foreign policy" and exhorted the U.S. to "return and implement your commitments" in the deal.
"No matter the timing, a U.S.-Iran agreement in Vienna leaves unanswered whether the United States can achieve a broader rapprochement with an Iran led by an avowed proponent of the core tenets of Iran's Islamic Revolution," the New York-based Soufan Center said in an analysis Monday.
On Sunday, Iran's sole nuclear plant at Bushehr underwent an unexplained emergency shutdown. Previously, Iranian officials had warned that U.S. sanctions affected their ability to get parts for the facility.
On Saudi Arabia, which has recently started secret talks with Iran in Baghdad over several points of contention between the regional heavyweights, Raisi said that Iran would have "no problem" with a possible reopening of the Saudi Embassy in Tehran and that the "restoration of relations faces no barrier." The embassy was closed in 2016 as relations deteriorated.
Raisi struck a defiant tone, however, when asked about the 1988 executions, which saw sham retrials of political prisoners, militants and others that would become known as "death commissions."
After Iran's then-Supreme Leader Ayatollah Ruhollah Khomeini accepted a U.N.-brokered cease-fire, members of the Iranian opposition group Mujahedeen-e-Khalq, heavily armed by Saddam Hussein, stormed across the Iranian border from Iraq in a surprise attack. Iran ultimately blunted their assault.
The trials began around that time, with defendants asked to identify themselves. Those who responded "mujahedeen" were sent to their deaths, while others were questioned about their willingness to "clear minefields for the army of the Islamic Republic," according to a 1990 Amnesty International report.
International rights groups estimate that as many as 5,000 people were executed. Raisi served on the commissions.
"I am proud of being a defender of human rights and of people's security and comfort as a prosecutor wherever I was," he said. "All actions I carried out during my office were always in the direction of defending human rights."
He added: "Today in the presidential post, I feel obliged to defend human rights."
Isabel Debre And Jon Gambrell, The Associated Press
Freeland says drop in foreign-aid spending is not a cut, Ukraine fight is pivotal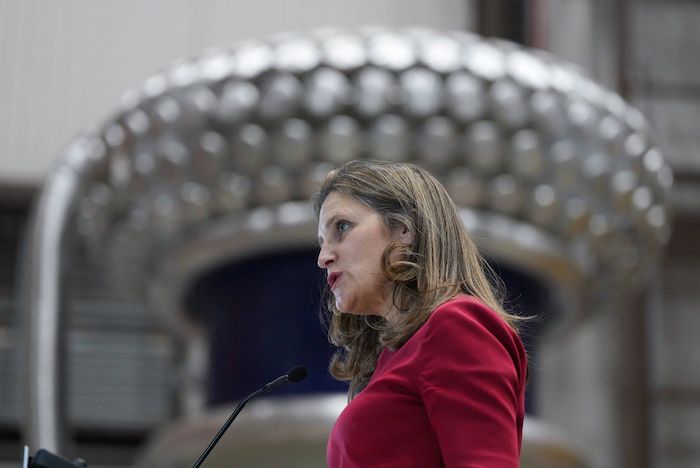 Deputy Prime Minister and Minister of Finance, Chrystia Freeland, speaks during a news conference at Powertech Labs, in Surrey, B.C., on Thursday, March 30, 2023. Freeland insists the government's projected $1.3-billion drop in foreign aid spending does not amount to a cut. THE CANADIAN PRESS/Darryl Dyck
By Dylan Robertson in Ottawa
Finance Minister Chrystia Freeland insists the government's projected $1.3-billion drop in foreign aid spending does not amount to a cut.
The Liberal budget released this week projects that Ottawa will spend nearly $6.9 billion for international development in the coming fiscal year, which is a 16 per cent drop from last year's allocation.
That's despite Prime Minister Justin Trudeau tasking International Development Minister Harjit Sajjan to increase aid spending every year.
The Liberals had delivered a historic boost in aid in response to the COVID-19 pandemic and the war in Ukraine.
Asked about criticism from the aid sector about the cut, Freeland said she "wouldn't characterize it that way."
She stressed that Canada is allocating $2.4 billion in direct financial aid to Ukraine, and called that country's fight the world's most important struggle.
The Liberals have also allocated funding for infrastructure projects in developing countries in the Indo-Pacific region, arguing that these countries want investment more than aid.
Representatives of Canada's aid sector have said they will need to end projects abroad due to the lower-than-hoped funding projected in the Liberals' budget last week, and they're particularly concerned about whether aid dollars are being diverted from Africa to Ukraine.
Freeland told reporters Thursday at a press conference in Surrey, B.C., that Ukraine's fight is crucial to Canada's interests.
"The fight that is happening in Ukraine today is the single most important battle in the world between democracy and dictatorship," she said, while defending her government's record.
"I believe that Canada has a responsibility to be strong and active around the world," she added.
"We're making a very big difference. Canada is the eighth-largest foreign-aid donor (in the world). That is a big deal."
Last October, Freeland was criticized for her response to an African aid expert who said that the West diverting dollars to Ukraine leaves the continent relying more on Russia's support, an idea she rejected.
"A democracy can only be defended by people themselves if they're actually prepared to die for their democracy," she said.
In a later apology for those remarks, she said she was sorry if people found the comments insensitive, adding: "If a white western person has offended someone, the first answer is to say, 'I really didn't mean to offend you.'"
At the time, Freeland said the western world needs to recognize that Africa's current problems stem from colonization.
"These are challenges that have been imposed from the outside. And I think that means we have a high level of responsibility."
This report by The Canadian Press was first published March 31, 2023.
China's global influence looms over Harris trip to Africa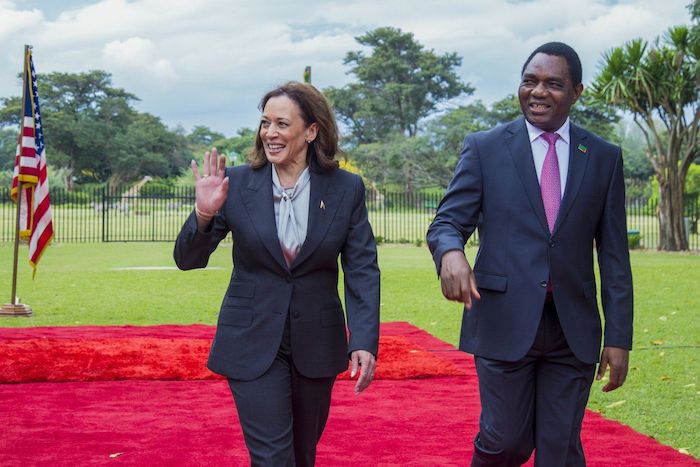 U.S. Vice President Kamala Harris, left, is greeted by Zambian President Hakainde Hichilema in Lusaka, Zambia, Friday March 31, 2023. Harris is on the last leg of a a seven-day African visit that took her to Ghana and Tanzania. (AP Photo/Salim Dawood)
By Chris Megerian, Cara Anna And Andrew Meldrum in Lusaka
LUSAKA, Zambia (AP) — When Vice President Kamala Harris arrived in Zambia on Friday for the final stop of her weeklong trip across Africa, she touched down at an airport that's doubled in size and features glittering new terminals.
Rather than a symbol of promising local development, it's a reminder of China's deep influence. Beijing financed the project, one of many that has expanded its footprint on a booming continent that's rich in natural resources, often generating goodwill among its citizens.
The global rivalry between the United States and China has been a recurring backdrop for Harris' journey, and nowhere has that been more apparent than Zambia and her previous stop in Tanzania.
Besides the airport, China built a 60,000-seat stadium in Lusaka, plus roads and bridges around the country. Zambia is on the hook for all of the development with billions of dollars in debt. Tanzania is a major trading partner with China, and it has a new political leadership school funded by the Chinese Communist Party.
The developments have alarmed Washington, and President Joe Biden's administration is worried that Africa is slipping further into Beijing's sphere of influence.
Harris has played down the issue on her trip, preferring to focus on building partnerships independent of geopolitical competition. However, she has acknowledged there's limited time for the U.S. to make inroads on the continent, telling reporters earlier in the trip that there is a "window" that is "definitely open now" for American investments.
At a news conference with Zambian President Hakainde Hichilema on Friday, Harris reiterated her call for "all bilateral official creditors to provide a meaningful debt reduction for Zambia" — an oblique reference to China — but she stressed that "our presence here is not about China."
Hichilema said it would be "completely wrong" to view Zambia's interests in terms of a rivalry between the U.S. and China.
"When I'm in Washington, I'm not against Beijing. When I'm in Beijing, I'm not against Washington," he said, adding that "none of these relationships are about working against someone or a group of countries."
China's roots in both Tanzania and Zambia run deep. In the 1970s, Beijing built the Tazara Railway from landlocked Zambia to Tanzania's Dar es Salaam port, allowing copper exports to circumvent white-minority-ruled Rhodesia and apartheid South Africa.
Today, China is Africa's largest two-way trading partner, with $254 billion of business in 2021, according to the United States Institute of Peace. That's four times the amount of trade between the U.S. and Africa. In addition, dealing with Beijing features less admonishments about democracy than with Washington.
"Most African countries are rightly unapologetic about their close ties to China," Nigeria's vice president, Yemi Osinbajo, tweeted on Thursday. "China shows up where and when the West will not and/or are reluctant."
Sen. Chris Coons, a Delaware Democrat who has worked on Africa issues in Congress, expressed frustration over China's growing influence on the continent.
"We switched from being the No. 1 trade partner or the No. 1 investment partner in two dozen countries, to China being the No. 1 trade and investment partner," he told reporters aboard Air Force Two on the flight to Ghana at the beginning of Harris' trip. "I think our challenge for this decade is to address that."
Biden has been taking steps toward that, such as hosting a summit for African leaders in December, when he announced that he wants to commit $55 billion to the continent in the coming years.
Harris has made announcements as well during her trip, including more than $1 billion in public and private money for economic development, $100 million for security assistance in West Africa and $500 million to facilitate trade with Tanzania.
However, there's skepticism about whether the U.S. will follow through on its promises, and Harris has been faced with not-so-subtle hints that Africa expects more. For example, the presidents of Ghana and Tanzania bluntly said they hope Biden chooses to visit their countries during his expected trip to Africa later this year, which would be his first to the continent as president.
By comparison, Tanzania was among the first countries that Chinese President Xi Jinping visited after becoming president in 2013. And after Xi secured a third term, Tanzanian President Samia Suluhu Hassan was the first African head of state to visit Beijing.
"Kamala faces Chinese dominance in Tanzania," the Tanzania Business Insight publication tweeted Wednesday.
Ian Johnson, a former China-based journalist who works at the U.S.-based Council on Foreign Relations, said Beijing presents a powerful narrative in the developing world as a country that rapidly built its economy and pulled much of its population out of poverty.
African leaders think "let's see what we can learn from China," he said, adding that "there's a certain fascination in how they did it."
Johnson also said China views Africa differently than the U.S.
"We have a tendency to see Africa as a series of problems — wars, famines, something like that," he said. "But in China's eyes, Africa is much more of an opportunity."
Edem Selormey, who conducts public opinion research at the Ghana Center for Democratic Development, said the feeling is often mutual.
"China's influence in Africa is largely seen as positive," she said. "And the U.S. trails China in that regard."
The difference, she said, is often about "what citizens see on the ground," such as infrastructure projects, and "the U.S. has been missing from this picture for a while."
John Kirby, a White House national security spokesman, said the debt that comes from China's involvement is ultimately corrosive. He said African leaders are "beginning to realize that China is not really their friend."
"China's interests in the region are purely selfish, as opposed to the United States," he said.
It's a sentiment that draws scoffs in some corners of Africa.
"America is like playing the role of a big Uncle Sam in trying to defend African countries against what they think is the encroachment of China into the liberty of African countries through these loans," said Tanzania-based analyst Mohamed Issa Hemed.
However, he added, "China is ahead of the U.S. in many, many ways."
Daniel Russel, a former State Department official who is now at the Asia Society Policy Institute, summed up the African perspective as "enough with the lectures" about China. "They've got something we want. And they've got it right here."
When it comes to U.S. hopes for Africa, he said, "you can't beat something with nothing."
___ Anna reported from Nairobi, Kenya, and Meldrum from Johannesburg. Associated Press writer Evelyne Musambi in Nairobi, Kenya, contributed to this report.