Iran government supporters confront protesters at World Cup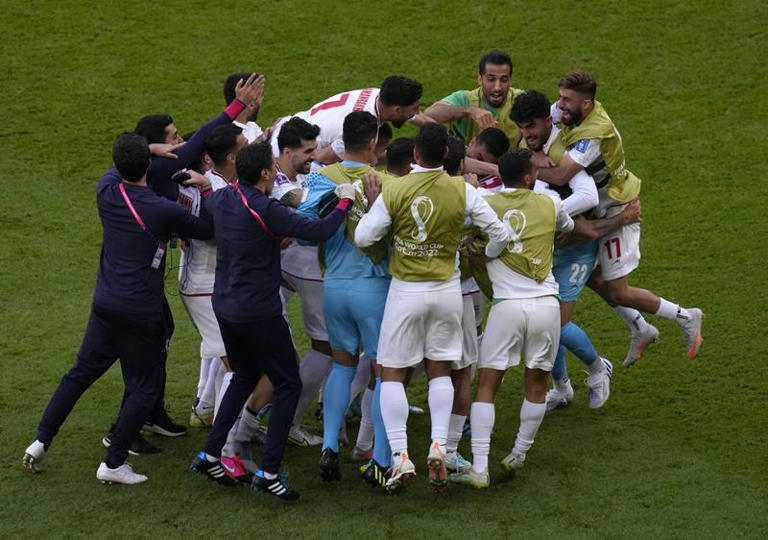 AL RAYYAN, Qatar (AP) — Tensions ran high at Iran's second match at the World Cup on Friday as fans supporting the Iranian government harassed those protesting against it and stadium security seized flags, T-shirts and other items expressing support for the protest movement that has gripped the Islamic Republic.
Some fans were stopped by stadium security from bringing in Persian pre-revolutionary flags to the match against Wales at the Ahmad Bin Ali Stadium. Others carrying such flags had them ripped from their hands by pro-government Iran fans, who also shouted insults at fans wearing T-shirts with the slogan of the protest movement gripping the country, "Woman, Life, Freedom."
Unlike in their first match against England, the Iran players sang along to their national anthem before the match as some fans in the stadium wept, whistled and booed.
The national team has come under close scrutiny for any statements or gestures about the nationwide protests that have wracked Iran for weeks.
Shouting matches erupted in lines outside the stadium between fans screaming "Women, Life, Freedom" and others shouting back "The Islamic Republic!"
Mobs of men surrounded three different women giving interviews about the protests to foreign media outside the stadium, disrupting broadcasts as they angrily chanted, "The Islamic Republic of Iran!" Many female fans appeared shaken as Iranian government supporters shouted at them in Farsi and filmed them up close on their phones.
After Iran's 2-0 triumph, crowds of Iranian fans wildly waving national flags streamed out of the stadium. They thronged a group of protesters who held up photos of Mahsa Amini, the 22-year-old whose Sept. 16 death in the custody of the morality police first unleashed the protests, yelling "Victory!" to drown out chants of Amini's name.
One 35-year-old woman named Maryam, who like other Iran fans declined to give her last name for fear of government reprisals, started to cry as shouting men blowing horns encircled her and filmed her face. She had the words "Woman Life Freedom" painted on her face.
"We want to raise awareness about his arrest and about the women's rights movement," said Maryam, who lives in London but is originally from Tehran. "I'm not here to fight with anyone, but people have been attacking me and calling me a terrorist. All I'm here to say is that football doesn't matter if people are getting killed in the streets."
Maryam and her friends had worn hats emblazoned with the name of an outspoken Iranian former soccer player Voria Ghafouri, who had criticized Iranian authorities and was arrested in Iran on Thursday on accusations of spreading propaganda against the government. She said Iranian government supporters had taken the hats from their heads.
Ghafouri, who is Kurdish, was a star member of Iran's 2018 World Cup team, but was surprisingly not named in the squad for this year in Qatar.
"It's obvious that the match had become very politicized this week. You can see people from the same country who hate each other," said Mustafa, a 40-year-old Iran fan who also declined to give his last name. "I think the arrest of Voria has also affected society in Iran a lot."
Furious protesters in Iran have been venting their anger over social and political repression and the state-mandated headscarf, or hijab, for women. The demonstrations have quickly grown into calls for the downfall of the Islamic Republic itself. At least 419 people have been killed since the protests erupted, according to monitoring group Human Rights Activists in Iran.
The turmoil has overshadowed the start of Iran's World Cup campaign. The opening match against England on Monday was the scene of protests as anti-government fans waved signs and chanted in the stands. Before that match, which Iran lost 6-2, its players remained silent as their national anthem played and didn't celebrate their two goals. On Friday, they sang along to the anthem and celebrated wildly when they scored twice against Wales.
Ayeh Shams, an Iranian from the United States, said security guards confiscated her flag because it had the word "women" written on it.
"We're just here to enjoy the games and give a platform for the Iranian people who are fighting against the Islamic regime," Shams said.
Zeinlabda Arwa, a security guard at the stadium, confirmed that authorities had been given orders to confiscate anything but the flag of the Islamic Republic of Iran.
"Whether you're talking about Iran or Qatar or any country, you are only allowed to bring in the normal flag," she said.
An angry group of Iranian government supporters shouted at Elyas Doerr, a 16-year-old Iranian boy living in Arizona who was wearing the Persian flag as a cape, until he took it off and and put it in his bag.
"They're not liking that it's a political statement," he said, adding that other Iranian fans had approached him to say they appreciated the gesture.
A 32-year-old Iranian woman living in southern Spain, who declined to give her name for fear of reprisals, scrambled after the match to retrieve her hat and flag that had been confiscated by stadium security. She said Qatari police ordered her to scrub off the names of Iranian protesters killed and arrested by security forces that she had written on her arms and chest, at the behest of Iranian government supporters. At the game, just traces of ink remained on her skin that was rubbed raw.
"Today's football experience was the most intimidating I've ever been in, before and after the match," she said. She described dozens of men who surrounded her and tried to smother her face with their Iranian flags, snatching her signs as Qatari security stood by.
"I don't care about the win, to be honest. That's not my priority."
After the game, Iranian state television broadcast patriotic songs and showed footage of people bursting out into cheers across the country.
___
AP World Cup coverage: https://apnews.com/hub/world-cup and https://twitter.com/AP_Sports
Isabel Debre And Ciarán Fahey, The Associated Press
A real zoodunit: Monkeys found but mystery deepens in Dallas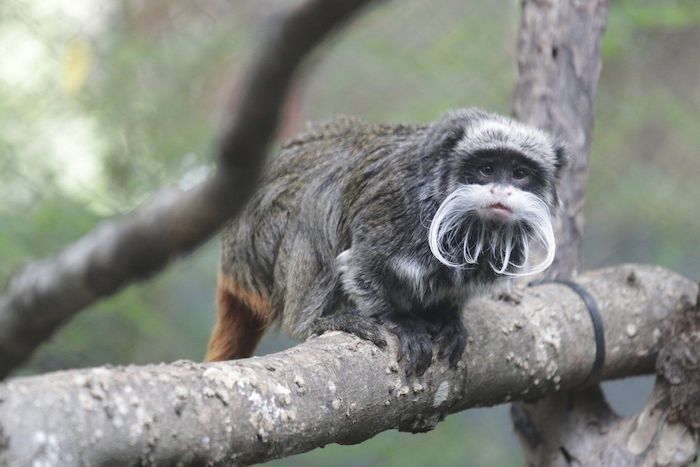 By Jamie Stengle in Dallas
DALLAS (AP) — Two monkeys taken from the Dallas Zoo were found Tuesday in an abandoned home after going missing the day before from their enclosure, which had been cut. But no arrests have been made, deepening the mystery at the zoo that has included other cut fences, the escape of a small leopard and the suspicious death of an endangered vulture.
Dallas police said they found the two emperor tamarin monkeys after getting a tip that they could be in an abandoned home in Lancaster, located just south of the zoo. The animals were located, safe, in a closet, and then returned to zoo for veterinary evaluation.
Police said earlier Tuesday that they were still working to determine whether or not the incidents over the last few weeks are related.
Meanwhile, in Louisiana, officials were investigating after 12 squirrel monkeys were taken from a zoo there on Sunday and considering whether there could be a connection.
Here's what is known so far about the incidents:
WHAT HAS HAPPENED AT THE DALLAS ZOO?
The zoo closed Jan. 13 after workers arriving that morning found that the clouded leopard, named Nova, was missing. After a search that included police, the leopard weighing 20-25 pounds (9-11 kilograms) was found later that day near her habitat.
Police said a cutting tool was intentionally used to make the opening in her enclosure. A similar gash also was found in an enclosure for langur monkeys, though none got out or appeared harmed, police said.
On Jan. 21, an endangered lappet-faced vulture named Pin was found dead by arriving workers. Gregg Hudson, the zoo's president and CEO, called the death "very suspicious" and said the vulture had "a wound," but declined to give further details.
Hudson said in a news conference following Pin's death that the vulture enclosure didn't appear to be tampered with.
On Monday police said the two emperor tamarin monkeys — which have long whiskers that look like a mustache — were believed to have been taken after someone cut an opening in their enclosure.
The following day police released a photo and video of a man they said they wanted to talk to about the monkeys. The photo shows a man eating Doritos chips while walking, and in the video clip he is seen walking down a path.
WHAT COULD BE THE MOTIVE IN TAKING THE MONKEYS?
Lynn Cuny, founder and president of Wildlife Rescue & Rehabilitation in Kendalia, Texas, said she wouldn't be surprised if it turns out the monkeys were taken to be sold. Depending on the buyer, she said, a monkey like those could be sold for "several thousands" of dollars.
"Primates are high-dollar animals in the wildlife pet trade in this country," Cuny said. "Everybody that wants one wants one for all the wrong reasons — there's never any good reason to have any wild animal as a pet."
She said there were a variety of ways the taken monkeys could have been in danger, from an improper diet to exposure to cold. Temperatures in Dallas dipped into the 20s on Tuesday during a winter storm.
WHAT IS KNOWN ABOUT THE VULTURE?
Pin's death has been hard on the staff, a zoo official said.
The vulture was "a beloved member of the bird department," according to Harrison Edell, the zoo's executive vice president for animal care and conservation.
Speaking at a news conference, Edell said Pin was at least 35 years old and had been at the zoo for 33 years. "A lot of our teams have worked closely with him for all of that time," Edell said.
Pin, one of four lappet-faced vultures at the zoo, was said to have sired 11 offspring, and his first grandchild hatched in early 2020.
Edell said Pin's death was not only a personal loss but also a loss for the species, which "could potentially go extinct in our lifetime."
WHAT IS KNOWN ABOUT SECURITY?
Hudson, the zoo's CEO, said in a news conference following Pin's death that normal operating procedures included over 100 cameras to monitor public, staff and exhibit areas, and that number had been increased. Overnight presence of security and staff was also raised.
Where possible, he said, zoo officials limited the ability of animals to go outside overnight.
After Nova went missing, officials said they had reviewed surveillance video but not what it showed.
The zoo was closed Tuesday and Wednesday due to the storm.
WHAT HAPPENED IN LOUISIANA?
The 12 squirrel monkeys were discovered missing Sunday from their enclosure at a zoo in the state's southeast.
Their habitat at Zoosiana in Broussard, about 60 miles (96 kilometers) west of Baton Rouge, had been "compromised" and some damage was done to get in, city Police Chief Vance Olivier said Tuesday. He declined to provide further details on the damage, citing the ongoing investigation.
He said police did not have any suspects yet but were still searching through video files.
Zoosiana said in a Facebook post that the remaining monkeys have been assessed and appear unharmed.
HAVE THERE BEEN OTHER INCIDENTS BEFORE AT THE DALLAS ZOO?
In 2004, a 340-pound (154-kilogram) gorilla named Jabari jumped over a wall and went on a 40-minute rampage that injured three people before police shot and killed the animal.
___
Associated Press writer Paul J. Weber contributed to this report from Austin, Texas.
'Hands off Africa!': Pope blasts foreign plundering of Congo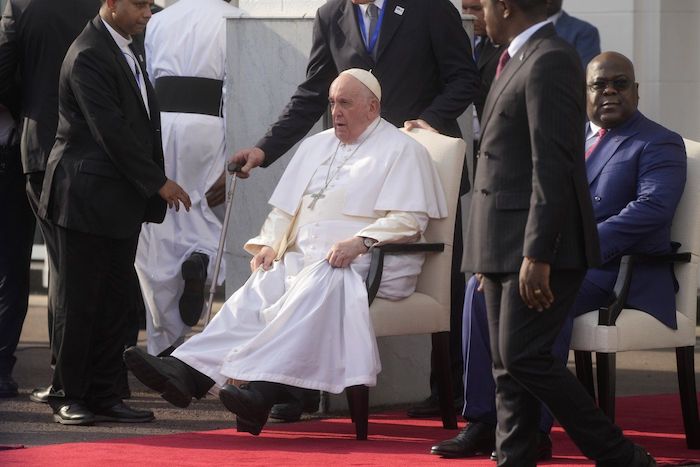 By Nicole Winfield, Jean-yves Kamale And Christina Malkia in Kinshasa
KINSHASA, Congo (AP) — Pope Francis demanded Tuesday that foreign powers stop plundering Africa's natural resources for the "poison of their own greed" as he arrived in Congo to a raucous welcome by Congolese grateful he was focusing the world's attention on their forgotten plight.
Tens of thousands of people lined the main road into the capital, Kinshasa, to welcome Francis after he landed at the airport, some standing three or four deep, with children in school uniforms taking the front row.
"The pope is 86 years old but he came anyway. It is a sacrifice and the Congolese people will not forget it," said Sultan Ntambwe, a bank agent in his 30s, as he waited for Francis' arrival in a scene reminiscent of some of Francis' earlier trips to similarly heavily Catholic countries.
Francis plunged headfirst into his agenda upon arrival, denouncing the centuries-long exploitation of Africa by colonial powers, today's multinational extraction industries and the neighboring countries interfering in Congo's affairs that has led to a surge in fighting in the east.
"Hands off the Democratic Republic of the Congo! Hands off Africa!" Francis said to applause in his opening speech to Congolese government authorities and the diplomatic corps in the garden of Kinshasa's national palace.
Calling Congo's vast mineral and natural wealth a "diamond of creation," Francis demanded that foreign interests stop carving up the country for their own interests and acknowledge their role in the economic "enslavement" of the Congolese people.
"Stop choking Africa: It is not a mine to be stripped or a terrain to be plundered," said history's first Latin American pope, who has long railed at how wealthy countries have exploited the resources of poorer ones for their own profit.
The six-day trip, which also includes a stop in South Sudan, was originally scheduled for July, but was postponed because of Francis' knee problems, which were still so serious on Tuesday that he couldn't stand to greet journalists in the plane heading to Kinshasa and forced him to use a wheelchair on the ground.
It was also supposed to have included a stop in Goma, in eastern Congo, but the surrounding North Kivu region has been plagued by intense fighting between government troops and the M23 rebel group, as well as attacks by militants linked to the Islamic State group.
The fighting has displaced some 5.7 million people, a fifth of them last year alone, according to the World Food Program.
Instead of travelling there, Francis will meet with a delegation of people from the east who will travel to Kinshasa for a private encounter at the Vatican embassy on Wednesday. The plan calls for them to participate in a ceremony jointly committing to forgive their assailants.
Sylvie Mvita, a student in economics in Kinshasa, said the pope's arrival would focus the world's attention and television cameras on Congo and the fighting in the east to show how its suffering has been forgotten by the rest of the world.
"This will allow the world to discover the atrocities of which our brothers in the east of the country are victims. And maybe for once, the little humanity that remains in some people will cause an awakening and the international community will not only be interested in what is happening in Ukraine but also in what is happening in this country," she said.
President Felix Tshisekedi voiced a similar line in his speech to the pope, accusing the international community of forgetting about Congo and of its complicit "inaction and silence" about the atrocities occurring in the east.
"In addition to armed groups, foreign powers eager for the minerals in our subsoil commit cruel atrocities with the direct and cowardly support of our neighbor Rwanda, making security the first and greatest challenge for the government," he said.
Rwanda has been accused of — and has repeatedly denied — backing the M23 rebels operating in Congo.
Francis' tough words at the start set the tone for the trip, in which the pontiff is aiming to bring a message of peace, a warning to the international community to not look the other way and a recognition that Africa is the future of the Catholic Church.
The continent is one of the only places on Earth where the Catholic flock is growing, both in terms of practicing faithful and fresh vocations to the priesthood and religious life.
And Congo stands out as the African country with most Catholics hands down: Half of its 105 million people are Catholic, the country counts more than 6,000 priests, 10,000 nuns and more than 4,000 seminarians — 3.6% of the global total of young men studying for the priesthood.
That makes Francis' trip, his fifth to the African continent in his 10-year pontificate, all the more important as the Jesuit pope seeks to reshape the church as a "field hospital for wounded souls," where all are welcome, poor people have a special pride of place and rivals are urged to make peace.
Aid groups had hoped Francis' six-day visit would shine a spotlight on the forgotten conflicts of Congo and South Sudan and their soaring humanitarian costs, and rekindle international attention amid donor fatigue that has set in due to new aid priorities in Ukraine.
Francis answered their call, pointing the finger at the role colonial powers such as Belgium played in the exploitation of Congo until the country, which is 80 times the size of Belgium, gained its independence in 1960, and neighboring countries are playing today.
Francis didn't identify Belgium or any neighboring country by name, but he spared no word of condemnation, quoting Tshisekedi as saying there was a "forgotten genocide" under way.
"The poison of greed has smeared its diamonds with blood," Francis said. "May the world acknowledge the catastrophic things that were done over the centuries to the detriment of the local peoples, and not forget this country and this continent."
"We cannot grow accustomed to the bloodshed that has marked this country for decades, causing millions of deaths that remain mostly unknown elsewhere," he said.
At the same time, he urged Congolese authorities to work for the common good and not tribal, ethnic or personal interests; and put an end to child labor and invest in education so that "the most precious diamonds" of Congo can shine brightly.
Congolese faithful were flocking to Kinshasa for Francis' main event, a Mass on Wednesday at Ndolo airport that is expected to draw as many as 2 million people in one of the biggest gatherings of its kind in Congo and one of Francis' biggest Masses ever.
Banners emblazoned with the pope's image carried messages including "Pope Francis, the city of Kinshasa welcomes you with joy."
Some women wore colorful dresses and skirts made of pagne, a wax print fabric featuring images of Francis, the Virgin Mary or the Vatican keys, in a celebratory sign of welcome.
Jean-Louis Mopina, 47, said he walked about 45 minutes to Kinshasa's airport before the pope's arrival on Tuesday.
"He has come like a pilgrim sent by God," Mopina said. "His blessing will give us peace in our hearts."
___
Christina Malkia in Kinshasa, and Krista Larson in Dakar, Senegal, contributed to this report.