Inquiry into N.S. mass shooting calls for sweeping changes to gun laws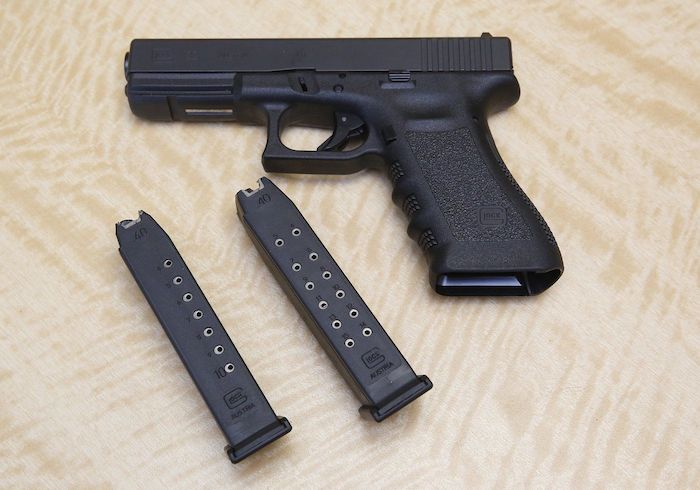 In this June 27, 2017, file photo, a semi-automatic handgun is displayed with a 10 shot magazine, left, and a 15 shot magazine, right, at a gun store in Elk Grove, Calif. THE CANADIAN PRESS/AP-Rich Pedroncelli
By Sarah Ritchie in Ottawa
The federal government should push ahead with gun-control legislation to ban many types of semi-automatic weapons, restrict ownership of ammunition and create a standardized definition of banned firearms, urges the final report of an inquiry into the 2020 mass shooting in Nova Scotia.
The Mass Casualty Commission released its report Thursday after holding more than 70 days of public hearings that ended last fall.
The inquiry was called after a gunman dressed as a police officer and driving a mock police cruiser killed 22 people, including a pregnant woman, during a 13-hour-long rampage in rural Nova Scotia on April 18 and 19, 2020.
The gunman, Gabriel Wortman, died after being shot by RCMP officers.
The commission is recommending changes to "prohibit all semi-automatic handguns and all semi-automatic rifles and shotguns that discharge centre-fire ammunition and that are designed to accept detachable magazines with capacities of more than five rounds," and to close a loophole by banning the use of magazines with more than five rounds.
It also says the government should take steps to "rapidly reduce the number of prohibited semi-automatic firearms in circulation," and clarify in Canadian law that gun ownership is a conditional privilege, not a right.
Parliament is still debating gun-control legislation introduced last May by the Liberals, which has sparked opposition from gun groups.
Upon introducing Bill C-21 last May, the Liberals announced a plan to implement a freeze on importing, buying, selling or otherwise transferring handguns to help stem firearm-related violence. Federal regulations aimed at capping the number of handguns in Canada are now in effect.
The bill contains measures to reinforce the handgun freeze. It would also allow for removal of gun licences from people committing domestic violence or engaged in criminal harassment, such as stalking, as well as increase maximum penalties for gun smuggling and trafficking to 14 years from 10.
Many of the commission's recommendations closely mirror that legislation. It calls for changes to the Firearms Act that would automatically revoke gun licenses from people convicted of domestic violence or hate-related offences, and that would suspend licenses when those charges are laid.
"Where such charges are diverted, withdrawn, stayed or otherwise resolved without trial, the suspension should remain in place and the burden of proof should be on licence holders to demonstrate they are not a risk or a threat to others," the report says.
The recommendations also include developing a "standardized schedule and definitions" of 206 prohibited firearms in the Criminal Code.
The Liberals introduced, and then subsequently withdrew, an amendment to Bill C-21 that would have created a standard definition of assault-style weapons and enshrined it in the Criminal Code.
Among other technical specifications concerning bore diameter and muzzle energy, the proposed definition included a centrefire semi-automatic rifle or shotgun designed with a detachable magazine that can hold more than five cartridges.
The commission notes that government should consult with Indigenous groups, along with police, firearms officers and groups that deal with gender-based violence about any changes.
Gun-control groups are applauding the recommendations.
"We hope that these recommendations in particular will lead all parties to expeditiously press for the passage and implementation of Bill C-21 — the delays are putting lives at risk," said Coalition for Gun Control president and co-founder Wendy Cukier in a written statement.
"Better firearms control at our borders, prevention of unlawful transfers of firearms and overall focus on effective, consistent, and accountable enforcement of firearms regulations are critical and the CGC is encouraged to see them reflected in recommendations."
PolySeSouvient, an advocacy group representing victims and survivors of the 1989 Montreal Polytechnique massacre, called the report "extraordinarily comprehensive."
Nathalie Provost, survivor and spokesperson of PolySeSouvient, said in a statement that she hopes it will convince legislators to reintroduce amendments to Bill C-21 to ban all assault-style weapons.
"The withdrawal of the initial amendments was mired in disinformation and highly politicized, and this report puts public safety objectives squarely back on the agenda," she said.
Public Safety Minister Marco Mendicino said on Thursday that his government is committed to "review the report and address its recommendations."
The NDP said it supports calls to close loopholes that allow people to get ahold of weapons, parts and ammunition without a license.
However the party's public safety critic did not commit to supporting the proposed Liberal definition of assault-style weapons.
"The government came forward with a long list that was poorly considered, and the (public safety) committee as a whole will have to look at all the amendments," Peter Julian said outside the House of Commons Thursday.
"Right now, we have a situation where manufacturers can come reintroduce weapons that get around any existing definitions, and we don't have a process in place that forces manufacturers to be responsible."
All five of the weapons Wortman had during the killings were obtained illegally, and he did not have a license to own firearms.
The two semi-automatic pistols found in his possession after his death had laser sights, and he had overcapacity magazines for a semi-automatic rifle and a police-style carbine.
Police learned he had been stockpiling ammunition in the months before the attacks.
The RCMP charged his longtime partner, Lisa Banfield, her brother and brother-in-law in December 2020 with unlawfully transferring the ammunition.
Police acknowledged at the time that the three had no knowledge of what the gunman would do, and the Crown withdrew the charges after they participated in a restorative justice program.
Banfield is now suing the federal and provincial governments, alleging she was charged because the RCMP wanted to deflect attention from mistakes they made during the response and investigation into the killings. Federal lawyers argued in a statement of defence that it was lawful and reasonable to charge her.
The Mass Casualty Commission also calls for changes to the Firearms Act to require a firearms license to own ammunition or buy a magazine, and to restrict people with a license to purchasing ammunition for the type of weapon they are licensed to have.
It's also calling for limits on stockpiling ammunition.
This report by The Canadian Press was first published March 30, 2023.
— With files from Michael Tutton in Halifax and Jim Bronskill in Ottawa.
Trudeau continues to stand by David Johnston despite calls that he step down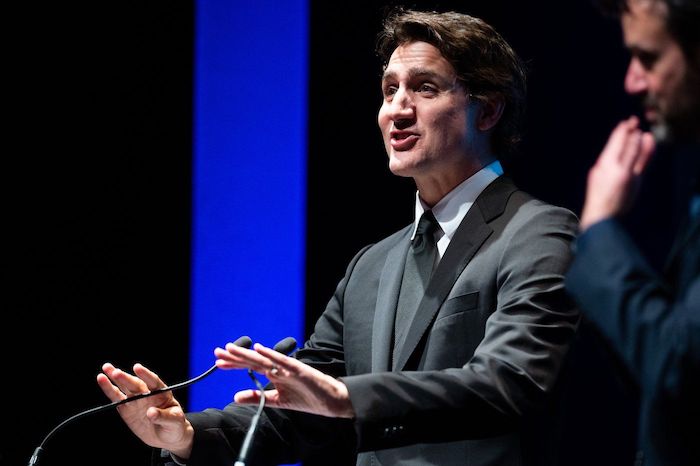 Prime Minister Justin Trudeau says he is committed to keeping David Johnston in place as Canada's special rapporteur on foreign interference, despite a majority of MPs voting in favour of his stepping down from the gig. Trudeau says he is committed to keeping David Johnston in place as Canada's special rapporteur on foreign interference, despite a majority of MPs voting in favour of his stepping down from the gig. THE CANADIAN PRESS/Spencer Colby
By David Fraser in Ottawa
Prime Minister Justin Trudeau says he is committed to keeping David Johnston in place as Canada's special rapporteur on foreign interference, despite a majority of MPs voting in favour of his stepping down from the gig.
Trudeau said in Toronto Friday that he looks forward to public hearings the governor general is expected to hold "across the country" over the coming months before he releases a final report by the end of October.
"He is taking very seriously this question, and he is digging into the facts," Trudeau said.
The House of Commons passed an NDP motion earlier this week, with the support of Conservative and Bloc Québécois MPs, that urged Johnston to step aside and asked the government to call a public inquiry.
Conservative Leader Pierre Poilievre said in Winnipeg today that Johnston has to go but wouldn't name a potential replacement.
"All the parties in the House of Commons should come together and agree on someone who is not partisan, not connected to any party leader and who has a track record of objectivity, preferably as a judge," he said.
Poilievre has criticized the special rapporteur role as a "fake job" and questioned Johnston's ability to objectively scrutinize the Liberal government's handling of alleged foreign meddling because of his ties to the Trudeau family.
Poilievre is refusing to review a classified portion of Johnston's initial report into foreign interference, saying it would silence him from criticizing the federal government on the subject.
Johnston has defended his integrity and downplayed his connections to the prime minister, saying this week he intends to stay on in his role.
"When I accepted the mandate to act as independent special rapporteur, I did so with full knowledge of the fact that the work ahead would be neither straightforward nor uncontroversial," Johnston said in a statement earlier this week.
"I deeply respect the right of the House of Commons to express its opinion about my work going forward, but my mandate comes the government. I have a duty to pursue that work until my mandate is completed."
Trudeau accused Poilievre and Bloc Québécois Leader Yves-François Blanchet of letting political arguments and political attacks get in the way of facts.
"They have refused to get security briefings on the actual facts surrounding the intelligence and the question of foreign interference, because they want to continue to smear a man of unimpeachable integrity and deep commitment and service to Canada," Trudeau said.
This report by The Canadian Press was first published June 2, 2023.
'All about the campfire': Campers adjust their plans with fire bans in place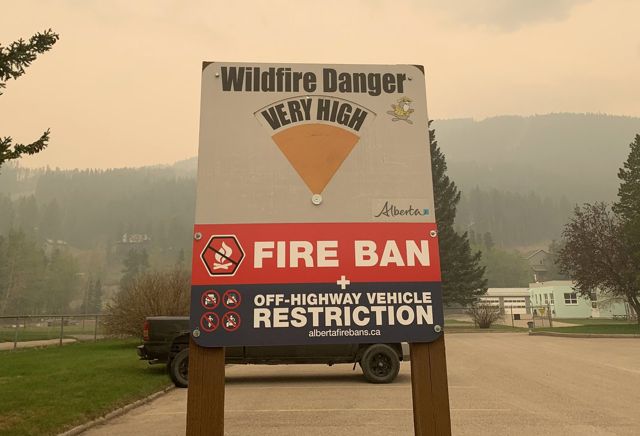 Blairmore area wildfire warning signage is shown in this handout image provided by the Government of Alberta Fire Service. As fire bans continue in many provinces, businesses selling camping gear and firewood are seeing a shift in demand. THE CANADIAN PRESS/HO-Government of Alberta Fire Service
By Ritika Dubey in Edmonton
Jade Najam was getting excited about camping during the May long weekend, sitting around the campfire late into the night with his family and sipping hot chocolate.
"Camping is all about the campfire. Just surfing the fire and sitting around the fire," said Najam. "Sitting around the campfire is the most important part of our evening."
But Alberta's fire ban, which was put in place in early May, still hadn't been lifted. Najam called off the plans to go camping in the wilderness, deciding it was better to stay home instead.
Fire bans began rolling in after hot, dry weather took over much of Canada early in the season — starting in Alberta, Saskatchewan and British Columbia, now expanding to the Maritimes. While Saskatchewan and Alberta have lifted the bans in some regions, people in the Prairies have been monitoring the wildfire season closely.
Companies that supply camping enthusiasts have been seeing trends change.
Najam, who is the managing director of Smart Firewood Products, based in Leduc, Alta., says demand usually picks up around mid-April and continues until mid-October.
"This May, I'm not even at five per cent of what I did last year in sales," he said.
Najam said his company provides "truckloads" of firewood to national parks in Alberta every year, while serving locals with retail firewood in his yard.
"My semi-truck full of firewood didn't even get out of the yard," he said of the current season.
One outdoor outfitter, meanwhile, is seeing a jump in sales for propane gas outdoor firepits.
"People have to look at things a bit differently when planning their camping trip due to fire bans," said Mike Eerkes, general manager at a Mountain Equipment Company store in Edmonton.
He said campers are opting for alternatives that don't get the classic smoky-wood campfire but still provide a warm glow.
For propane fires, Eerkes said, "All you need is a propane firepit, a propane tank and some gas in it."
The biggest advantage to propane fire is that "you can have it," he said. "They're fully compliant with the fire bans."
However, he acknowledges that propane fires are not fuel efficient, based on his experience. He suggested buying larger, refillable propane tanks for cost-effectiveness.
Overall, Eerkes said he hasn't seen a remarkable shift in the sales of camping gear overall.
"It's certain the fires are going to have some effect … but I'm not convinced we're seeing a massive downturn in people going camping this year."
A private campground about 100 kilometres southwest of Halifax has been getting cancellations since the fire ban and camping bans in wooded areas of Nova Scotia earlier this week.
"When fire bans are in place, it's the private campground's choice to follow the fire ban to not," said Minseo Kim, manager of the Little Lake Family Campground in Lunenburg, N.S. "But for this fire ban, private campgrounds have to listen as well.
"This has never happened before. We never faced this issue."
Kim said the cancellations will not have a huge effect in the coming weeks, partly because the peak season begins in July and the campground also has an open space outside of the wooded area.
He is hoping the fire ban lifts soon for overnight campers.
Nova Scotia imposed the fire ban on Monday, with Prince Edward Island following Tuesday.
Chris Nuttall-Smith, the author of the newly released book "Cook It Wild," said campers don't really need campfires to enjoy the outdoors or prepare meals.
A longtime backpacker and camper, Nuttall-Smith said fire bans are not a "huge limitation" for cooking outdoors with alternatives like backpack stoves available.
Nuttall-Smith, in his book, shares 75 recipes to cook in the wild, with up to 65 of them possible without a campfire, he said.
"Some of the best trips that I've ever taken are in places where you're never allowed to have a campfire," he said. "I don't think a lot of people miss it."
He recommends campers making due without fire this season bring pre-prepared food and enjoy the outdoors.
"You can find so much beauty out in the wild at dusk, after dark, like looking at the fireflies, looking at the stars. There is so much to do."
This report by The Canadian Press was first published June 2, 2023.
—-