Indigenous conservation Canada's way of the future, Guilbeault says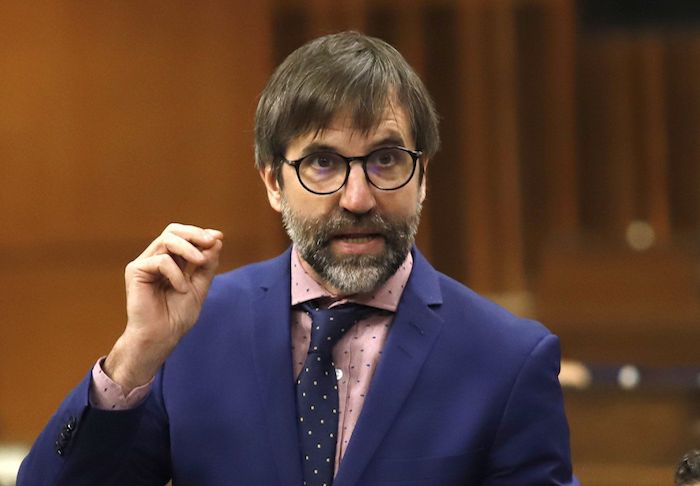 By Bob Weber
Tanya Ball began her career as a social worker for the Kaska Dene First Nation. Now she runs a land guardian program, working to monitor and protect a vast stretch of the band's northern British Columbia wilderness.
But she's still a social worker, in a way.
"Land guardians can help the land heal," she said. "And the land can help the guardians heal."
Ball is at the forefront of the new way Canada protects its remaining healthy rivers, lakes, forests, mountains and plains. Crown governments would once rope off an area deemed particularly scenic or good for outdoor recreation and call it a park.
No longer.
"There's no future when it comes to conservation where the federal government is involved (and) Indigenous people aren't involved from the get-go," said federal Environment Minister Steven Guilbeault. "This traditional model is a thing of the past."
Conservation is now something Indigenous people lead instead of something done to them. Most protected areas in Canada are now being proposed by Indigenous groups, who aim to look after those lands themselves.
There are now about 80 protected areas in Canada monitored by the people to whom the lands originally belonged. Some are designated only by the local First Nation and some are part of the national parks system.
But more — many more — are on their way.
The most recent federal budget contains funding for at least another 27 Indigenous Protected and Conserved Areas. Ottawa just signed a memorandum of agreement with the Nunatsiavut government in Labrador to develop one with both parties involved from the start.
It's the only way Canada is going to fulfil its international promise to protect 30 per cent of its land mass, said Sandra Schwartz of the Canadian Parks and Wilderness Society.
"Achieving those protection targets for Canada are realistic," she said. "Many of those opportunities are on Indigenous land."
Indigenous conservation comes from the historic cultural attachment to the land and the political desire for a land base, said Val Courtois of the Indigenous Leadership Initiative, who has been involved in the movement for years.
"The assertion of rights in Canada has always been about that relationship to place. This is just a new way of describing that responsibility."
Indigenous Protected and Conserved Areas have been created under federal, provincial and band structures and vary widely in how they function and what they do. Some don't meet international conservation area standards and won't count toward Canada's 30 per cent goal.
But they all involve some level of Indigenous co-management, they all involve land-use planning and they all involve guardians — local First Nations people charged and trained with stewarding the land.
Ball said her staff of eight takes water samples, makes maps, monitors hunting, delineates archeological sites, keeps track of visitor impacts, watches animal movements, assists conservation officers and runs research projects.
"They're very busy," she said.
One thing they don't do is put up fences. Indigenous Protected Areas aren't meant to keep anyone out, Courtois said.
"I would fall off my chair if I heard of an Indigenous group that is saying 'let's exclude everybody,'" she said. "There may be small portions that are particularly sacred, but the idea of exclusion of people is an antithesis of how we understand these places."
Decisions on local development are made locally, she said.
Tara Shea of the Mining Association of Canada said her group generally supports Indigenous protection — as long as the process is transparent and potential mineral tenures are considered in advance.
"We strongly believe mineral development and biodiversity conservation can go hand-in-hand."
There are challenges. While the federal government has set aside more than $300 million since 2018 for Indigenous conservation, Guilbeault acknowledges a source of permanent funding for such programs is still being sought.
"We don't do permanent programs. The philanthropic world has played a huge role in conservation and will continue to. We welcome their involvement."
Ottawa, the Northwest Territories, area First Nations and the U.S.-based Pew Charitable Trusts are currently negotiating a way for Pew money to finance the guardian program at the Edehzhie National Park and Indigenous Protected Area.
Another obstacle is the varying degrees of support from provincial governments, which control most of Canada's Crown land.
"The level of enthusiasm varies," said Guilbeault, who declined specifics. "Some provincial governments don't believe in the government-to-government relationship."
Courtois agrees.
"It's tough for provinces," she said. "They're used to being in the driver's seat."
Ball believes Indigenous conservation is important for the whole country as a crucial component of reconciliation. She sees what happens if people from her First Nation go out on the land they once again help manage.
"Sometimes people want to come out just for the day. I just see a difference in people by the end of the day. Their behaviour changes, their mood has lifted," Ball said.
"I think that'll really help with social issues, too."
This report by The Canadian Press was first published June 25, 2022.
— Follow Bob Weber on Twitter at @row1960
Judge sides with Enbridge Inc. in Michigan's latest effort to halt Line 5 pipeline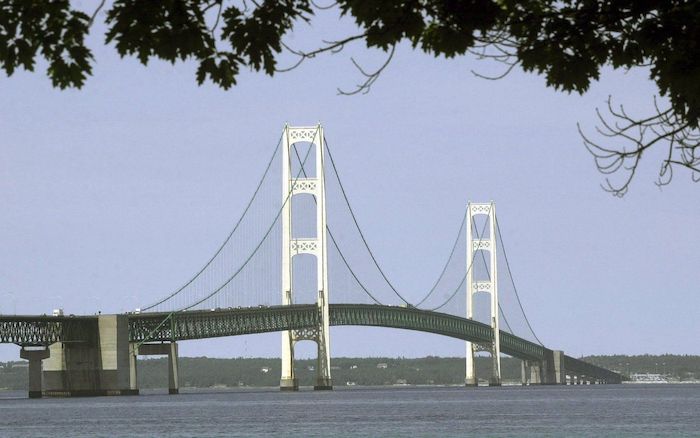 A judge in Michigan has ruled in favour of Enbridge Inc. in the company's long-running dispute with the state over the Line 5 cross-border pipeline.
In her ruling, Judge Janet Neff says the case belongs in federal court — a blow to Michigan Gov. Gretchen Whitmer's bid to shut down the pipeline.
It's the second time in nine months that Neff has sided with Enbridge on the question of jurisdiction.
Whitmer has been trying since November 2020 to shut down Line 5 for fear of a spill in the Straits of Mackinac, where the pipeline crosses the Great Lakes.
Proponents, including Canada's federal government, call Line 5 a vital and indispensable source of energy for Ontario, Quebec and several Midwestern states.
Environmental activists fear an anchor strike or technical failure could trigger a catastrophe in one of the area's most important watersheds.
This report by The Canadian Press was first published Aug. 18, 2022.
Environmental groups raise concerns about proposed Calgary-to-Banff passenger train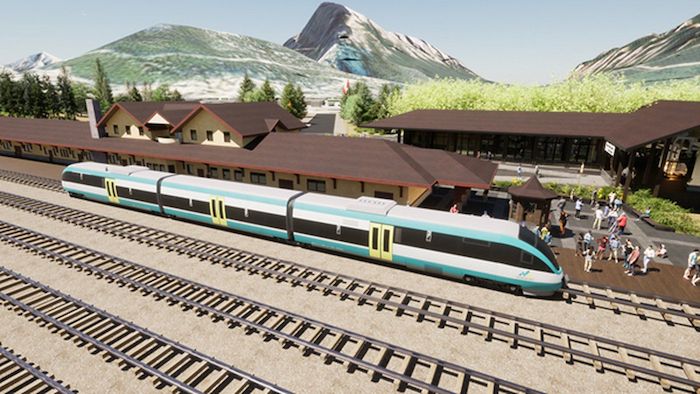 By Colette Derworiz in Calgary
Conservation advocates and experts are concerned a proposal for a Calgary-to-Banff passenger train is chugging along without addressing some key environmental issues in and around the national park.
Liricon Capital Inc., the lead private-sector proponent, is touting it as a hydrogen-powered transportation solution with lower greenhouse gas emissions than driving.
The company says it has received support from municipalities and the tourism industry, but the Alberta government has told the Globe and Mail it won't invest in the $1.5-billion train as it stands because the financial risks are too high.
Environmental organizations — including Canadian Parks and Wilderness Society, Yellowstone to Yukon and Bow Valley Naturalists — and some scientists say the proposal also has environmental risks.
"This is one of the most important conservation landscapes in North America," Tony Clevenger, a senior wildlife research scientist with the Western Transportation Institute at Montana State University, said from Banff, Alta. "It also happens to be one of the busiest in terms of transportation infrastructure.
"The thought of this new rail line, which would be really close to the existing rail line, is really troublesome — not just in the park, but outside the park on provincial lands and Stoney Nakoda (First Nations) as well."
Concerns include wildlife deaths along the rail line — particularly grizzly bears, which have been hit and killed on the existing track — and the fragmentation of wildlife habitat in Alberta's already busy Bow Valley.
Josh Welsh, Alberta program manager for Yellowstone to Yukon, said passenger rail to Banff isn't a bad idea.
"We see it as a means to potentially provide a sustainable transportation vision that could work for wildlife, people and the planet," he said.
But, he added, there's not enough information or collaboration to know whether it works for wildlife.
"The Bow Valley is already being squeezed by development."
A recent report by the Canmore, Alta.-based organization found the mountain town's footprint has grown five times in 50 years. It focused on grizzly bears because "if you take care of grizzlies, you take care of a lot of other things."
The report found bears have lost about 85 per cent of their original habitat in the Bow Valley.
"So, when you talk about another piece of linear infrastructure, which a train line is … we are talking about cutting up the habitat, disconnecting wildlife," he said.
Devon Earl, conservation specialist with Alberta Wilderness Association, said the Calgary-based organization has similar concerns.
"We don't think there has been adequate assessment of how wildlife will be impacted," she said.
She also questions whether a train would actually reduce cars on the highway, saying bus service may be more cost-effective.
Liricon has said Parks Canada needs to consider raising the entry fee to Banff National Park for private passenger vehicles and expanding bus and shuttle service between park attractions.
Parks Canada said in a statement that its first priority is to protect the ecological integrity in national parks, but it's "not currently reviewing a proposal for passenger rail in Banff National Park." Any review, it added, would look at policy and legislation, including the Impact Assessment Act and park priorities.
Jan Watrous, managing partner with Liricon, said a study shows the train could carry about 11 million passengers annually and reduce highway traffic.
"The fact that the passenger train will be a zero-emission hydrogen train and significantly reduce vehicle traffic … means human and wildlife mortality on the highways will be dramatically reduced," she said. "The specifics of the hydrogen solution and wildlife mitigations will be determined through consultation."
The company has said it's considering using technology such as lighting or sound to warn animals about approaching trains and reduce wildlife deaths on the tracks.
Colleen Cassady St. Clair, a biologist with the University of Alberta, said she spoke to Liricon about that idea, which came out of some research she led.
Although early tests show it can be effective for some wildlife, she said "there's a lot of untested terrain in a warning-based system."
St. Clair said there could also be challenges with wildlife crossing structures that go over or under the tracks.
Clevenger, who specializes in wildlife crossings, said he's heard the company was looking at underpasses to align with those under the Trans-Canada Highway in Banff National Park.
"That's very simplistic and completely unfeasible," he said. "You can't put in an underpass on the new rail line without putting an underpass on the (Canadian Pacific Railway) main line. You'd have to do both."
Clevenger said the measure would reduce already-compromised wildlife habitat.
A passenger train, he added, could end up increasing overall traffic to the national park.
"It's a landscape that is just overflowing with people," he said. "I don't think they can manage it."
This report by The Canadian Press was first published Aug. 15, 2022