In Uvalde, closeness complicates accountability for shooting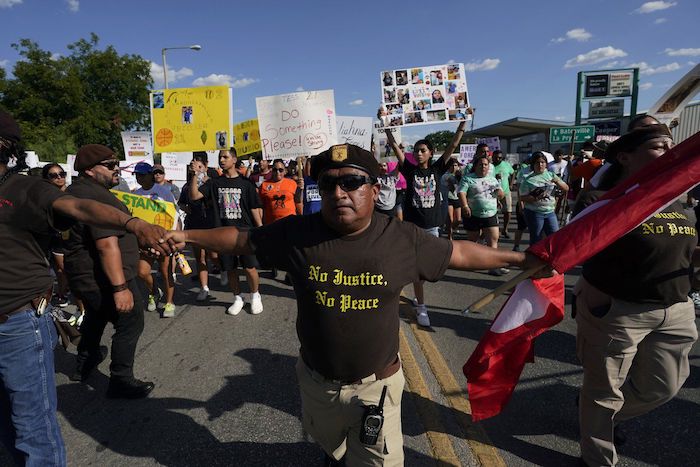 By Jake Bleiberg And Acacia Coronado in Uvalde
UVALDE, Texas (AP) — After the massacre at Uvalde's Robb Elementary School in May, Jesse Rizo was worried about his old friend, police chief Pete Arredondo.
Blame for the botched police response was being directed heavily at Arredondo when Rizo texted him just days after the shooting: "Been thinking of and praying for you."
Two months later, with investigations and body-camera video spotlighting the hesitant and haphazard response by police to the killing of two teachers and 19 students, Rizo remains worried about Arredondo. He also wants him fired.
Rizo's complicated feelings toward his Uvalde High School classmate capture the type of mixed emotions that families of victims and many residents of this close-knit community are navigating as they channel their grief and fury into demands for change.
"I care about Pete. I care that he's mentally OK. I don't want a human to start to lose it," said Rizo, who is distantly related to a 9-year-old girl who was killed at Robb Elementary. "But I also want to hold people accountable who don't perform their jobs properly."
The 50-year-old Arredondo, who as head of the school district's small police department was one of the first officers on the scene, has taken much of the blame for not immediately storming the classroom and confronting the shooter. He has not responded to repeated requests for comment from The Associated Press.
This week, the Uvalde school board abruptly scheduled a meeting to discuss firing Arredondo, only to cancel it days later. As officials weigh their options, residents are growing impatient with unanswered calls to hold people accountable for the bewildering 77 minutes of inaction by nearly 400 police officers who responded to the school shooting.
But the mere possibility of his firing after months of resistance from local officials stands as a demonstration of the victims' families' rising political clout.
The strain over how to move forward is visible in the signs that have popped up all over town. "Uvalde United." "Uvalde Must Stand Together." While those signs mean different things depending on whom you ask, other signs are more pointed: "Prosecute Pete Arredondo."
Family ties and political struggles go back generations in Uvalde, a community where nearly three-quarters of the residents are Hispanic. Locals had largely revered the police before the shooting. Uvalde's leaders, many of whom are white, share church pews with their fiercest critics. And demanding accountability can mean calling for the job of your friend, neighbor or employer.
It's a town with a "power structure" and "unwritten rules" that make it hard for many people to speak out, said Michael Ortiz, a local college professor who moved to Uvalde 13 years ago and said his tenure allows him to be vocal in a way that's not viable for many of the community's mostly working-class residents.
"Someone's boss might not like that," Ortiz said. "They are afraid even to march."
Since the shooting, the mostly Hispanic parents of the victims have struggled to make their demands heard by the city and school district. Local officials initially resisted releasing information and calls to fire officers. But things are shifting.
In a sign of growing political activism, more than 300 people have registered to vote in Uvalde since the shooting — more than double the number in the same period during the last midterm election season. And in July, over 100 protesters braved 106-degree heat to call for stronger gun regulations — including raising the minimum age to buy an assault weapon — and for greater transparency from local and state authorities investigating the shooting.
That was the largest local demonstration since 1970, when the school district's refusal to renew the contract of a popular Robb Elementary teacher prompted one of Texas' longest school walkouts over demands for equal education for Mexican American residents. That teacher's son is Ronnie Garza, a Uvalde County commissioner.
Garza said the shooting has changed the community, uniting people in grief but dividing them on questions of accountability. "We are a desperate people right now. We are yelling here that way, we are yelling (the other) way, for somebody to listen to us, to come and help us," said Garza.
Faced with incomplete and contradictory accounts from local and state law enforcement, the families of those killed in Uvalde have begun to make people listen.
After state lawmakers issued a damning report that found "systemic failures and egregiously poor decision making" by both police and school officials, the Uvalde school board held a special session to hear from parents. Superintendent Hal Harrell apologized for previously being "too formal" and not letting the victims' families say their piece.
"Trying to find the right time, the right balance out of respect, I did not do well," said Harrell, who is white and spoke in an auditorium named for his father, who was also superintendent.
For the next three hours, grieving parents and community members upbraided the board, saying that if it didn't hold people accountable they would lose their jobs. Some told Harrell he wasn't living up to his father's legacy, while others referenced the 1970 lockout and said they hoped he would do better, drawing applause. People called for the whole school police force to be fired and jeered at state troopers standing at the room's edges.
Rizo, who was at that meeting, said he cannot respect how the police chief or the many other officers he knows handled their jobs that day. "There are consequences to that," he said. "I can't understand why he wouldn't just resign."
But the long history between them tugs at Rizo too. In the text he sent Arredondo days after the shooting, he said: "Please be strong and be patient."
Arredondo responded: "Good to hear from you, bro. Thank you and please keep praying for the babies." They haven't spoken since.
___
For more AP coverage of the Uvalde school shooting: https://apnews.com/hub/uvalde-school-shooting
B.C. premier suspects Ottawa holding back information about foreign interference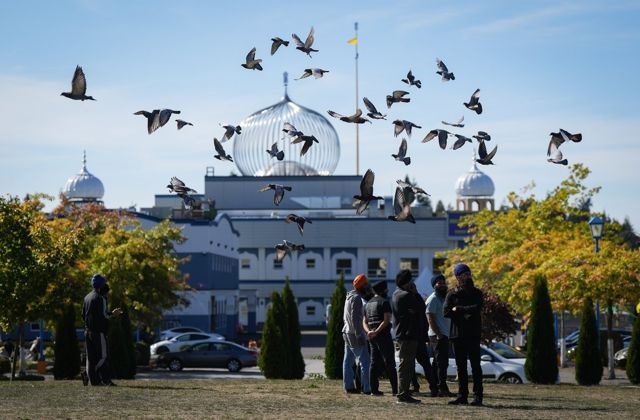 A flock of birds flies past as Moninder Singh, front right, a spokesperson for the British Columbia Gurdwaras Council (BCGC), waits to speak to reporters outside the Guru Nanak Sikh Gurdwara Sahib in Surrey, B.C., on Monday, September 18, 2023, where temple president Hardeep Singh Nijjar was gunned down in his vehicle while leaving the temple parking lot in June. THE CANADIAN PRESS/Darryl Dyck
Vancouver
British Columbia Premier David Eby said he "strongly" suspects that the federal government is holding back information that could help the province protect its residents who have connections to India from foreign interference.
Public Safety Minister Dominic LeBlanc has reached out, saying Ottawa wants to make sure the provincial government has the details it needs to keep B.C. residents safe, "but there has not been good information sharing," the premier said Friday.
Prime Minister Justin Trudeau revealed in Parliament on Monday that Canadian intelligence services were investigating "a potential link" between the Indian government and the fatal shooting of Sikh advocate Hardeep Singh Nijjar in Surrey, B.C., last June.
In response to the killing, Eby said on Friday that the priority should be protecting the criminal prosecution process so people can be held accountable for the killing.
But on the broader issue of ensuring community safety, he said there's "a long way to go to share that information."
Eby said people in B.C. have been "feeling pressure from India," and he believes Ottawa has information through agencies including the RCMP and the Canadian Security Intelligence Service that could help respond to foreign interference.
The premier's initial statement in response to Trudeau's announcement called on Ottawa to "share all relevant information" related not only to foreign interference, but also to "transnational organized crime threats" in the province.
He said Friday that the prime minister had reached out before telling Parliament about the probe based on "credible" information about the potential link between India and Nijjar's killing.
Eby accepted Trudeau's offer for a briefing by CSIS, but everything the premier knows about the situation is "in the public realm," he said.
"I expressed my frustration in the meeting with the CSIS director about our inability to get more concrete information," Eby said.
He made the remarks during a media question-and-answer session after addressing local politicians at the Union of BC Municipalities conference.
Eby said he understands there may need to be reform around the law governing CSIS in order for the agency to share the kind of information he's looking for.
"If that's what's required, let's make it happen, because the only way that we're going to make traction on this is by the federal government trusting the provincial government with information and being able to act on it in our local communities," he said.
Nijjar was a prominent supporter of the Khalistan separatism movement that advocates for a Sikh homeland in India's Punjab province. He had been working to organize an unofficial referendum among the Sikh diaspora on independence from India at the time of his killing.
India designated Nijjar as a terrorist in 2020, an accusation he had denied.
Canada and India expelled each other's diplomats in the fallout of Trudeau's announcement, and India has halted visa services in Canada.
India's government has denied the accusation as "absurd and motivated."
This report by The Canadian Press was first published Sept. 22, 2023.
Here's what Canada is pledging in multi-year support for Ukraine, updated trade deal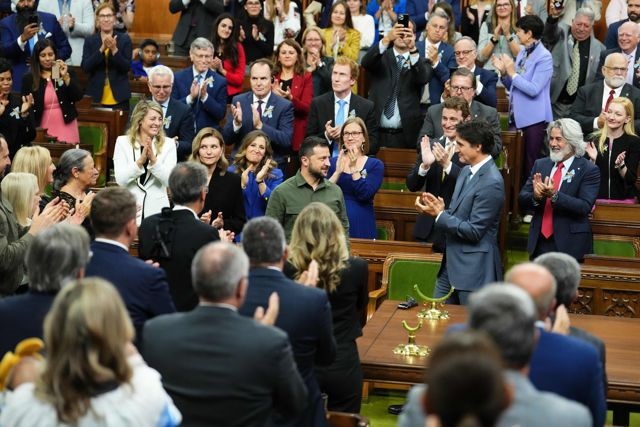 Ukrainian President Volodymyr Zelenskyy receives a standing ovation from Prime Minister Justin Trudeau and parliamentarians as he arrives to deliver a speech in the House of Commons in Ottawa on Friday, Sept. 22, 2023. Canada is making a multi-year commitment to provide steady support to Ukraine, including hundreds of millions of dollars for new armoured vehicles. THE CANADIAN PRESS/Sean Kilpatrick
By Nojoud Al Mallees in Ottawa
Prime Minister Justin Trudeau announced Friday that Canada is making a multi-year commitment to provide steady support to Ukraine, including hundreds of millions of dollars for new armoured vehicles.
The two countries also signed a modernized trade deal, as Ukrainian President Volodymyr Zelenskyy visits the country for the first time since Russia's full-scale assault of Ukraine began last year.
A spokeswoman for Trade Minister Mary Ng said the new deal does not include substantial changes on market access, but adds services and investment clauses to the agreement, along with progressive language around labour standards and gender equality.
Meanwhile, the multi-year commitment includes $650 million over three years for 50 armoured vehicles that are to be built in London, Ont.
Friday's announcement brings Canada's total committed support to Ukraine to more than $9.5 billion since the beginning of 2022, according to a news release.
The new commitment comes as Ukraine seeks longer-term support from allies and worries emerge that some countries' support may begin to waver as the war drags on.
Earlier this week, Poland's prime minister said his country is no longer sending arms to Ukraine as a trade dispute between the neighbouring states escalates and his populist party faces pressure from the far right in the upcoming national election.
G7 countries promised in July to reach individual agreements with Ukraine to provide long-term military help.
In addition to new funding, the federal government has also announced the allocation of part of the $500 million of support Canada announced in June.
Those funds will go toward providing 35 drone cameras to Ukraine, as well as sending Canadian trainers to help Ukrainian pilots and maintenance workers use donated fighter jets.
Canada is also providing additional funding toward other initiatives in support of Ukraine, including mental-health care and non-governmental organizations.
Money will go toward strengthening nuclear security measures at the Chornobyl Exclusion Zone and replacing equipment destroyed or stolen by Russia when it occupied the site in 2022.
Friday's announcement includes a further crackdown on Russia with a new round of sanctions.
Ottawa says it is placing 63 new sanctions on individuals and entities involved in Russia's nuclear sector, the illegal transfer and custody of Ukrainian children and the generation and dissemination of disinformation and propaganda.
Canada and Ukraine say they will be working with international partners to establish a working group that would provide advice to decision-makers on the seizure of Russian assets, including assets of the country's central bank.
This report by The Canadian Press was first published Sept. 22, 2023.
— With files from the Associated Press.