'I'm here but my mind is always there:' Ontario woman returns home from Afghanistan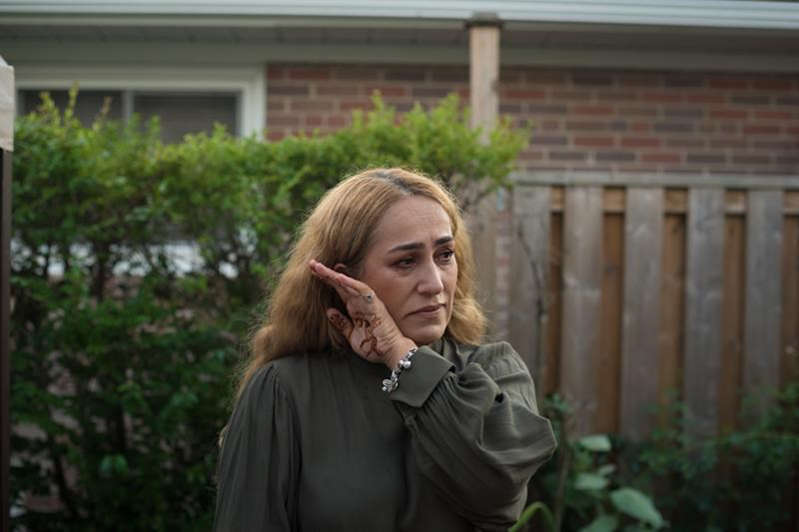 Heartbreak and guilt are all Zakia Zarifi has been feeling since she returned to her home in Ontario from Afghanistan.
"I'm happy to see my family here, but it's torture for me because I couldn't bring my parents with me," the real estate agent from Brampton said over the phone.
"It was the hardest goodbye ever, but deep down I have hope that I can bring them here."
The single mother says she was beaten, shot at and barely dodged a bomb outside Kabul airport during the chaotic journey. All she thinks about now is helping the people left behind.
"(A) genocide … is happening right now in Afghanistan and no one is talking about it. That's why I'm here but my mind is always there."
Zarifi, 50, arrived this week to tears and warm hugs from her three grown children. They frantically worked to bring their mother home after the Taliban seized control of Afghanistan in August. She had gone there to try to get her aging parents out of danger.
Before she got out herself, Zarifi was critical of Canada's evacuation of its citizens from the region.
She told The Canadian Press while she was stuck in Afghanistan that she twice tried to escape before the U.S.-led military mission's Aug. 31 deadline, but was beaten by Taliban members and pushed away from the airport's gates.
She was angry Canadian officials told her and others to meet at dangerous locations, while other countries helped their citizens get to military planes using safer routes. Ten days after Canadian Forces left the region, and as Prime Minister Justin Trudeau faced criticism for mishandling the evacuation, Zarifi got another call from Global Affairs Canada, she said. This time the plan was better. "They told me to be at (Kabul) Serena Hotel and then, from there, the Qatari government was in charge of taking us to the airport. We had a flight with the Qatar airline (to Qatar)." By Tuesday, she was on a plane from Doha to Canada.
"The first flight that left Afghanistan (had) all different citizens from all over the world. On the second flight … there were, I believe, 10 Canadians."
She said others on the flight home told horrifying stories about the Taliban knocking on their families' doors and taking their men.
"They took their birth certificates, and took them to this place. They are all vanished," she said.
"Someone even came to knock on my parents' door. The guy who looks after them (said), 'No one lives here,'  and they left."
Zarifi said her parents are a target because they are from the northeastern province of Panjshir, the heart of military resistance in Afghanistan and where her father fought against Taliban rule.
While she waited for a flight, she and her family helped other Afghans, she said.
They gave away items in their home, distributed 120 blankets and provided food supplies to 500 families. Many Afghans they helped are among thousands who are religious and ethnic minorities who worry the Taliban's return to power will lead to oppression or death.
Zarifi recalled a similar journey she made in 1987 during the Soviet Union's invasion of Afghanistan. She escaped to Pakistan from Kabul. Two years later, she moved to Canada.
"Afghans … a majority of them are refugees and they've all found a way to get out before and through significantly worse times," said Zarifi's daughter Marjan.
"When my mom first came to Canada, she had to walk two days, two nights to get to where she needed to go. They were being directly shot at. So she has done this twice.
"She keeps a lot of strength and says, 'It's gonna be OK,' but every day we can't think straight … Everyone just kind of moves on with life, but my mind is constantly with my family and what's going on."
Despite her frustration with the Canadian government, Zarifi said she's thankful Trudeau did not forget her and other citizens.
"I just hope that the Liberal (government) do their best to bring people, because their life is in danger," Zarifi said.
"When I moved here, I worked 20-hour days. I worked as a bookkeeper, did accounting, night shifts at Walmart. I worked hard. I made a living for myself."
She said she prays that other Afghans will have the same chance at a new life. For her part, she plans to continue helping people in Afghanistan in whatever way she can.
This report by The Canadian Press was first published Sept. 17. 2021.
___
This story was produced with the financial assistance of the Facebook and Canadian Press News Fellowship.
Fakiha Baig, The Canadian Press
Edward Rogers files B.C. court petition to have newly formed board declared valid
TORONTO — The son of late Rogers Communications Inc. founder Ted Rogers is seeking a ruling from B.C.'s Supreme Court that would legitimize a company board he formed by replacing five of its members.
Edward Rogers' mother Loretta Rogers and sisters Melinda Rogers-Hixon and Martha Rogers claim the board is illegitimate and does not comply with laws in B.C., where the company is incorporated.
They and several other associates say the only legitimate version of the Rogers board is the one that existed last week, before Edward Rogers replaced five directors with people of his choosing.
Edward Rogers was ousted from his role as board chair, but he remains at the helm of his family's trust, which controls 97 per cent of the firm's Class A voting shares and 10 per cent of outstanding Class B shares.
He has been at the centre of a power struggle since media reports revealed he was plotting to give Rogers' former chief financial officer Tony Staffieri the job of CEO Joe Natale, a move some family and board members oppose.
The ongoing feud has left Rogers in a state of uncertainty as it awaits regulatory approvals for a $26-billion takeover of rival Shaw Communications Inc.
This report by The Canadian Press was first published Oct. 26, 2021.
Companies in this story: (TSX:RCI)
The Canadian Press
Blackhawks GM Bowman resigns after sexual assault probe
Chicago Blackhawks general manager and president of Hockey Operations Stan Bowman resigned Tuesday after an investigation commissioned by the team found he was among a group of leaders who failed to respond promptly to allegations that an assistant coach sexually assaulted a player in 2010.
The results of the independent review by Jenner & Block were handed over to the Blackhawks on Monday, and team CEO Danny Wirtz said the report "is both disturbing and difficult to read."
Former federal prosecutor Reid Schar, who ran the investigation, said Tuesday that Bowman, former team president John McDonough, hockey operations executive Al MacIsaac, former executive vice president Jay Blunk and then-assistant general manager Kevin Cheveldayoff met with then-coach Joel Quenneville and mental skills coach Jim Gary to discuss allegations that then assistant coach Brad Aldrich had assaulted a player.
Schar said accounts of the meeting "vary significantly."
"What is clear is that after being informed of Aldrich's alleged sexual harassment and misconduct with a player no action was taken for three weeks," Schar said.
The investigation was commissioned by the team after two lawsuits were filed against the Blackhawks: one alleging sexual assault by assistant coach Aldrich during the team's Stanley Cup run and another filed by a former student whom Aldrich was convicted of assaulting in Michigan. Aldrich left the Blackhawks after the 2009-10 season.
A former player said Aldrich assaulted him, and that the team did nothing after he informed an employee. The lawsuit, filed May 7 in Cook County Circuit Court, alleges Aldrich also assaulted another unidentified Blackhawks player. The former player who sued and is seeking more than $150,000 in damages is referred in the document as "John Doe."
The eight-page lawsuit says Aldrich, then a video coach for the Blackhawks, "turned on porn and began to masturbate in front of" the player without his consent. It says Aldrich also threatened to "physically, financially and emotionally" hurt the player if he "did not engage in sexual activity" with him.
___
More AP sports: https://apnews.com/hub/apf-sports and https://twitter.com/AP_Sports
Jay Cohen And Stephen Whyno, The Associated Press