'If there'd even been five minutes' warning': Woman questions storm alert system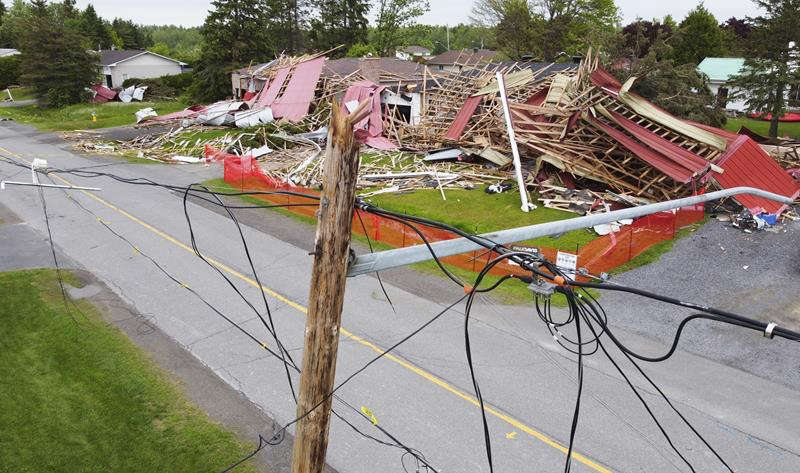 Bethany Armstrong watched as the sky turned a tint of green on Saturday afternoon.
The Peterborough, Ont., woman was out camping with friends in Lakehurst, Ont., at the time, so she checked a weather app on her phone and noticed a thunderstorm warning.
That was the only indication she said she had that a vicious storm was about to hit.
Armstrong said she never received the emergency alert that many Ontario residents got on their cellphones, warning them to seek shelter ahead of severe weather that ultimately killed 11 people.
One of those who died was a close friend of Armstrong's family – Armstrong says that friend didn't get the alert either.
"If there'd even been five minutes' warning … she would have gotten inside," Armstrong said of the woman she likened to her second mom.
Joanne Labelle, 64, of Cornwall, Ont., was among those killed as a result of the storm. She had been staying in a trailer on Armstrong's parents' property in the Peterborough area when the intense winds and rains hit.
Labelle's husband and Armstrong's father found Labelle struck by a tree – Armstrong said the family thinks Labelle had been trying to get from the trailer to a house on the property when she was hit.
Armstrong said her family and Labelle's husband later checked Labelle's cellphone, which was with her during the storm, but found no evidence of an alert.
"I just think like, 'Wow, you know, if she had got the alert, we wouldn't maybe be in this situation,'" Armstrong said, describing Labelle as a "smart" woman who loved the outdoors and would have taken a severe weather warning seriously.
Emergency alerts are issued in Canada through the Alert Ready system, which delivers critical alerts to Canadians through television, radio and LTE-connected and compatible wireless devices.
The system was developed with many partners, including federal, provincial and territorial emergency management officials, Environment and Climate Change Canada, weather information company Pelmorex Corp., the broadcasting industry and wireless service providers.
Cecelia Parsons, a spokesperson for Environment Canada, said "broadcast immediate" alerts are sent through the Alert Ready system for tornado warnings and severe thunderstorm warnings involving wind gusts of 130 kilometres per hour or greater and hail that is at least seven centimetres in diameter. Saturday's storm was the first time such an alert for a thunderstorm was sent through the system, she said.
However, some residents may not have received an emergency alert on their smartphones for a number of reasons, including their phones not being "compatible," Parsons said.
"This may occur for a variety of reasons: the phone is turned off or in silent or airplane mode; the phone is not physically in the specific area targeted for the alert; device compatibility, connection to an LTE network, cell tower coverage and device software and settings," she said.
Martin Belanger, director of public alerting for Pelmorex, said smartphones need to be in the area where an emergency alert has been issued in order to receive an alert and also need to be connected to an LTE or 5G network — a requirement established by the Canadian Radio-television and Telecommunications Commission.
As of April 2019, the CRTC requires that new phones sold by Canada's wireless carriers be compatible with the emergency alerting system, Parsons added.
Belanger said Environment Canada was responsible for issuing the emergency alerts on Saturday and Pelmorex received those alerts and made them available to broadcasters and wireless service providers.
He added that Pelmorex received "some" reports from the public about not getting an emergency alert during Saturday's storm. When the company receives such reports, it shares that information with its partners, he said.
Emergency Preparedness Minister Bill Blair said that with 11 people dead, the early warning system didn't work as well as it could have to protect residents from last weekend's storm.
"I think there needs to be improvement," Blair said on Friday from Indonesia, where he was attending international meetings on disaster risk and mitigation.
"When (there's) information that Canadians need to take the steps in order to be safe, we need to make sure that they get that information."
Blair said public education is also needed so Canadians know what to do when they receive such an alert. He also said the country's public alerting system, controlled by provinces and territories, is applied "inconsistently."
"The tragic loss of life and the damage that occurred in Ontario and Quebec over the past several days demonstrate to us that there is still more work to do, and we're committed to doing that," he said.
Armstrong, who made it through the storm last weekend by taking shelter in a nearby home, said she would like to see the Alert Ready system improved.
"I just hope that things can improve for the future and that they can get either a better system in place or adjust the criteria that has to be met," she said as she remembered Labelle as a beloved matriarch and a mainstay at the pharmacy where she worked. "So we can try and help save other people."
This report by The Canadian Press was first published May 27, 2022.
– with files from Stephanie Taylor in Ottawa.
———
This story was produced with the financial assistance of the Meta and Canadian Press News Fellowship.
Noushin Ziafati, The Canadian Press
UN food agency: Afghan malnutrition rates at record high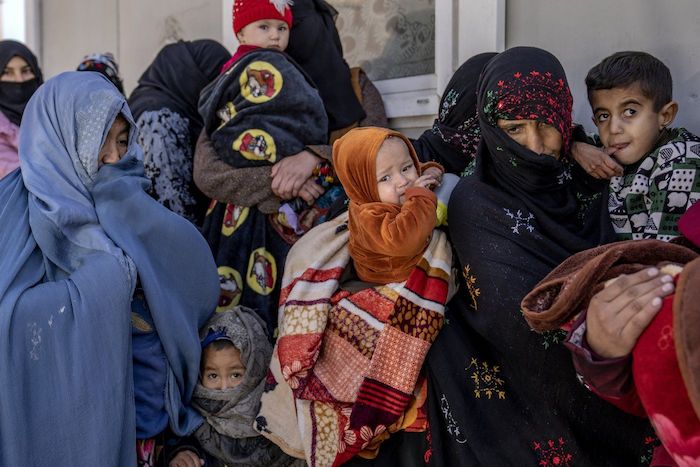 By Ebrahim Noroozi in Kabul
KABUL, Afghanistan (AP) — Malnutrition rates in Afghanistan are at record highs with half the country enduring severe hunger throughout the year, a spokesman for the World Food Program said Thursday.
The Taliban takeover in August 2021 drove millions into poverty and hunger after foreign aid stopped almost overnight. Sanctions on Taliban rulers, a halt on bank transfers and frozen billions in Afghanistan's currency reserves restricted access to global institutions and the outside money that supported the country's aid-dependent economy before the withdrawal of U.S. and NATO forces.
"Half of Afghanistan endures severe hunger throughout the year, regardless of the season, and malnutrition rates are at a record high for Afghanistan," said Phillipe Kropf, a spokesman for the U.N. food agency in Kabul.
"There are seven million children (under the age of 5) and mothers who are malnourished, in a country with a population of 40 million."
Afghans are not starving to death, he said, but they have no resources left to stave off the humanitarian crisis.
Aid agencies have been providing food, education and healthcare support to Afghans, including heating, cash for fuel and warm clothes. But distribution has been severely impacted by a Taliban edict banning women from working at national and international nongovernmental groups.
"The ban has come at the worst possible moment," said Kropf. "Families and communities don't know where their next meal is coming from."
The WFP scaled up its delivery and distribution of aid in anticipation of a tough winter before the ban came in, planning to reach 15 million this month with emergency food assistance and nutrition support. While it is not directly affected by the ban, 19 of its NGO partners suspended operations in Afghanistan following the Dec. 24 edict.
The NGO ban on women workers has seen the suspension of 115 of 437 mobile health clinics, affecting 82,000 children, and pregnant and lactating women. The suspension of a training project is hurting 39,300 people, mostly women, while the pause of a school snack program has hit 616,000 students.
At a nutrition clinic in Kabul, 32-year-old nurse Anisa Samadi said most children and mothers will die without support from agencies like the WFP and World Health Organization. Their help is needed now more than ever, she told The Associated Press on Thursday.
"In the last five months I have seen the number of patients increasing. Three months ago we had 48 patients. Last month, we had 76 and this month so far we have 69 or 70, mostly we have twins who are so weak, while their mothers are also weak."
Shortages of medicine alongside poverty and a lack of food means even a small illness can turn into a huge problem for many Afghans, she said.
Her colleague, 30-year-old nutrition adviser Sheba Hussanzada, said children at the clinic receive therapeutic food. But the children return with pneumonia, causing unhealthy weight loss. "Mothers are saying that they don't have wood or any other way to keep their children warm at home. They don't have enough food to feed them," she said.
First-time mother Fereshta, 24, visited the clinic because she doesn't have enough milk to feed her child. Her husband used to have a job, but now there is no work for him.
"Since the Taliban have come, the economic condition is so bad and people don't have food to eat. People don't have three meals. If there weren't such a center to support us, I might lose my child," the young mother said.
The NGO ban has followed in a slew of measures restricting the rights and freedoms of women and girls in Afghanistan, and has drawn international condemnation and weeks of campaigning to get it lifted.
The highest-ranking woman at the U.N. Amina Mohammed said Wednesday she used everything in her "toolbox" during meetings with Taliban ministers in Afghanistan to try to reverse their crackdown on women and girls, urging Muslim countries to help the Taliban move from the "13th century to the 21st" century.
___
Associated Press writer Riazat Butt contributed to this report from Islamabad.
68 confirmed dead after plane crashes in Nepal resort town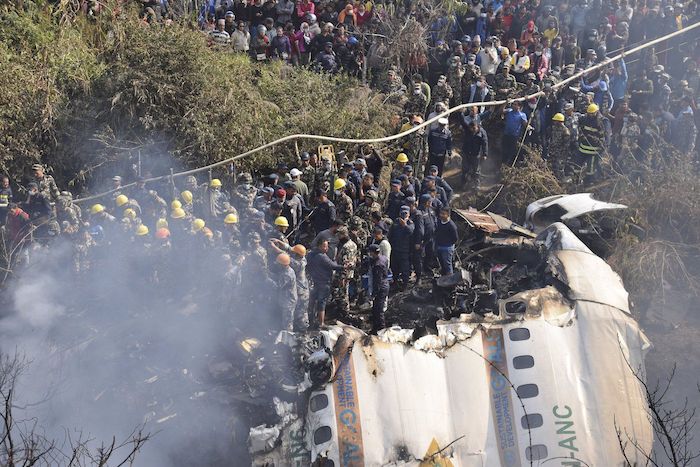 By Upendra Man Singh, Sheikh Saaliq And Anish Bhattarai in Pokhara
POKHARA, Nepal (AP) — A plane crash has killed at least 68 people, according to Nepal's Civil Aviation Authority. A regional passenger plane with 72 aboard crashed into a gorge while landing at a newly opened airport in the resort town of Pokhara Sunday, in the country's deadliest airplane accident in three decades.
Scores of rescue workers and onlookers crowded near a steep gorge Sunday afternoon, as rescuers combed the wreckage on the edge of the cliff and in the ravine below.
Local resident Bishnu Tiwari, who rushed to the crash site near the Seti River to help search search for bodies, said the rescue efforts were hampered by thick smoke and a raging fire.
"The flames were so hot that we couldn't go near the wreckage. I heard a man crying for help, but because of the flames and smoke we couldn't help him," Tiwari said.
It was not immediately clear what caused the accident.
A witness said he saw the aircraft spinning violently in the air after it began landing, watching from the terrace of his house. Finally, Gaurav Gurung said, the plane fell nose-first towards its left and crashed into the gorge.
The aviation authority said the aircraft last made contact with the airport from near Seti Gorge at 10:50 a.m. before crashing.
At the crash site, about 1.6 kilometers (nearly a mile) away from Pokhara International Airport, the search continued Sunday evening. Some bodies, burned beyond recognition, were carried by firefighters to hospitals, where grief-stricken relatives had assembled. At Kathmandu airport, where the flight began, family members appeared distraught as they were escorted in and at times exchange heated words with officials as they waited for information.
The twin-engine ATR 72 aircraft, operated by Nepal's Yeti Airlines, was flying from the capital, Kathmandu, to Pokhara, a 27-minute flight. It was carrying 68 passengers including 15 foreign nationals, as well as four crew members, Nepal's Civil Aviation Authority said in a statement. The foreigners included five Indians, four Russians, two South Koreans, and one each from Ireland, Australia, Argentina and France. No survivors have been found yet.
Tek Bahadur K. C., a senior administrative officer in the Kaski district, said he expected rescue workers to find more bodies at the bottom of the gorge.
Images and videos shared on Twitter showed plumes of smoke billowing from the crash site as rescue workers, Nepali soldiers, and crowds of people gathered around the wreckage of the aircraft to find survivors. The aircraft's fuselage was split into multiple parts that were scattered down the gorge.
Prime Minister Pushpa Kamal Dahal, who rushed to the airport after the crash, set up a panel to investigate the accident.
"The incident was tragic. The full force of the Nepali army, police has been deployed for rescue," he said.
South Korea's Foreign Ministry said in a statement that it's still trying to confirm the fate of two South Korean passengers and has sent staff to the scene. The Russian Ambassador to Nepal, Alexei Novikov, confirmed the death of four Russian citizens who were on board the plane.
Pokhara, located 200 kilometers (125 miles) west of Kathmandu, is the gateway to the Annapurna Circuit, a popular hiking trail in the Himalayas. The city's new international airport began operations only two weeks ago.
The type of plane involved, the ATR 72, has been used by airlines around the world for short regional flights. Introduced in the late 1980s by a French and Italian partnership, the aircraft model has been involved in several deadly accidents over the years.
In Taiwan two earlier accidents involving ATR 72-500 and ATR 72-600 aircrafts happened just months apart.
In July 2014, a TransAsia ATR 72-500 flight crashed while trying to land on the scenic Penghu archipelago between Taiwan and China, killing 48 people onboard. An ATR 72-600 operated by the same Taiwanese airline crashed shortly after takeoff in Taipei in February 2015 after one of its engines failed and the second was shut down, apparently by mistake.
The 2015 crash, captured in dramatic footage that showed the plane striking a taxi as it hurtled out of control, killed 43, and prompted authorities to ground all Taiwanese-registered ATR 72s for some time. TransAsia ceased all flights in 2016 and later went out of business.
ATR identified the plane involved in Sunday's crash as an ATR 72-500 in a tweet. According to plane tracking data from flightradar24.com, the aircraft was 15 years old and "equipped with an old transponder with unreliable data." It was previously flown by India's Kingfisher Airlines and Thailand's Nok Air before Yeti took it over in 2019, according to records on Airfleets.net.
Yeti Airlines has a fleet of six ATR72-500 planes, company spokesperson Sudarshan Bartaula said.
Nepal, home to eight of the world's 14 highest mountains, including Mount Everest, has a history of air crashes. According to the Flight Safety Foundation's Aviation Safety database, there have been 42 fatal plane crashes in Nepal since 1946.
Sunday's crash is Nepal's deadliest since 1992, when all 167 people aboard a Pakistan International Airlines plane were killed when it plowed into a hill as it tried to land in Kathmandu.
The European Union has banned airlines from Nepal from flying into the 27-nation bloc since 2013, citing weak safety standards. In 2017, the International Civil Aviation Organization cited improvements in Nepal's aviation sector, but the EU continues to demand administrative reforms.
___
Saaliq reported from New Delhi. Elise Morton in London, Kim Tong-hyung in Seoul, South Korea, and Adam Schreck in Bangkok contributed reporting.