"I Promised Mess I Wouldn't Do This"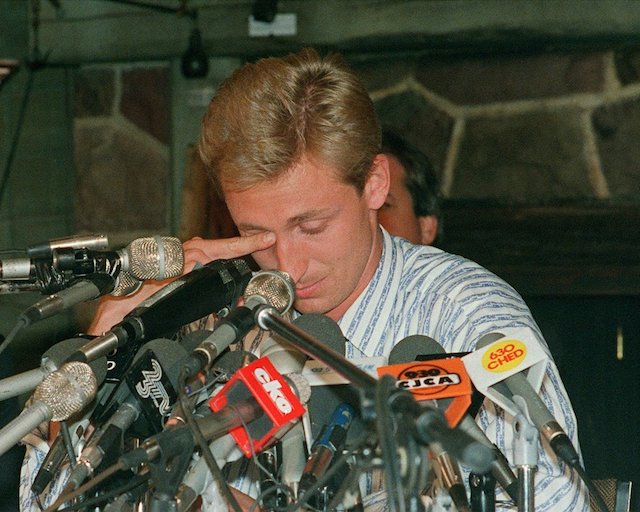 There's an abiding idiom in hockey trades. It says whoever got the best player in a deal wins the trade. If you get Wayne Gretzky you win every trade. After that, received wisdom of trades is more honoured in the breach than in the observance. Everyone has a theory. But all agree there's no denying the impact of trades toward NHL success.
From their evolution as simple player-for-player swaps to the current version of trading players for draft picks, cash, future considerations, salary-cap space or actual humans, the art of swapping in the NHL has become a science, an art and an accounting exercise. Where once it was a pair of hockey-lifer GMs making deals, today's moves require capologists, accountants, lawyers, agents and, often, the player's family being onside before a deal can be approved by the NHL.
A whole new culture has grown up within the sport so that deals can be swung. As trades have become more complicated, they have concurrently become less of a burden on the moving parts involved. We've come off an offseason with a surprisingly modest number of intriguing deals.
With preseason games starting, to whet the ref's whistle, here's a list Rating The Top 25 Trades in NHL history from our next book Deal With It: The Most Impactful Trades In NHL history and How They Changed The Game (due later in 2023). (from ***** to ***)
1) August 9, 1988: Wayne Gretzky, Marty McSorley, and Mike Krushelnyski from Edmonton to Los Angeles for Jimmy Carson, Martin Gélinas, the Kings' first rounders in 1989 (traded to New Jersey) , 1991 (Martin Rucinsky), 1993 (Nick Stadujar), and $15 million. *****
2) May 15, 1967: Phil Esposito, Fred Stanfield and Ken Hodge from Chicago to Boston for Gilles Marotte, Pit Martin and Jack Norris. ****1/2
3) October 4, 1991: Mark Messier and future considerations (Jeff Beukeboom) from Edmonton to the New York Rangers for Bernie Nicholls, Steven Rice, Louie DeBrusk and future considerations (David Shaw) ****1/
4) December 6, 1995: Patrick Roy and Mike Keane from Montreal to Colorado for Jocelyn Thibault, Martin Rucinsky and Andrei Kovalenko ****1/2
5) June 30, 1992 Eric Lindros from Quebec City to Philadelphia for Steve Duchesne, Peter Forsberg, Ron Hextall, Kerry Huffman, Mike Ricci, Chris Simon, a 1993 1st round pick (#10-Jocelyn Thibault), a 1994 1st-Round pick, (#10-Nolan Baumgartner)) and $15 million in cash *****
6) March 3, 1968: Norm Ullman, Floyd Smith, Paul Henderson and Doug Barrie to Toronto for Garry Unger, Peter Stemkowski, Frank Mahovlich and Carl Brewer ****1/2
6A). January 13, 1971: Frank Mahovlich from Detroit to the Montreal for Guy Charron, Bill Collins and Mickey Redmond ****
7) March 10, 1980 Butch Goring from L.A. to New York Islanders for Dave Lewis and Bill Harris ****
8. November 1947 : Max Bentley from Chicago to Toronto for Gus Bodnar, Gaye Stewart, Bud Poile, Bob Goldham and Ernie Dickens ****
9) January 2, 1992: Gary Leeman, Alex Godynyuk, Jeff Reese, Craig Berube and Michel Petit from Toronto to Calgary for Jamie Macoun, Ric Nattress, Rick Wamsley, Kent Manderville and Doug Gilmour ****1/2
10) August 17, 1992 Dominik Hasek from Chicago to Buffalo for Stephane Beauregard and a fourth-round draft pick (Eric Daze) ****
11) July 23, 1957 Ted Lindsay and Glenn Hall From Detroit To Chicago for Johnny Wilson, Forbes Kennedy, Hank Bassen, Eric Preston ***1/2
12) June 28, 1994: Garth Butcher, Mats Sundin, Todd Warriner and 1994 first-round pick (#10-Nolan Baumgartner) from Quebec City to Toronto for Wendel Clark, Sylvain Lefebvre, Landon Wilson and 1994 1st round pick (#22-Jeff Kealty) ***1/2
13) May 22, 1970 : 1971 1st-round pick (#1-Guy Lafleur) and Francois Lacombe from Oakland to Montreal for Ernie Hicke and 1970 1st-round pick (#10-Chris Oddleifson) *****
14) Nov. 7, 1975: Phil Esposito, Carol Vadnais from Boston to New York Rangers For Brad Park, Jean Ratelle ****
15) October 1989: Tom Kurvers from New Jersey to Toronto for first-round pick (#3 Scott Niedermayer) ****
16) Nov. 30 2005: Joe Thornton from Boston to San Jose for Brad Stuart, Wayne Primeau and Marco Sturm ***1/2
17) December 20, 1995: Joe Nieuwendyk from Calgary to Dallas for Jarome Iginla ***1/2
18) Feb. 22, 1964: Andy Bathgate and Don McKenney from New York Rangers to Toronto for Dick Duff, Bob Nevin, Rod Seiling, Arnie Brown and Bill Collins. ***
19) March 7, 1988: Brett Hull from Calgary to to St. Louis for Rick Wamsley and Rob Ramage ***
20) June 29, 1990: Denis Savard from Chicago to Montreal for Chris Chelios ***
21) June 24, 1963: Dave Balon, Leon Rochefort, Len Ronson and Lorne "Gump" Worsley from New York Rangers to Montreal for Donny Marshall, Phil Goyette and Jacques Plante. ***
22) June 24, 2000: Mark Parrish and Oleg Kvasha from Florida to the New York Islanders for Roberto Luongo and Olli Jokinen ***
23) February 10, 1960: Red Kelly from Detroit to Toronto for Marc Rheaume ***1/2
24) October 10, 1930: King Clancy from Ottawa to Toronto for Eric Petting, Art Smith, cash ***
25) June 28, 1964: Ken Dryden and Alex Campbell from Boston to Montreal for Paul Reid and Guy Allen ****
Sign up today for Not The Public Broadcaster newsletters. Hot takes/ cool slants on sports and current affairs. Have the latest columns delivered to your mail box. Tell your friends to join, too. Always provocative, always independent. https://share.hsforms.com/16edbhhC3TTKg6jAaRyP7rActsj5
Bruce Dowbiggin @dowbboy is the editor of Not The Public Broadcaster A two-time winner of the Gemini Award as Canada's top television sports broadcaster, he's a regular contributor to Sirius XM Canada Talks Ch. 167. Inexact Science: The Six Most Compelling Draft Years In NHL History, his new book with his son Evan, was voted the seventh-best professional hockey book of all time by bookauthority.org . His 2004 book Money Players was voted sixth best on the same list, and is available via http://brucedowbigginbooks.ca/book-personalaccount.aspx
Could AI Make Yesterday Into Today For Culture, Sports & Politics?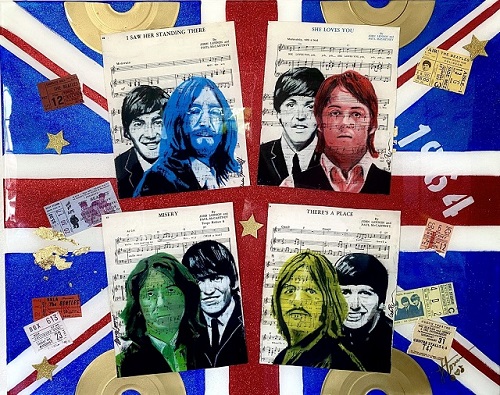 On a recent trip to the Fredericton Playhouse to see PEI's splendid The East Pointers we couldn't help but notice amongst the coming attractions an appearance by the Glenn Miller Orchestra. As far as we know, Miller disappeared over the British Channel in 1944 on his way to play a concert for the troops post D-Day.
Since then a succession of people have carried his musical heritage under the Miller name. Most of them have joined Miller in the great bandstand in the sky. It is safe to say that the number of people who heard anything by Miller himself live are virtually nil. Still, someone is still buying tickets to hear A String of Pearls, Pennsylvania 6-500, Chattanooga Choo-Choo and In The Mood.
Perhaps it was serendipity but seeing that Miller was still a thing came shortly after the arrival of a final Beatles song "Now and Then". It's not as long ago as the final Glenn Miller original cut, but "Now and Then" is the first original Beatles music since the 1970s. Which is when this lacklustre John Lennon composition was born from a demo cut by Lennon.
Its provenance has been talked about by Beatles obsessives ever since. Frankly they'd be excited to hear Lennon/ McCartney read the Liverpool phone book. (Which won't be any less underwhelming than this song.) Now And Then stayed out of the public realm, probably because George Harrison (d. 2001) hated it, and the recording was scratchy at best.
But thanks to the officious Paul McCartney cleaning it up in the studio and AI producing a catchy video to accompany the song "Now and Then" is on the Billboard chart with a bullet. Where it will probably stay for a while. No doubt this artful dodge will put the idea of reviving other dead musical icons into the heads of their colleagues and supporters.
The AI variations already extend past music. "@ilumine_ai This has been my first test of an experiment I'm doing, which is why it might feel a bit rough. It might not seem like it, but this video shows a single, uncut take at normal speed, where I move through a 3D stage that I am generating at will and in real time."
Can some clever soul use AI to create a new Humphrey Bogart movie using previous material? What about reviving Katherine Hepburn from her many films? Could Glenn Miller suddenly emerge from the mists to lead his band in Fredericton? We already know about The Beatles.
There ramifications, says cartoonist/commentator Scott Adams.. "If you let ChatGPT answer without constraints, it gives you the "approved narrative," also known as bullshit. In other words, you can use AI to give you any answer you want on political questions by manipulating the allowed "experts."
No wonder the Screen Actors Guild went on strike this year to protect the properties of stars dead and alive. What security will they have if AI makes them redundant? AI is, in the words of Hunter S. Thompson, "a cruel and shallow money trench, a long plastic hallway where thieves and pimps run free, and good men die like dogs. There's also a negative side."
To say nothing of the AI implications for sports. Can AI replicate the greatest of the past? Already there's a slightly cheesy commercial running in which present-day Wayne Gretzky counsels 18-year-old Wayne Gretzky on the future. But could AI create a better NHL mixing Gretz, Gordie Howe, Bobby Orr and Bobby Hull with the best of today? A league with no injuries, no travel fatigue, no bad coaching? Ditto for the other leagues. An NFL with Joe Montana, an NBA with Michael Jordan, an MLB with Barry Bonds?
In Canadian politics AI could revive Pierre Elliot Trudeau to assist his dimwitted son ("Interest rates are at historic lows," PMJT, 2020). Bill Davis could bring back the days of Blue Ontario. Ralph Klein could recreate the Alberta Advantage. If someone younger and more charismatic pops up you can use them in the present. With an AI figure waiting in the wings for when the real politicians eventually screw up.
In the US-AI, the leading candidates for U.S. president in 2024 are creakingly old. Democrats are in a lather over Joe Biden's decrepit state as he hit 81 this week (he'd be 87 when a possible second term ended). Polls show Americans are not fooled by the grinning Amphetamine Joe staggering up the stairs of Air Force One.
Republicans are alternatively exhilarated and exhausted by the prospect of loopy 78-year-old Donald Trump carrying their banner next November. With Trump it's less age than instability. Were he remotely stable he'd be leading Biden by 15 points in the polls.
In the Senate and House of Representatives octogenarian and nonagenarian members are literally dying at their desks for want of term limits. Across the political spectrum voters and media are asking, "Is this the best we can do?" Some recall the movie Dave where Kevin Kline plays a doppelgänger for a comatose U.S. president. Maybe that might work?
Or what if AI could revive JFK or Ronald Reagan in their primes? Or John McCain and Ruth Bader Ginsberg? "Now and Then" would be an appropriate slogan for re-inserting these tried & true political figures into the present, using their former selves to re-craft today's arguments. (We've seen how it might work since most believe that Biden is simply the conduit for a third Obama term.)
Anything has to be better than two old guys who could've heard "I've Got A Gal In Kalamazoo" when it was originally released by Glenn Miller in 1942.
Sign up today for Not The Public Broadcaster newsletters. Hot takes/ cool slants on sports and current affairs. Have the latest columns delivered to your mail box. Tell your friends to join, too. Always provocative, always independent. https://share.hsforms.com/16edbhhC3TTKg6jAaRyP7rActsj5
Bruce Dowbiggin @dowbboy is the editor of Not The Public Broadcaster A two-time winner of the Gemini Award as Canada's top television sports broadcaster, he's a regular contributor to Sirius XM Canada Talks Ch. 167. Inexact Science: The Six Most Compelling Draft Years In NHL History, his new book with his son Evan, was voted the seventh-best professional hockey book of all time by bookauthority.org . His 2004 book Money Players was voted sixth best on the same list, and is available via http://brucedowbigginbooks.ca/book-personalaccount.aspx
Political Football: The Always-Barking Dog of Bilingualism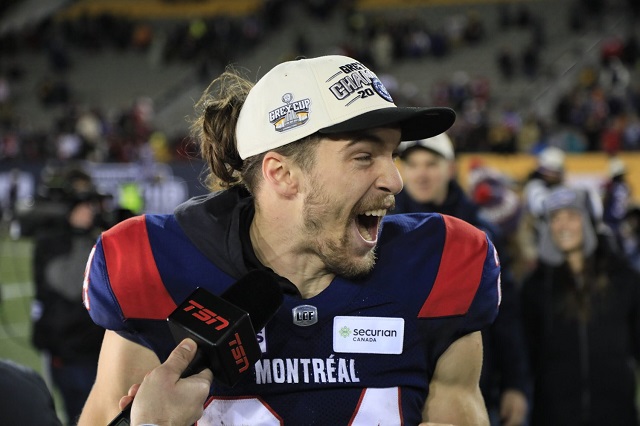 "But you know what, man, keep your English, because we're grabbing the Cup, and we're bringing it to Montreal, and we're bringing it to Quebec, and we're bringing it home!"— from the French rant by Montreal Alouette Marc-Antoine Dequoy
While the 110th Grey Cup win by Montreal over favoured Winnipeg was a classic comeback, it's now being tainted by an issue that's much older than 110 years. Canada's bilingualism/ biculturalism debate. Having already relegated the game to cable-only TSN/ RDS the CFL must have decided that— who cares— we are in Hamilton, Ontario. Why bother with all that annoying bilingual signage?
After all, no one cares that the American band Green Day is playing at halftime of the game when any number of Canadian acts are available for the gig. Who's going to bitch about a few advertisements? Reality check, aisle three. Language grievance is always in season in Québec.
As the French media covering the game noted in the days before the game the signage around the stadium was exclusively English-only. Didier Orméjuste of RDS observed en français, "The CFL is supposed to be a bilingual league but there is not one Coupe Grey sign in the stadium. Can't say I'm surprised."
The league crest at centre field read CFL only. Not LFC. Considering the efforts the CFL has made prostrating itself before the federal policy of bilingualism (for which it receives public money) it was inexcusable. It was a firing offence. Caught with their pants down the CFL rustled up a few signs around Tim Horton's Field and led PA announcements with French. But the damage was done.
Which led to the impassioned rant by Als player Marc-Antoine Duquoy in the moments after the Als' dramatic comeback win. He has since backed off a bit on his comments, saying "I just felt disrespected for me and for my province and for my heritage." Since then Québec media has pummelled the league for its obtuse behaviour.
Anglo Quebecker Andrew Potter wrote, "The message it sends to Quebecers is this: If the rest of Canada can't be bothered, why should they?" Memo to Potter: Not sure where you have been, but the rest of Canada dropped cultural football a while ago as a remnant of another time. They don't care.
Let's be honest, the official bilingual policy we've had was a dry run for the Carbon Tax. It has been a multi-billion dollar sinkhole foisted on the country by Justin Trudeau's daddy. Like all top-down policies it is permanent and immutable. And useless at its stated goal. Quebec clearly doesn't need it. The ROC resents it.
In cloistered Ottawa it still has a political status that far outstrips its usefulness to the nation. While the Trudeau/ Singh cabal are slashing defence spending, no one dares divert a dime from chasing a failed dream of cultural harmony. At these prices, who needs bilingual postal workers in Moose Jaw? Or Anglo bureaucrats in Granby?
It currently serves as a fig leaf to protect the Liberal strongholds of Anglo Quebeckers and Francophone minorities in the Maritimes and Manitoba. In Québec at least, the majority francophones have steadily eroded any sense of language fairness in the province's education, business or cultural sectors. The latest is a crushing tuition hike for out-of-province (read: Anglo) students.
The harried Anglos remaining in the province after decades of diaspora are like the white Rhodesians, voting against their best interests in the faint hope that the Liberals will save their dwindling numbers and make it Expo 67 again.
Living in Quebec, Duquoy can be forgiven for thinking that ROC is as obsessed with B&B as are the hyper-vigilant tongue troopers in Québec, who turn every slight into an excuse for more cultural purity. In fact, the ROC is far more concerned with Québec's permanent dependency on equalization money at the expense of the energy industry it works so fervently to destroy.
The quid pro quo that underpinned the 1960s dreams of B&B— that acceptance of French everywhere would still Québec's drive for sovereignty— is now Alberta and Saskatchewan pointing out the double standards in the current federation while asking, "Why can't we make like Québec with a pension plan, police force and control over immigration?"
Hate to break it to Potter and Duquoy, but most in the West would gladly negotiate a new deal with Québec to re-shape the hollow dream that is Trudeau's Canada. Keep hockey, but work out a deal the way Czechia and Slovakia did to live peaceably in their own way. Make Québec pay for its vanities while ROC hashes out a new working arrangement that reflects the current zeitgeist.
Yes, the CFL booted their Grey Cup presentation. From a business point of view insulting a significant part of your base was capotée. But in its ineptitude the league held up a mirror to the country that thinks you can make this potage of Canadian denial and American cultural pre-eminence still work.
Now, if we can just get Randy Ambrosie and his pals to drop Trudeau's Diversity delusion from its values we might be onto something really valuable.
Sign up today for Not The Public Broadcaster newsletters. Hot takes/ cool slants on sports and current affairs. Have the latest columns delivered to your mail box. Tell your friends to join, too. Always provocative, always independent. https://share.hsforms.com/16edbhhC3TTKg6jAaRyP7rActsj5
Bruce Dowbiggin @dowbboy is the editor of Not The Public Broadcaster A two-time winner of the Gemini Award as Canada's top television sports broadcaster, he's a regular contributor to Sirius XM Canada Talks Ch. 167. Inexact Science: The Six Most Compelling Draft Years In NHL History, his new book with his son Evan, was voted the seventh-best professional hockey book of all time by bookauthority.org . His 2004 book Money Players was voted sixth best on the same list, and is available via http://brucedowbigginbooks.ca/book-personalaccount.aspx