'I freaking love it:' Canadian soccer superfan going for Guinness record at World Cup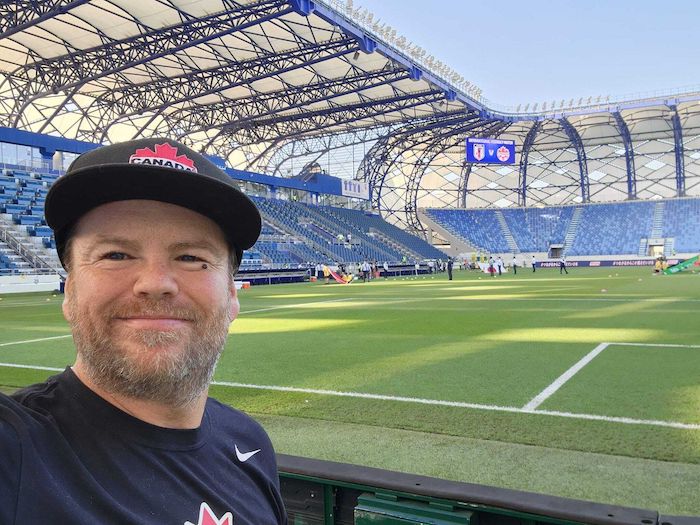 By Kelly Geraldine Malone
Lee Kormish is ready for an adventure of a lifetime.
Not only is the Saskatchewan superfan finally able to watch Canada compete in the World Cup, he's also chasing his own Guinness World Record.
"It's not easy and it's work, but I freaking love it," Kormish, 44, said from the airport in Doha, Qatar, where he was waiting to pick up a crew of Canadian fans.
As the Canadian men's soccer team marks its first appearance on the world stage since 1986, Kormish is attempting to break the record for the most attended matches at a single FIFA World Cup.
The title is currently held by South African fan Thulani Ngcobo, who went to 31 games in 2010. Kormish, if all things go according to plan, is set to attend 41 matches.
"The logistics are really crazy to try to break this record," Kormish said.
Kormish has been planning for the record-breaking attempt for more than a year from his home in Saskatoon. He's even been in contact with Ngcobo, who gave him support and advice.
Kormish will need time to get to each game spread across eight stadiums. He also needs two witnesses at every game to sign that he was in his seat for the entirety of game play, which means no bathroom breaks while players are on the pitch.
The hardest part was actually getting tickets, Kormish said. But he's had practice.
Kormish has been to four previous World Cups, as well as the UEFA European Championships and the Arab Cup in Qatar last year.
Soccer fandom has been pulsing through his veins since he dropped his baseball glove to kick a ball as a teen, he said. He's watched the Canadian team struggle time after time, but always held onto hope.
"I have been waiting for this my whole life and I have been so passionate," Kormish said. "We've had so many dark times."
Canada was a win away from qualifying in 1994 before decades of downward spirals. Canada didn't even make it into the final round for five World Cup cycles.
Kormish said he showed up to previous World Cups with a Canadian flag and other fans from around the world told him: "Canada, you guys play hockey right?"
But that's all changed, Kormish said, especially since John Herdman took on coaching duties for the Canadian men's team.
"This guy is not taking anything lightly," Kormish said. "Canada came to play."
Kormish was able to watch Canada win 2-1 over Japan in an international friendly match on Thursday in Dubai. There were already a lot of excited Canadians in the stands, and Kormish said his emotions took over.
"Words can't explain," he said. "The shivers down the spine, just the shivers take over the entire body."
Doha has been transformed into a soccer fan's dream, with banners, posters, soccer balls and light projections of the tournament's biggest players everywhere in the capital, Kormish said. Fans from around the world have begun trickling in and the excitement is palpable, he added.
While Kormish plans to attend a slew of games, he said the ones that will mean the most are when Canada is playing. The team faces Belgium on Wednesday.
Those games are his "heart and soul," Kormish said.
"How cool is that? That Canada is here at the time a Canadian is going to break the Guinness record."
This report by The Canadian Press was first published Nov. 19, 2022.
Premier Smith asks Prime Minister to halt "Just Transition" legislation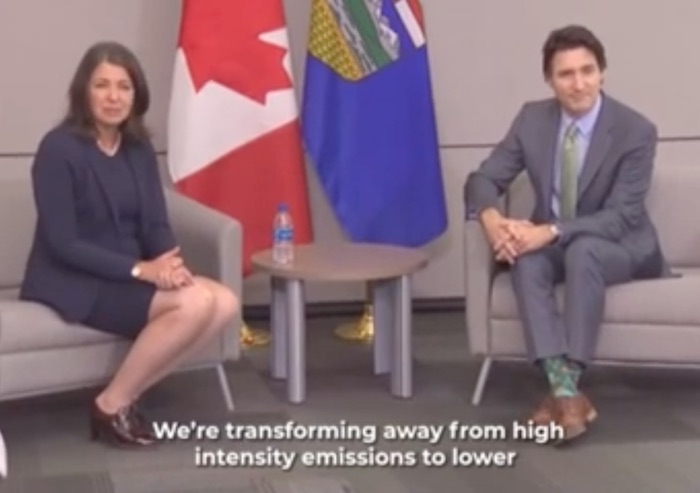 Premier Smith meets with the Prime Minister
Premier Danielle Smith met with the Prime Minister for approximately 30 minutes primarily discussing Alberta's request for the federal government to halt the introduction of its proposed 'Just Transition' legislation and other emission reduction strategies.
The Premier asked the federal government to instead work collaboratively with the Government of Alberta on developing a plan and partnership to attract energy investment and workers into Alberta's conventional, non-conventional and emerging energy sectors while reducing Canada's and Alberta's net emissions.
The Prime Minister expressed a willingness to explore this strategy with the Premier through their respective ministers and the Premier will be following up with further correspondence regarding proposed next steps in the near future.
The Premier used today's discussion to outline Alberta's expectations as to what must and must not be included in any future federal legislation, targets or policies as it relates to Alberta's energy sector. These expectations included:
Abandonment of any references to 'just transition' or any other terminology or policies that signal the phaseout of Alberta's conventional or non-conventional energy sector or workforce.
Increased workforce training and participation in all of the conventional, non-conventional and emerging energy sectors.
The need for formal consultation and collaboration with Alberta before the federal government announces or implements legislation, targets or policies that materially impact Alberta's energy sector.
Substantial increase in LNG exports to Asia through the lens of meeting targets through replacement of higher emitting fuel sources with clean Canadian LNG.
Joint federal-provincial initiatives to facilitate increased private investment in nuclear, hydrogen, bitumen beyond combustion, geothermal, lithium, helium, zero-emission vehicle, CCUS, petrochemical and other emerging technologies and fuels that make Alberta's conventional and non-conventional energy sector increasingly carbon neutral.
What Trudeau has offered to the premiers to fund health care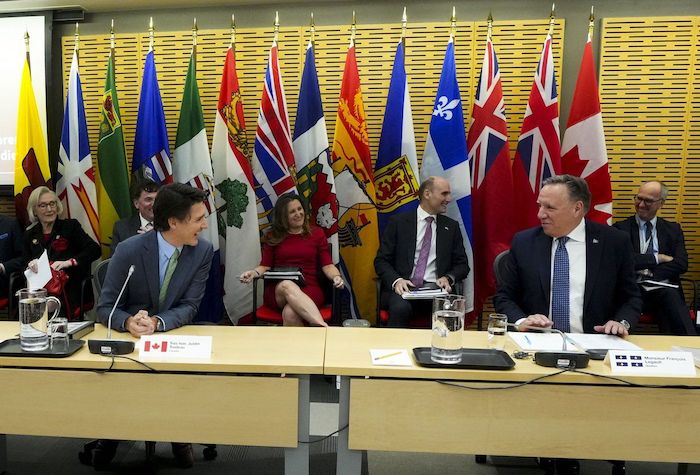 By Laura Osman in Ottawa
Premiers got their fist look at Ottawa's offer to increase long-term health funding Tuesday at a meeting with Prime Minister Justin Trudeau, but the federal proposal falls short of what they were seeking.
The provinces budgeted about $204 billion for health care in this fiscal year and the Canada Health Transfer was set at $45 billion, or about 22 per cent of that. The premiers want the federal share to increase to 35 per cent, which amounts to another $26 billion in this year alone.
Instead, Ottawa put together a 10-year, $196.1 billion deal, of which $46.2 billion is new funding.
Here's what the Liberals are offering:
$2 billion, no questions asked
The federal government plans to table legislation before the end of March to dole out $2 billion to provinces to address immediate health-care needs like surgical backlogs.
There are no strings attached.
Ottawa offered the same amount last year during the Omicron wave of COVID-19.
More money for the Canada Health Transfer
The main source of federal funding for health care comes from the Canada Health Transfer, which is the biggest pot of money the federal government gives to provinces and territories.
It's calculated based on a minimum yearly increase of three per cent or the three-year moving average of nominal gross domestic product (GDP) — whichever is higher.
Ottawa has now offered to step up the minimum yearly increase to five per cent for the next five years.
The total amount after the five years will serve as the new baseline moving toward.
The move is expected to give provinces an extra $17.3 billion over 10 years in new support. The federal Finance Department anticipates the CHT to grow by 33 per cent over the next five years, and 61 per cent over the next 10 years.
It all hinges on better data
The increase to the Canada Health Transfer is contingent on an agreement to share comparable data and digitize the health information of Canadians so it can be more easily accessed and shared between hospitals, clinics and jurisdictions.
Tailored deals with each provinces
Ottawa has also put $25 billion on the table for tailored one-on-one deals with each province to make progress on four major issues: family health services, health worker shortages and backlogs, mental health and substance use, and health-care modernization.
The deals will be highly flexible for each province, but they will have to show their work to get the money.
The government says it wants to see a plan from each province and targeted results they hope to accomplish. The provincial and territorial governments will then need to report on their progress.
Higher wages for personal support workers
Trudeau says he'll give provinces $1.7 billion over five years to increase the pay for personal support workers, who provide the majority of bedside care in long-term care and homecare settings.
No targets have been set yet for how high those wages should be. In the last election, the Liberals pledged to increase personal support worker pay to a minimum of $25 per hour.
Indigenous health
The federal government put forward $2 billion over 10 years specifically for fair and equitable access to appropriate health care for Indigenous Peoples through a health-equity fund.
The spending will come after consultations with Indigenous groups.
Other spending
— $505 million over five years for the Canadian Institute for Health Information Canada Health Infoway, and other federal data agencies to develop new health data indicators, as well as create a "Centre of Excellence" on health worker data, and support other efforts to modernize health data systems.
— $150 million over five years for the Territorial Health Investment Fund for medical travel and to deliver health care in the territories.
This report by The Canadian Press was first published Feb. 7, 2023.