Hunter's wife testifies she warned husband not to drink and drive the night he died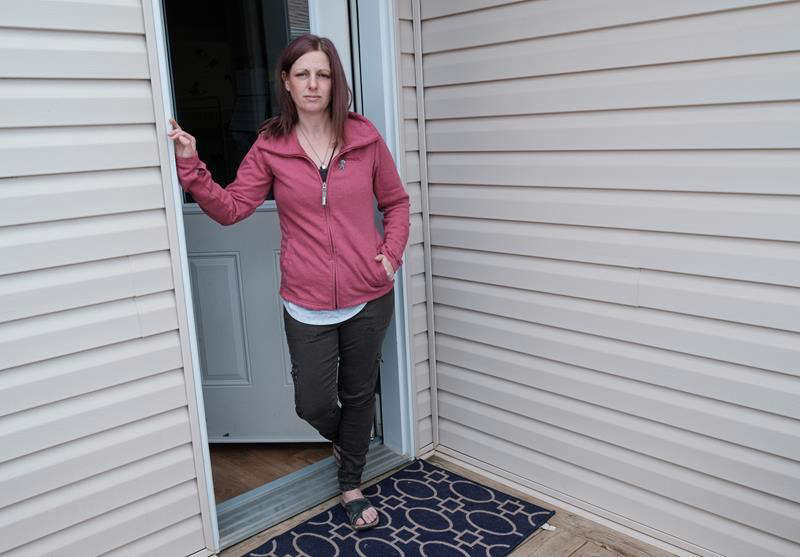 EDMONTON — A hunter's wife has testified she texted her husband not to drink and drive or get in a fight the night he and his uncle were shot to death on a rural Alberta road.
Sarah Sansom told a jury trial in Edmonton on Tuesday that alcohol consumption had previously caused problems in her marriage with Jacob Sansom, who had quit drinking two years before his death.
Crown lawyers have said Jacob Sansom and his uncle Maurice Cardinal were followed on a rural road northeast of Edmonton in March 2020 and shot after a confrontation.
Roger Bilodeau, 58, and his son Anthony Bilodeau, 33, have pleaded not guilty to two counts each of second-degree murder.
Brian Beresh, the younger Bilodeau's lawyer, recounted a statement Sarah Sansom gave to police and read text messages she sent moments before a security camera captured her husband and the Bilodeaus as they confronted each other.
"You recall repeatedly telling the police that you were surprised or shocked when you learned that he had been drinking," asked Beresh.
"Yes," Sarah Sansom responded.
"You're saying, 'Don't drive,'" he said, quoting the text messages she sent.
"Then you add, 'No fighting, no driving … Please don't hurt yourself or (do) anything dangerous or illegal' … because you knew that when he drank he had a tendency to become aggressive, correct?" Beresh asked.
"He wasn't aggressive. He just did stupid things like fighting very rarely," Sarah Sansom responded.
"He got stupid sometimes, and did stupid things," she later added during cross-examination.
"It was like falling down a set of stairs and stumbling all over the house … and making himself look stupid."
Prosecutor Jordan Kerr said in his opening statement Monday that Sansom and Cardinal had gone moose hunting so they could fill the family's freezer with meat as COVID-19 was shutting down the world.
He said the older Bilodeau saw the hunters' pickup truck slowly go by his homeand it looked like one that had been on his property that day. While following the hunters in his truck, Bilodeau phoned his son and asked him to follow behind and to bring a gun, said the prosecutor.
Security footage from a nearby gas station shows the Bilodeau men in their trucks following Sansom and Cardinal in theirs, Kerr said.
Court heard Roger Bilodeau and the hunters first stopped their trucks on the road. Anthony Bilodeau arrived soon after. Within 26 seconds, he shot Sansom, then shot Cardinal as the hunter was walking to his truck, said Kerr.
A motorist called RCMP after finding Sansom dead in the middle of the road and Cardinal's body in a ditch.
Autopsies determined that Sansom was shot once in the chest and Cardinal was shot three times in his left shoulder, said Kerr.
Defence lawyer Shawn Gerstel said Anthony Bilodeau shot at the hunters because Sansom had smashed a window of Roger Bilodeau's truck and punched him. He had also punched his youngest son, who was 16 at the time and was sitting in the passenger seat, the lawyer said.
He said the hunters were drunk, loud and obnoxious.
On Tuesday, Sarah Sansom testified that she told police following her husband's death that she felt the Bonnyville area had a lot of "toxicity."
"Bad stuff always happened when we go out there," she said on the witness stand.
She recounted the time her husband had confronted gang members who were selling drugs to hisbrother.
"Now (he) is sober and he thanks Jake for that."
This report by The Canadian Press was first published May 17, 2022.
___
This story was produced with the financial assistance of the Meta and Canadian Press News Fellowship.
Fakiha Baig, The Canadian Press
Premier Jason Kenney kicks off campaign to attract skilled workers to Alberta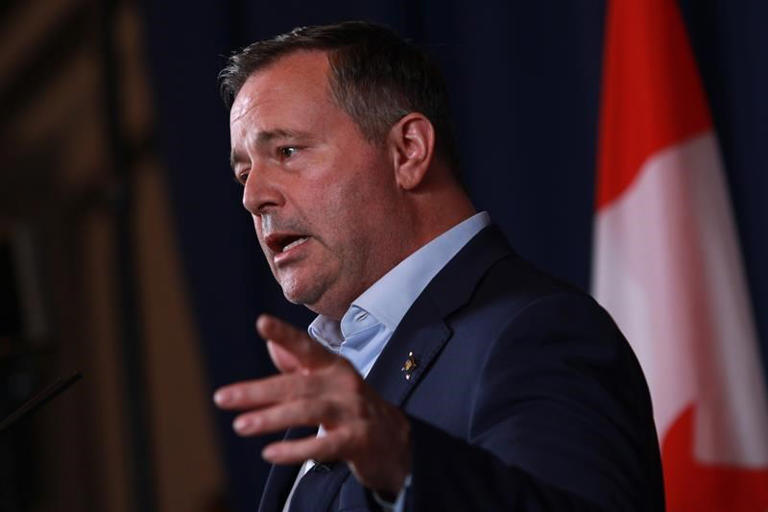 CALGARY — Premier Jason Kenney kicked off a campaign to lure skilled workers from Toronto and Vancouver as he doubled down on his criticism of a so-called Alberta sovereignty act pitched by one of the candidates running to replace him.
Kenney held a news conference Monday to announce the United Conservative government's plans to start recruiting workers to Alberta as the provincial economy grows.
"Alberta is back in a big way, but one of the biggest challenges to sustaining that amazing growth is having enough people who are filling the jobs that are being created," he said.
"As far as problems go, that's a pretty good one to have."
The campaign comes after Kenney called a key platform promise of one of the candidates to succeed him as leader and premier "nuts."
Candidate Danielle Smith has said if she wins the leadership, she would bring a bill this fall to give Alberta the power to ignore federal laws and court rulings deemed not in the province's interest.
Legal scholars say such a bill would be illegal, unenforceable and a dangerous dismissal of respect for the rule of law.
Kenney said he's certain that even if the legislature passed the law, the lieutenant-governor would refuse to give it royal assent and Alberta would become a "laughingstock."
Smith chastised Kenney in a statement Sunday for "interference" in the leadership contest, saying his comments were "ill-informed and disrespectful to a large and growing majority of UCP members that support this important initiative."
"If elected to replace him as leader and premier, I will work closely and collaboratively with our entire UCP Caucus to ensure the Sovereignty Act is drafted, passed and implemented in accordance with sound constitutional language and principles," Smith said in her statement.
Kenney said Monday that he's not interfering in the leadership campaign, but restating his position on an important public policy issue.
"This government was elected on a commitment to create jobs, grow the economy and get pipelines built," he said. "This so-called sovereignty act would be a body blow to all three of those things.
"It would massively drive away investment, it would cause people to leave the province, businesses not to come here just when our economy is experiencing fantastic economic investment."
Kenney said it could also hurt the campaign to attract people to the province.
"Here we are launching a campaign for Canadians to move to another part of Canada," he said. "If Alberta were to decide effectively to launch a separatist project, I think that would automatically exclude a lot of Canadians.
"To the contrary, instead of being able to attract people, we would start hemorrhaging people."
He said that's not theoretical because of what happened in Quebec in 1976 when René Lévesque and the Parti Québécois were elected on a separatist platform.
"Quebec overnight began to hemorrhage people, money and investment," Kenney said.
This report by The Canadian Press was first published Aug. 15, 2022.
Colette Derworiz and Bill Graveland, The Canadian Press
WEF? Capital NO: Danielle Smith replies to claims she endorses Justin Trudeau's green agenda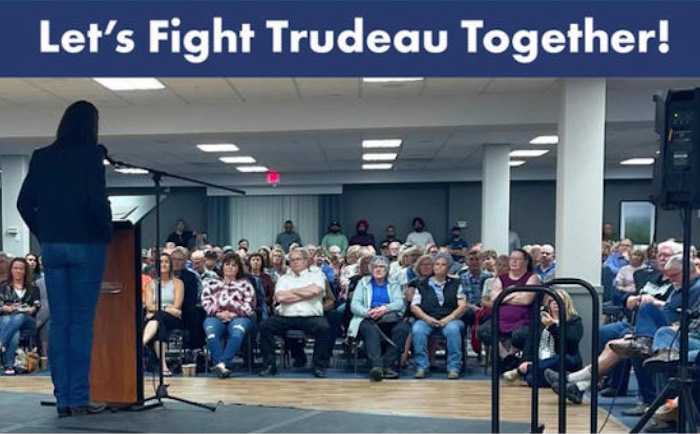 Submitted by Danielle Smith
Say No to the WEF and Trudeau Agenda!
In politics, negative attacks are still an unfortunate part of the process. I usually just tune them out.
However, I did have to do a bit of a double take on the latest attack by my friends, Travis Toews and Brian Jean, who accused me of endorsing…wait for it…Justin Trudeau's radical green agenda.
Now, that's a new one I haven't heard before! Until yesterday I was accused of being too tough on Ottawa…what changed gentlemen?
Danielle Smith and 300 friends in Grande Prairie, Alberta. August 6th.
Obviously, their accusation is absurd on many levels, but I thought this might be a good opportunity to share my thoughts with you on the dangers of Justin Trudeau's WEF-inspired radical climate agenda, and why we need to tackle environmental issues in a much different way – the Alberta way.
First off, the WEF is an anti-democratic group of woke elites that advocate for dangerous socialist policies that cause high inflation, food shortages and a lack of affordable energy, which in turn, leads to mass poverty, especially in the developing world.
There is no question what their agenda is – they want to shut down our energy and agriculture industries as fast as they can.
We need to join with allies, like Scott Moe in Saskatchewan, and stand up for our farmers and our provincial rights.
Justin Trudeau has openly adopted the WEF agenda and has instituted a wealth of policies meant to drive up the cost of energy and food production so he can meet arbitrary and aggressive WEF CO2 emissions targets.
Let me be perfectly clear – As Premier, no individual in my government or provincial agency will be permitted to associate with the WEF in any manner.
Secondly, WEF inspired policies imposed upon us by Ottawa will not be enforced by any Provincial agency under authority of the Alberta Sovereignty Act.
The fact is the Federal carbon tax, the recent announcement of a 30% reduction in fertilizer use by farmers, and the proposed arbitrary emissions cap on our energy sector are scams that do nothing to improve the environment.
You don't improve the environment or reduce emissions by destroying livelihoods and causing food shortages.
We can, however, lower emissions and pollutants the right way, the Alberta way – through Alberta technology and exporting our clean Alberta energy to the world.
We must support and recognize the work of Alberta companies working on technology that makes producing and using fossil fuels more sustainable.
Alberta is a world leader in carbon tech, carbon capture and hydrogen and we must maintain this advantage.
Our largest oilsands producers have proposed a pioneering project, called Pathways, to use carbon tech and small modular nuclear to dramatically reduce all types of emissions from oilsands production.
Further, we must get Alberta LNG and our other clean energy products to Asia, Europe and the US to replace reliance on higher polluting fuels such as coal, wood and dung.
Our forestry, ranching and farming sectors are also proud to provide nature based solutions to offset emissions, and they deserve recognition and credit for providing this service to the world.
These initiatives – advancing Alberta technology and exporting our clean energy to the world – will do more for the environment than all of the harmful virtue signaling policies of the WEF and Justin Trudeau combined – and will do so while creating jobs and wealth, rather than unemployment and poverty.
I invite my friends, Travis Toews and Brian Jean, to stop the silly attacks and join with me in fighting Justin Trudeau, Rachel Notley and their WEF Agenda together!
– Danielle Smith