How thieves stole a Toronto condo in 'total title fraud', selling it for $970,000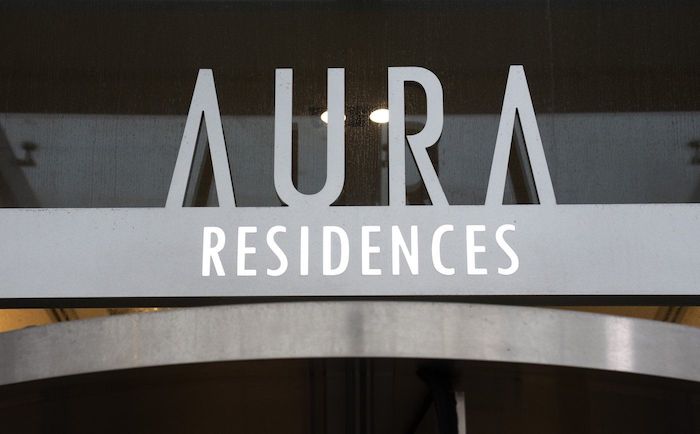 By Nono Shen
The professional photographs posted on a property tour website last year show Moffy Yu's condo in downtown Toronto, a light-filled two-bedroom home with floor-to-ceiling windows framing sweeping views from the tallest residential tower in Canada.
Documents provided by Yu show the home was listed for $978,000 last May 11, then sold for $970,000 nine days later, near the height of the pandemic property boom. Ontario land title documents show ownership was transferred for that sum on June 15 to a new buyer who took out a mortgage with the Bank of Montreal.
But Yu, a former international student who now lives in China's Hubei province, said she never put her home in the Aura skyscraper on Yonge Street up for sale.
Instead, she said, it was stolen.
The property was listed by an impersonator who gained access to the vacant home, staged the photo shoot, listed it and sold it, all without her knowledge, she said. In the process, the impersonator appears to have duped the buyer, two sets of property agents, lawyers involved in the sale, a major bank and the Ontario land registry.
Toronto police confirmed there was an "active investigation" into the case but would release no further details. Bank of Montreal says it's standing by to help police, while the director of land titles placed a "caution" notice on the property title on Aug. 31.
Yu's experience, which she called "bizarre and shocking", is not isolated. It's part of what investigator Brian King calls "total title fraud," in which thieves impersonate true property owners by using fake identification.
King, of King International Advisory Group, looked into Yu's case on behalf of her title insurer, and said he could not comment on the specifics of her case.
But he said his firm had recently investigated several cases of total title fraud in the Greater Toronto Area. One involved a $2 million home sale.
He said the phenomenon involved "a fraudulent impostor" claiming to be the property's owner, having "manufactured and prepared identification."
He said total title fraud is "extremely problematic," because both a true homeowner and an unsuspecting new purchaser are victimized.
"The property sale, although a fraudulent transfer, is all performed in the proper legal processes which adds to the complications as this has to be all undone, which can take considerable time as it all has to go through the various judicial process," King said by email.
On Jan. 5, Toronto police asked for the public's help to solve a different case that closely resembles Yu's. It said that in January 2022, a man and woman listed a Toronto home for sale by using fake documents to impersonate the true owners. It was several months before the real owners, who were out of town, realized the property had been sold without their consent, police said in a news release.
Yu, 24, only noticed that "something unusual" was going on with her condo, which she bought in 2017 for more than $800,000, when her monthly property management fees weren't charged last July.
She asked friends in real estate she knew in Toronto to look into the situation and was alarmed when they reported back that the condo appeared to have been listed and sold.
"I was freaking out and I couldn't believe what was going on here. The whole thing was outrageous, unbelievable, and it took me a while to digest," said Yu in an interview conducted in Mandarin.
"I felt so helpless, and I still can't believe this could have happened to me."
Yu, who moved back to China in 2019, said she reported the matter to police and her insurer.
The fraudulent photo tour of Yu's apartment is still online, showing what she called "my beloved property filled with all my memories." She said the furniture was all hers, although she didn't recognize some small items including an orange throw pillow and a potted plant.
The real estate photography firm that posted the tour of Yu's apartment online did not respond to an email.
A woman who answered the intercom for Yu's apartment on Tuesday hung up when a reporter identified themselves and asked about the property's ownership. Yu's name was still listed on the building's intercom.
Jeff Roman, director of enterprise media relations for Bank of Montreal, said that in "a situation like this, we strongly encourage individuals to contact the police", and the bank was "standing by to fully support (the police) investigation."
"Given the priority we place on customer confidentiality, we cannot disclose any further details."
A representative for the real estate brokerage that was listed in documents provided by Yu as representing the fraudulent seller said in Mandarin that the firm was unaware of the case, while a representative of Bay Street Group, the buyer's agency, confirmed the unit was sold last June.
Yu said the only fortunate part of the experience was that she had purchased land title insurance.
Tim Hudak, CEO of the Ontario Real Estate Association, said title fraud placed victims in a "horrible" situation, while fraudsters have become more sophisticated in forging documents.
The "smart, long-term solution" was to purchase title insurance, said Hudak.
"On average, it sells for about $1 for every $1,000 of the value of the property. If your home is worth $500,000, it would cost you $500. If your home were worth a million dollars, it would be $1,000," said Hudak.
Hudak said previous types of fraud would involve suspects acting as buyers to open a bank account and obtain a mortgage under someone else's name, then make off with the money.
But fraudsters impersonating owners is a new phenomenon, he said.
Most vulnerable are owners who have been absent from their homes for a long period.
"It's important for all the professionals involved, the Realtor, the lawyer, and the banker, to check very closely identity documents," said Hudak.
Perry Ehrlich, a British Columbia lawyer who has been practising real estate law since 1977, said title insurance was the "new school" way to safeguard against fraud.
The "old-school" way was to get a duplicate title from the land title office. "Having the duplicate title does protect you but keep it in a safe place because, without the duplicate, you can't transfer title," said Ehrlich.
King, the insurance investigator, said impersonators are rarely the only parties involved in title fraud.
"In most instances, the groups behind this are well organized and the people front facing on the fraudulent IDs are not typically the ring leaders who distance themselves from exposure," said King.
"In most cases, the funds received are either quickly (with in a day or two) moved out of fraudulently obtained bank accounts also in the homeowners' names to cryptocurrency or gold or wired overseas to make recovery efforts almost impossible."
He said the risks had become "more problematic" during the pandemic, "as document signing was done virtually in most instances and the professionals in the process were not meeting with clients directly and physically, with identification verification (instead) being completed virtually."
Yu said she hoped her "traumatic and painful" experience would help raise awareness of the scam. She has been describing her experiences on Chinese social media.
"I thought what happened to me was extremely rare, but a few others sent private messages to me saying they shared the same pain," said Yu. "What I have been through wasn't an isolated case."
— With files from Maan Alhmidi in Toronto
This report by The Canadian Press was first published Jan. 20, 2023.
Police investigating how shooter got firearm after autopsy and balistic analysis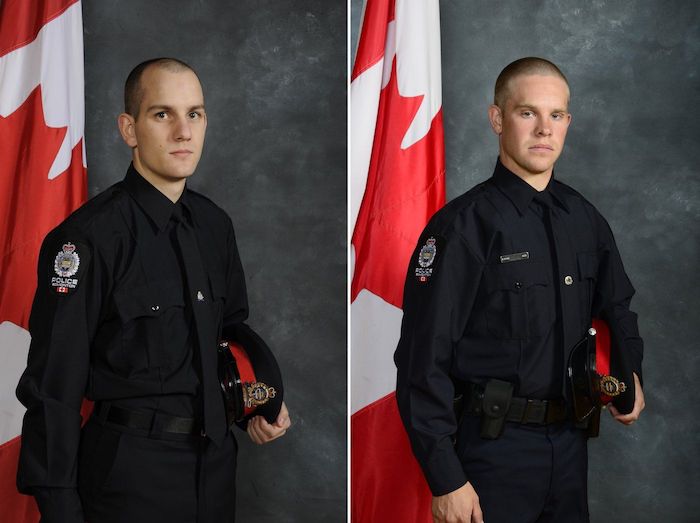 News release from the Edmonton Police Service
Autopsy on shooter, ballistic analysis complete in line of duty deaths
An autopsy on the shooter and ballistic analysis of the firearm have been completed in the Mar. 16, 2023 EPS line of duty deaths.
The Edmonton Medical Examiner conducted an autopsy on Mar. 22, 2023, and confirmed that the 16-year-old male shooter's cause of death was a single gunshot wound to the head consistent with being self-inflicted.
"We recognize that there is intense public interest in this investigation," says EPS Deputy Chief Devin Laforce. "At this time, our priorities need to be the integrity of ongoing investigations, including the origin of the firearm, as well as the safety and privacy of all the families affected by this tragedy. For these reasons, we are not releasing or confirming the name of the deceased."
A bullet casing recovered from the scene of a Mar. 12, 2023 shooting at a nearby restaurant in the area of 133 Street and 114 Avenue has been forensically matched to the firearm that was recovered at the 132 Street and 114 Avenue apartment, where Constable Brett Ryan and Constable Travis Jordan were fatally shot on Mar. 16, 2023.
Investigators believe the suspect in the Mar. 12 shooting to be the same 16-year-old male responsible for the deaths of the two EPS members, although this has yet to be confirmed. Detectives are also working to trace the origins of the firearm and how it came to be in the youth's possession.
At this time, investigators continue to believe that the youth's parents, police dispatch and Constables Ryan and Jordan had no information to suggest there was a firearm in the home when the family dispute call for service was made on Mar. 16.
"Both events have been served by robust investigations that have followed all lines of inquiry," says Deputy Chief Devin Laforce. "All tips and other investigative avenues were pursued exhaustively by the investigating teams."
The male shot on Mar. 12 in the restaurant remains in hospital in critical but stable condition, and the youth's mother who was shot on Mar. 16 remains in hospital in serious but stable condition.
Search of four Edmonton homes results in Cocaine and Meth bust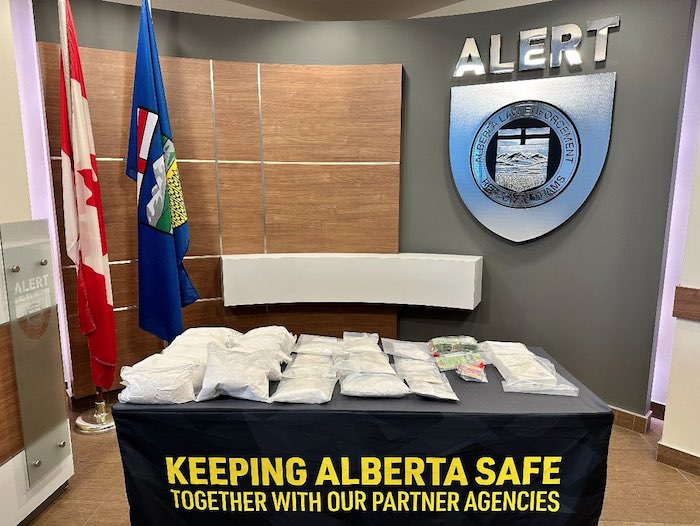 News release from the Alberta Law Enforcement Response Team (ALERT)
Cocaine seized after four Edmonton homes searched
More than two kilograms of cocaine, cash, and four vehicles have been seized following an ALERT Edmonton investigation into cocaine trafficking.
The investigation began in October 2022. Police were able to identify four homes and four vehicles linked to the drug trafficking operation.
"Through the course of this five-month investigation, officers were able to identify several suspects, and seized several pieces of equipment which were being used to produce large, commercial-sized quantities of product. This tells us that this was a much bigger, sophisticated operation," said Sgt. Jeff Woodliffe, ALERT Edmonton.
On February 23, 2023, police searched four homes and seized the following items as evidence:
2.6 kgs of cocaine;
28 grams of methamphetamine;
10 kgs of a cocaine buffing agent; and
$11,000 in cash.
The investigation remains ongoing as investigators prepare reports and disclosure for Crown Counsel.
The Edmonton Police Service assisted throughout the investigation.
Members of the public who suspect drug or gang activity in their community can call local police, or contact Crime Stoppers at 1-800-222-TIPS (8477). Crime Stoppers is always anonymous.
ALERT was established and is funded by the Alberta Government and is a compilation of the province's most sophisticated law enforcement resources committed to tackling serious and organized crime.