How air passenger complaints ballooned to 42,000-plus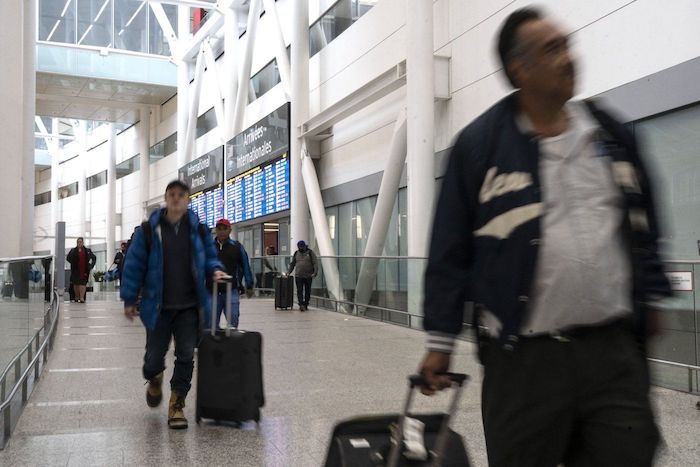 Passengers arrive at Pearson Airport in Mississauga, Ont. on Tuesday, March 14, 2023. The number of air passenger complaints to Canada's transport regulator has more than tripled over the past year, soaring past 42,000. THE CANADIAN PRESS/Chris Young
By Christopher Reynolds in Montreal
The number of air passenger complaints to Canada's transport regulator has more than tripled over the past year, soaring past 42,000 as of this month.
The ballooning backlog means each case now needs more than a year and a half to handle, spurring advocates and politicians to question the efficacy of the process, even as hiring and funding ramp up.
The complaint tally shot up after travel chaos erupted over the summer and again during the winter holidays as flight demand surged and poor weather conditions disrupted flight schedules.
Complaints totalled about 13,400 as of March 31, 2022, before skyrocketing to unprecedented highs in the ensuing 12 months, according to Canadian Transportation Agency reports. They hit 36,000 in late January, and rose by another 17 per cent since then.
The growing number of grievances comes despite an $11-million funding top-up for the regulator in the federal budget last April, and $76 million more announced last week, with the aim of boosting staff numbers and expediting complaints processing.
The chair of the Canadian Transportation Agency says processing complaints remains its main focus and enforcement comes second. But critics say the backlog owes to major gaps in the air passenger rights charter and inaction on the part of the regulator.
NDP transport critic Taylor Bachrach is poised to table a private member's bill Monday afternoon that seeks to close loopholes, increase fines and make compensation automatic for travellers whose flights are delayed or cancelled.
The Air Passenger Protection Regulations, which took effect in 2019, allow airlines to reject compensation claims by citing safety-related reasons. The proposed legislation would end that exception.
Meanwhile, a dearth of fines speaks to the agency's disregard for enforcement, advocates claim. The total issued against airlines and airports reached $645,630 over the past 12 months, up from $253,975 in 2021-22 and $54,500 in 2020-21. However, the most recent figure amounts to a fraction of annual airline sales — less than 0.04 per cent of Air Canada's $16.56-billion revenue last year, for example.
Bachrach is calling for higher penalties and more rigorous enforcement.
"The fines in the legislation as it currently stands are insufficient to act as a deterrent. As long as the cost of following the rules is higher than the cost of breaking them, we're going to see airlines operate outside the rules as a course of normal business," he said in a phone interview from Prince Rupert, B.C.
Agency chair France Pégeot told the transport committee in January that clearer, stronger rules would lead to better enforcement.
But she qualified that the agency's role as a quasi-judicial tribunal handling complaints is priority No. 1, while its mandate to penalize violations comes second.
"The first thing we do is that we really focus, first of all, on complaints, because this is what puts money in the pockets of consumers," Pégeot told the committee on Jan. 12.
The agency had only six enforcement officers at the time, she noted.
It has also never fined an airline for violations around passenger compensation, she said.
Both Bachrach and John Lawford, who heads the Public Interest Advocacy Centre, say the passenger rights overhaul promised by the federal government for this spring also needs to make compensation automatic in the event of significant delays or short-notice cancellations.
"You need a very dedicated regulator with a clear set of rules that enforces a lot, and a regime that's easy for consumers to navigate — almost automatic," Lawford said in a phone interview.
Last week, Transport Minister Omar Alghabra pledged $75.9 million over three years to chip away at the backlog by hiring 200 more employees. He also vowed to end the loophole that allows airlines to dismiss compensation requests on safety grounds such as unscheduled maintenance or even crew shortages.
Tom Oommen, the agency's director general of analysis and outreach, told The Canadian Press in August it was trying to hire more facilitators who can help resolve customer complaints, but that worker retention remained a problem.
"The CTA has already been reviewing its current complaint resolution process to identify and make process improvements to ensure it makes the best use of the resources provided to it by the government," the agency said in an email last week.
"For example, we have already been able to streamline the intake of complaints and reduce incomplete and inaccurate applications from 50 per cent of all applications received to 10 per cent, which results in less administrative back and forth, and shorter wait times for complainants."
This report by The Canadian Press was first published March 20, 2023.
'All about the campfire': Campers adjust their plans with fire bans in place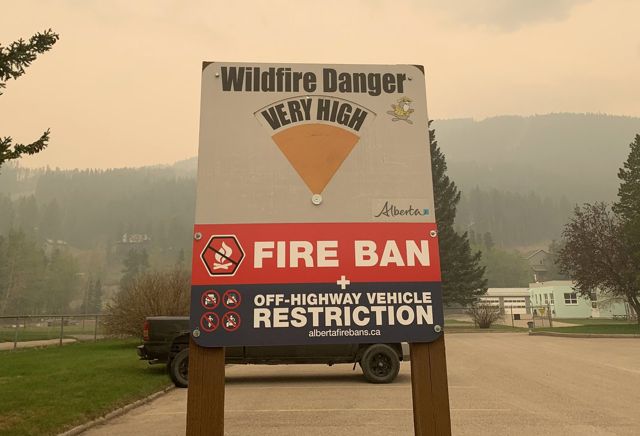 Blairmore area wildfire warning signage is shown in this handout image provided by the Government of Alberta Fire Service. As fire bans continue in many provinces, businesses selling camping gear and firewood are seeing a shift in demand. THE CANADIAN PRESS/HO-Government of Alberta Fire Service
By Ritika Dubey in Edmonton
Jade Najam was getting excited about camping during the May long weekend, sitting around the campfire late into the night with his family and sipping hot chocolate.
"Camping is all about the campfire. Just surfing the fire and sitting around the fire," said Najam. "Sitting around the campfire is the most important part of our evening."
But Alberta's fire ban, which was put in place in early May, still hadn't been lifted. Najam called off the plans to go camping in the wilderness, deciding it was better to stay home instead.
Fire bans began rolling in after hot, dry weather took over much of Canada early in the season — starting in Alberta, Saskatchewan and British Columbia, now expanding to the Maritimes. While Saskatchewan and Alberta have lifted the bans in some regions, people in the Prairies have been monitoring the wildfire season closely.
Companies that supply camping enthusiasts have been seeing trends change.
Najam, who is the managing director of Smart Firewood Products, based in Leduc, Alta., says demand usually picks up around mid-April and continues until mid-October.
"This May, I'm not even at five per cent of what I did last year in sales," he said.
Najam said his company provides "truckloads" of firewood to national parks in Alberta every year, while serving locals with retail firewood in his yard.
"My semi-truck full of firewood didn't even get out of the yard," he said of the current season.
One outdoor outfitter, meanwhile, is seeing a jump in sales for propane gas outdoor firepits.
"People have to look at things a bit differently when planning their camping trip due to fire bans," said Mike Eerkes, general manager at a Mountain Equipment Company store in Edmonton.
He said campers are opting for alternatives that don't get the classic smoky-wood campfire but still provide a warm glow.
For propane fires, Eerkes said, "All you need is a propane firepit, a propane tank and some gas in it."
The biggest advantage to propane fire is that "you can have it," he said. "They're fully compliant with the fire bans."
However, he acknowledges that propane fires are not fuel efficient, based on his experience. He suggested buying larger, refillable propane tanks for cost-effectiveness.
Overall, Eerkes said he hasn't seen a remarkable shift in the sales of camping gear overall.
"It's certain the fires are going to have some effect … but I'm not convinced we're seeing a massive downturn in people going camping this year."
A private campground about 100 kilometres southwest of Halifax has been getting cancellations since the fire ban and camping bans in wooded areas of Nova Scotia earlier this week.
"When fire bans are in place, it's the private campground's choice to follow the fire ban to not," said Minseo Kim, manager of the Little Lake Family Campground in Lunenburg, N.S. "But for this fire ban, private campgrounds have to listen as well.
"This has never happened before. We never faced this issue."
Kim said the cancellations will not have a huge effect in the coming weeks, partly because the peak season begins in July and the campground also has an open space outside of the wooded area.
He is hoping the fire ban lifts soon for overnight campers.
Nova Scotia imposed the fire ban on Monday, with Prince Edward Island following Tuesday.
Chris Nuttall-Smith, the author of the newly released book "Cook It Wild," said campers don't really need campfires to enjoy the outdoors or prepare meals.
A longtime backpacker and camper, Nuttall-Smith said fire bans are not a "huge limitation" for cooking outdoors with alternatives like backpack stoves available.
Nuttall-Smith, in his book, shares 75 recipes to cook in the wild, with up to 65 of them possible without a campfire, he said.
"Some of the best trips that I've ever taken are in places where you're never allowed to have a campfire," he said. "I don't think a lot of people miss it."
He recommends campers making due without fire this season bring pre-prepared food and enjoy the outdoors.
"You can find so much beauty out in the wild at dusk, after dark, like looking at the fireflies, looking at the stars. There is so much to do."
This report by The Canadian Press was first published June 2, 2023.
—-
Poilievre tries to head off PPC vote as Bernier bets on social conservatives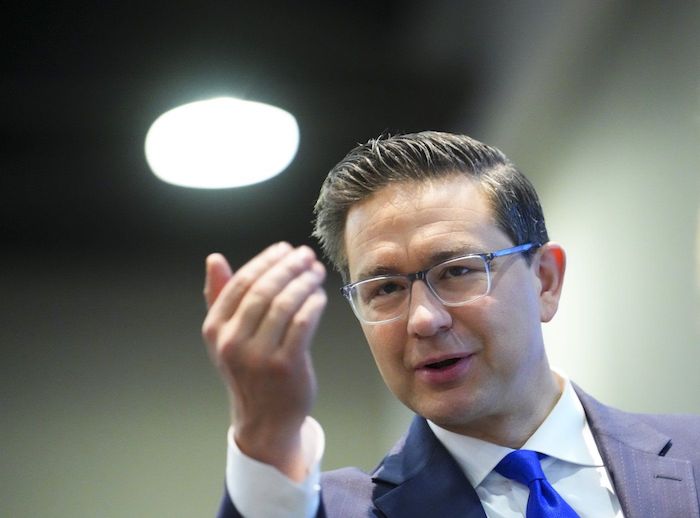 Conservative Leader Pierre Poilievre takes part in the National Prayer Breakfast in Ottawa on Tuesday, May 30, 2023. Pierre Poilievre is off to Manitoba to rally supporters in a byelection, where Maxime Bernier is hoping social conservatives send him back to Parliament. THE CANADIAN PRESS/Sean Kilpatrick
By Stephanie Taylor in Ottawa
Pierre Poilievre is off to Manitoba to rally Conservative supporters ahead of a byelection that Maxime Bernier is hoping will send him back to Parliament.
The far-right People's Party of Canada leader lost his Quebec seat in the 2019 federal vote and lost again in the 2021 election.
The riding of Portage—Lisgar came up for grabs after longtime Conservative MP Candice Bergen, who served as the party's interim leader before Poilievre took over, decided to resign. Bernier will test his luck in the rural Manitoba riding that delivered his fledging party its best result in 2021, with slightly more than 20 per cent of the vote.
Numbers like that spooked Conservative MPs, especially those in the West who saw their typically rock-solid support slipping to a more populist party.
Bernier stood vehemently against COVID-19 health restrictions, while then-Tory leader Erin O'Toole struggled to strike a position on vaccine mandates that satisfied anyone the party's base.
Now with Poilievre at the helm, the federal Conservatives are facing a rematch and supporters are looking for a victory that quashes the idea that the PPC poses a real threat.
Poilievre plans to host a "special meet and greet" rally Friday evening in Winkler, a city roughly an hour and a half south of Winnipeg. MPs have also visited the area, including House leader Andrew Scheer, whose razor-thin defeat of Bernier in the Conservatives' 2017 leadership race paved the way for the former Quebec MP to strike out on his own.
But the People's Party's candidate from the 2021 race attributes his support in that vote to momentum driven by strong feelings about the pandemic.
And Solomon Wiebe thinks the political climate has shifted.
"(Bernier) would be very lucky to get half of what I got last time," he said in an interview on Thursday.
"This is just what my expectations are, and I like to keep my expectations real."
As far as Bernier is concerned, his biggest challenge is operational, given that his party lacks the strength of the Conservatives. "We didn't have that team in the beginning of the campaign." Money is another matter, as the Tories raised $8.3 million in the first three months of the year, compared to the People's Party, which hauled in just under $300,000.
Bernier believes people across the acres of farmland and Mennonite communities that dot the sprawling rural riding remember the pandemic.
It's a reality the Conservative candidate knows, too.
Branden Leslie — who managed Bergen's election campaign in 2019 — won the party's nomination over three others, including the former provincial health minister, by highlighting that he stood as "pro-freedom" while his opponent locked down churches.
It was in the region where Bernier was also arrested for violating COVID-19 restrictions in 2021.
His strategy for attracting support for the June 19 byelection has so far involved making anti-trans statements targeting youth and children — characterizing it as a position on "gender ideology" — and vowing to reopen the abortion debate. Both are issues he views as weaknesses for the federal Conservatives.
"It's important for people here," he said in an interview. "People want to have a real debate about (these) issues."
He also hopes to tap into frustration over what he calls "climate hysteria."
Poilievre also rails against what he calls "destructive woke policies," releasing a recent video showing the toppling of statues, vandalized Christian churches and a decision by one Quebec school to replace Mother's Day events with a celebration of parents — a move that was made to acknowledge that some students were living in foster care, or had lost a parent.
Poilievre earned the support of social conservatives during last year's leadership race for his vocal opposition to vaccine and mask mandates, but there remain some who believe he should put a greater focus on cultural issues.
He has said a future Conservative government would not pass a law restricting abortion. And after ousting a social conservative candidate during a nomination race in rural Ontario back in March, some supporters of Campaign Life Coalition say they are "very cautiously observing" what Poilievre does next.
"We're not ready to abandon the Conservative party by any means," said Jack Fonseca, director of political operations for the anti-abortion group, adding he hopes that situation was a "one-off" and not indicative of the way social conservatives can expect to be treated.
At the time, a party spokeswoman said the candidate, Gerrit Van Dorland, was barred for failing to comply with a request to provide all previous comments made online or in other publications. His campaign disputed that.
Fonseca, who said his group has support in almost 900 households across Portage—Lisgar, likes at least some of what Bernier is proposing.
RightNow, another anti-abortion group that spoke out after Van Dorland's disqualification, is providing its supporters with information on where Bernier and Leslie stand on certain matters in the upcoming byelection, rather than endorsing anyone outright. That's because both espouse certain "pro-life" stances, according to co-founder Alissa Golob.
In a written statement, Leslie said he is "pro-life" and attacked Bernier as a parachute candidate.
"Maxime Bernier will say and do whatever he thinks people want to hear in order to get attention. He is pretending to be a social conservative, even though his entire record as an MP was to support woke policies," Leslie said.
Bernier, meanwhile, continues to blast the federal Tories as "fake conservatives." His message to prospective supporters is to "give Maxime a chance."
"'If you don't like what I'm doing, if I'm not keeping my word, then just vote me out in 2025."
This report by The Canadian Press was first published June 2, 2023.